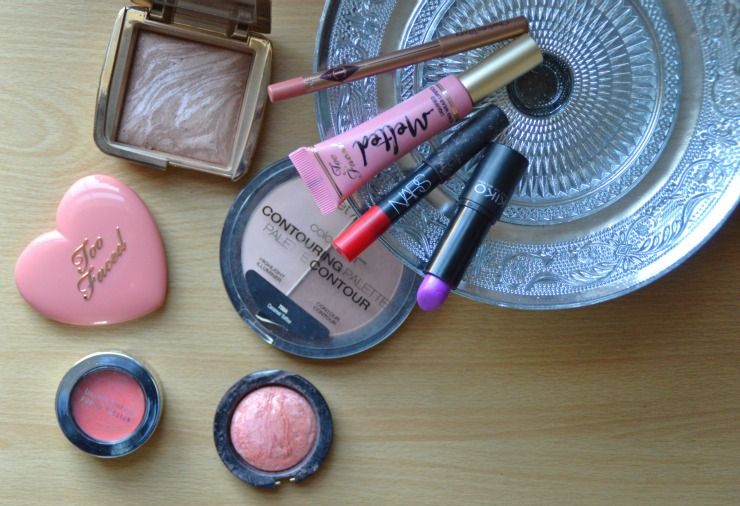 I'm doing this mini series to give love to all my favourite beauty products of 2015. First up was the Foundations & Concealers and here is my top lip & cheek colours. My makeup heroes have been broken down into 4 sections which is kind of cheating but I work with makeup on a day-to-day basis and use such a vast quantity of products that it was just too hard to whittle it down to one or two posts! I'm sure you can understand. Colour on the cheeks at lips is an absolute must for me, well more the cheek colour if I had to choose one or the other, as it just stops you looking too one-toned after base application, and brings that naturally *skin-look* back to the face. For the lips, I had to choose a nude, a red (my classic all time favourite) and then something a little bit fancy. I do wear pretty much ALL the lip colours except brown, but these are my most-used and loved over the year.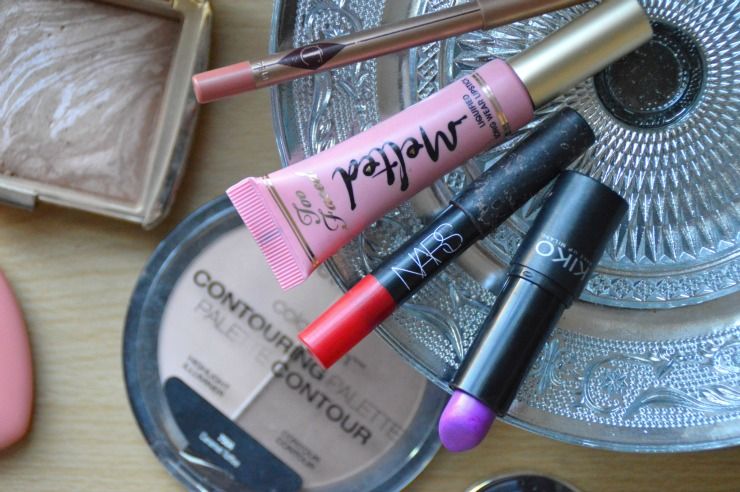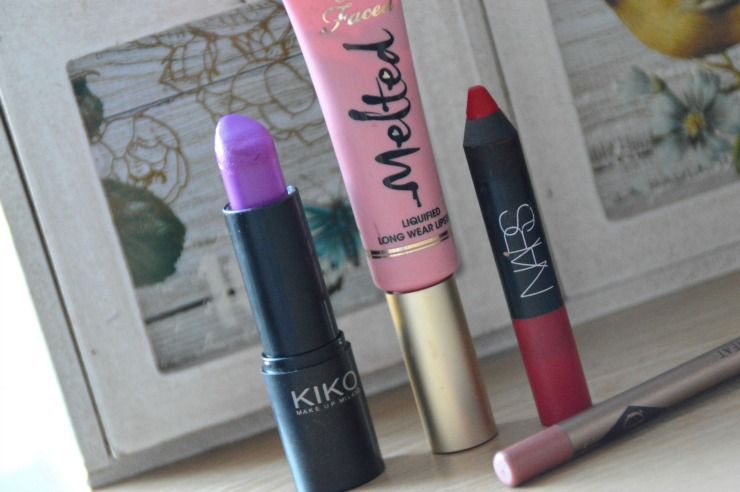 Charlotte Tilbury 'Pillow Talk' Lipliner
The best nude lipliner I own and I wear it so often, even if just to enhance my lip shape with a touch of lip balm to finish. They do a selection of nude lipliners (Nude Kate is more brown) and the Pillow Talk is just really close to my natural lip colour, it's perfect to cheat a perfect pout. Full Review.
NARS Dragon Girl Velvet Matte Lipliner
My absolute ultimate red. I have worn this for many, many years and this year after dying my hair pastel pink/lilac, I was struggling to get lip colours to look right against my new, and slightly difficult hair shade. Dragon girl was the one! Full Review.
Too Faced Melted Lipstick Peony
I love these liquid lipped from Too Faced and have plenty of shades but this one is a really simple pinkish-nude on me and is what I put on when I can't be bothered to think. Just always looks right, no matter what colours I am wearing on my eyes. I wore this on my wedding day and you can see a full breakdown of the look here.
KIKO Smart liptick 923
Looks scary in the bullet, but comes out a lot more sheer. A pretty peony purple that is nourishing and has quite a balmy feel. A great colour if you want to wear something a little more daring without it making you look like a corpse.
Hourglass Ambient Lighting Bronze
I purchased this in Sephora when I was in America also as the price out
there doesn't sting quite as much as it does here. They do 2 shades of
these gorgeous, glowing, highlighting bronzers and I remember
deliberating for like 30 mins over the swatches of them both, and ended
up getting the darker (Radiant). I got back to the UK and as soon as I lost my
tan it was too deep for me so I ended up treating myself to the lighter
shade (Luminous) also which is perfect for my paler winter skin. This isn't just a
flat bronzer, it is shot through with touches of their original ambient
powders to give lift and light as you bronze. Full Review.
Too Faced Love Flush Blushers
I think these were new for 2015 and I got along with these blushers really well, particulary the 'Baby Love' shade which gives a really subtle dusky pink hue. Bot only are these blushers long-wearing and have a great glow-infused pigment but the packaging sells it alone. Full Review.
Wet N Wild Contouring Palette
I got this in America and it cost like £2 or something ridiculous. Has one matte highlight and one matte contour shade which give a really natural non-orange contour to my skin. Full Review.
MUA Undress Your Skin shimmer highlighter
I have 2 shades of this, I think they may do three but either way I LOVE it and it's such a great price. The one I've been using all year long is the 'Opalescent Amber' which is a warm rose gold tone. It gives colour and highlight so often I will just wear this on it's own to give a beautiful natural glow on my skin.
Bareminerals Pop of Passion Blusher 'Papaya Passion'
This creamy blusher gives a really quick and fresh touch of colour. Fear not it's not as bright as it looks in the pan and this corally-pink tone will work on most skin colours. I love the light, almost gel-like texture of this blusher and I usually will apply it straight with my foundation brush after I have applied my foundation, not only is this quick, but it 'melts' in with your foundation to give that ultimate natural flushed look. Full Review.
Makeup Revolution Vivid Baked Blusher 'Make Love Instead'
This isn't one of those 'hero' products from Makeup Rev that is blogged about every 5 seconds. It is just one of those products that I had lying about for ages and didn't bother to try as I had so much else going on…but when I did I absolutely loved it. It is a blusher and highlighter in-one and this shade is that perfect pink…think MAC Stereo Rose…Bobbi Brown Shimmer Brick in pink….except this costs just £2.50. The lid is broken but we can overlook that, I only ever use my blushers at home so this sits on my makeup table quite happily minding it's own business.


What are some of your favourite blush n' lip shades at the moment? Are you familiar with any of these?