Thus far we've had a budget £10 & under stocking filler gift guide, the £25 & Under and this is now the £60 & under. For the loved ones, the cherished ones and for those slightly bigger gestures. For a budget of £60 or there-a-abouts you can get an abundance of things…a pick n' mix of the smaller things which I often prefer or more deluxe items/sets on their own. If you are rushing out this weekend to do some last-minute shopping, then have a quick ganders.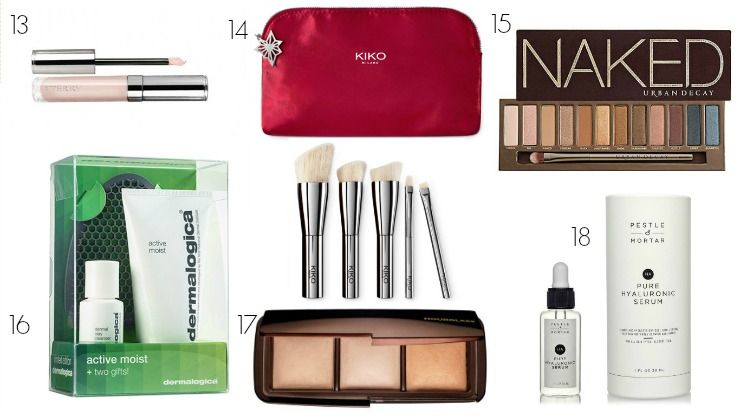 [1] NARS One Shocking Moment Cheek Studio Palette (£45) Anyone who likes makeup..get
them this immediately.
[2] Molten Brown Oudh Accord & Gold 3-wick candle (£55) Oh. My. Lord. Have you smelt
this candle?! NEED.
[3] Converse Trainers (from £44) A pair of these comfy trainers would be welcome in
anyone's wardrobe. They go with everything and there are so many styles to
choose from. I only have like 9 pairs.
[4] Bareminerals Modern Fairytale (£45) A 9-piece lip & eye collection that is worth £116!
[5] Aromatherapy Associates Ultimate Bath Jewels (£58) They do this every year but switch up the packaging (and
the price ahem) but it's such a good way to try all of the range and choose
your favourite oil.
[6] REN Moroccan Rose Experience (£49) 3 luxury bath & body products including a
full-sized bath oil, full-sized body cream and a half-suzed moroccan rose brown
sugar scrub.
[7] Antipodes Heavenly Body Oil (£26.50) Winter skin be good. This little bottle of
nectar contains 8 avocados to super-hydrate the skin and it smells wonderfully
aromatic.
[8] Charlotte Tilbury The Perfect Kiss Lip Set (£49) 4 different colourways to choose from including
red, nude, pink & crimson.
[9] Sandro Mirror Tee (SALE: £56) A bit glitzy and a perfect casual tee to wear for
Christmas day @ home
[10] La Creuset Tea for Two Giftset (£44) I love a spot of the classic orange La Creuset in the
kitchen although there are lots of shades to choose from.
[11] Mulberry Leather Heart Keyring (£60) A Touch of luxury without spending hundreds on an
actual bag. A super cute gesture and I have loved and had mine many years.
Comes in an array of colours too.
[12] Diptyque Christmas Candle (£48) Good luck to getting your hands on this if you
haven't already – always a sell-out. I *may* have treated myself to the
Liquidambar.
[13] By Terry Baume De Rose Lip Gloss (£32.50) Or the balm is a great gift too. A cult
beauty product that is indulgent but beautiful.
[14] KIKO Cosmic Starlets Swirly Brush Set (£44.90) Currently on offer for £31.40. 5
professional brushes for face & eyes that come in a cute makeup bag.
[15] Urban Decay Naked Palette (£38) Any of the 3 palettes will be a welcome edition to most
girl's makeup collection. My favourite is still the 1st edition, will work for
all skintones and eye colours.
[16] Dermalogica Active Moist set (£44.60) A great combo of the lightweight face moisturiser and
the Dermal Clay Cleanser. A great gift for peeps with combination skin.
[17] Hourglass Ambient Lighting Palette (£56) A stunning trio of the best-selling ambient powders
form Hourglass. Yes please.
[18] Pestle + Mortar Pure Hyaluronic Serum (£33) This serum is amazing. Full-stop. Will work pretty
much for ALL skintypes.
 Are any of these on your wishlist? Have you smugly finished up all your Christmas shopping already or are you a last-minute panic buyer like myself?!