Let's do this already. Christmas, 2015. Gift ideas for £10 & under ; for those small gestures, secret santa's, stocking fillers and for when you don't want to paticulary spend much of your hard-earned money on someone else. I get you.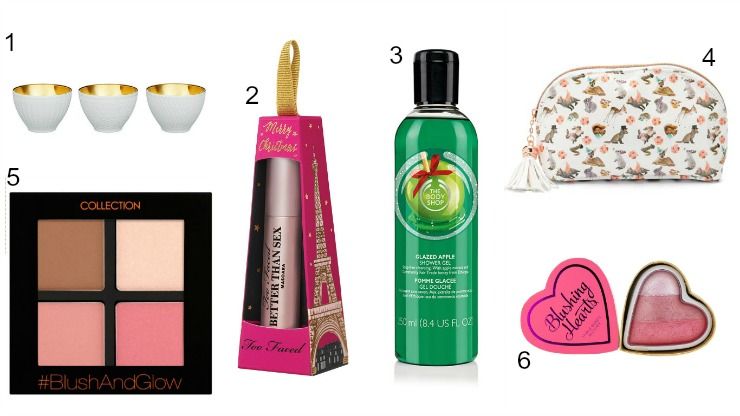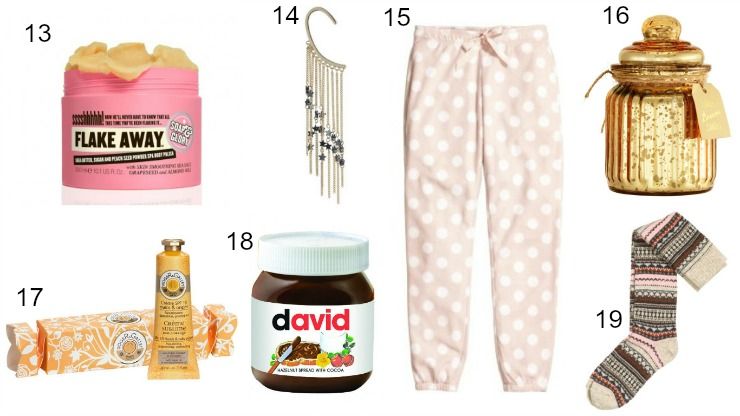 [1] John Lewis Porcelain & Brass tealight holders x3 (£8) Cuz everyone loves a pretty candle holder or tw three.
[2] Too Faced Better Than Sex Mascara Ornament (£10) A cute deluxe/travel-size of this infamous mascara.
[3] The Body Shop Glazed Apple Shower Gel (£4) Is Christmas EVER complete without something smelly from The Body shop?
[4] Superdrug Flutter Cosmetics bag (£5) It has like pretty bunnies n' shit on it.
[5] Collection #BlushAndGlow Palette (£3.99) A handy little quartet of powders ; 2 blushers, a bronzer and a neutral highlighter.
[6] Makeup Revolution Blushing Hearts blusher (£4.99) These cute blushers contain x 3 shades in one which blend together to give a beautiful radiant hue.
[7] Zoella Fizz Bar Trio (£7) One for the teenies and youngsters!
[8] Dermalogica Climate Control lip balm
(£8.20) A super nourishing & protective lipbalm perfect for wintery
chapped lips. Twist-up formula is always handy for on-the-go.
[9] Urban Oufitters Britney Mug (£9) This should put a smile on anyone's face in the AM.
[10] Emma Hardie Merrily Moringa Gift Set (£10) A cute stocking filler containing the award-winning cleanser & cloth.
[11] Crownbrush C472 Foundation Brush (£8.99) I can't recommend this brush enough!
[12] Dirty works Lip Balm set (£4) A beautiful tin which you can keep for storage after that contains 4 gorgeous-smelling lip balms.
[13] Soap & Glory Flake Away Body Scrub (£8) Or the body butter, or the shower gel…or anything really.
[14] Topshop Star Chain Cascade Earcuff (£10) This dangly pal with jazz up any lacklustre outfit.
[15] H&M Pyjama fleecey pyjama bottoms (£9.99) You can never have enough pair of slouchey, cosey, lazy pants / PJ's.
[16] H&M Scented Candle (£7.99) Candles are always great gifts….but when they come in a gorgeous re-useable jar, they are even better.
[17] Roger & Gallet Hand Cream Cracker (£6) A great little travel-size hand cream for perfectly hydrated and supple mitts.
[18] Personalised Nutella Jar (£5 ish) Available in-store at Selfridges. Everyone needs one of these this Christmas. Everyone.
[19] H&M Wool blend socks (£7.99) Fluffy, soft, stay-at home, cosy socks. Perfect for the impending January freeze.