I wanted to introduce to you the flat irons that I have been using lately from Irresistible Me (A US brand) as it's made such a difference to the finish and quality of my styled hair, and I've only really been impressed with the pricier straighteners in the past.
I've been using hair straighteners/irons since Babyliss did THOSE ones like 20 years ago which had two metal plates with that little thing you filled with water and steam came out. Please someone tell me you remember these?! They were pretty useless to be fair and didn't do too much to my insanely frizzy hair but fortunately for my teenage years and social life, GHD brought it to the table with their next level hair irons that actually worked. Fast forward to now and there are SO many brands that do great hair stylers and irons that we are kind of spoilt for choice.
Ceramic has kind of been and gone too, and now the next generation of hair straighteners will have Tourmaline infused plates. The Irresistible Me Diamond Styler (IMDS) use a combination of tourmaline and crushed diamond. Tourmaline (which is a semi-precious stone) is ground down in to a powder and then infused into the ceramic plates. Tourmaline allows the hair to be styled but by keeping all the natural oils in the hair so leaving it a lot softer and in better condition, it also reduces the friction when running the irons over the hair which is why it makes hair feel a lot softer once styled.

H O W I S T Y L E.
Since bleaching my hair, I have become very cautious about heat-styling my hair as I don't want it to break/damage/snap more than it already has! 80% of the time I let me hair air dry and then will just style it with creams/serums to add hydration.
When I am going out I like it to look neater and smoother so I will use a protection styling cream throughout my towel-dried hair like the Got 2 Be 'All Star', then I will rough dry it with a hairdryer so it's completely dry but I don't blow-dry it or anything, mainly because I can't! This literally will take 5 mins MAX. One my hair is dry I will run the IMDS through my hair and it literally takes minutes to get my hair from frizzy hell to a much sleeker and shinier look. My hair is really fine and just beyond should-length hence why it takes such little time. It has adjustable temperature which is great as my hair styles really well on a lower temperature and ideally you should adjust it to the right temp for your hair type rather than just thinking to whack it up to 230 thinking it will work better. I finish with a little styling cream or serum depending on the finish I want.
The IMDS are nice and lightweight to hold and use and has a 360 degree mobile cord that swivels around so dancing is allowed whilst getting ready and using these. It heats up super quick, just 15 seconds and also has an automatic shut down after 30minutes as a safety function. The irons on these are the standard 1 inch and are 'floating' irons which makes them easy to style and they will self-adjust to any contours you are using them on – no dragging! I also find the floating irons easier to curl the hair with, which is what I have done here in the pics but very softly. If my hair is just totally straight it looks too fine!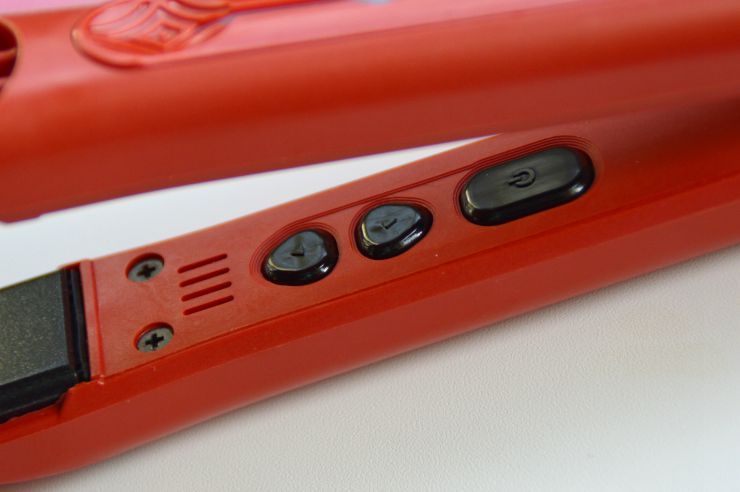 These cost $149 although are currently on offer online for $112 which is around £70 so a great price for some really good quality straighteners. As you may have worked out, these are a US brand but they do international shipping from the website. They also do loads of cool other bits like wigs, clip-in extensions etc.
What are the best brand of hair straighteners you have tried? Are you a GHD fan still?