Yes I am going there. My second favourite C-word. The Selfridges Christmas press day is possibly one of my favourite events of the year. Not only do I get to go to my favourite shopping store in the world, but you get to meet santa, eat mince pies and preview all the glorious Christmas collections and ideas that are coming into the store. No one does Christmas gifting quite like Selfridges.
The Christmas Shop opened last week in the store, and I know lots of people moan and groan about this but I don't mind an early nudge/reminder to tell me that Christmas is coming and it is giving is an oppurtunity for non-London dwellers & holiday-makers here in the summer to visit and get things whilst they are in the Capital.
I need to confess right here. This post was going to have some santa-ho-ho-ing-mince-pie-eating-silver-bauble-decor-adorning-festive photos that I took at the press event. I smashed my phone to bits last week so currently they are all stuck on my phone which is being repaired. Sob. I took ages working out the best angle to take a picture of the Diptque advent calender. 🙁
Diptyque Advent Calender. £250.
is for someone you really love…..or me. A gorgeous advent that house everything from travel candles, bosy polishes, lip balms and just ALL the things that smell glorious. These will sell FAST.
YSL Laquered lip and nail vault box. £285
Again, this is another exclusive collection for Selfridges, and YSL do some great Christmas gifting every year. This year it is a mix of their best selling nail polishes, lipsticks and glosses that come in this decadent and luxury gift box that you will obviously keep for life!
Armani Prive fragrance set. £250
For the true fragrance lover. This is made exclusively for Selfridges and is the Armani Rose D Arabie gift set. Stunning bottles, ultra luxe, and one of the most gorgeous, rich and decadent scents you may ever wear.
Personalized Tweezerman….everything. Not just tweezers, they do makeup brushes too and actually VERY good makeup brushes. Either way, EVERY beauty lover you may know will want a pair of tweezers with their name on it, whats more….it's free to get your name inscribed = perfect.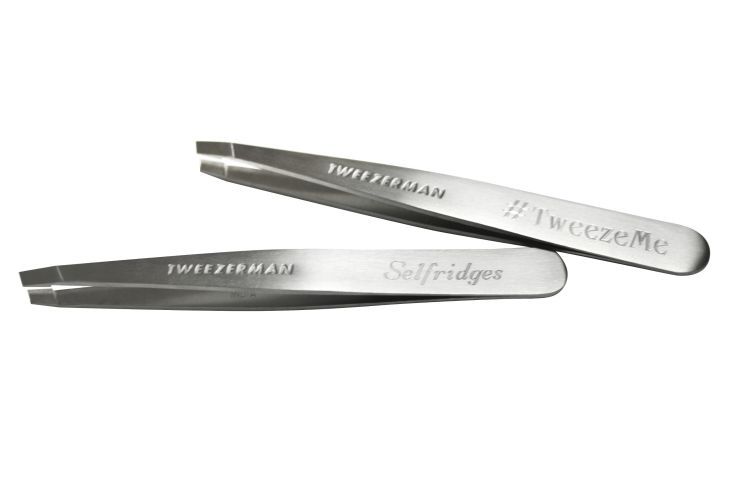 Other Exciting things:
It isn't just beauty bits that caught my eye ; there is SO much on offer to see and here are a few of my favourite 'non-beauty' gift ideas. I love a gift that has a special touch and what better way then to get it with your/their name on it. Selfridges always specialise in personalized gifts and here are a few of the treats coming your way…
Personalized Christmas Baubles. With chocolates in them. Say Whhhhhaaaaaaaaat. These are clear perspex baubles that twist open to reveal some gorgeous chocolates inside. Yes please.
Nutella with yo' name. They did this last year, and it was a hit. Same again this year, go and buy a pot of Nutella and get yours/whoever's name on it, I think ANYONE would welcome this with open arms.

Personalized mugs. From a company called Treat Republic and they personalise your coffee/ tea / hot drink mug with your name and how you like it made. No excuses for the other half in your life now to get it right! They also do lots of kitchen accessories and I also have my eye on their gorgeous personalised cheese boards – what a great gift idea!
Mini Moets. Original or pink, with a picture of your choice on it, so it could be you and your bestie/loved one/ pet…whatever!
ETSY love. They have an Etsy pop-up shop in Selfridges with some select and favourite brands. Great gifting and also, I always find really unique and cute things on ETSY that are a little different from your usual store gifts. I spotted the most amazing glitter oyster card holders at the press day which I am just straight-up buying for myself. Any London gal will appreciate this and only £8.
This is literally just the tip of the iceberg. To keep up to date with everything then head to www.selfridges.com