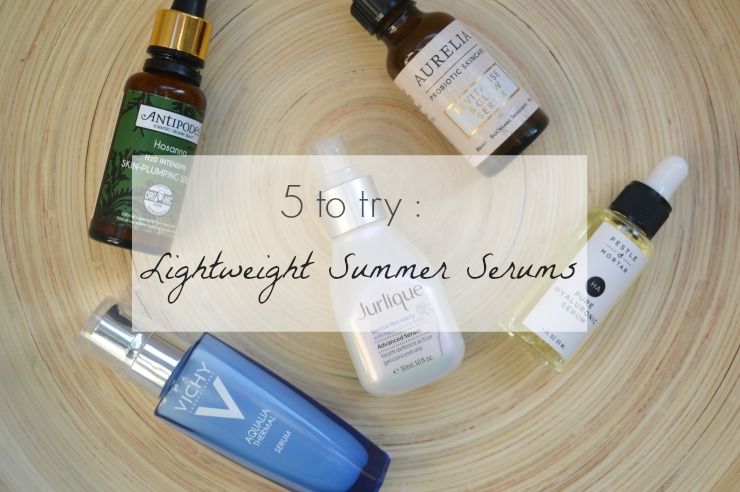 With the balmier weather continuing over the next few months (wishful), not only do we start to have to think about things like 'eurrrgggh I have to shave my legs more often' and how to stay sweat and stickyness-free on the morning commute whilst avoiding armpits in all directions, but also you need to consider switching up your skincare regime to adapt to the summer months.
You may assume that as your skin is more sun-exposed that you need more hydration, but actually your skin is pretty clever and naturally produces MORE oil in the summer, so actually it can be beneficial to switch up to lighter weight serums and oil-free moisturisers.
I always tend to like a serum that feels lovely and lightweight, absorbs in quickly and doesn't leave my skin feeling weighed down ; more so in these warmer months. Here are my top picks for some great serums to try that are perfect for summer.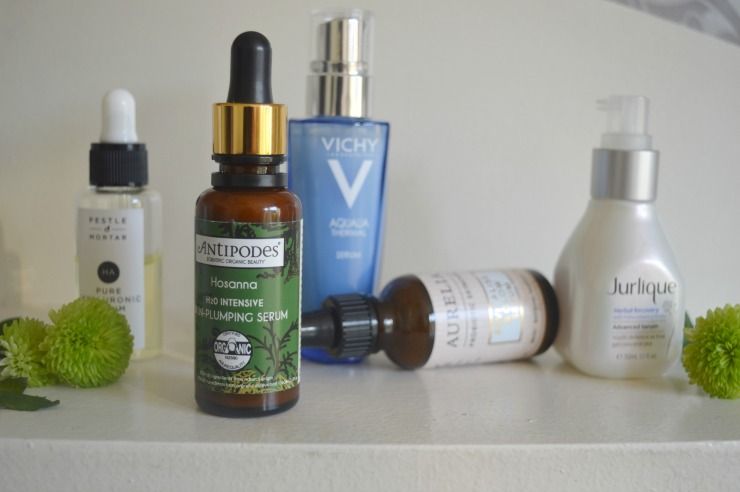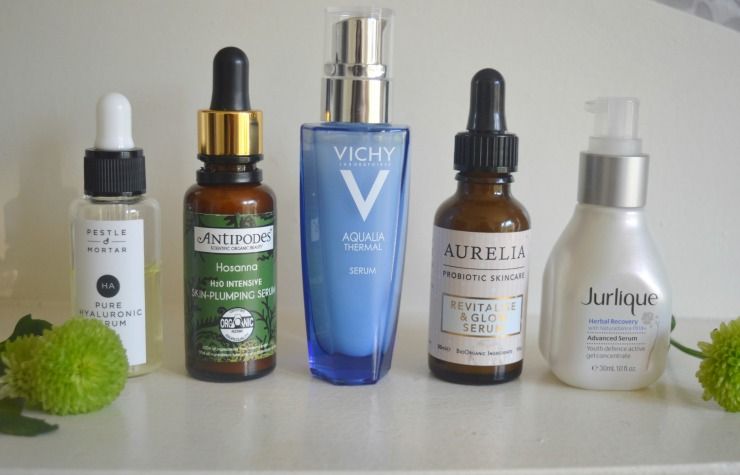 Pestle & Mortar Pure Hyaluronic Serum
What? A hyaluronic-packed serum that infuses your skin with a huge
moisture injection. It also contains Lactic Acid, another one of my
favourite skincare ingredients which acts as a gentle exfoliant =
plumper, brighter and smoother skin. THE BEST hyaluronic-based serum I
have ever used..and I've been around the block.
Who? All skintypes, especially if you are anything like me: combination, slightly lacklustre, in your 30's and need a hydration kick without the oils. This absorbs in super quickly and leaves the skin feeling lifted and plump, so also a great instant tightening serum that will give results instantly.
Price? £33 (30ml) More Info.

Antipodes Hosanna H20 Skin-plumping Serum
What: Mineral-water charged and oil-free this is a perfect summer serum for pretty much ALL skintypes and concerns and this is one for you if you want to plump, smooth skin. Antioxidant-packed so also protects the skin and mamuka black fern helps with cell renewal / collagen production AKA anti-ageing stuffs.
Who? Someone who wants anti-ageing benefits in their summer serum and likes natural products ; This is certified organic.
Price? £24.75 (30ml) More Info.

Jurlique Herbal Recovery Advanced Serum
What: An anti-ageing serum with the gel texture. I think this could be Jurlique's signature product! Combats fine lines, dullness & dehydration. Over 18 botanical extracts, vitamins & essential fatty acids, this is like a daily nutritional 'feed' for your skin.
Who? Again, I would say this is for someone who wants to target ageing and skin tone. Men seem to love this one, I think because of the invisible-gel texture.
Price? £47 (30ml) More Info.

Aurelia Revitalise & Glow serum
What: A potent anti-ageing serum with the signature Aurelia probiotic technology with bioOrganic plant & flower essences. Contains omegas, antioxidants, vitamin E & essential oils and is a great ALL ROUNDER. Pure luxury in a bottle, this is lightly fragranced with jasmine, plumeria, tuberose and mandarin and it just smells DIVINE!
Who? All skintypes. Does contain oil, but still lightweight on the skin. If you haven't a particular skin concern, but just want something that will target everything and still do something!
Price? £47 (30ml) More Info.

Vichy Aqualia Thermal serum
What: A hydration burst for your skin. Infused with Vichy's signature Thermal Spa Water (mineral-enriched) and hyaluronic acid. This is all about normalising your skin and getting it back to it's optimum state.
Who? Hydration. Hydration. Hydration. For Sensitive, dehydrated and dry skins. Also a great one for a lower budget and you can buy this in Boots as opposed to online/ a trek to your local department store/Space NK.
Price? £22.50 (30ml) More Info.