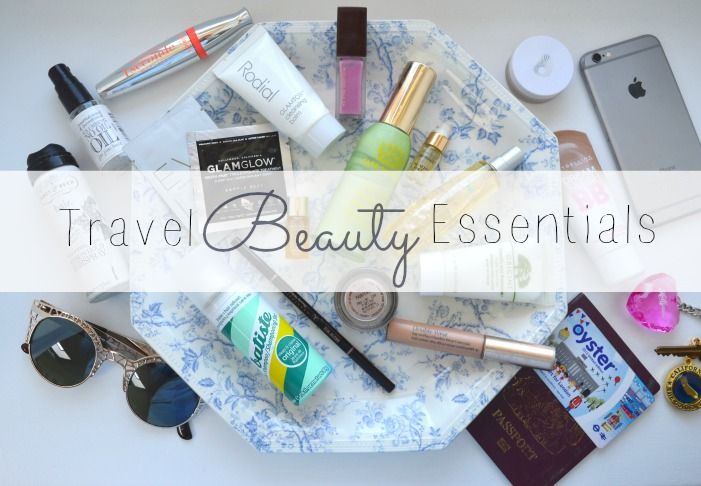 Summertime usually means upping the ante of travelling ; whether it be long weekends in the UK , festivals, Ibiza trips or lying on the beach for a week somewhere glorious. I have just come back from a month of travelling the U.S.A and I'm currently back in my *home-home* of Jersey. It's a 40 minute flight from London, but with only a small suitcase, packing frivolously and thoughtfully is a must to get all your items jam-packed in and of course, getting the right beauty basics to see you through.
Here are my current must-haves for when I am travelling and trying to use minimal beauty bits and makeup. (I promise you THIS is minimal.!)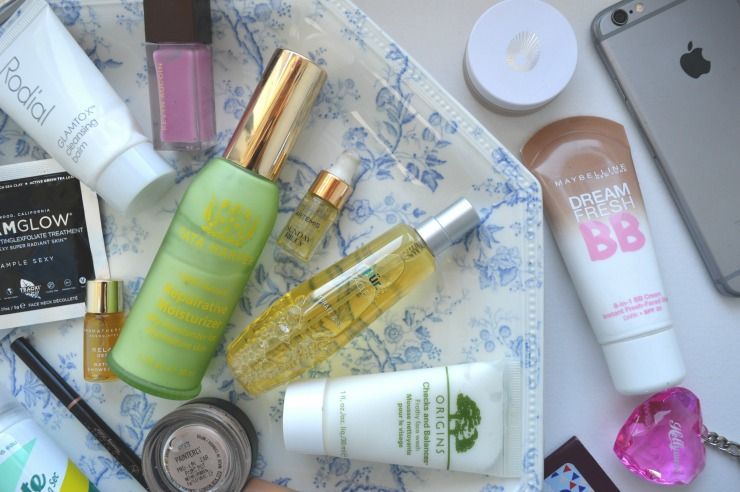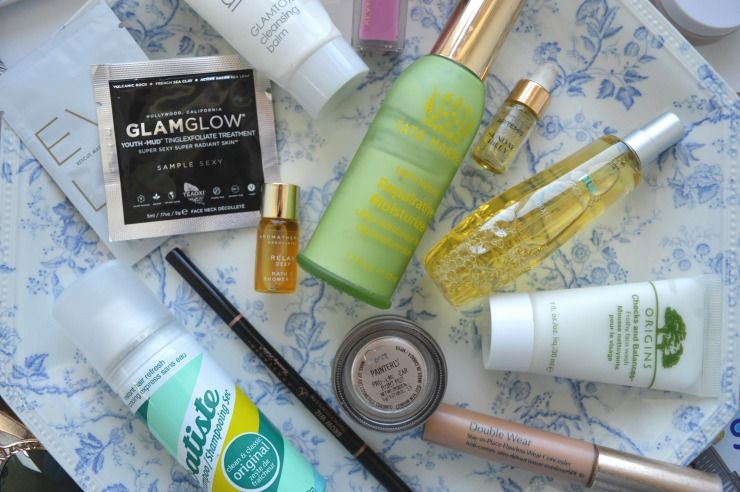 Skincare.
2 x Cleansers : One for the PM (oil-based) and one for the AM (gel/foaming). This week's choices are the Origins Checks & Balances for my morning shower face wash and then the Rodial Glamatox cleansing balm which is oil-based and great for removing all makeup and in an easy tube for travel.
Pur Minerals Miracle Mist hydrating and setting spray. Hydrates for when your skin is parched after travel AND also can be used as a makeup setting spray ; a great double-up. This wonder product has no less than 70 essential vitamins, minerals, antioxidants & amino acids.
Sunday Riley Artemis face oil. This is a sample size I managed to pick up at Space NK and it's ideal for a week of travel as such a small drop of this nectar of the gods goes A LONG WAY. I use it in place of serum when needed.
Tata Harper Repairative moisturiser. Ok not the most travel-friendly packaging as it's in quite a hefty 50ml bottle but my skin loves this when it is stressed and over-travelled, so just a great all-rounder I can use AM/PM and just WORKS for me. If I had more time I would have decanted it into a pot for space-saving.
Mask sachets. As our skin always needs a treat or a boost when we are away. I just take a couple of sachets of whatever I may have lying around the house in case I happen to have a breakout or need my skin looking gorgeous for an event or night out. This time I'm travelling with my favourite Glamglow mask and the Eve Lom rescue mask which is perfect for congested skin.
Omorovicza Lip Balm. How do you EVEN pronounce that?! Either way, I am loving their lip balm, which I use for multi-use when travelling ; cuticles & dry, patchy skin.
Makeup.
I obviously have a TRUCK-LOAD more of makeup than just these items but these are what I've handpicked as my 'essentials'. Even with out any other products, I could eek out a somewhat presentable face with these items.
Maybelline Dream Fresh BB cream. A slight surprise for me, as I'm usually a bit of a base snob, but THIS is just fantastic on my skin at the moment as I have holiday skin and only need minimal coverage. If you follow my Instagram you may notice this has been popping up quite a bit. Wearing shade 'Dark' at the moment as I have quite a serious tan.
Estee Lauder Doublwear concealer. An old favourite that I have been using for many years. Great for under the eyes as well as blemishes and redness and super quick and easy to apply and blend. One of my favourite concealers of ALL TIME.
Anastasia Beverley Hills Brow Wiz, shade 'dark brown'. I picked this up in the U.S as just had to try these much-talked about brow products. Still trying it out at the moment and will be reviewing their stuff fully soon.
MAC Paintpot in 'Painterly'. A classic nude eye colour and base. This is what I wear all across my eyelids to achieve the 'I'm-wearing-no-makeup-look-yes-my-eyelids-are-just-a-really-nice-shade-with-no-redness-or-veins'.
Kevyn Aucoin Lipgloss in 'Cloudaine'. My favourite pinky nude gloss from Kevyn and this shade I have been wearing since it launched back in the UK. Almost clear, just a touch of blue-pink and suits my lip colour perfectly.
Hair & Body.
Aromatherapy Associates 'Deep Relax' Bath oil. If you are a regular reader of my blog you will know I have a deep-rooted and sincere love for Aromatherapy Associates. I buy the miniature bath & shower oil collection quite regularly and then take a selection when I travel. LOVE & NEED.
Batisse Dry shampoo. No need for explanation.
Percy & Reed Hairspray & No Oil oil for fine hair. They sell great travel packs with lots of different styling products which is super handy.

Any handy space-saving tips for your beauty and makeup items? Do you de-cant your skincare into pots?