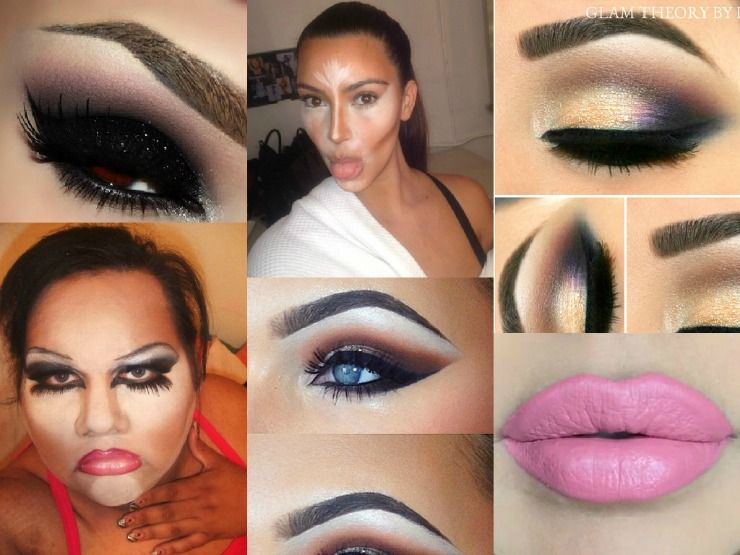 We all see it : THOSE beautiful lip and eye makeup shots, the flawless blending, the poreless skin, the almost unaturally perfect brow…….jigged around in different positions to look eye-catching and of course, photo-shopped to shit. Instagram makeup artists is a new breed and with some of these artists gaining hundreds of thousands, some millions followers, they really are a force to be reckoned with.
I love, love, LOVE looking at makeup, art, creativity and other makeup artist's work, but for me, the majorty of these 'big-baller' Instagram artists are more of a master at the old photoshop as opposed to the makeup brush and it breaks my heart a little that they are given so many young girls ridiculously and unobtainable makeup inspiration on a daily basis. I know so many REAL makeup artists (who work on huge A-listers / Vogue covers/ travel the world working on THE biggest shoots) who have only a handful of IG followers yet people do not see them as interesting to follow as the fake, plasticy, over-contoured crew, I just DON'T get it. Where has the art gone?
The irony is that a lot of these IG 'makeup artists' aren't even, what we traditionally know, a makeup artist at all. As in they have never worked on a photoshoot, actively done paid jobs that involve makeup, assisted/worked on a fashion show, and have absolutely zero portfolio ; their portfolio is makeup shots of themselves. Bravo to you for your 0000000's of followers but social media followers unfortunately will never get you a job in the makeup world, at least any credible ones. I have worked as a makeup artist for 12 years now ; I have worked for free, worked countless 18-hr days, assisted on over 12 seasons of fashion week, been shouted at, been overworked & underpaid, have tirelessly learnt as many different styles of makeup application & techniques as I possibly can, built my portfolio over these many years – often working for free & I'm still learning from this huge, creative and endless industry. I feel that IG is painting a REALLY unrealistic picture of what being a makeup artist is about.
Of course, these girls and boys are harming no one and anyone being creative and having fun with makeup is a really good thing, I just think we need to re-assess what is real, take a little reality check and stop taking this makeup so seriously ; have you READ some of the followers' comments on these pictures?! I feel it's giving young people a really distorted view of how they should look. Stop trying to look this fakely flawless because it's simply NOT REAL. Teenage girls are learning drag makeup techniques and I see it every day ; it just makes a young beautiful person look older than what they are. A very famous IG MUA has quite a well-know picture turning a fresh-faced model into a 'glamour goddess' through heavy contouring, makeup and shading. She is a beautiful girl to begin and she just ends up looking like a 40 yr old real housewife. Every makeup artist I know who has seen this picture agree's that the model looks better in the 'before' picture, than the after ; where she is unrecognisable. Makeup like this can be fun for certain things but this is what our younger generation are looking up to as normal. It's just not right.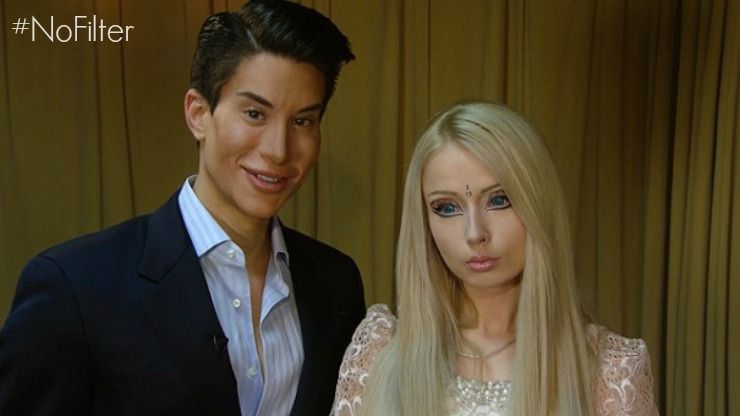 Common Instagram makeup/fakeup's:
The Contour.
Once a makeup artist trick for red carpet, celebrities and such. Now an everyday must-have for most it seems. Great for a night out or special occasion….save it for that, so you look….special.
The Overdrawn lip.
We all can't get Kylie Jenner's lips with a bit of THAT MAC lipliner. Put the pencil down and stick to your natural lip shape.
The Brow.
Just. Too. Perfect. Can't see any hairs or texture. Too much white highlight under the brow and HOW do the hairs ALL go one way anyway?! Brows on Fleek?..nah love.
The Lashes.
Big, plasticy lashes everyday? Come on now. Nights out, yes, but wearing lashes on a daily basis is NOT good for your real lashes.
The Poreless skin.
Ok we all like a bit of a photo edit and filter and that's fine. Let people also see the 'real you', and not just the airbrushed you. We have pores, we have fine lines, let's suck it the fuck in and accept that. My favourite quote ever : 'STOP EDITING YOUR PICTURES. WHAT IF YOU GO MISSING? HOW CAN WE FIND YOU IF YOU LOOK LIKE BEYONCE ON FACEBOOK AND WAKA FLOCKA IN PERSON.'
Love real makeup, art and creativity, then check out THESE people:
Val Garland, Pat McGrath, Charlotte Tilbury, Sharon Dowsett, Andrew Gallimore, Stephen Dimmick, Aaron de Mey, Kenneth Soh, Moises Ramirez, Jessica Hunte, Nikki Makeup, De_Maria
How do you feel about this whole makeup / Instagram thing?