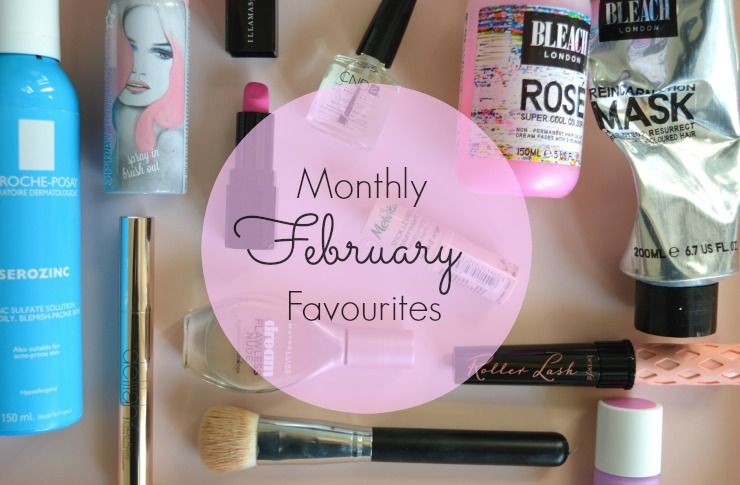 One of my best month's for discovering some REALLY good new beauty products….and a lot of them just from random drugstore purchases. A lot of new products for me and a couple of old favourites creeping back into the daily uses. I dyed my hair pastel pink last month so from this, I had to use new hair products to help my over-processed hair calm down a bit, and then also try some new makeup products to suit this new and very different hair colour. I'm still trying lots of different makeup looks!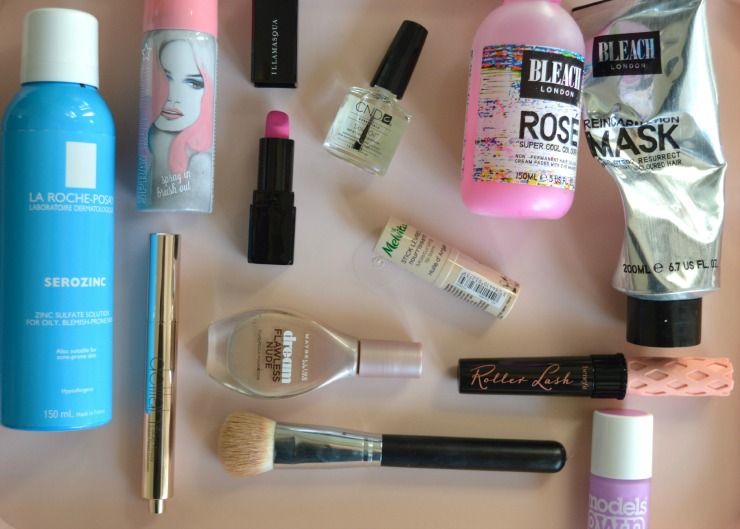 La Roche-Posay Serozinc* I am a little late to the table about this as this was launched way back when and social media went a little crazy for it. Fast forward a few months and I have only just started using this 'wonder product' and I'm a little ashamed to say, as a makeup artist, I had NEVER used this before, or scurried it back over from Paris along with my Embroylisse and Bioderma (back in the day when it was unavailable on our fair shores in the UK..). It is a zinc sulphate solution face spray that is an absolute must for combination/ oily and breakout skins. The formula calms down irritation, purifies, soothes, and reduces redness. Working wonders on my skin and am currently using it daily after AM cleansing and before serum. Am going to be buying one for my makeup kit too.
Benefit Rollerlash mascara* I was fortunate enough to be sent one of these before it came out to review. IT'S GOOD. Really good, in my opinion and the first mascara from Benefit that really works for me and I would absolutely buy it when this one runs out. Full & honest review here.
Maybelline Dream flawless nude foundation An accidental discovery. Well, I hadn't heard anything about it but saw it in Superdrug a couple of weeks ago and I ended up buying one whilst it was on offer, and to be honest was kind of buying it thinking it would of been one of these over-hyped faddy new products and was ready to gun it down. Really blown away by this foundation and it gets a huge thumbs up from me ; have been wearing it daily ever since. Full review here.
BLEACH London reincarnation mask This is one of the best hair masks I have used since I have been bleaching my hair. It's beautifully rich and luxurious and leaves my hair feeling wonderfully soft and manageable. Without this, it can dry a bit straw like. This is my second tube and I'll be into my third this month. My only gripe is the tube, as you can't get it all out – I probably leave a useage in it each time I throw which is frustrating.
BLEACH London Rose hair colour My go-to for sprucing up my pink hair. I used this all over my hair maybe every 7-10 days (leave for like an hour, it has no peroxides or anything and is very gentle), I also add a dollop in with my conditioner every time i wash my hair to give the colour a boost : Pink hair fades FAST!
Melvita moisturising lip balm This twist up organic lip balm is infused with Argan Oil for deep nourishment and comfort and leaves my somewhat flakey lips soft and ready for lipstick or just a solo sheen.
Superdrug spray hair chalk One of my best discoveries. It's exactly what I need right now…a coloured dry shampoo that is the perfect shade of pastel pink so works really well with my hair. My hair hasn't got perfect pink coverage as it was a DIY job, so a spritz of this makes it look really good in the patches where it's not as pink. I hope they do bigger sizes of this as I could only spot these small handbag sizes and they last about 3/4 applications.
Delilah Fade Away future resist concealer* A new-ish makeup brand for me, and I only started using and trying it out last month/ late January. The quality is beautiful and this is a amped up (and better) version of the old favourite, touche eclat. It is paraben and contains skincare to also de-puff and soothe the eye are as well as conceal and brighten. Am really loving the Delilah makeup range and can't wait to try more of it's products.
Illamasqua Glamore lipstick* in Luster I got this ages ago when these sheeny, full-pigment lipsticks first launched and have found myself re-loving it lately. Maybe it's the pink hair?! Either way if you like a full-on, barbie pink lipstick ; this is THE ONE.
Crownbrush C472 brush THE best foundation brush in relation to cost and performance. It's a cheaper dupe of my love the Shu Uemura natural 18 or the Tom Ford cream foundation brush but it costs just £8.99 ; the shu and TF ones are £42 and £58! I Have currently been using this to apply the Maybelline foundation with and it makes application so quick, easy and flawless. MUST-HAVE-Y'ALL. Check it out here.
Models Own nail polish* Lilac Icing This is from the new 'Icing' range which is a collection of candy-coloured pastel shades. I love a few of them, but I think this is my favourite. It reminds me a bit of the Illamasqua Harem but for a fraction of the price. Full review and swatches of this collection here.
CND Solar oil (nail & cuticle conditioner) I used this many, many years ago, I think it was actually the first nail oil that I ever used as my local salon gave me a sample after I had my nails done once. I recently got this in a goody bag from *somewhere* and it's a solid staple in my handbag. I always use a nail oil or cuticle cream of some sort to soothe and hydrate as I get SO dry and this seems to be really good at the job.
Have you tried any of these products before or is there anything here you have had your eye on? Any good beauty discoveries from your end I should know about?