This is a continuation of my foundation post from yesterday where I talked through my top 'high end' & luxury foundations of the moment. This is a little look into the more accessible, budget-friendly and high street foundations that I am liking on my skin. I know it varies for everyone ; my skin is combination/oily and I need a medium-ish coverage and I certainly don't have perfect skin with nothing on! I don't like a matte finish or it to look heavy looking and these are my current high street favourites that are ticking my boxes.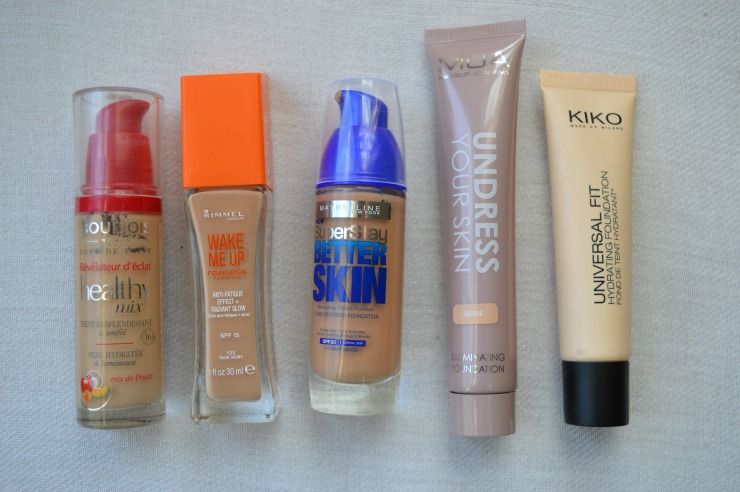 Bourjois Healthy Mix (£9.99) This *could* be my favourite high street foundation, and I have been wearing it for around 2 years now. Lots of beauty blog hype around this foundation and I can see why. It contains different fruit extracts to give radiance to the skin and I think that has a really fresh feel and look. Medium-buildable coverage which has a semi-matte finish.
Rimmel Wake me Up (£8.99) This had very mixed reviews when it launched because of the very glowy/ almost shimmery finish to it..but i like it. It's an 'anti-fatigue' foundation so all about giving that instant radiance, and it does so with radiance pearls which give it that finish. Not for those with oily skins but I am combination and it works for me. Light-medium coverage, this is one for the summer months for me.

Maybelline Super Stay better skin (£8.99) I was itroduced to that last London Fashion week as one of the shows I was working on was sponsored by Maybelline and this is what we used on the models. This is the ultimate comfort-wear foundation that feels really lightweight on the skin and really stays put! It contains skin balancing & brightening ingredients such as Magnesium, Copper and Zinc,
and also vitamin B5 for hydration. Claims to improve the look of the
skin as you wear it after a few weeks but i haven't worn it daily for that amount of time so am not sure about all that nonsense. Good for all skintypes and this is one that I don't have to powder once during the day.
MUA Undress your skin (£5 currently £3.75 here)
Ok this is another one that seems to be a love-hate amongst a lot of
other beauty bloggers. Firstly, it only comes in 3 shades which is just
silly, but luckily for me, 'Beige' the medium tone is pretty good for me
and it just works on my skin. It's quite a heavy coverage, but I
literally only used the teeniest amount onto my freshly hydrated (still tacky) skin and buff it in with a fluffy brush like this
and it always makes my skin look glowing and fresh. This is my gym bag
foundation…no not for wearing AT the gym but post-shower-post-workout.
KIKO Universal Fit (£6.90) This is fast becoming one of my favourite high street brands.. I struggle when I call this 'high street' as it's not readily available in your boots/ superdrug etc as these other foundations but the price point really is, and it's just such great makeup. Universal fit is a hydrating fluid foundation that is ultra-smoothing with a natural look finish. I also like the travel-friendly squeezey tube. Comes in a whopping 20 shades so if you are nearby a KIKO store then go and have a colour match.
This was really tough to whittle it down to just 5 foundations as there really are currently SO many great purse-friendly foundations on the high street. I think 2014 was a real game-changer in the foundations that we saw coming out from these brands and they are giving the high end foundations a run for their money. What are your favourites?