I change my love for the foundations I wear as much as the English weather. I guess it really depends on how my skin is (dry/oilier/blemished etc) as to what works well on my skin at the time. Sometimes I need only a really minimal coverage but sometimes I need a medium-full with a good dousing of concealer to cover blemishes and redness.
My main needs for a foundation is just for it to look semi-dewy and not powdery or matte-looking on the skin, I really dislike that on my skin personally and NEVER wear a matte foundation. These are the current 6 favourites that are adorning my dressing table, and I juggle in between them constantly.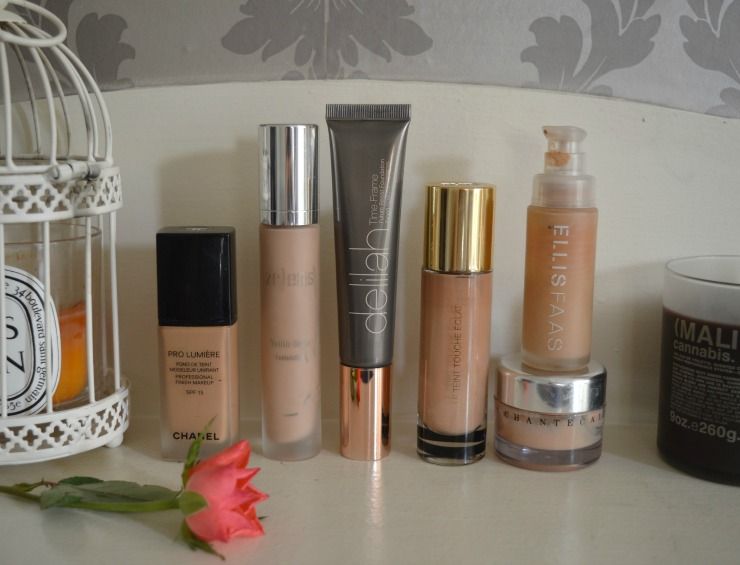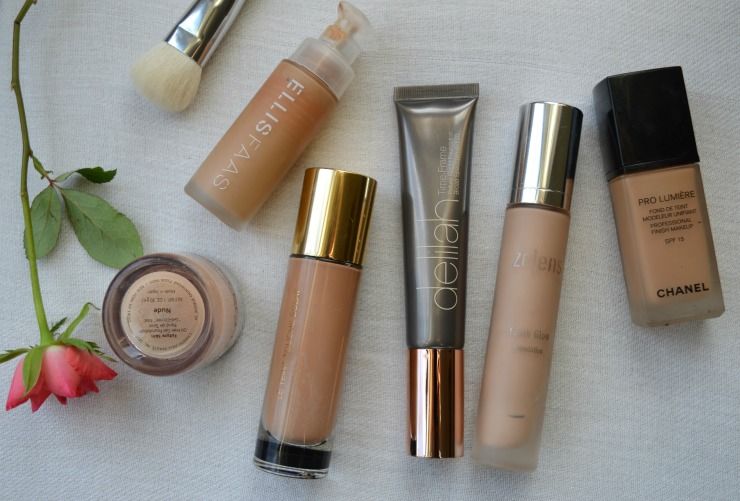 YSL Touche Eclat Foundation (£30.50) This is the first and only YSL foundation I have used and really liked. I think it got a mixed review when it launched, but I think it's really good and I prefer it to the newer Fusion Ink which has had mega rave reviews..I keep getting a strong whiff of alcohol when I apply this…anyone else?! The Touche Eclat foundation is the ultimate dewy, radiant, gorgeous skin finish and this is what I use when my skin is relatively good and I don't need a full coverage.
Ellis Faas Skin Veil (£55) This is a really great foundation that I have been wearing for around 4 years. It comes either in the tube with brush applicator form or in this larger 30ml size glass bottle with pump. Some people think that they are two different foundations but it's the same one, just different sizes and application. I prefer the bottle, I do have the brush pen also but I prefer that for travel and touch ups. This is the foundation I turn to when I need a full coverage but none of the cake-face.
Zelens Youth Glow (£60) I was super curious when Zelens launched their makeup line last year, and only recently got around to trying the foundation…I'm impressed! As expected it is infused with lots of top skincare ingredients that he (Marko Lens, founder of Zelens), uses in his skincare, including hyaluronic acid, shiso leaves & diamond spheres. This is a step up from a tinted moisturiser in terms of coverage and is a real skin treatment foundation.
Chantecaille Future Skin (£60) This is a beautiful gel-based, oil-free foundation that always makes my skin feel and look really fresh, smooth and gorgeous. I am not a huge fan of foundations in pots but this slips through the net because it's just such a great base. I use this when my skin is feeling dull, tired and it always makes me look good. This is an ultra-soothing and cooling foundation (you can literally feel it cooling the skin on application) and contains aloe, chamomile and arnica to calm any irritation or redness. Great for a sensitive combination/oily skin. I have a set of these in my makeup kit also, and a more mature skin loves this base.
Chanel Pro Lumiere (£40 approx) The ultimate foundation for me, yet was discountinued some time ago. I stocked up when I knew it was going and purchased 3 bottles and this is now my last one. Just gives me a wonderful finish, feels luxurious and nourishing on the skin and gives me the perfect coverage balanced with a lovely glow. None that have launched since from Chanel have quite matched up to this formula. Sob.
Delilah Time Frame* (£34) The newest and 'cheapest' ahem to my luxe foundation collection and I am really impressed by this anti-ageing foundation. It has a luxurious quality and feel to it, not dissimilar to my beloved Pro Lumiere and a really lovely dewy and glowing finish. Not only does this foundation give a good yet natural coverage onto my problematic skin, but I'm a big fan of the easy tube/pump applicator and the packaging is really pretttty. Contains anti-ageing peptides and antioxidants as well as SPF20 to shield the skin from damage and aggressors.
What's your favourite high end foundation? Do you think they are worth they extra splurge? I have a post coming very soon (tomorrow, I hope!) with my top picks for high street foundations.