This is still getting lots of hype across blogs and social media so I thought I would give this neutral-toned palette a quick run-of-the-mill. I have reviewed numerous items from budget makeup brand Makeup Revolution over the months, I truly believe it has some great products and for the price, it really is pretty darn good.
The Iconic 2 palette* (was there a one, how did I miss the 1?!) ….is a more muted palette in comparison to most of the Makeup Rev palettes I have – which I really like. For me, this is the ultimate 'wearable' palette for all eye colours, skintones and there is a perfect mix of matte vs shimmer shades. In fact this is the best Makeup Rev palette I personally think I have seen. If you have not dipped your tone into this brand yet, then I would suggest something like this is the perfect way to discover it. I've just looked online to see the Iconic 1 palette and that, again is a really great combo of colours, probably a bit punchier than this one, so it's really a matter of tone preference ; This is a lot cooler and slightly softer…the Iconic 1 appears like a slightly brighter and warmer tone of palette.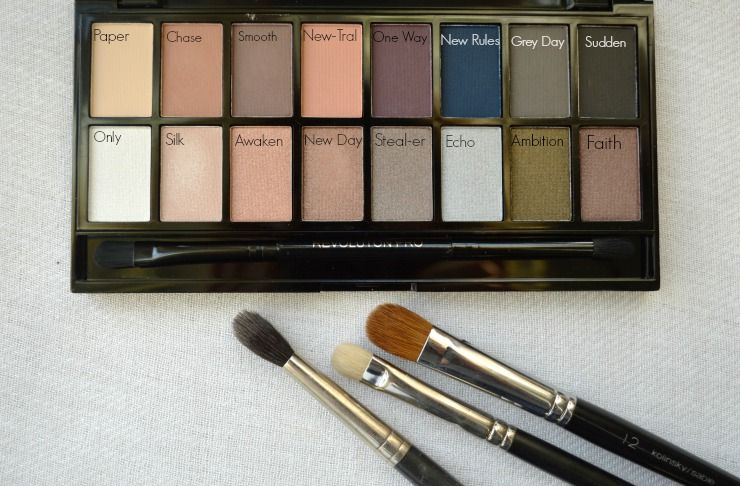 The quality of shadows is reasonable, some are better than others but all-in-all I have no complaints, you are getting way more than you pay for with this eyeshadow palette. I'm really loving the top 5 shades from the right – these give a really perfect nude, matte eye and Chase & smooth make a really good crease colour.
Don't get me wrong, this isn't something I am recommending for makeup artists to run out and stock their pro kit up with, it's not something that is comparible to your NARS/ Shu Uemura type palettes, but for £6.99 it's absolutely something I would get for myself and I can comfortably get out some really beautiful day and night looks with it. I couldn't get HALF a Shu Uemura eyeshadow for the price of this entire palette ; and that is the beauty of Makeup Revolution. I don't think they are trying to be anything they aren't and in my mind that is an affordable, trend-following, dupe-producing, budget makeup brand for everyday people.
Have you tried anything from Makeup Revolution?