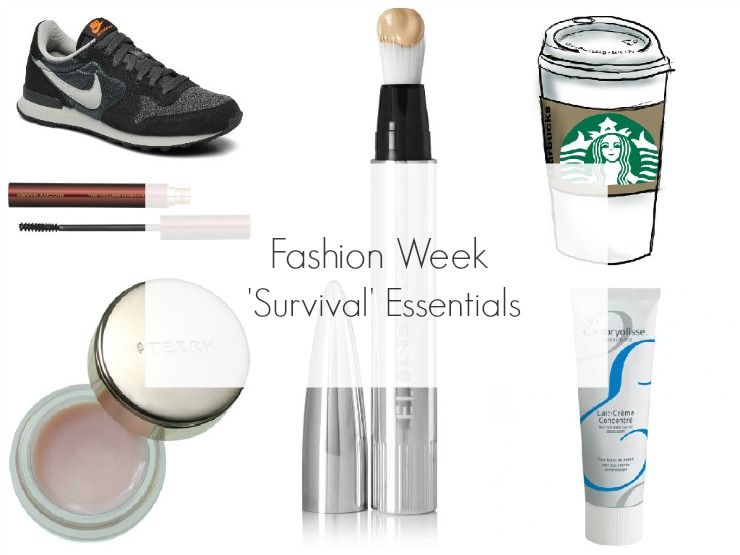 London Fashion week comes about but twice a year, and it always ensures to be a good few days of early mornings / long days / rushing about / lack of sleep / parties. I'm writing this from my view, as a makeup artist as opposed to a blogger. Bloggers, I think pretty much just hang at Somerset house, which is the main showspace, being ferried by Uber from show to show, taking snaps and partying in between pamper lunges, blogger lounges and hangouts… If only a makeup artist's fashion week was so lovely.
Fast forward to 3am wakeups / 5am call times, lugging a ridiculously heavy kit on buses/tubes and trying to meander your way from show to show through the fash pack hanging outside Somerset house pretending to be more important than they are.
Then there's the actual shows. The chaos, the shouting, the stress of finding models, getting the makeup done, having models taken away as you a re mid-makeup, then trying to find the same model 15 minutes later to finish the makeup, being on your hands and knees semi-getting trampled on as your try to gloss legs, hydrate dry body areas and cover bruises in 1 minute flat in semi-darkness in the line-up pre-show, whilst being trampled on and shouted at by dressers, stylists, models and photographers. Then you dust yourself off…and it's onto the next. Yeah it's pretty full-on. The glamour you see from the other side of the catwalk, certainly does not reflect what is going on in our world.
ANYWAY, whether you blog, do makeup, hair, go along as a voyeur, model etc etc…we know it can be a pretty full-on few days, so here are some of my favourite quick, does the job, does it quick, fuss-free bits to help see you through to the other side…just about in one piece.
GOOD LUCK BITCHES.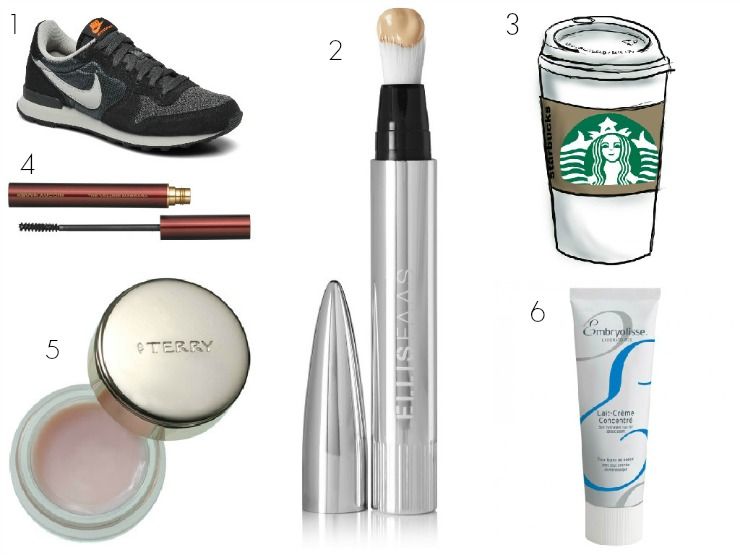 *Sorry for some of the hazy images, I couldn't get the high-res for them all in time for this post*
[1] Comfy shoes. For me, it's obviously trainers (shock) as if I'm working, it's all I will wear : comfy, easy to manouevere in all kinds of places and to get from place to place quickly. I am a big fan of the Nike Internationalist at the moment as they are quite slimline and feminine and come in ALL the shades. If you are going to shows, then get a pair of roll-up flats in your bag : you're welcome.
[2] Ellis Faas Skin Veil (travel size) I featured this in my top high end foundations earlier this week. This nifty pen with an applicator brush can slip into the smallest of bags, and is perfect for touch-ups on the skin, even under the eyes to freshen your makeup.
[3] COFFEE.
[4] Kevyn Aucoin Volume mascara This is my ultimate longwear mascara. I always apply this when I have long days ahead, and cannot worry about mascara or makeup smudging or flaking. This stays put until you remove it with warm water, it has seen me through til the AM.
[5] By Terry Baume de Rose This always gives me that perfect soft pastel lip colour and a burst of hydration with a beautiful sheen. I ALWAYS get asked what lip colour I have on when I'm wearing this. SPF15 and can be applied on cuticles too.
[6] Embroylisse Lait-Creme Concentrate This makeup artist must-have will be adorning all the tables backstage I can guarantee. A very gentle cream that can be used to hydrate the skin, remove makeup and is the perfect base for makeup. I also use this around my eyes. A good multi-tasker when your skincare routine goes out of the window.
[7] Vitamin C tablets The ones that you put in water and fizz. These are so good for when you are feeling under the weather / hungover and need a burst of energy.
[8] Wild About Beauty Illuminating Rose serum This is great for lacklustre, overworked and stressed skin. I use this in my kit and also on myself when I'm really tired and need an instant boost. It has soft pink/purple particles to give a soft focus glow on the skin.
[9] Antipodes Aura Manuka honey mask This is THE face mask for parched skin. Slather all over the face and under the eyes for a natural hydration boost. Ultra soothing and calming and perfect for AM'S or PM's when your skin has just had too much fun.
[10] BIG OBNOXIOUS SHADES. Preferably Prada.
[11] Caudalie Beauty Elixir (travel-size) Take this in your handbag. Spritz it over your skin anytime you need a fresh burst of hydration. This also contains peppermint oils so instantly enlivens skin. Equally good under as over makeup ; Victoria Beckham uses this for a reason.
[12] Oribe Dry Texturising spray (travel-size) A glorified dry shampoo that not only freshens hair and minimises the greasy roots, but it also fragrances the hair and adds texture/volume.
[13] The Body Shop Hemp Hand protector (travel size) Perfect to slip into your handbag to keep this hands protected and nourished at all fashionable times ; you can't be shaking hands with fellow fashionistas with scaly hands good Lord!
[14] Glamglow Eye Treatment These eye masks come in individual foil packs so you could literally take them with you anywhere you go. This are SO good for puffiness and I always apply them when I have early starts and am feeling really tired, honestly helps you feel/look more awake and alive!
Are you braving the shennanigans of London Fashion Week? Is it something you would like to experience? It's not for everyone for sure, but even if you go down to Somerset house just for the people-watching and hilarious try-hards ; it's just worth it.