I have been reminiscing over this last year and thinking of all the wonderful beauty treats & brands I have been introduced to ; there have been many….endless launches, events and it seems more niche brands are now becoming more readily available on the high street. Here are the best and most memorable beauty products I have discovered in 2014:
1.) Sunday Riley JUNO face oil. My favourite face oil I think I have EVER tried. Not using it on a daily basis but just under my day cream and/or night cream when I need a burst of oily vitamin goodness on my skin. It just leaves me with the right kind of glow. Also love the ceramic slip cleanser from SR, Good Genes is on my next year hitlist.
2.) Urban Decay naked flushed palette. I think this was one of my first purchases from Urban Decay and I got it just before the summer. Does it all-in-one and the shades work perfectly on me. Full review here.
3.) Amazing Concealer*. This small tube packs a huge punch and is an absolutely brilliant full coverage concealer. I liken it to the Kevyn Aucoin SSE which is one of my all-time makeup greats. Love the fact it is on a tube for easier application as opposed to the KA which is in a pot. Review here.
4.) LUSH Squeaky Green solid shampoo. (to clean makeup brushes) I am not one of those *Lush-mad* bloggers which there seems to be a huge abundance of. I haven't used any of their products for maybe 10 years or so… but when I was having a nosey around I saw these solid shampoos which reminded me of the solid brush cleansers you can use for makeup brushes..so I picked up one to use, with great results. Squeaky green is the best one to use as it is antibacterial and super fresh smelling! Full info/review/how to here.
5.) Crownbrush C472 brush. One of my favourite makeup brushes of all time is the Shu Uemura 18 brush which is an eye-watering £42. This year, the best budget makeup brush brand Crownbrush launched their own version for just £8.99 and it's a fantastic dupe and of great quality. Makeup lovers & artists take note!
6.) Diptyque Ambre. This had been on my Diptyque *hitlist* since last year and I finally treated myself to it just a few months ago – I think it is the nicest smelling candle I have ever owned! Obsessed. Panicking the more I use it as I know I will have to replace. I got the large 300g size which comes in cognac coloured glass which I think is beautiful…looks warming and smells warming – go as big as you can spend with the diptyque candles as you do save a bit of dollar longterm. It's an expensive habit/addiction.
7.) Aurelia Miracle Cleanser*. A totally new skincare brand and one that is expanding all over the UK due to the fabulous press it has been receiving, particulary about THIS cleanser. Full review here. The rest of the skincare I have tried samples of is brilliant too. No bullshit, just good, clean skincare.
8.) Charlotte Tilbury 'Pillow Talk' Lipliner. This was my 'Makeup Crush Monday' last week. A recent purchase but has had a big impact. Amazing lipliner for cheating a fuller lip.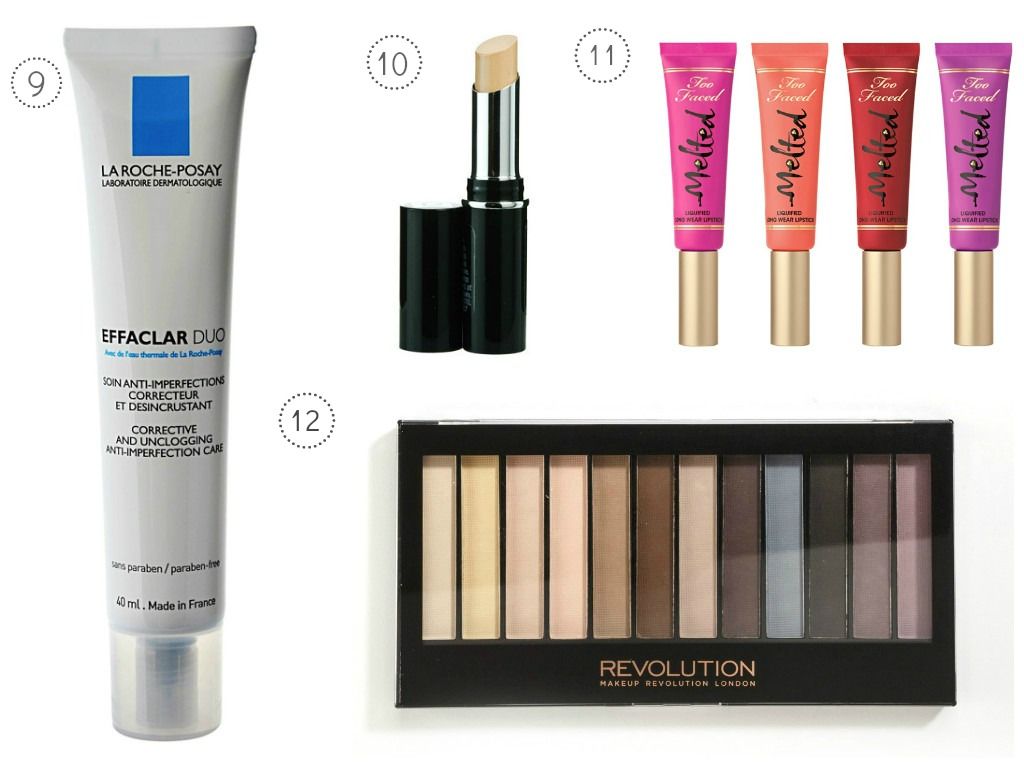 9. La Roche Posay Effaclar duo. This came out quite a while ago, maybe even last year, and I remember I was invited but missed the launch for one reason or another. Due to rave reviews I read from trusted bloggers, I went and purchased it anyway. I used this as my summer day cream and it made my skin lovely and clear. It is too light for my winter cream as my skin gets super dehyrdrated but it's my no.1 summer day cream fow real.
10.) Dermablend concealer*. This is in a handy twist-up stick which is quick and easy to use and I find it works very well under the eyes as well as dotted all over the face in crappy areas. I dot it round on my face after foundation, and then buff it in with my C472 Crownbrush.
11.) Too Faced Melted lipsticks*. This was THE year of the longwear liquid lippies and Too Faced are my favourites. The colours are beautiful (I wore one on my wedding day- see ma makeup here) and they last well without drying my lips. Full review here.
12.) Makeup Revolution. As a brand in general. A budget brand that initially launched online and is now hitting the high streets (selected Superdrugs). They are taking the beauty world by storm, and popping up all over blogs ; I think the whole affordable makeup/dupe thing is just good and needed. Tap 'Makeup Revolution' into my search bar to see my reviews.
13.) Antipodes Skincare. In general. Discovered this year as I think it only became available in the UK this year, and everything I have thus tried (a big handful of things) has been phenomenal.I'm going to do a full post on this brand as soon as I get back to the UK.
14.) BLEACH London resurrection mask. Kind of a general love for this brand, I love the ROSE hair colour amongst others and the resurrection mask, reccomended by Big Fashionista is a winner! Just run out of my first tube of it and am yearning for more. The hair colours aren't super long-term, they only last a few washes but for me this worked well over the summer when I was experimenting with different shades. I would add a touch of BLEACH colour in with my normal conditioner every time I washed my hair to give my colour a boost.
15.) KIKO Overblown mascara. The best mascara I tried this year and such a good price at…NOW 69% off @ £3 (I hope they aren't getting rid of this?!) ; everything abut it just worked for me and my lashes – separation, volume and length. This was one of the many things I had stolen in Ibiza, and had to replace immediately when I got back!
16.) Melvita Rose plumping duo facial spray*. A gorgeous facial spray that leaves skin comfortable and feeling really refreshed. Literally just finished my first bottle up and yearning for more – love this for when I am travelling. Review here.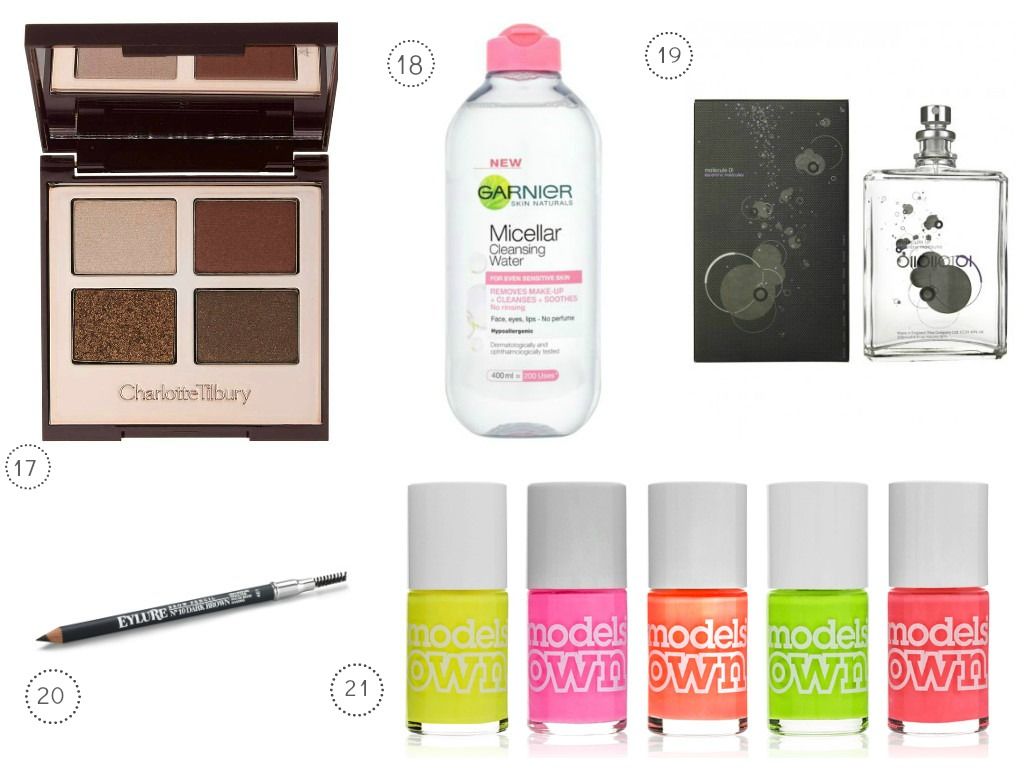 17.) Charlotte Tilbury Dolce Vita Quad. Everyone needs one of these. The perfect quad for blue or green eyes, it's just amazing!
18.) Garnier Micellar water. A great micellar water that sweeps the whole day off with a few swipes of a cotton pad (or 5 depending on how heavy your makeup is) : Removes waterproof mascara with ease and leaves skin feeling lovely and clean without being stripped. A great budget option instead of Bioderma. Full review here.
19.) Molecule 01 fragrance. My wedding fragrance and only discovered this year. A friend of mine was wearing it and I loved how it smelt so got it for myself, now on my second bottle in 3 months.
20.) Eylure brow pencil*. A huge launch for Eylure this year was their brow products and they didn't do it quietly ; a formidable selection of brow products including pencils, waxes, brow growth oils, kits and dyes – it covers pretty much all the brow bases. My favourite product that I have tried from them is the brow pencil and I've been using the 04 dark brown.
21.) Models Own polishes for tans*. These are the brightest, neon-ist, most show stopping colours EVER! I got sent 3 and then bought the extra 2 as I loved the shades so much. The best colours for summer on feet and hands. More here.
SO. A great round up of products currently adorning my bathroom and beauty cabinets…As you can tell, these aren't just a bunch of samples that I got sent…these are brands and products I generally love and spend/would spend my hard-earned cash on.
Have you had any great beauty discoveries this year?! Or maybe you have been left feeling underwhelmed by an over-hyped product? Let me know.