This is the fourth Christmas gift guide I have collated and now it amps the shopping up to the more luxe and pricier items, for those special people in your life. If you budget is around the £100 mark, then take a look at the items below including some beauty must-haves and some other random giftey things. If this is a bit above budget, then please check out my £10 and under, £25 and under, £60 and under guides for inspiration and ideas.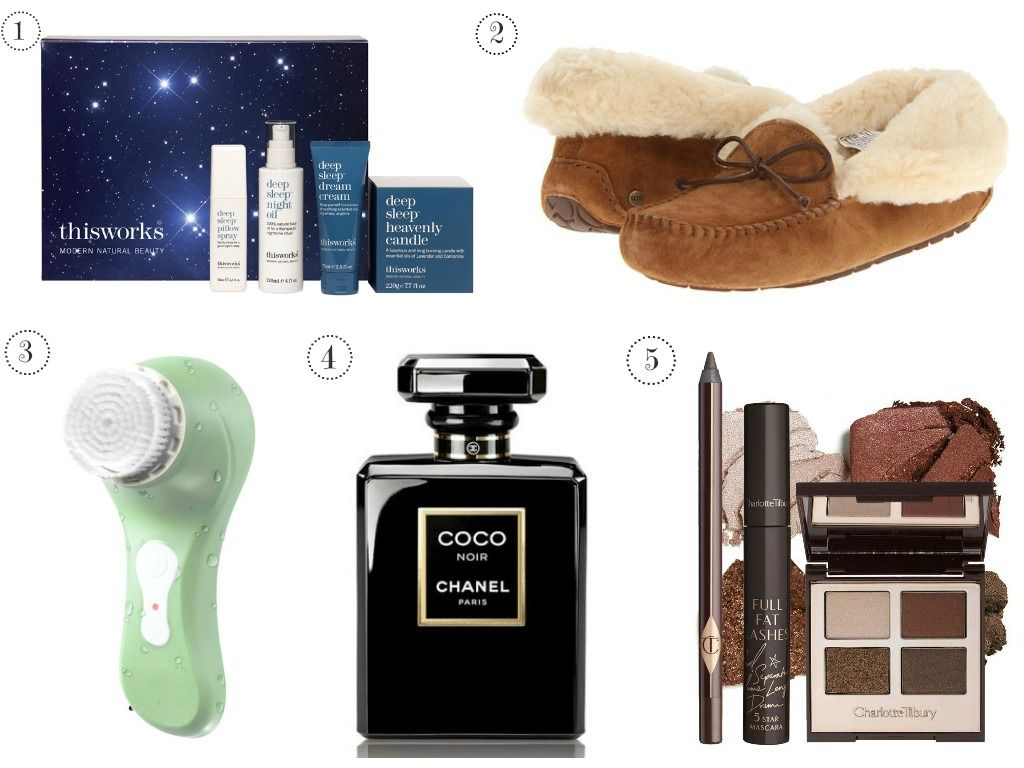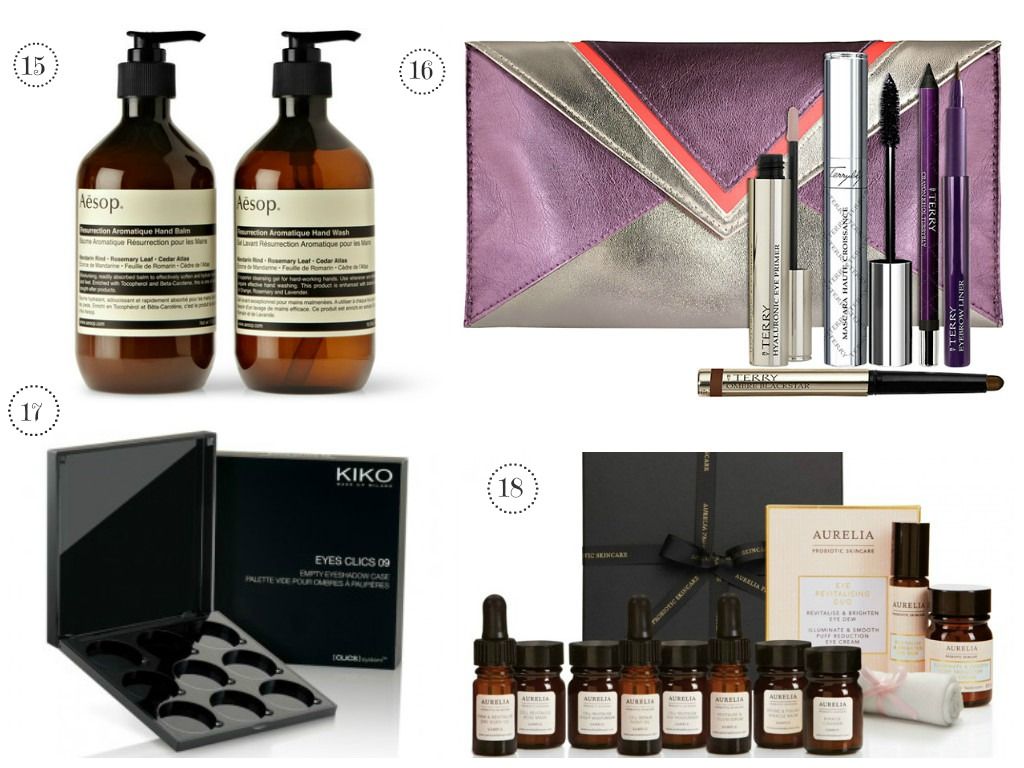 [1] This Works 'I have a Dream' set
(£75) The ultimate unwind collection for anyone who needs to de-stress,
relax and take some indulgent 'me time'. This is on my personal
wishlist, I have used their candles for years and they are gorgeous. [2] UGG Alena slippers (£100) These waterproof suede moccasins are not only super snuggly but they are pretty darn cute to look at. [3] Magnitone Lucid cleansing brush
( £69.99) The cheaper alternative to a Clarisonic and just as good. This
handheld waterproof cleansing brush can be used in the shower, with any
cleanser to brighten, deep cleanse and lightly exfoliate the skin. Comes
in an array of colours to choose from. [4] Chanel Coco Noir
Eau de Parfum 50ml (£75) ….Just because every girl needs a touch of
Chanel for Christmas and this is not only a beautiful oriental
fragrance, but it will spruce up any dressing table [5] Charlotte Tilbury Mesmerising eye kit 'The Dolce Vita' (£75) Dolce Vita is my ultimate quad from this brand and with a few other handy tools, the sensual smoky eye is only a few swishes away. [6] Illamasqua 'The Ultimate Skin Trinity'
(£70) The holy grail for a perfect base and I can
personally vouch that the Skin Base foundation is incredible! Here, you
can choose your hydra veil OR matte (primer), a skinbase foundation and a
skinbase lift concealer all for just £70 which is a saving of £9.50. [7] Diptyque Feu De Bois & Photophore set (£100) For the candle obsessed. Any fanatic (yes you can be a candle fanatic, I am one) , will love this cult Diptyque fragrance of burning logfires along with a elegant glass jar to burn your favourites in. [8] Nike X Liberty trainers
: Internationalist mid's (£95) These limited edition trainers are always
hot property and the latest collection is no exception. I love the style
of Nike 'Internationalist' as they are a bit different from the more
common blazers and air max styles. [9] Mulberry Heart Rivet keyring (£70) Mulberry is one of my preferred handbag makes and I also
love their wallets and keyrings. A cheaper way of buying into Mulberry
than spending £200 on a wallet and a really beautiful token. I gave one to all of my bridesamids. [10] Tom Ford Shade & Illuminate (£56) The ultimate in luxury makeup and an easy-to-use cream contour duo. [11] Trish McEvoy Deluxe portable beauty collection 'Azure' (£90) I have a similar makeup portfolio to this and it's great for those who travel alot, like their makeup to be minimal and streamlined, or just like it to be organised. [12] Hunter Wellies (£95) A practical gift but for most people, a welcomed one! I love my hunters and have had mine many years. They only may come about a few times a year, but everyone needs a good pair of comfy wellies. Come in a huge choice of colours and finishes, and why not throw in a pair of big socks to go with them. [13] Laura Mercier Travel Brush collection (£78) The Laura Mercier brush set strikes again. They change these every year with a limited edition range of brushes within a handy portable bag. All your necessary brushes are within! [14] Chantecaille Flower Harmonising cream (£88) A winter skin saviour that works for ALL skintypes. Anti-inflammatory, deeply nourishing and very soothing. [15] Aesop Resurrection Duet hand wash and balm (£85) Discreet luxury at it's best. This bestselling range has a strong aromatic scent that is both great for men and women. [16] By Terry Give me 5 Smoky Eyes kit (£96) 5 essential items to achieve a quick, easy smoky eye which come in a cute little purse. [17] KIKO custom 9-eyeshadow palette (£63) Buy an empty palette and fill it up with any shades you want. Purchase the empty palette (£9.90) and the refill shadows (£5.90) individually. [18] Aurelia complete collection (£95) One of my favourite new skincare brands I have discovered this year. Natural, clean, gorgeous and active, Aurelia has a pretty comprehensive range of products : try out all of the range with this set of travel sizes. It will have you at least coming back for more of that miracle cleanser!