Let's open our arms and embrace what is inevitably coming…..CHRISTMAS! I am yet to divulge any Christmas chat on here yet but it's mid-November so it's officially legal and the supermarkets have tins of Quality Street stacked up.
I love Christmas, not maybe for the traditional reasons….I love the colder weather, the hope of snow, the buying of gifts, the supermarket party snacks (for real), wearing knitwear ruthlessly, drinking mulled wine next to logfires and the amazing social times and friends that come with it.
I'm going to introduce a series of posts all about Christmas giving, and some hopefully good gift ideas for those looking for mainly beauty-related things. We are overloaded with sets/xmas things and deals at this time of year so I'm going to whittle it down into basic price ranges. First up the £10 and under: Great for those last minute sh*t I forgot about you presents (buy a few and have them ready-wrapped in case!), small tokens when you are invited for drinks/dinner over the festive period, stocking fillers and budget secret santas.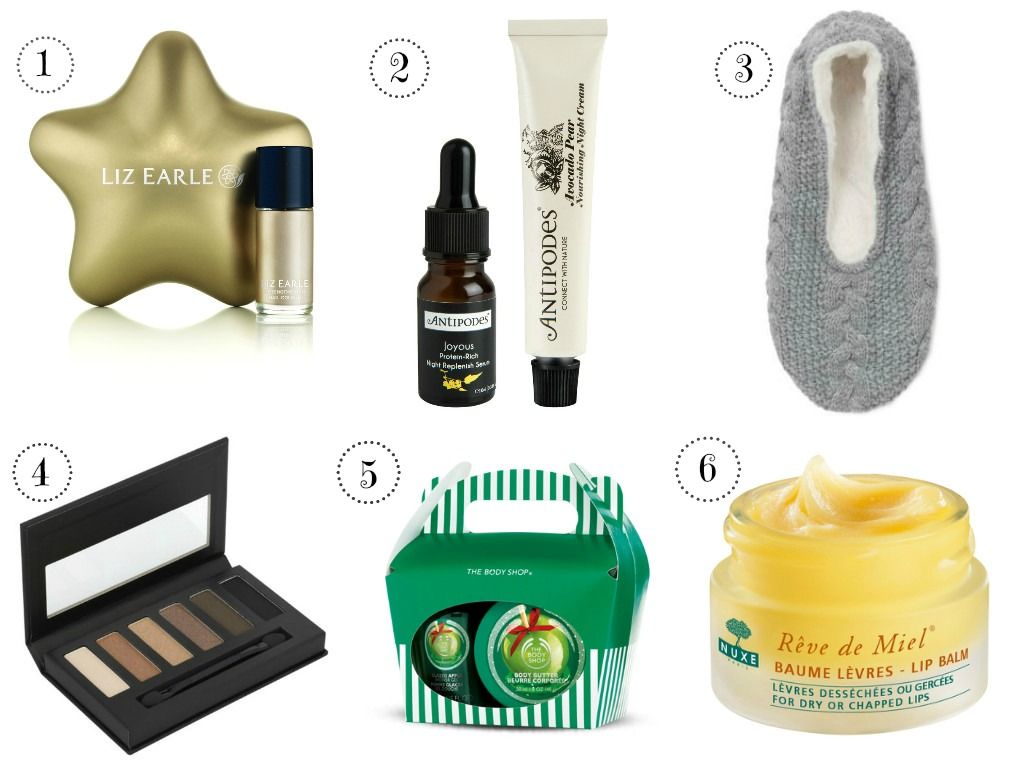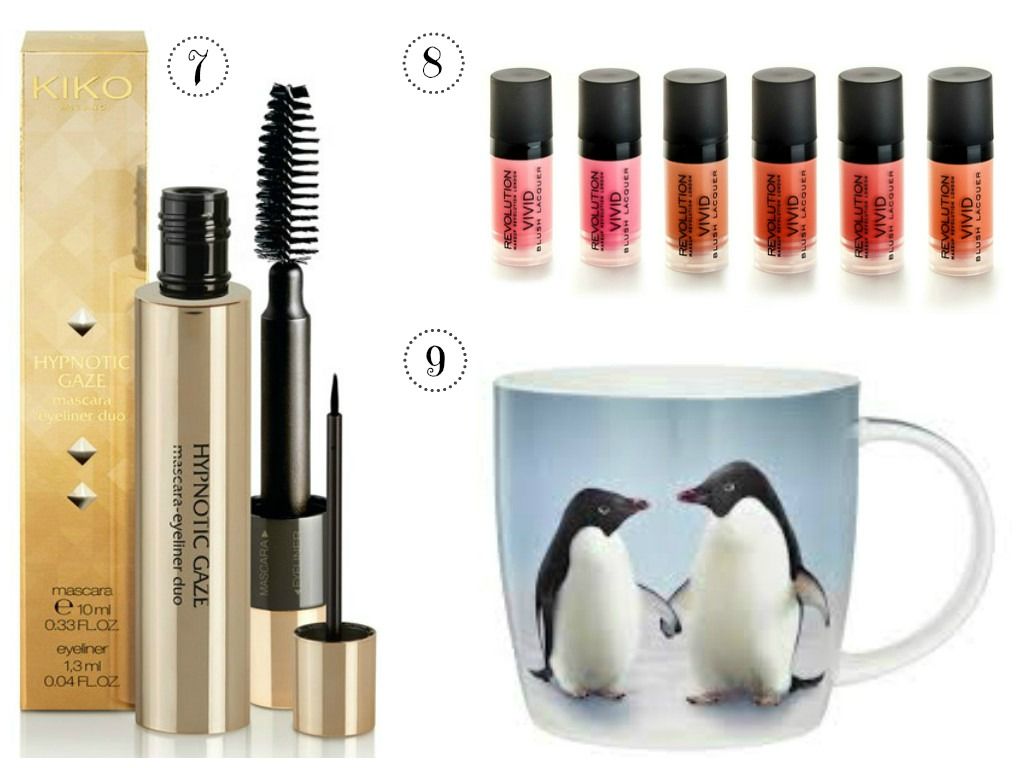 [1] Liz Earle Christmas Star nail colour (£7.50) x4 shades to choose from ; a perfect stocking filler.[2] Antipodes skincare mini's (£9.95) This is a
newly-discovered organic skincare range for me. If you have a skincare lover who is a bit fussy about ingredients then this is the one! (two) [3] M&S Cableknit slipper socks (£9.50) I
have so many pairs of fleecey socks/ slippers/ loungewear things. These
are super cute and you can never have enough pairs! [4] Collection 'All About eyes' palette (£3.19)What
a bargain and the shades in this 6-shade palette are suitable for
anyone and everyone. Subtle golden hues and warm browns that can be used
for a daytime sheen or full-on evening smoky eye. [5] The Body Shop Glazed Apple treat box (£7) This delicious new scent from The Body Shop is fresh, seasonal and this small duo is a perfect small token. [6] Nuxe Reve de Miel lipbalm (£9.50) One of my
favourite lipbalms for my kit and myself and have featured this so many
times. It is super nourishing and thick yet leaves the lips
matte-looking which is rare for a balm. Great for really chapped lips. [7] KIKO mascara-eyeliner duo (£9.90) Really handy to have this duo in your makeup bag. KIKO can't do any wrong in my eyes. A great multi-use space saving product. [8] Makeup Revolution Vivid blusher(£3) I
could have kept going with products from this uber-budget brand. If you go online or into select superdrug
stores, this place could be your one-stop=shop for budget makeup gifts
and stoking fillers. You can get a whole bunch of makeup glory for under £10. [9] Monty & Mabel Penguin Mug (£5) Our most loved
Christmas advert has a plethora of merch – YAAAAS! I will be getting
stocked up with my penguin goods for sure this Christmas. This mug (comes in a tin) is is currently sold out but I think/they had better get more in stock. [10] Caudalie Divine Oil miniature (£8) An indulgent multi-purpose oil
that smells edible and most people I think would appreciate this treat
in their stocking. Comes as a tree decoration which is what quite a few
brands are doing. (now dreaming of a xmas tree full with beauty decoarions….) [11] Weleda Sea Buckthorn handcream (£9.95) This is a lightweight, quickly absorbed
handcream containing organic sesame oil, essential fatty acids, mandarin
& orange oils. Smells beaut! [12] Makeup Revolution 'One Blush Stick' (£5) Any makeup junkie would have heard of these: A NARS multiple dupe for a snip of the price, and come in a huge array of shades. [13] The Body Shop Lip & cheek Doll (£10) I just LOVE the packaging on this limited edition lip & cheek stain. Gives a natural-looking and longwearing flush of colour. All skintones. [14] MeMeMe Dewpots (currently £2 off @ £5.25) These are cute little cream eyeshadows and come in an array of beautiful shades. My must-have colour is the slightly burgundy purple 'Autumn Smoulder' : a green/blue-eyed girls' dream. [15] Soap & Glory Flake Away body polish (£7.50) I
always think body scrubs are a nice gift as they are a pampering treat. This one from Soap & Glory contains peach seed powder &
sea salt & sugar for utlimate exfoliation. [16] Barry M Loudmoth lip colour (£3.99) These are matte longwear lip cream, super pigmented and all-day wear. I love colours 'Diva' (dark red) and 'Goss Raspberry'(bright fuschia). [17] GOSH nail polish (£3.99 /each) I love shades Stardust & Night sky for Christmas shimmer shades. Grab both for under a tenner. [18] Compagnie De Provence Wild Rose hand soap (£10) It
was my mum who introduced me to this and I remember being curious about
the simple looking packaging ; I think it's really chic and subtle and
looks good anywhere in the house. The wild rose scent is on the go in my
bathroom at the moment & it's glorious! [19] Personalise a jar of Nutella £ exclusive @ Selfridges (£3.99 in-store only) This is a bit different and will put a smile on pretty much anyone's face. Get yourself down to Selfridges where they can customise your jar with any name you wish as you wait. [20] Lanolips Lemonaid lip aid (£9.18) I've raved and raved about Lanolips since I discovered it in Waitrose around this time last year. This is a *no-nasty* lipbalm, infused with lemon oil and shimmer to give a plump, hydrated glistening finish.
Next up will be the £20 & under Christmas picks.