Thus far, I've collated some handpicked Christmas gift ideas for under £10, under £25 and this is for those who have a little more to splurge or for someone a little more special. This is now £60 and under, so more luxe, bigger sets (=bigger savings), and a touch more extravagent. (basically these posts are tunrning into my wishlists, then I end up going out and buying allllll the stuff.)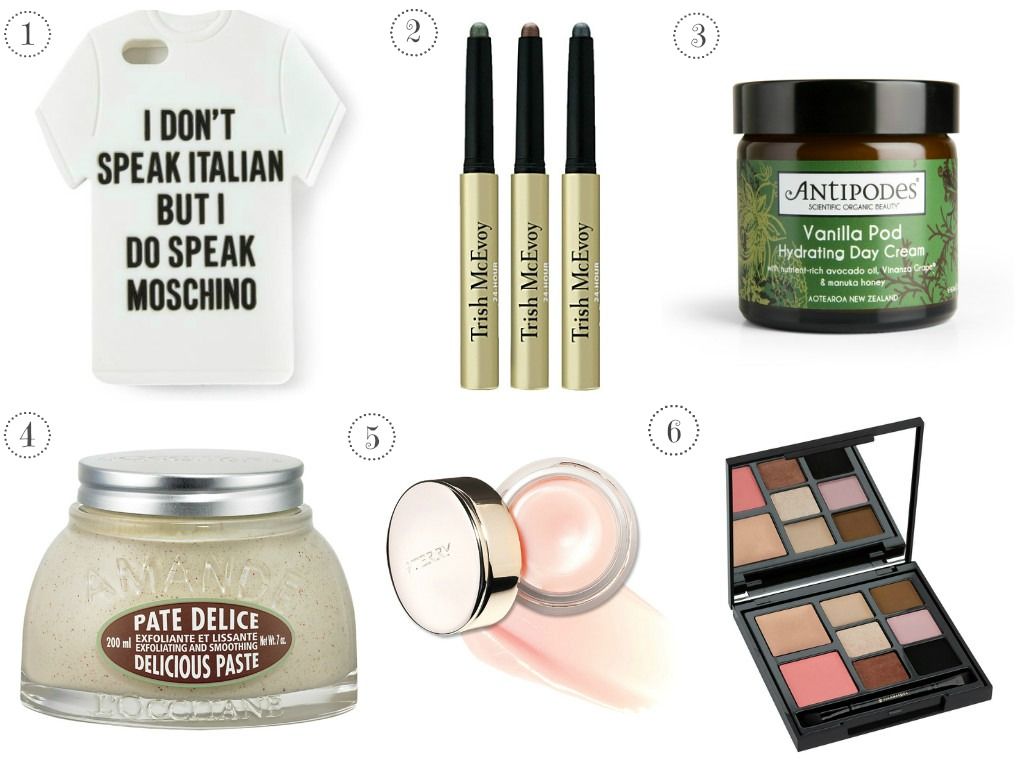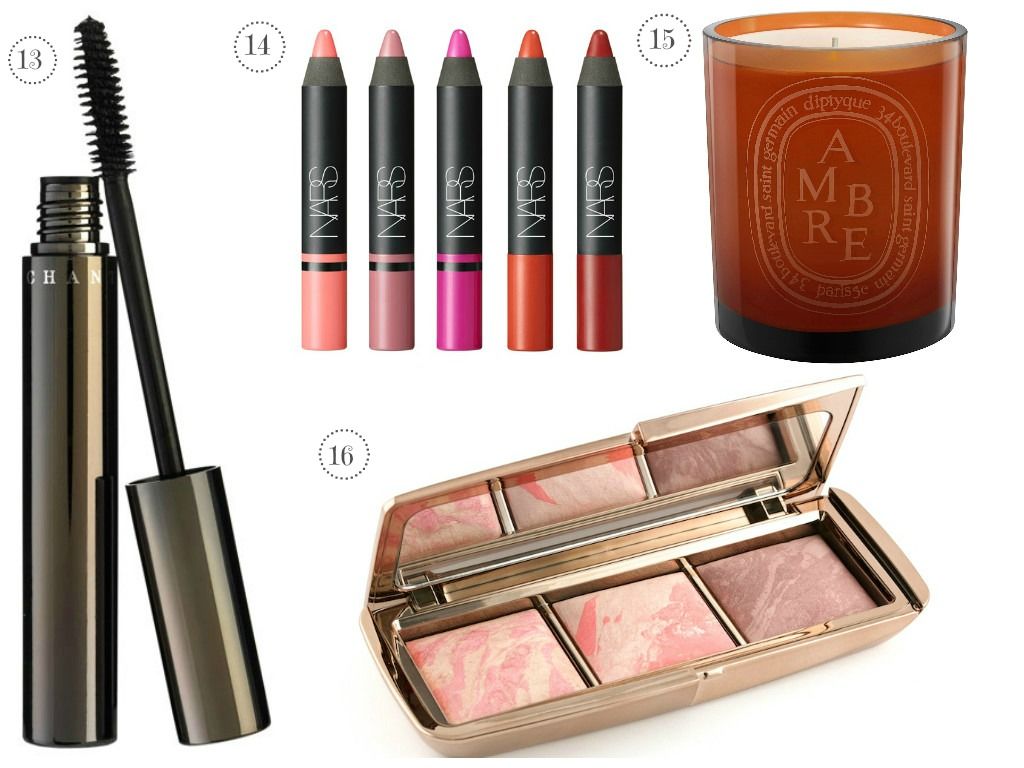 [1] Moschino Iphone case (£41) For a fashion-forward boy or girl. Quirky, fun and even protects your phone as it's made from tough rubber. [2] Trish McEvoy Smokey Eye Trio (£55) Easy to use for even the most non-makeup-ey types. No-budging-whatsoever cream shadow sticks and shade to suit any occasion. [3] Antipodes Vanilla Pod hydrating cream
(£29.25) Skincare is tricky to buy, but an all-round, all-skin, organic
face cream could be the way forward. A beautiful,
ethical, gorgeous skincare brand. [4] L'Occitane Almond delicious paste exfoliator (£29) This body scrub was raved about by Caroline Hirons and this bish knows EVERYTHING beauty so enough said. [5] By Terry Baume de Rose (£36) Cult beauty product and EVERY girl needs this! Packed with rose oil, SPF15 and gives lips a soft petal pink finish. I have used this for 6 years. [6] Illamasqua Facets palette (£45) Your whole colour look in one nifty palette and 2 colourways to choose from. Contains : blush, highlight, eyebrow cake, 1 cream pigment, x 4 eye shades & a double-ended brush to apply. [7] Aromatherapy Associates minature bath & shower oil set (£35) I have bought this for myself numerous times. THE BEST bath oils
known to man. 10 x 1-use oils of all the different scents. [8] Dune Leni Glitter Brogues
(£60 on offer!) Spangly & comfy. These have just slipped into
this selection as they are 20% with the black Friday promotions. So if
you like, you probably need to get ASAP. [9] Charlotte Tilbury Powder & Sculpt brush (£35) THE brush to have from her collection ; Perfect for contouring, highlighting & light powdering [10] Shu Uemura Shupette glitter trio (£45) Beautiful limited edition loose powder trio in pink, gold & platinum. Perfect for the party season AND designed by Karl Lagerfeld HELLO. [11] Paul & Joe Cosmetic Pouch
(£20.50) Quirky, kitsch, fun and pretty. Perfect for those excess makeup items and to de-clutter. [12] Mason & Pearson hairbrush (£56) THE classic luxury hairbrush that is loved amongst all the top hair stylists. I have had some of mine for over 15 years! [13] Chantecaille Faux Cils mascara (£35) Probably the best mascara in the world. [14] NARS Digital world coffret (£32) One for the bright lip lovers ; 5 travel sized lip pencils in an array of shades. Includes x2 velvet matte pencils and x3 satin lip pencils. [15] Diptyque Ambre
300g candle (£55) The best candle I have EVER purchased. The smell
is musky, woody and wintery and it looks beautiful burning in this
cognac coloured jar. [16] Hourglass Ambient blush palette (£56) x3 of the best-selling shades from this collection of beautiful blusher-highlighters. [17] Bliss Fabulips gift set (£39.50 ) All the things you need to make your lips smooth,soft, plump and instantly mistletoe kissable! [18] XEN Tan Glamorous Goddess duo
(£34.99) This has the XEN body scrub plus the Luminous gold gel fake tan
that gives a streak free medium golden glow. [19] John Lewis cashmere snood (£60) Soft, cosy, snuggly and warm. I find this tone of grey goes with everything. [20] Smythson 'work hard play hard' note book (£45) Perfect for any person who needs to collate their thoughts, things to do and tasks accomplished. [21] James Wong 'Homegrown Revolution'
book (from £16) An 'outside the box gift' for someone who has everything.
This book shows you how you can grow things from goji berries to sweet
potatoes and you don't have to have a big garden or even a garden!
(London people will understand sometimes a window box is a luxury)
Either way you can grab this book along with a bunch of fruit,
vegetable, and flower seeds (around £2 each) and even some starter
gardening tools for less than £40. [22] Glamglow Gift Sexy (£49.99) Treat lacklustre/ winter skin to a triple treat of face masks from Glamglow ; a full size Thirstymud, and 2 of the smaller sizes of the Supermud & Youthmud.