The lovely Kat from Tales of A Pale Face created this makeup tag which I had to steal from her once I'd seen it on her blog. I love doing Blogger Tags as you can find out loads of info about others, learn about new products and also spread the blogger love.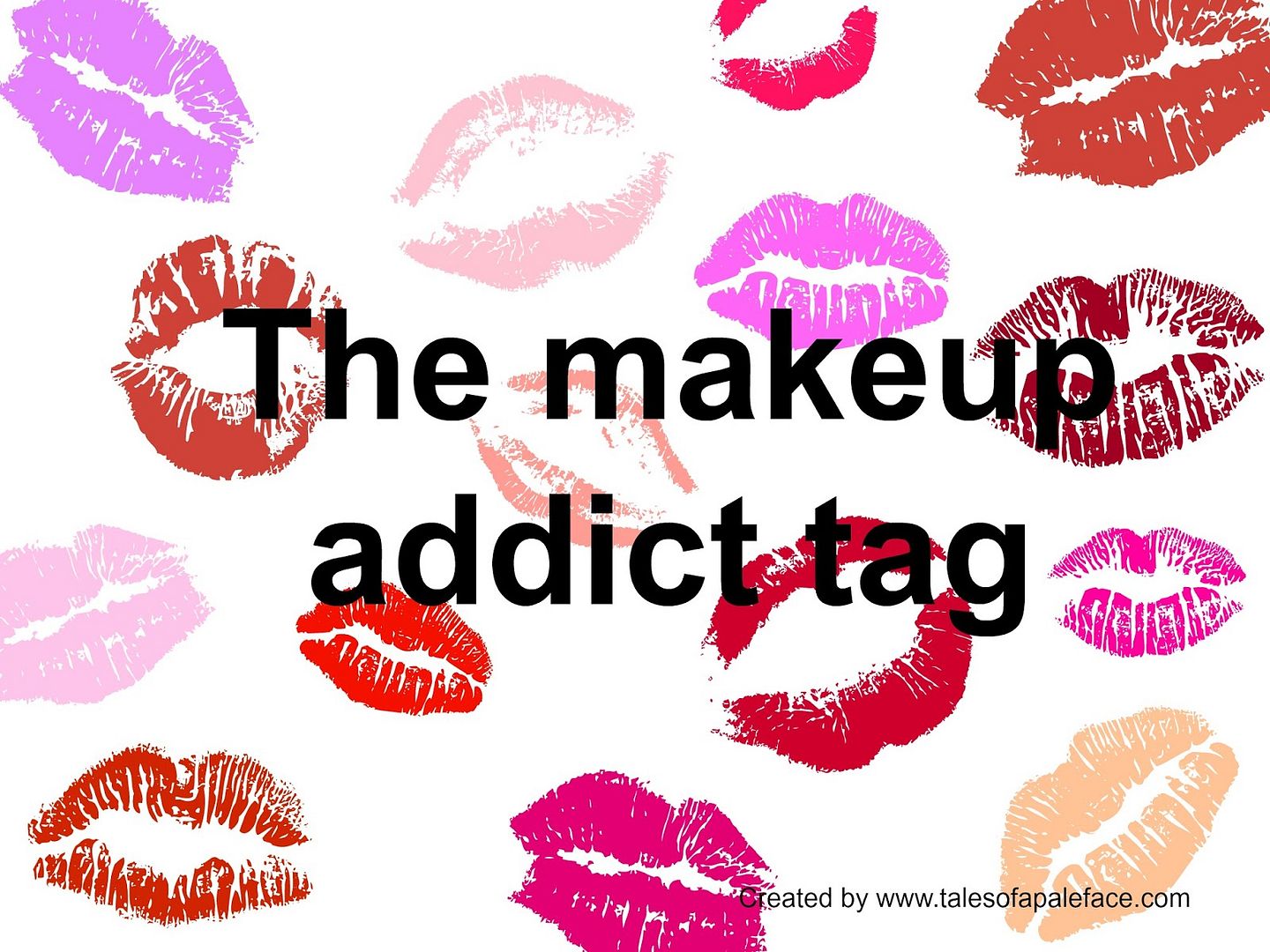 1. Which product do you still keep buying more of despite having plenty in your collection?
Mascara. I am never 100% happy unless it's super ££ in general so I am forever trying and buying high street brands to try and find a better cheap one – any new launches or offers, I'm usually a' buyin'. Also for my pro kit, I need to replace mascara's like every other month.
2. What's the one product you couldn't live without?
Brow pencils. I have so many now : high street, high end, all different formulas and types. My brows are really sparse without makeup and I look like a boiled egg without brows so it's one thing I need to put on. (You can look more into my favourite brow makeup & application here)
3. Favourite makeup brand?
Eurgh the dreaded question.
Sorry, I just can't.
4. How big is your makeup collection?
Ridiculously big but that is because it is my profession so it's hard to compare. I have a seperate 'Makeup up/Beauty room' at home. Aside from my professional makeup kits (I have x 3 suitcases) I still have piles and piles and drawers of excess, replacement bits, hygiene etc. My personal makeup is pretty excessive in it's own right but that's because I am makeup obsessed and it's my everything!!

5. And how do you like to store it?
I spent £000's in MUJI a while back stocking up on their little clear storage drawers. I really like them, they are good for holding smaller makeup items, but for bigger things/foundations I use some cheap plastic drawers I got from just a local odds n' sods shop in Islington. I wish decent storage drawers/units were a bit cheaper though. MUJI is $$$$$$. I seperate my makeup into different sections and label the drawers accordingly.
I will be doing a storage post soon as I have been asked about this a few times. Below is a sneak peek:
6. How many items of makeup have you got in your handbag at the moment?
Maybe like 20 which sounds a lot but a lot of it is small pencils and brushes. I always carry around this little makeup bag in my handbag, and it's pretty much what I will do my everyday makeup with. I love the Urban Decay Naked Flush palette as this acts as my bronze/blush/highlight all in one and is a decent compact mirror also.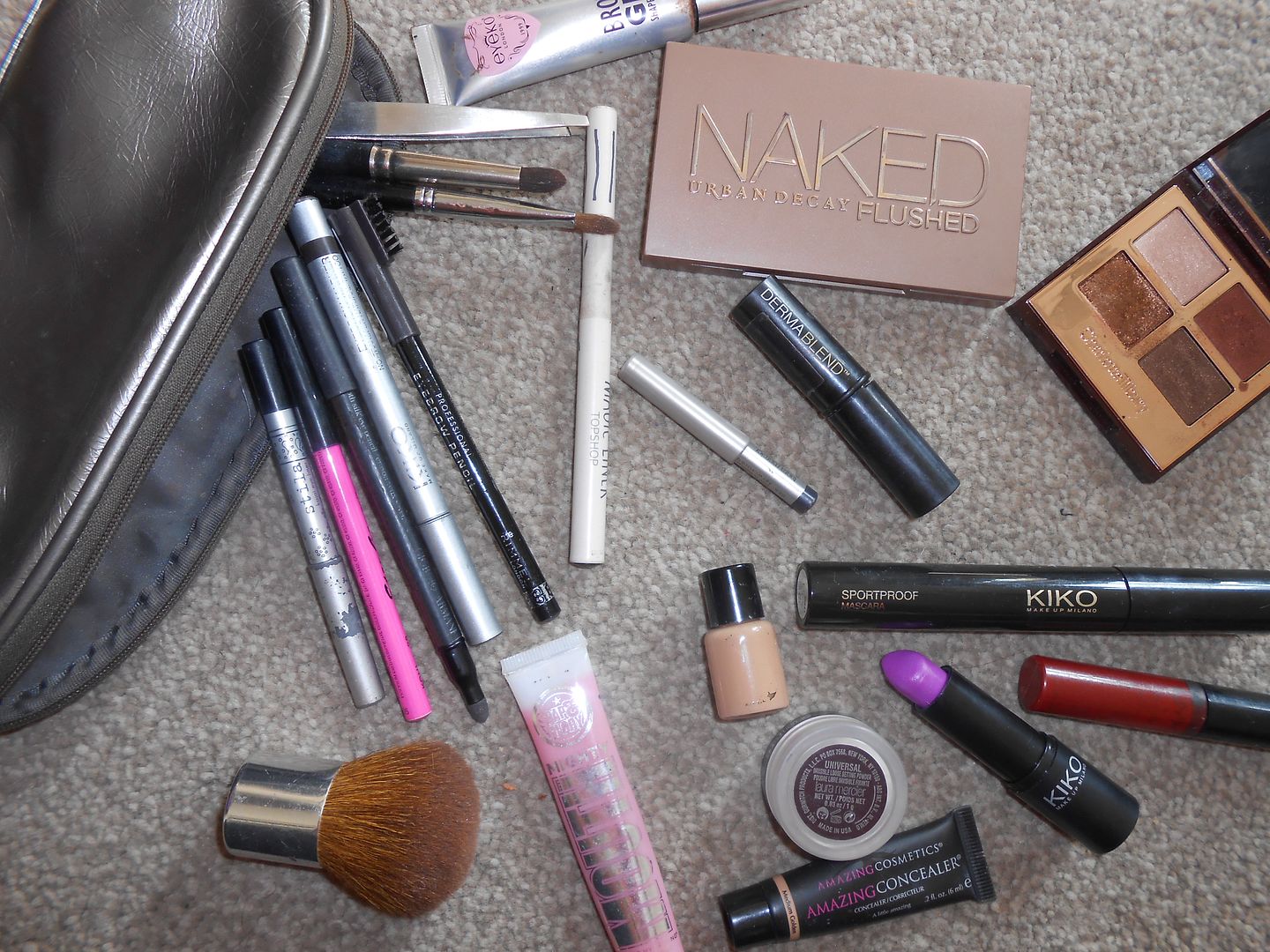 7. If you could raid another blogger's stash, who would it be?
I struggled to answer this as I don't often have product envy unless it's someone like Wayne Goss who has a ridiculous amount of stuff [just look here GAAAAAAH] but he's more of a Vlogger right? Zara from Mouldy Fruit has an impressive stash and I love her storage & makeup in general.
8. How long does your usual makeup routine take and how many products do you use?
My own makeup routine takes between 5-10 mins max. If I'm going out/special occasion and having a heavy eye and lashes etc then maybe 20 mins. Daytime makeup I will use ……just counting….under 10 products for sure.
9. Have you ever bought makeup knowing you wouldn't use it?
Different for me as I am a makeup artist so YES. But if I've bought it for myself personally knowing I wasn't going to use it…..mmmm no. Although I DO have makeup I have purchased from like 3 months ago still in the shopping bag but I will use it at some point (!).


10. Tag a few other makeup addicts to do the tag!
I'm tagging Zoe from Zoe Newlove , Gemma from Miss Makeup Magpie, Zara from Mouldy Fruit and Alice from Super Gorgeous. Wanna read your answers biatchaaz!!!