This week I've been looking & lusting over some of the looks created for LFW shows and there was so many amazing and beautiful creations. A lot of the looks that I have seen or worked on seemed to be all about skin ; perfect skin, flawless, glossy, glowing and fresh. There were flashes of colour here and there on some shows but the majority I think was quite muted this season.

One look that I thought was so beautiful and would be fun to re-create was the Matthew Williamson look designed by Charlotte Tilbury. The fashion was 70's inspired with a collection of exotic pieces and embellishments and the makeup matched up perfectly. I've seen the list of products used (which is Benefit BTW) and I have some of the bits, so will kind of work with what I have and a few extras from my kit.

Inspired by a hibiscus flower, the skin is gorgeous, supple, youthful and glowing with a fresh dab of colour on the cheeks to keep it looking sprightly. Eyes were the main focus of the look with an amazing pop of fuschia that is smoked out softly all the way up to the perfectly groomed, fluffy brows. I love the look so much: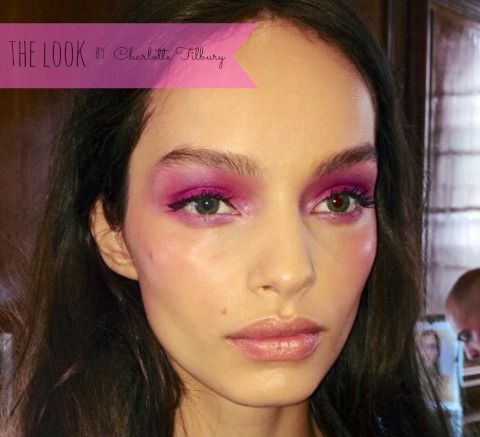 Now we need to remember I am not a model with luscious lips, perfect facial structure and mesmerising eyes. Also, this is a 'fashion/editorial' look as opposed to everyday makeup, so it's not something I would wear usually but it's fun to have a play around and re-create runway looks. The skin I left really dewy and glowy on purpose, so I used a flash to show this up. All the products I used are listed below.
I quite like the effect of my brows being left more au natural and just groomed through, I think I'm going to do this more frequently now. I added a
bit more depth to it with some warmer orange tones underneath and some
heavier liner in the lower waterline/lashline. I also added some
individual lashes underneath…..just because I was having a mess about (pics below).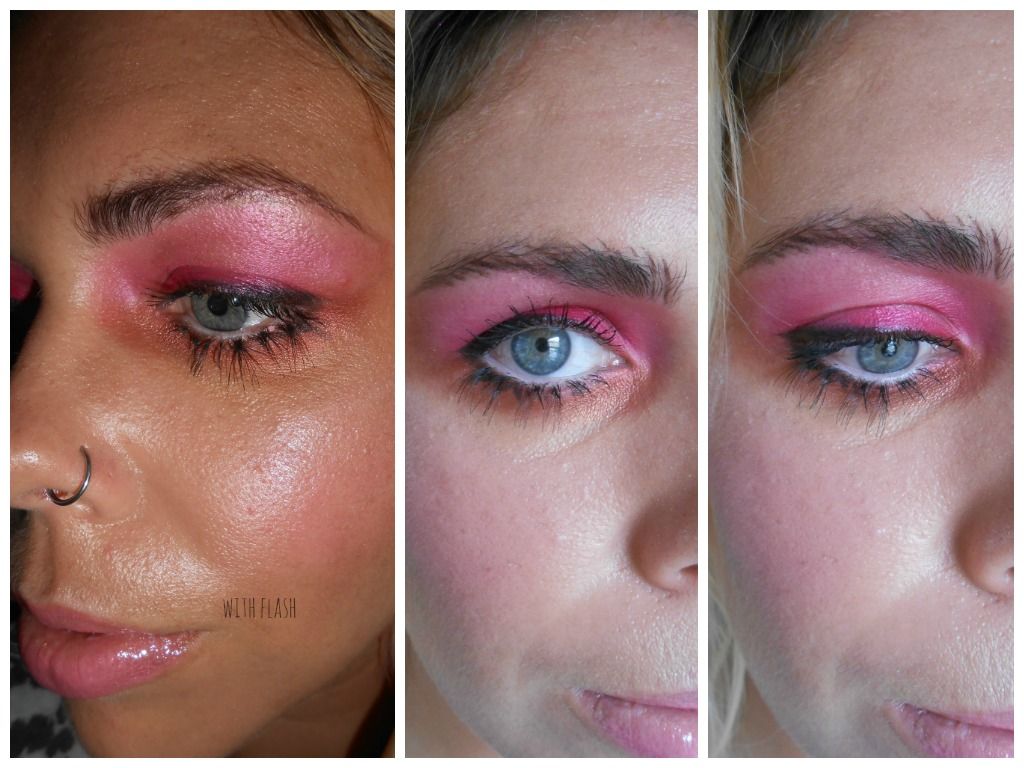 Product List:
BASE:
Charlotte Tilbury's 'Magic Cream' to hydrate a plump the skin
Benefit Girl Meets Pearl (used all over as a primer to give SUPER skin glow)
Benefit Hello Flawless Foundation Toasted Beige (I'm tanned)

Benefit 'Fake Up' concealer Shade 02

GOSH 'Giant Blush' in Pink Parfait
Benefit High Beam used over & mixed in with the cream blusher
EYES:
Laura Mercier brow pencil Brunette (old formula)

Eylure brow gel Transparent
GOSH 'Giant Blush' in Pink Parfait as an eye primer
MAC pigment 'Bright Fuschia'
Laura Mercier baked eyeshadow 'Rubellite' (ltd edition)
Laura Mercier eyeshadow 'Fire Glow' (ltd edition)
Rimmel liquid eyeliner
L'Oreal Miss Manga black mascara
Eylure individual flare eyelashes
LIPS:
By Terry 'Or de Rose' lipbalm
Chantecaille 'Sweet' lipgloss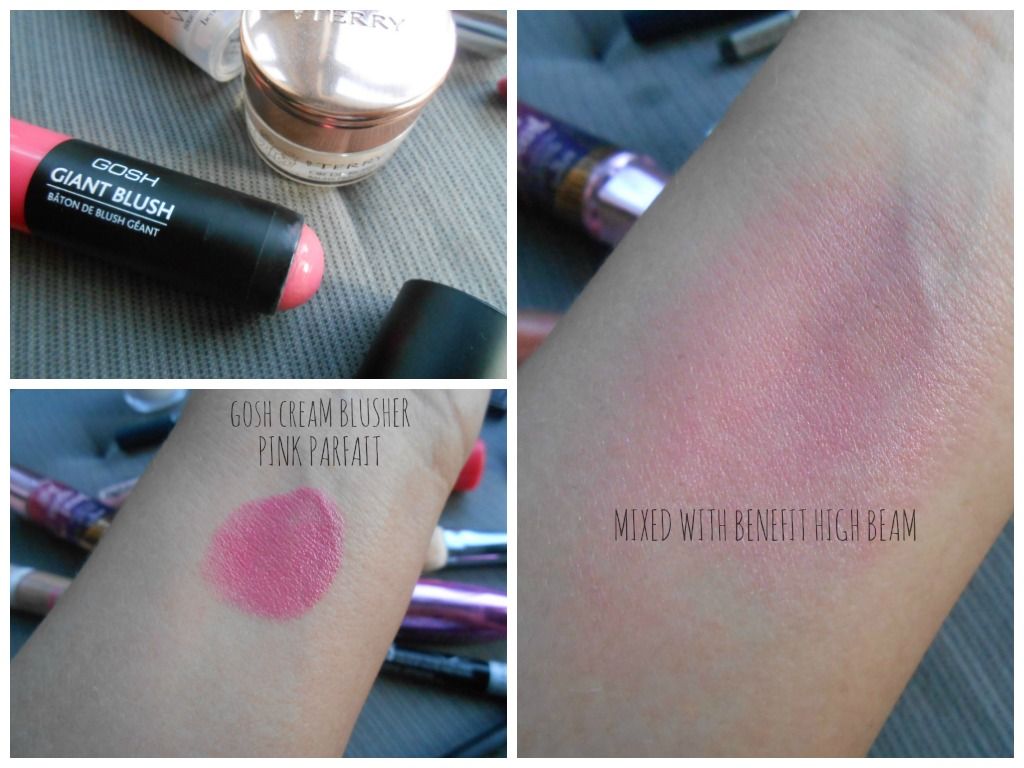 When using pinks around the eyes, be careful of the tone so it doesn't end up just making you look tired which is really easy to do! A good tip is to also add a deep brown/black around the lashline to break up the pink tone close to the eyes.
Did you have any stand-out looks for London Fashion Week shows?