Hi everyone! Well today is the final day of this season's London Fashion Week, SS15. You probably would have caught some essence of it, either by being in London and not being able to avoid the try-hard fashionista hub around the infamous key showspace that is Somerset House or just general social media hype with fashion blogger craziness, tweets, makeup artist updates, backstage looks etc etc.
I have been lucky enough to work on shows now for gulp maybe 14 seasons, assisting makeup designers and working amongst some of the best backstage glam teams. The backstage team (stylists, dressers, makeup artists, hair stylists, nail technicians and of course the gorgeous models) will usually arrive around 3-4hrs before *showtime* to prep up the models with the already-decided looks.
Aside
from all the backstage team, after a couple of hours we will be joined
by a huge influx of other fashion peeps ; photographers, journalists,
bloggers, blaggers, agencies and AOB. It soon becomes a flurry of noise,
shouting, model-searching and it is then a to-ing and fro-ing between the hair, makeup and styling teams for the model until they have their look completed and are runway ready.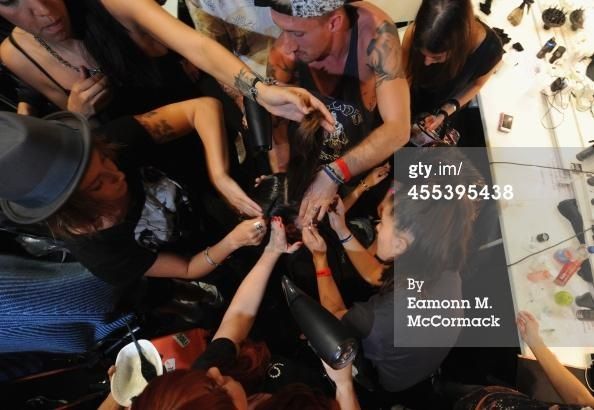 Above: This photo was taken at a show I was working on on Saturday. The model turned up very late from another show and there was about 15 minutes to do her hair, makeup & nails. What a great snap!
Over the years, I have whittled down and tailored my 'fashion week' makeup kit to be as neat, useful, space-saving and as small as possible, and here is what is looked like this season. The wheeniest and best ever.
Beauty Backstage Essentials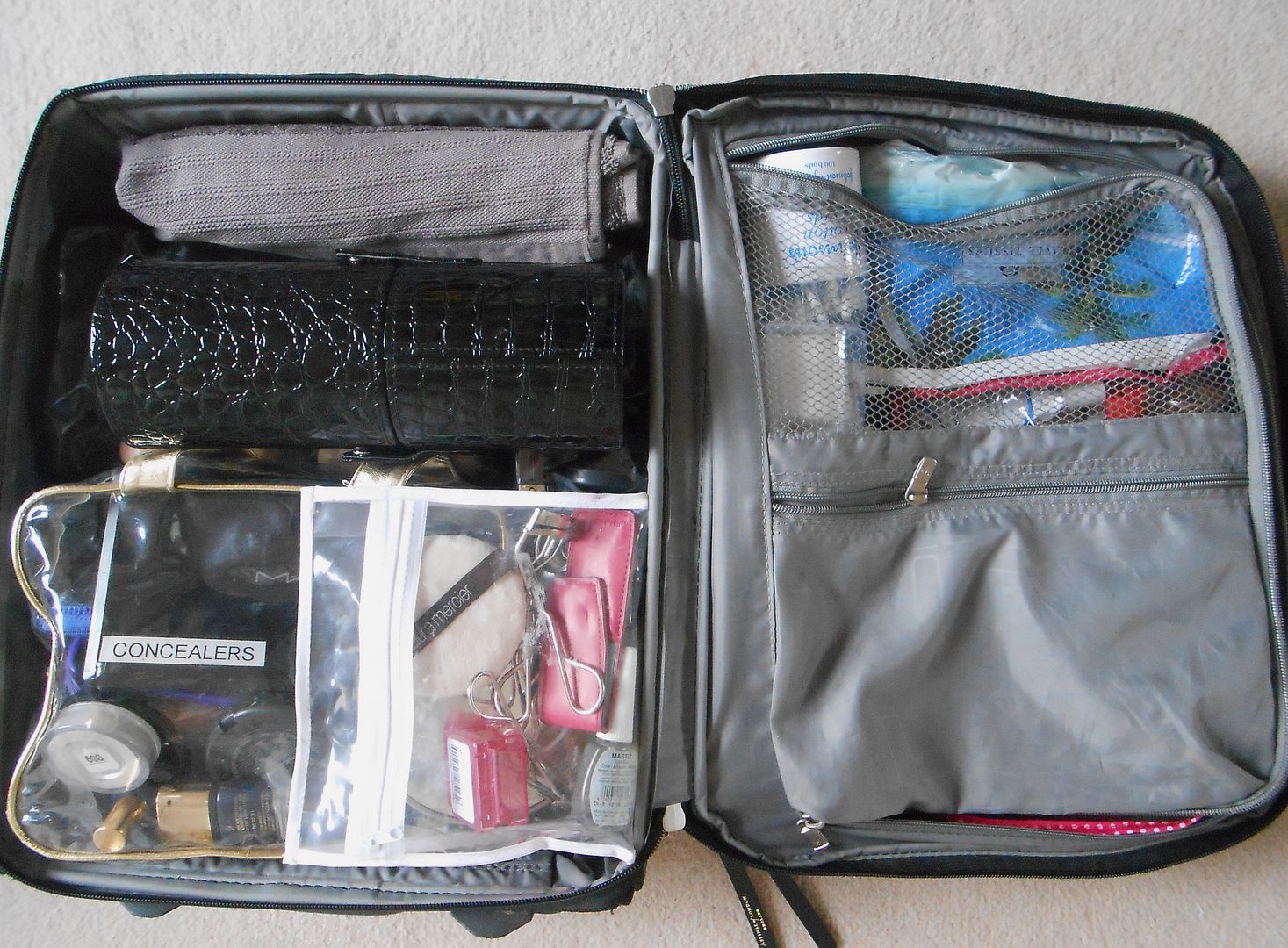 The Case
My smallest one. This is an Antler that has a few zippy compartments and pouches which makes it great for packing all the different components. I have just added my personalised Aspinal luggage tag (Selfridges are personaling EVERYTHAANG this season) as I'm forever scurrying around trying to find what zip opens the actual bag, so this just makes it easier to whizz open and also locate my kit amongst a hoard of other similar looking ones. Some makeup artists will use ZUCA pro's but I find these a little cumbersome to wheel and transport, overpriced, plus it's not often I have a kit that small, so it won't get much use. This small antler case is my least-used case out of the three I have, and it's only really for private clients, occasional bridal and fashion week.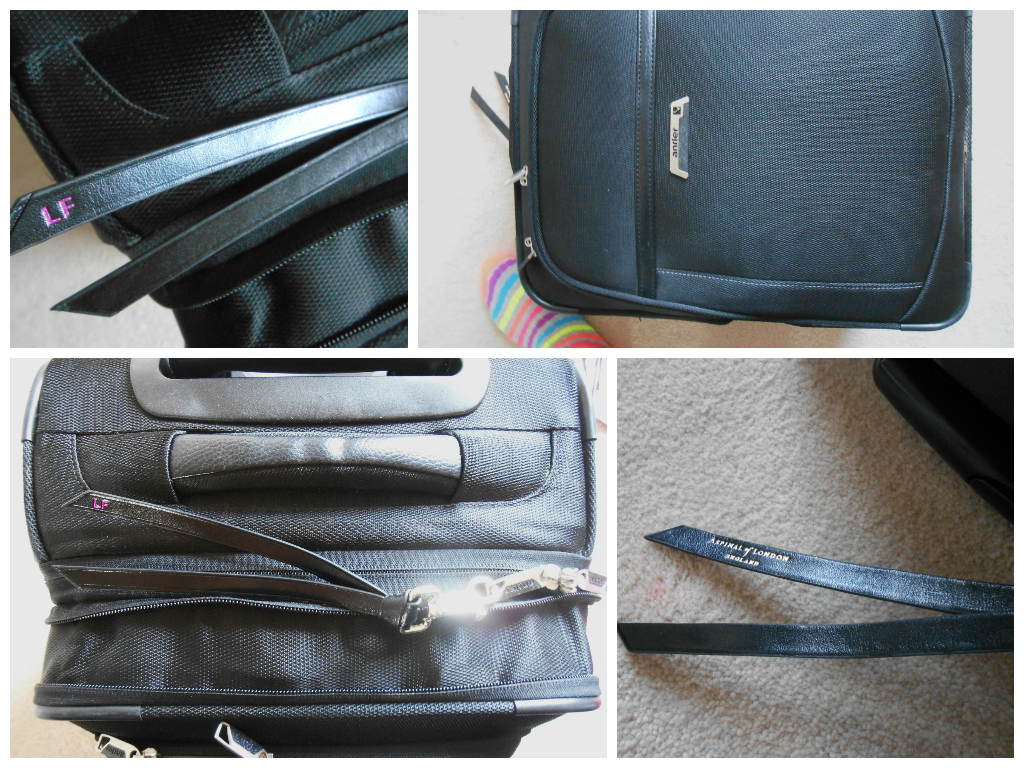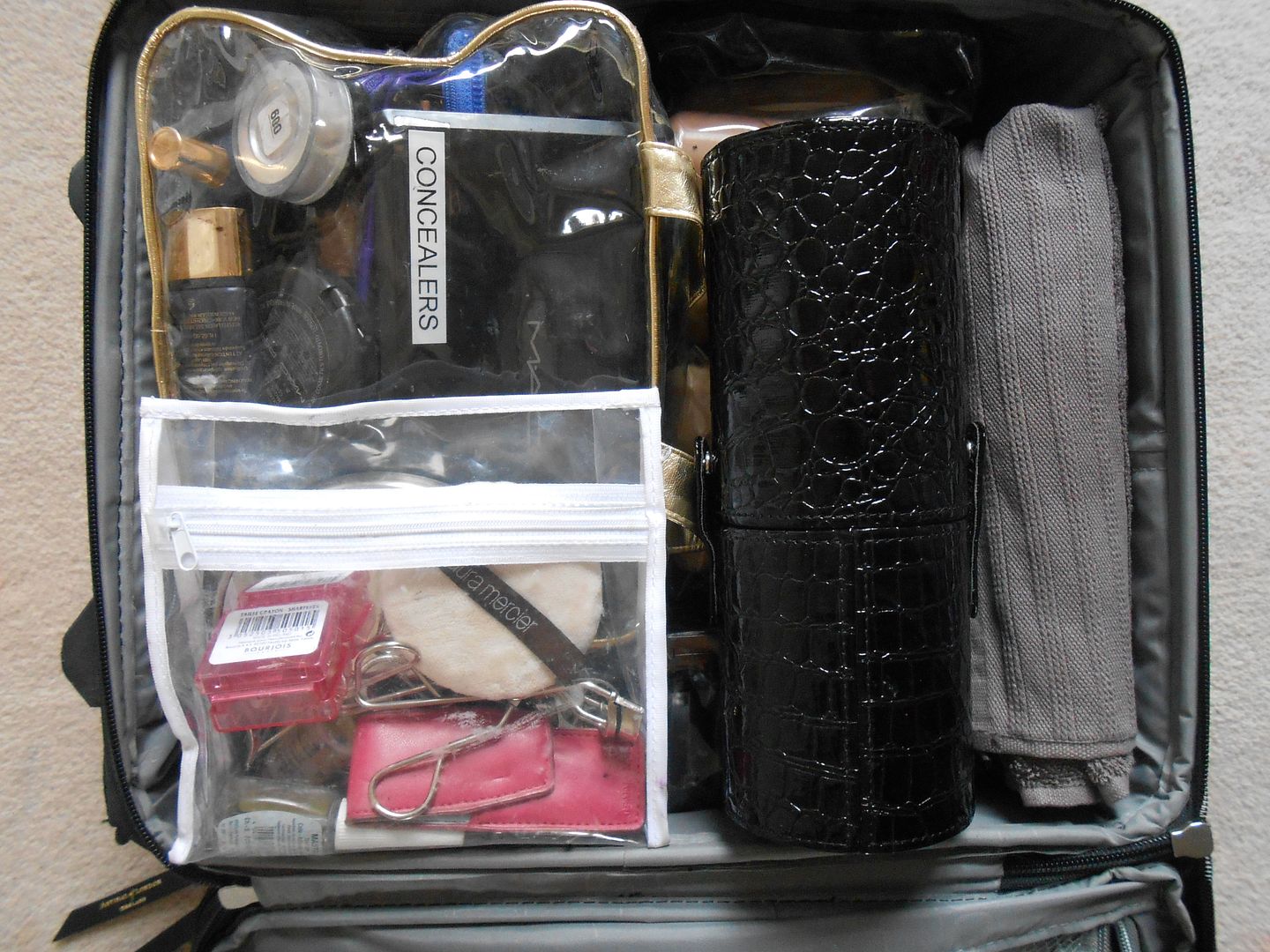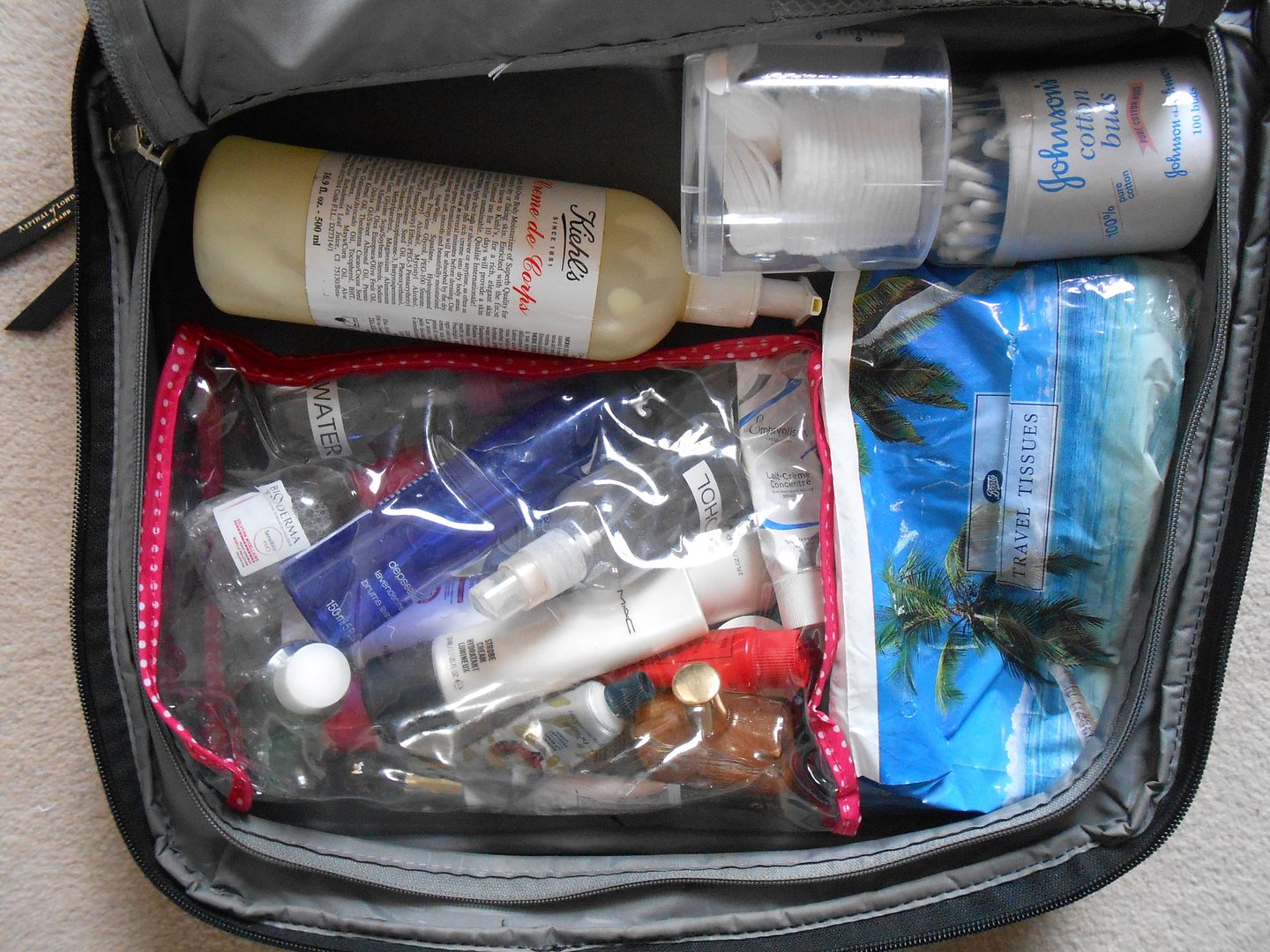 Makeup Stuff
Some shows will be sponsored by a brand, in that case, you will often be given the *Colour* to use so only your basic bases, concealers etc will be needed. This was the case for me this season, so I literally only packed a basic SKIN bag (foundation, concealers) , a BROW/MASCARA pencil case, a POWDER case, my trusty MAC FAB's and that was it. I try and pack all the different bits together in a sensible order and always into see-through bags of some sort so it's easy to locate and see when you are in a rush. Most of my clear cases are the M&S beauty ones which I buy by the TON and a selection of pencil cases.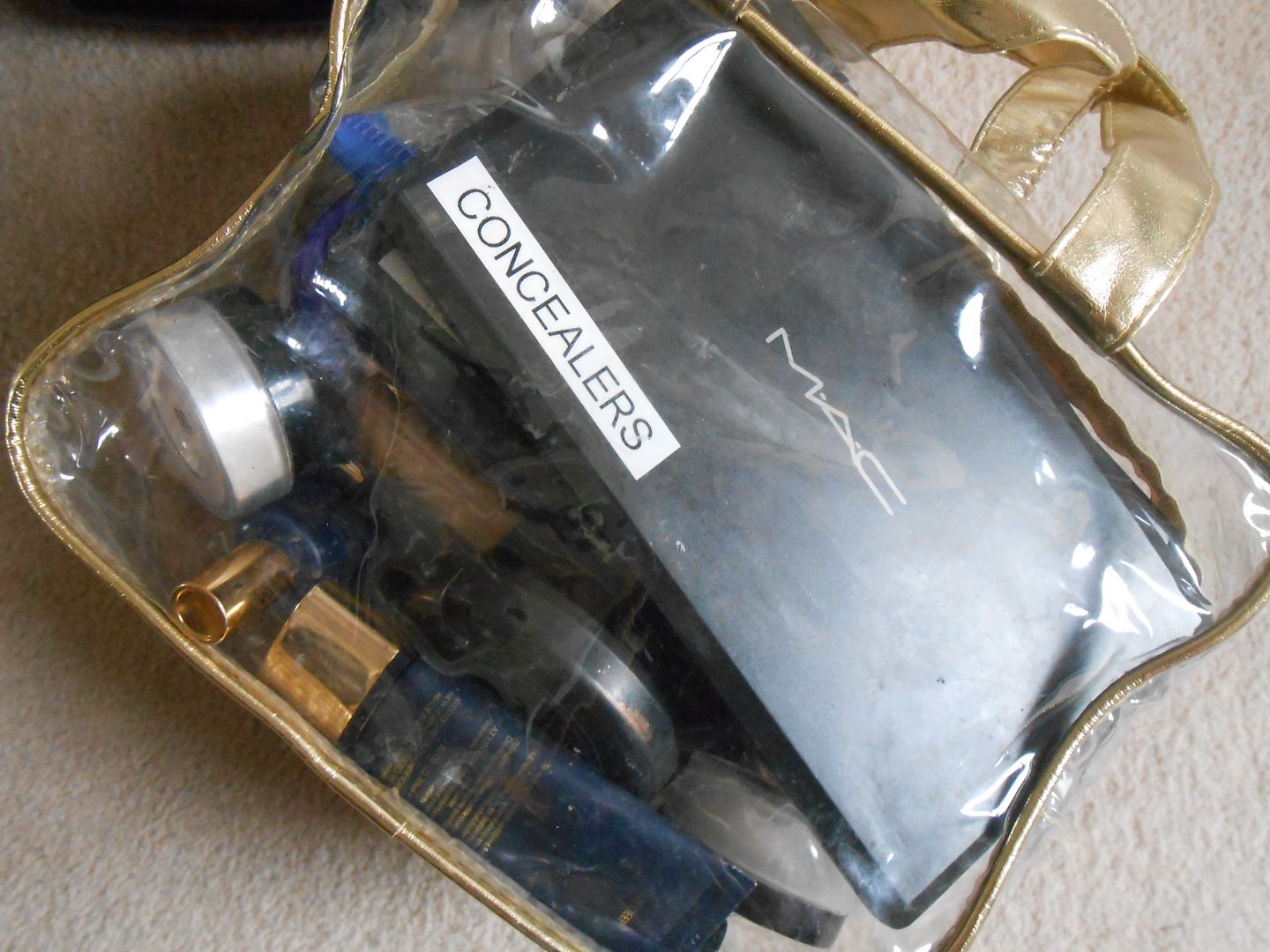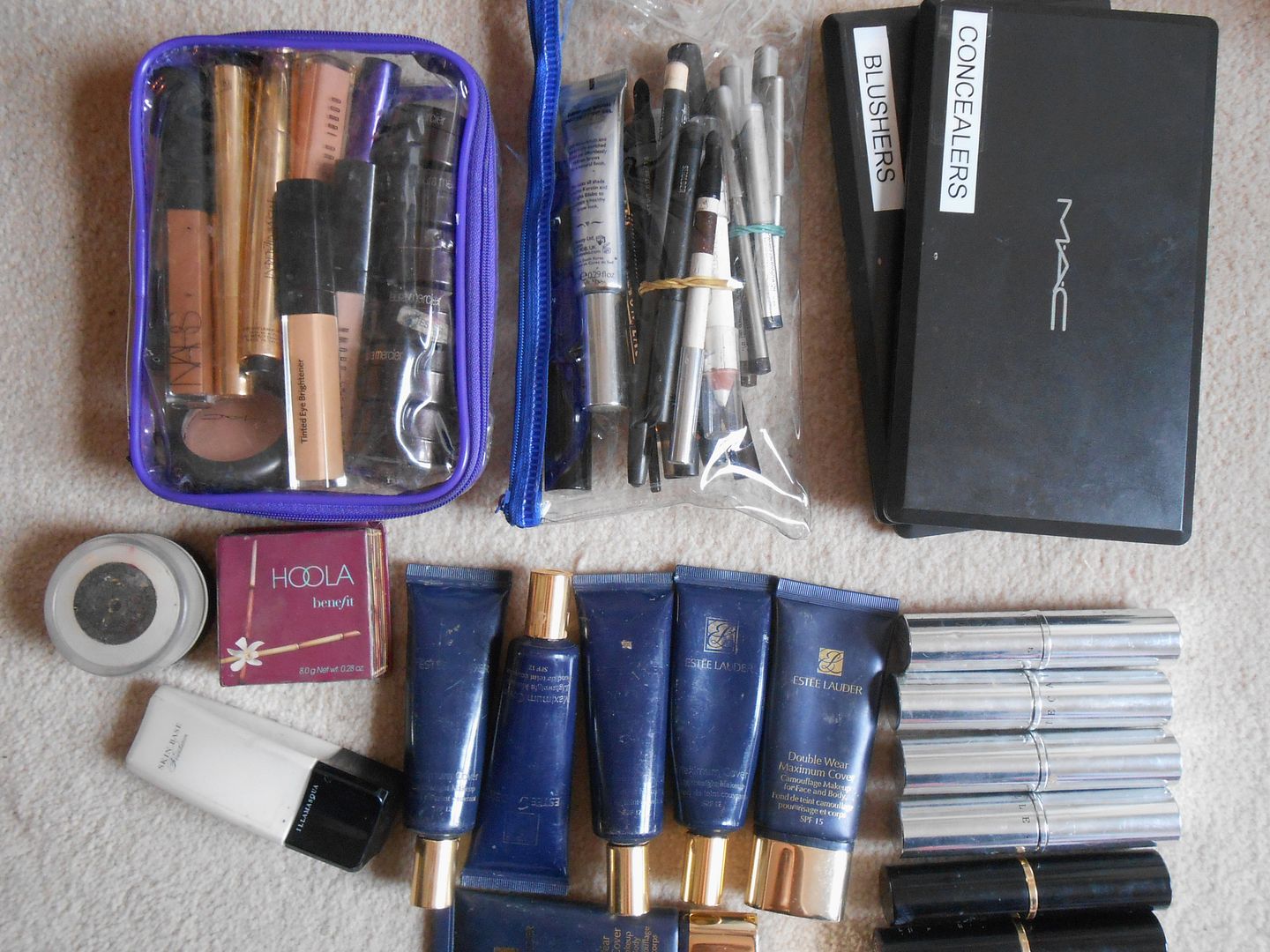 This is bare minimal foundations! I have my trusty Estee Lauder Maximum covers (my review here) which I take EVERYWHERE and also a bunch of foundation sticks from Chantecaille and Bobbi Brown as this are great for space-saving, do great shades for darker skintones and double up as foundation & concealer. One kit must-have is the Illamasqua skinbase in white and every makeup artist should have this in their kit. I bumped in another MUA I had worked with on shows before and after recommending this she said it was a 'game-changer' for her. Just super handy to have to blend down the colours of your foundations when you need a really pale shade and also works as a highlighter.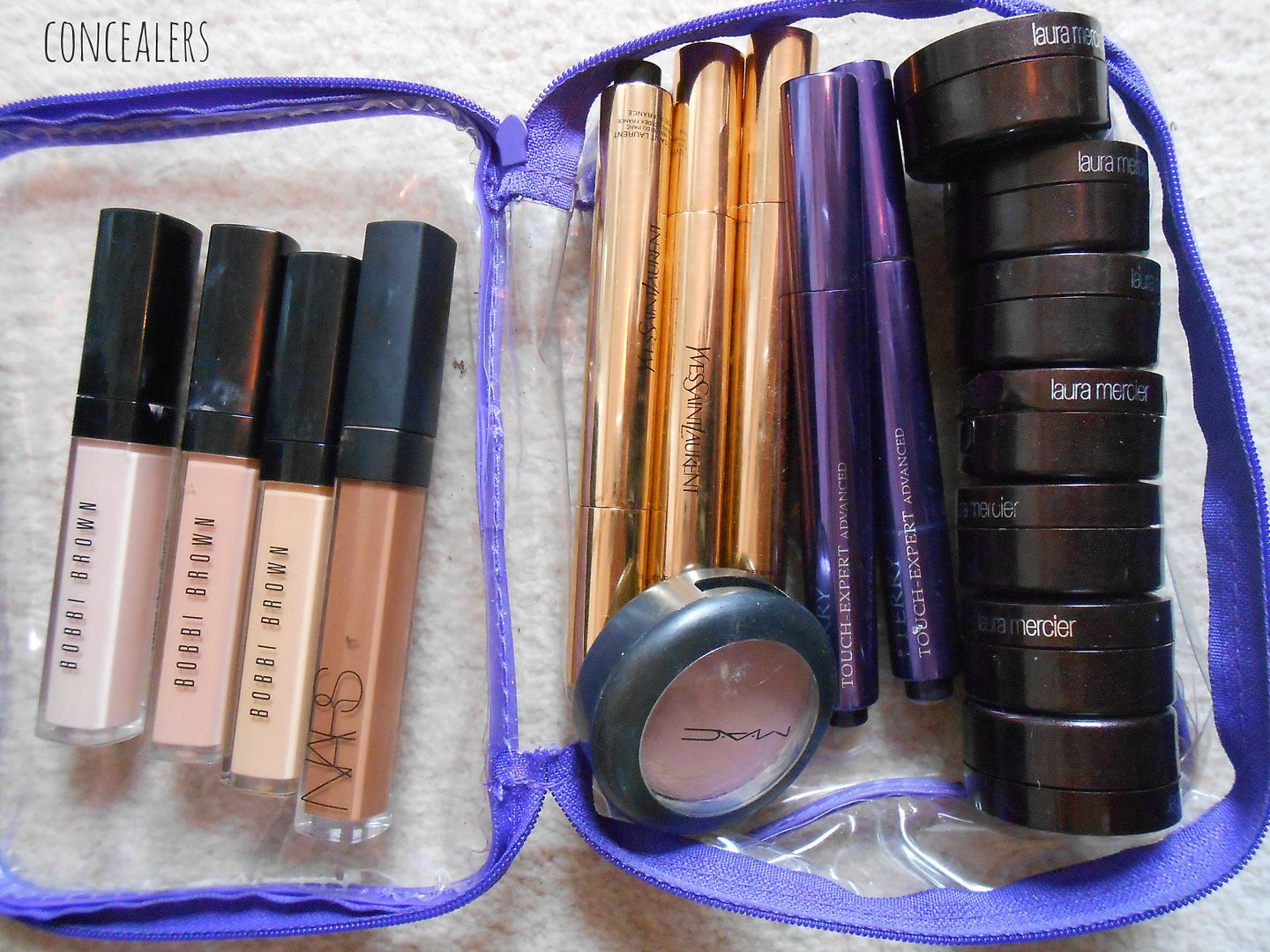 Again, I packed bare minimal concealers : If I was desperate I could double up most of my foundations as concealers, but I like to pack a few specifics just in case. I have my custom-made 'MAC' concealer palette, which is literally an empty MAC palette where I have stuck my favourite Laura Mercier Secret Camouflage & NARS concealers in. This is perfect for shows and is a great alternative to the BBU palette which a load of MUA's have. I use this a lot of bodies also to cover imperfections. The concealers in the top photo are more undereye and brightners ; favourites are the Bobbi Brown tinted eye brighteners at the moment, along with Laura Mercier Secret Concealers and of course a bunch of YSL Touche Eclats and a few By Terry Touche Experts.
Powders are mainly MAC Mineral Skin Finish, where I have pretty much all shades. Perfect for blotting away shine without that powdery finish.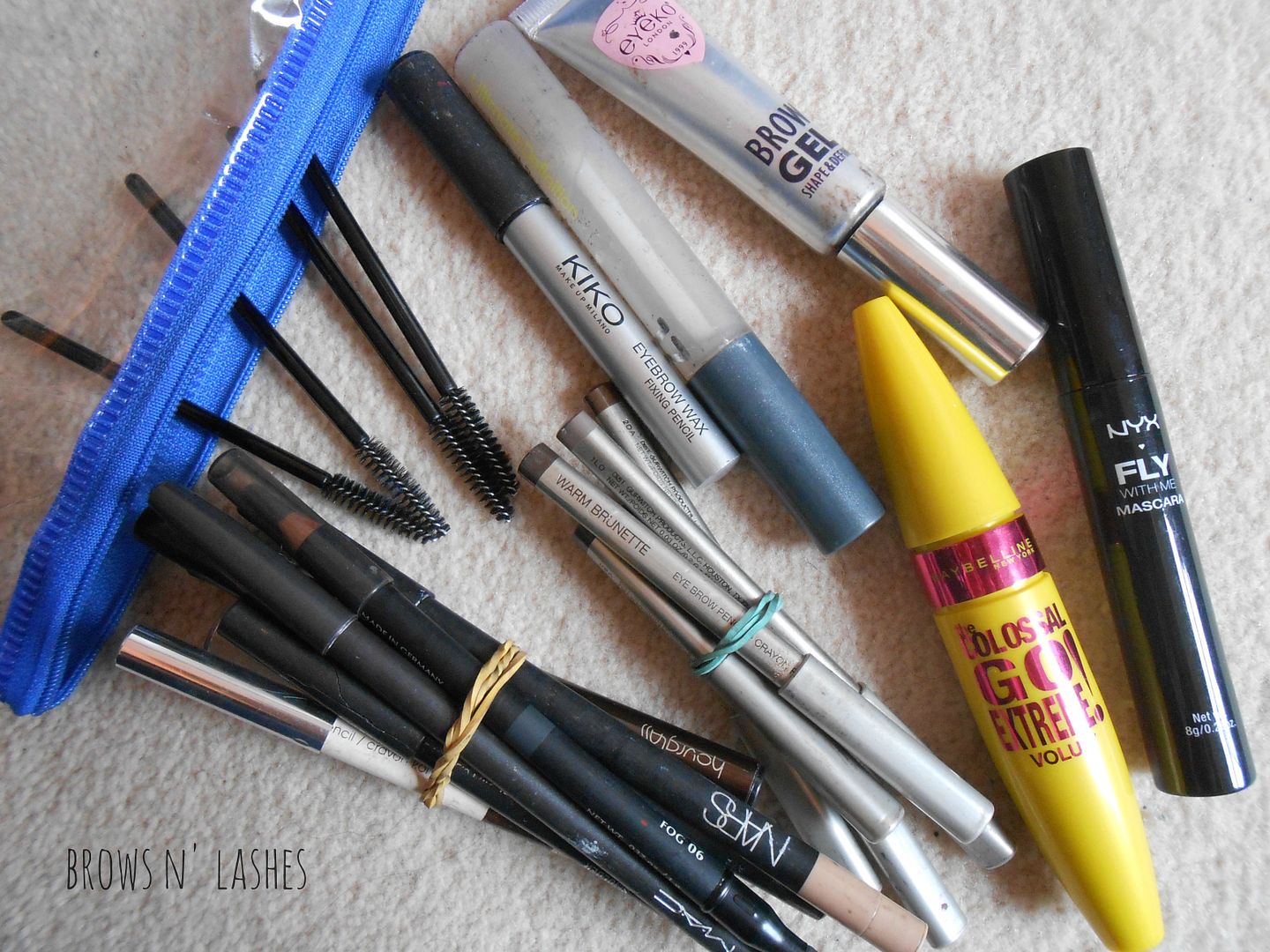 My favourite brow pencils everrrrr are the OLD Laura Mercier triangular ones. These are discontinued now and don't bother with the new ones as they are rubbish. I usually carry around a couple of fresh mascaras ; one more of a volume on and one which is more minimal lashes and the NYX Fly with me mascara is perfect for au natural lashes.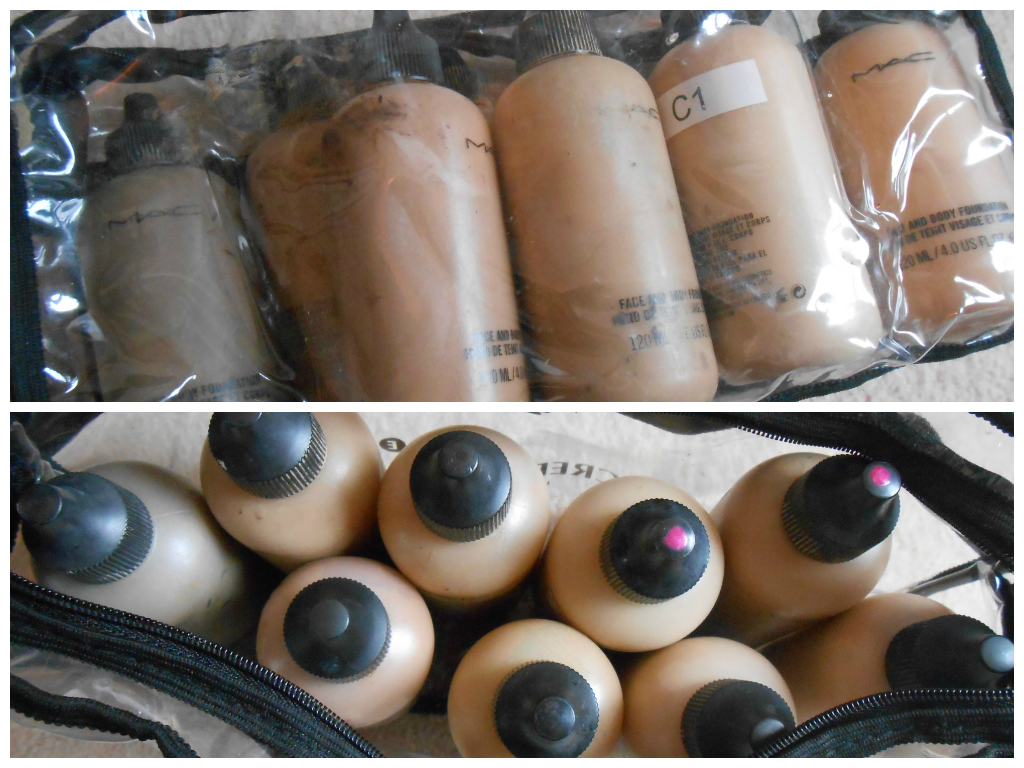 Pretty much the only body makeup I will use backstage is MAC Face & Body and I can probably vouch for most other makeup artists too. Nothing I have used comes close to this lovely lightweight texture that is quick to apply on the legs and is transfer proof. Once the models are dressed in their first look, their legs, hands and any body bits showing need a going over with some body lotion and then any imperfections, scars, blisters, spots, red knees, red heels, and blotchiness needs to be banished with a dose of MAC FAB and a dot of concealer from my wonder palette.
Brushes
I try to keep my brushes to a *perfect edit* and usually take around 20 which fit into my favourite brush holder from Crownbrush. This protects my beauties perfectly in transit and also opens out to two tub-like brush holders. I don't go to any job without this. My makeup brushes are a selection of Hakuhodo (from my IMATS haul), Shu Uemura, Charlotte Tilbury, Crownbrush and Bobbi Brown.
Hygiene
All the bits n' bobs for keeping your makeup application clean and hygienic.
Accessories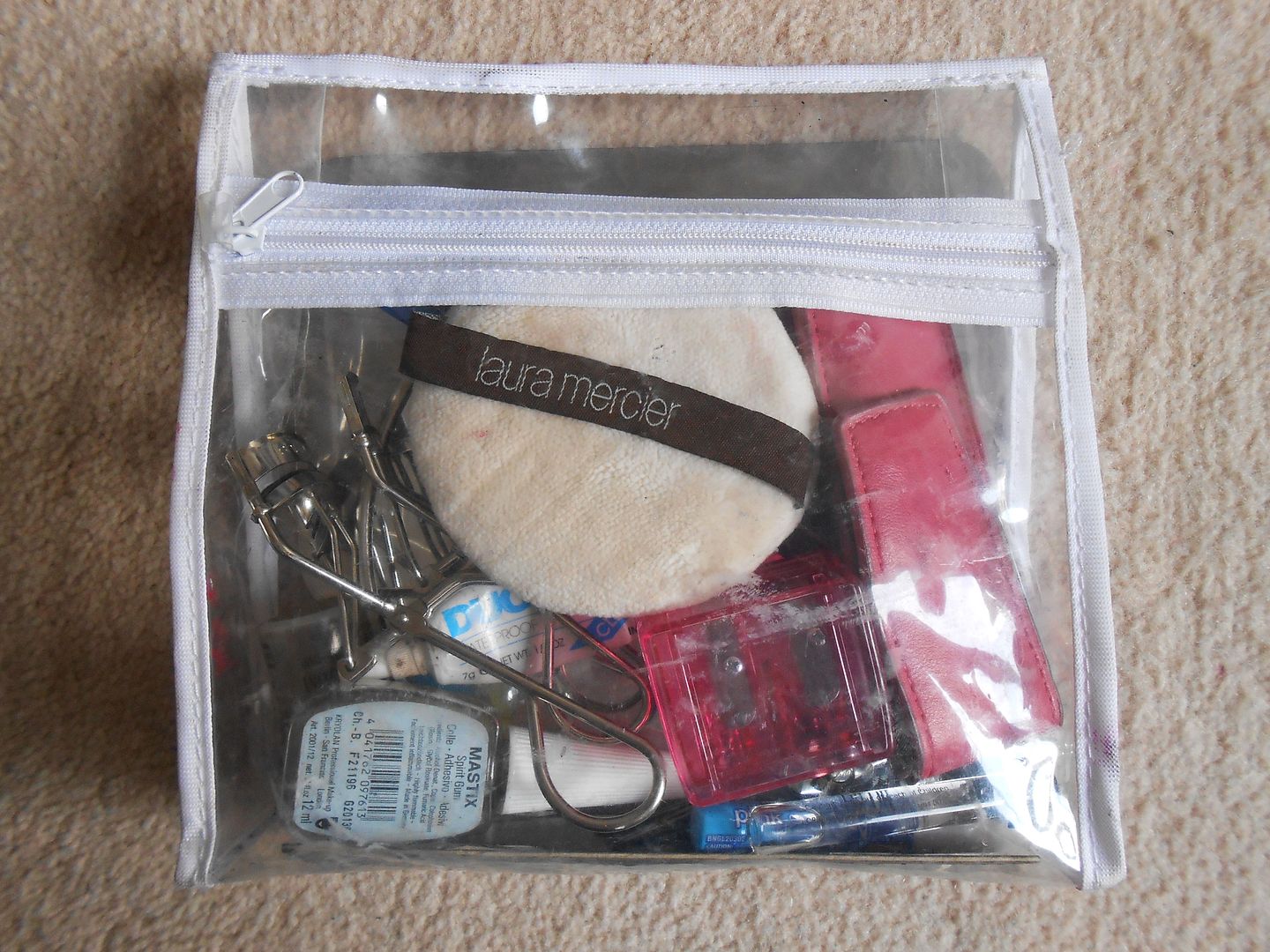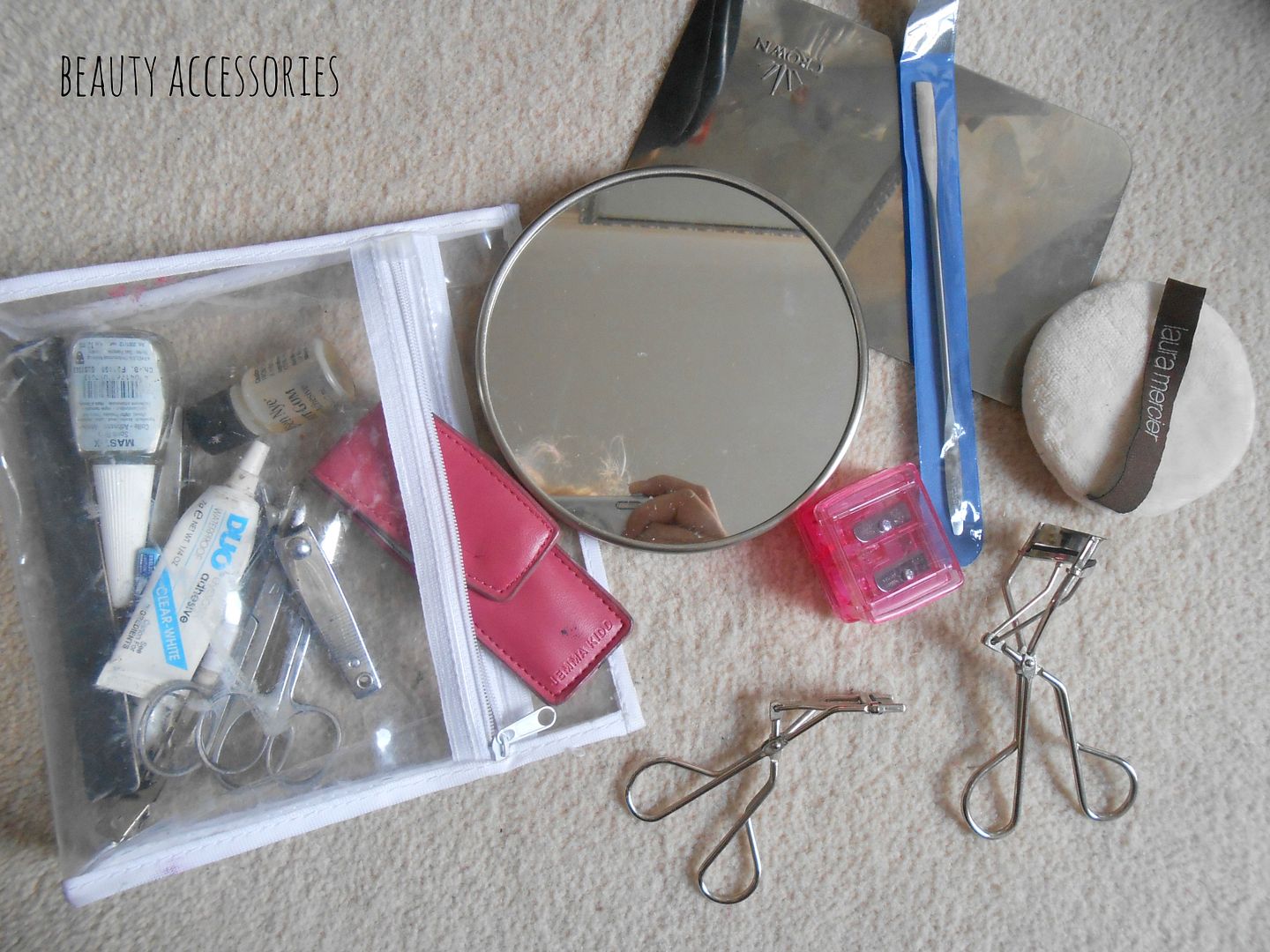 I have this little bundle of beauty accessories and tools including my mini and big Shu Uemura lash curlers (the BEST!), scissors, tweezers, a mirror, my mixing palette, lash glue and other bits & bobs.
Skincare
Any minature sizes are always handy. I often will decant lotions, sprays and other things into smaller travel sizes if they are too bulky to pack.
A.O.B
This is also a vital section of a makeup kit. I keep all these small bits in a little side pouch and will take out if needed or someone asks for something. A makeup artist always needs to be prepared for any situation! Painkillers, tampons, nappy bags (for rubbish), deodrant, gum, straws (if a look requires a bright lip but the model wants to drink after you've finished the look), and other silly bits that someone backstage might need.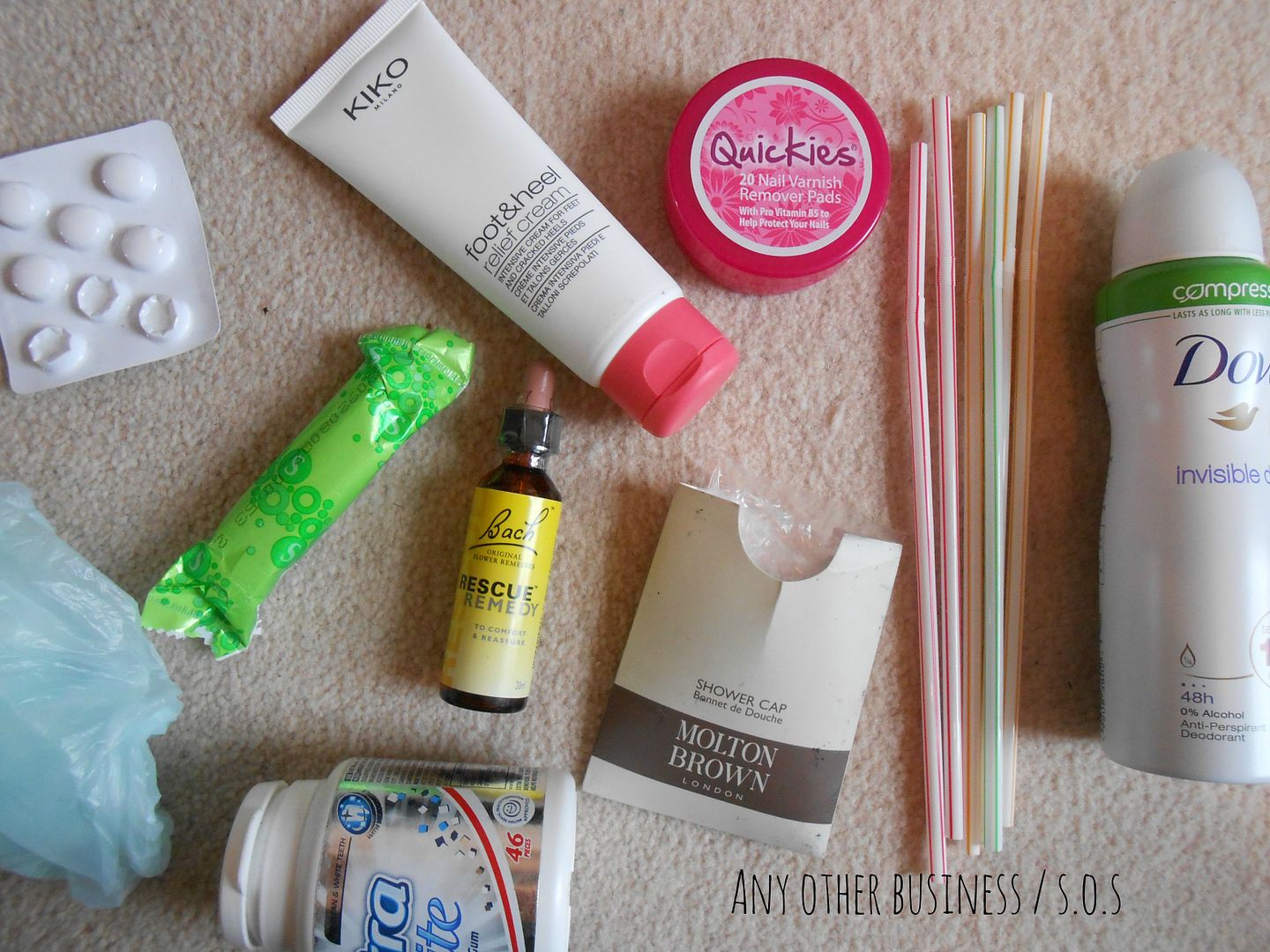 I hope you liked having a look into my fashion week makeup kit. Can you spot any of your favourites here? Until next season…..