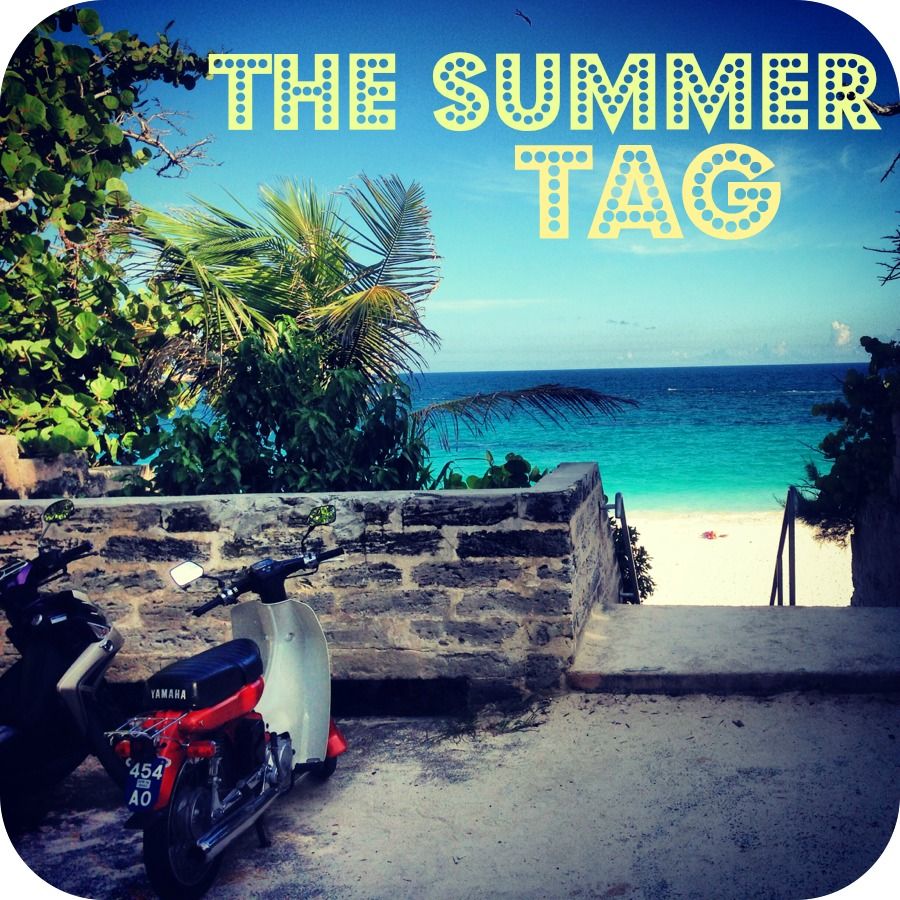 This 'Tag' comes from Georgia and it's all about our summer loves. Feel free to copy & paste and spread the love! Here is mine:
1. What's your favourite thing about Summer?
The early sunrises and late sunsets. You can do so much more with your evenings when it is lighter. Getting up is also easier, even if it is 6am, with the sun streaming through the curtains ; it is so much more enticing that pitch black gloom and rain. Also, if you know London, people are pretty miserable in general, however the sun brings out a touch more happiness in people. They almost smile at you on the tube.
2. Do you have a favourite Summer drink?
Not especially, I guess I drink more cocktails in the summer as they can be fresher and zestier. Vodka mules are really refreshing in the Sun, this is just Vodka, fresh lime and ginger beer. YUM.

3. Is there a location you like to go to each Summer?
I don't go to the same places really, although I obviously travel back home to Jersey really often and in the summer, it is such a lovely island to be on. The Jersey Royals, the fresh seafood, the BBQ's at home, the amazing beaches, the abundance of restaurants, the Cliffpaths to walk on, there is SO much to do, it comes alive in the summer months.
My dream holiday destination is Bermuda and I have been there the last couple of years and will also be going back next year for part of my honeymoon. It's probably the most beautiful, friendliest and just the most amazing place I think I have been.(The picture above is mine from last year) It's just north of the Caribbean, so has the tropical temperatures, white sands and clear blue sea but also has an American twist to it with the amazing food, the friendliest locals you will ever meet and just such a relaxed lifestyle.
To let my hair down, I like to go to Ibiza. I am going there with 10 of my girlfriends this summer for my hen do. It isn't going to be so much 'Galz on Tour', but more chilled out….we have our own villa & pool in the hills, lunches at The Blue Marlin and of course a bit of hedonism at We Love Sundays at Space. OI OI.
4. Favourite makeup look for Summer?
I always mix up my makeup looks depending on the occasion and what I am doing. However, in the summer I like to really bronze up my skin, and focus on glowing, natural looking skin without anything else looking too heavy.
5. Dresses or skirts?
Either or…. probably dresses. I only tend to wear either in the summer anyway so it's a bit of a 50/50.

6. Sandals or ballet pumps?
I own a couple of pairs of pumps but I ONLY use these as my stumbling-home-shoes as I can squish them in my bag, and if my heels are painful I will travel home in my pumps. Aside from that I think they should be illegal as they really don't look great on anyone in my rude opinion. SANDALS ALL THE WAY.
7. Hair up or down for Summer?
I prefer having my hair up, as it's cooler and just easier BUT as most girls think, I think my hair looks nicer when it is down. So if I am going out I will be wearing it down.
8. Deep smokey eyes or bold lips?
In the summer, I always prefer to wear less makeup, so a neutral eye with a feline flick and a bold lip always works really well and is not high-maintenance during long hot days / festivals and parties. All you need to do it re-apply the lippie.
My favourite summer lip colours are NARS Red Square (Red Coral) , MAC Sweet n' Sour (nude peach – Now back in stock I hear, as was just originally released as a limited ed last year!) , KIKO Smart lipstick in 923 (Peony Purple) , HOURGLASS 'Riviera' (Orange) and a new contender is MAC retro matte Relentlessly Red (pink/coral).
9. Favourite perfume for Summer?
Tom Ford Neroli Portofino. By the ton. I could bathe in this (if I was really rich….it's sooooo pricey).
10. Last but not least, favourite music for Summer?
There's something about (good) dance music that is always great for summer. I'm sure I will be hitting up some music festivals too which is always so much fun!