I just saw a tweet from Space NK regarding their online sale, so couldn't resist a quick look….. and it's a pretty good one so wanted to share with you my top picks and bargains. I used to work for Space NK as a part-time job on the side of my makeup so I know the brands and products pretty damn well. Most of it seems to be around 50% off and some really great products are in the mix. Here are the ones that caught my eye:
Chantecaille Nude Stick foundation
These are utterly amazing and I have no idea why they got rid of these, I nearly have a whole set in my kit. They are a full coverage foundation stick but never seem to look chalky or cakey, I use them ALL the time as you can use them as both foundation and concealer and they are so quick and easy to use. Cream is your typical beige medium tone. I use Shea when I have a tan.
£37 £18.59
Laura Mercier Travel Brush Collection
These are super cute and great quality. Originally they were still a decent saving (the brushes are pretty pricey from Laura Mercier) but now at 50% off they are even more enticing. This brush set has 5 brushes, with 4 of them being double-ended, if we slowly do the maths then we can work out that's 9 brushes so actually you don't really need anything else for doing makeup. MUST-HAVE for travel and holidays!! Also, it comes in a hard-back chique looking clutch.You can fit even more makeup and beauty essentials within this.£65 £32.50
This pricey haircare range is pure luxe and I absolutely LOVE their Texturising spray and Superfine hair spray. The other two items I haven't yet tried which is the Cote D'Azur Hair refresher and the Anti-humidity spray but I can only imagine these will be as good as the rest. Still not cheap at 50% off actually but this is as good as any chance to give it a go. (This size texturising spray alone retails for £18!) so it kind of is a bargain.
£62 £31
I have used this beautiful collagen serum , on and off for many years. It's got hyaluronic acid so it plumps and hydrates the skin in an instant. This is actually a 50ml size (the standard one is actually only 20ml and sells for around £70) and this 50ml size, which you save on anyway is now HALF PRICE. No brainer. £172.50 £86
These are really good, and I kind of thought these may get pushed to the curb when they launched their newest ones (which are in honesty better in texture and formula but I still prefer these colours!)BROWN COPPER is a shade I have used for years and years, it's must for blue, green eyes to make them pop and it's stunning. Give it a go. £15.50 £7.50
Vanilla, Bourbon & Mandarin home ambiance diffuser
This fragrance is pure luxury and gorgeousness! I can't get enough and now even more-so that is it 50% off. A little bit steep to buy at full-price as this is a total luxury home item but these look so lovely around the home and in the bathroom.
£54 £27
By Terry Nail polish 'Meli Melon'
By Terry make fantastic makeup, and also some really, REALLY good nail polishes. Now at half price, it's time to give them a try if you haven't. This shade is a beautiful summer coral, and the formula of these are like a gel-finish and also contain a nail-strengthening treatment and a base in-one. NOW I know why they are so pricey! £21 £10.50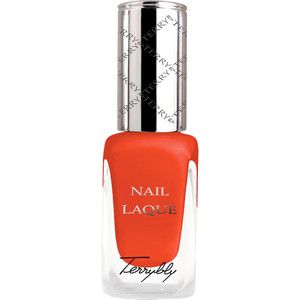 Dr Sebagh Deep Exfoliating Mask
Another huge saving from Dr. Sebagh. This is the infamous exfoliating mask that is absolutely AMAZING. I'm tempted to buy this even though I have a pretty full one on the go. Non-abrasive, acid-base exfoliator for the face that contains Azaleic and high levels of Lactic Acid. This is brill for all skintypes and especially problematic and blemished skin. Not for the sensitive! This is a 'salon-size' 150ml (usually 50ml around £60) and is 50% off. £177 £88.50
Laura Mercier Body Bronzing Makeup
This, I have used in my makeup kit for years. It's one of the most beautiful instant tan/glow products I have EVER used and it smells like holiday. Gives a luminous bronzey finish on the skin and great for holidays and summer. Lasts forever too. £31 £15.50
I could keep going…..and going…..and going….Have you checked out the Space NK sale? Will you be indulging in any old favourites or new treats?