I tried a travel sample of a rose cream from Melvita last year and absolutely loved it. I held onto the empty tube ever since to remind me to either get it again or look more into this skincare range. I kind of forgot about it but THEN was recently invited along to look at some new ranges and products from this organic range and I want to share with you two of the new products which I am absolutely loving.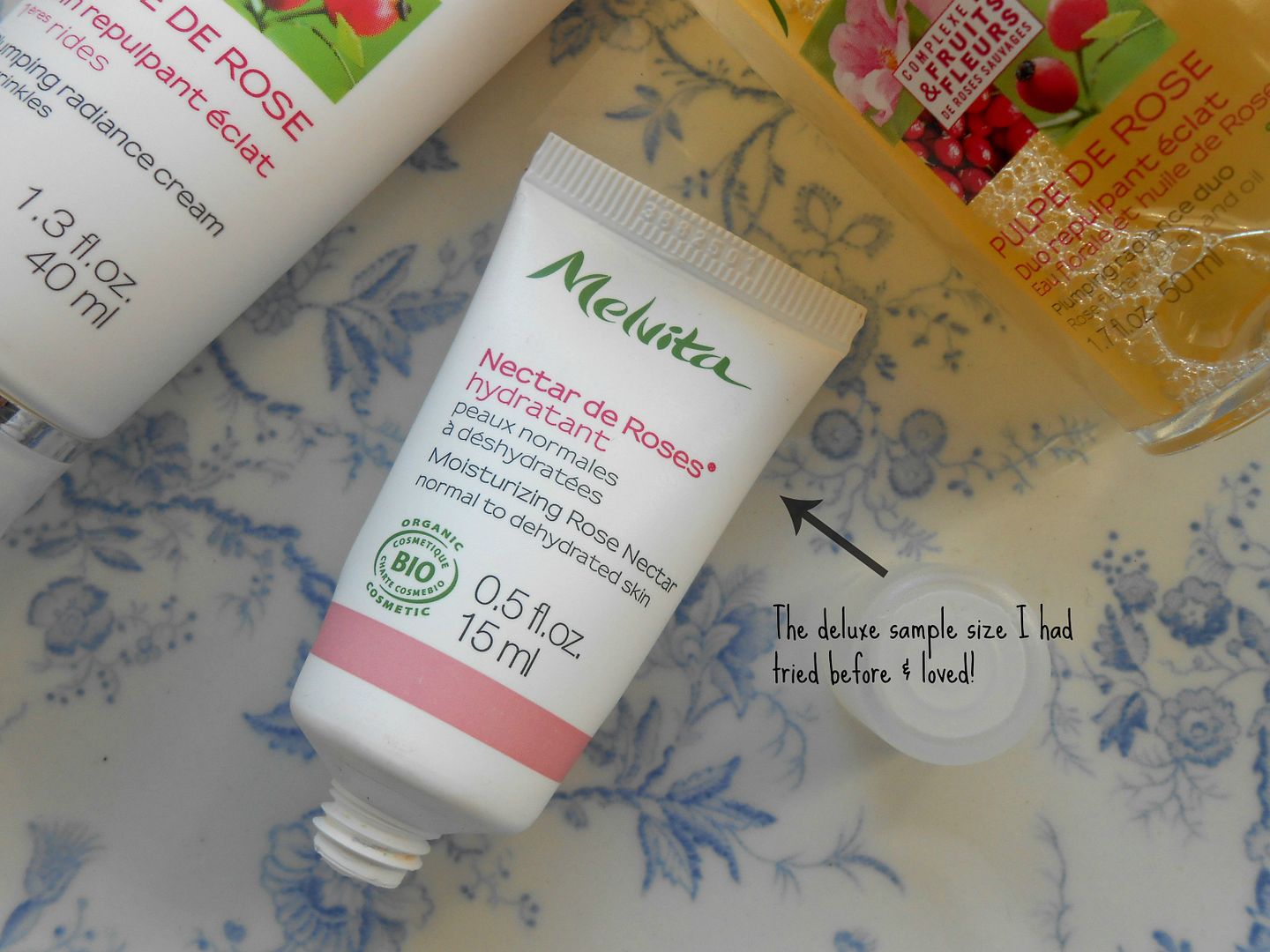 The Pulpe de Rose collection , launching next month, is a range targeted towards the first signs of ageing. It uses, as the name suggests, wild rose petals with a rosehip extract work in synergy to keep the skin plump, nourished, radiant and smoothed. There are three products in the range including a plumping radiance serum, a plumping radiance duo (face spritz) and the plumping radiance cream. I have been trying out both the face spray* and the radiance cream* and I am really impressed by both.
I think the signature product will definitely be the Radiance plumping duo.. this is a very gentle bi-phase water / formula that contains both damask rose floral water AND oil (hence the split product) so needs a good shake before use to combine the ingredients and then you get the benefits of both on the skin. I have been using this religiously, it can be used as a hydrating water for the skin, so over makeup to give radiance and dewiness, it can be used under your skincare to prep it before your moisturiser, or just straight onto clean skin as a light alternative to a facial oil. It smells totally addictive, and I am already fearing this running out, as at £25 it is not cheap for just 50ml, but I will absolutely have to replace this as soon as I am out.
I have also been trying out the Plumping Radiance Cream which is designed for the first signs of ageing so maybe for the 25yrs + peeps. I am obviously way older but maybe I am just wishful thinking and feeling super positive by selecting this over the more advanced / wrinkle cream but hey ho, I think it is really good and is perfect for my skin at the moment. It rids me skin of fatigue and makes my skin feel really plump and comfortable and at the same time it imparts a wonderful sheeny radiance on my skin. Perfect before makeup application.
Have you tried Melvita yet? It seems I'm slowly becoming more and more drawn into my natural and organic skincare and this and this is one my favourite, by far, organic ranges. I keep looking at it as a more affordable version of Chantecaille skincare for some reason, I think it's because they use a lot of rose damask flower water in it. Everything is appealing to me: The pretty packaging, the lovely smells of the products, the way they make my skin feel and the results. I will have more Melvita reviews coming soon as I am also trying a beautiful orange blossom tonic and their milky cleanser at the moment.

http://uk.melvita.com