This certainly brightened up my day when it came through the postbox a couple of days ago! Birchbox* has collaborated with powerhouse fashion magazine Harpers Bazaar to bring us our monthly beauty fixes, handpicked by the beauty-savvy magazine experts.
The aztec type, summery prints of the box look so pretty and I couldn't wait to see what was inside. These products have been selected to prepare you for the summer season of outdoor adventures including holidays, festivals, weekend country breaks and sun fun!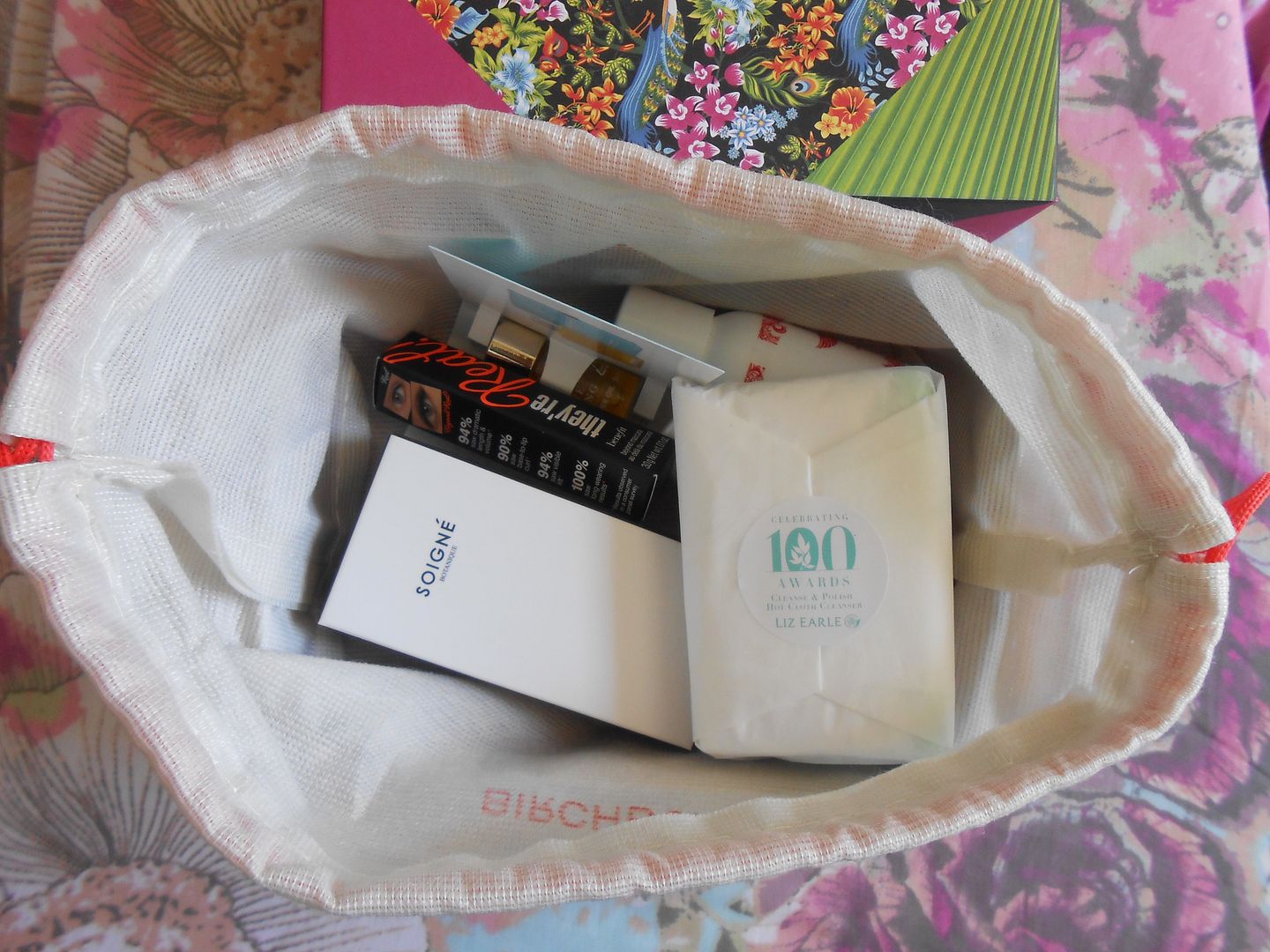 Benefit They're Real. Who HASN'T tried this mascara? This lash plumping mascara is *I think* the best-selling premium brand mascara in the whole UK! It's a generous 3g size which I have actually had before in a goody bag and it lasted me like a month! I really like plastic wands on mascara so this has a thumbs up from me.
Soigne Nail laquer. I had no idea what was inside this curious little box, it doesn't give much away on the sleek packaging. Cocooned inside was a full-size nail polish from Soigne which I have never heard of/used before but it certainly has my attention. This is a brand new, non-toxic nail polish brand that has a great selection of classic shades. The colour I have is 'Creme Au Beurre' which is a lovely semi-sheeny classic nude.
Aromatherapy Associates Revive morning. This bath & shower oil is no stranger to my bathroom. I have used this for many years and have the full-sized bottle of this, and am maybe on my third bottle. These small one-use bottles are really handy for travel though and once I have used up this, I will keep the bottle and fill up from my big bottle for travel. REVIVE morning is great to wake up the body and senses and as I shower in the AM rather than bath, I massage a capful over my body, and leave it for a couple of minutes as I brush my teeth or wait for the shower to warm up and then just wash it off. It has essential oils that target cellulite, water retention and sluggish limbs so it's a great aid to a slimming regime too. Can also be used in the PM before you go out, don't use this to unwind & relax though! (you need AA Deep Relax for that!)
Beauty Protector shampoo & conditioner. Another brand I have never heard of or used before : this is a no-nasty, no-fuss haircare range that promises to strenghten, nourish and protect the hair. These are free from sulphates, parabens, vegan-friendly, colour-safe and have added UV protection. I have put these into my gym bag to give them a try.
Liz Earle Hot cloth cleanser. I can't believe that I have never got round to trying this cleanser! So am very, very happy to get this in my Birchbox. This cult cleanser has been talked about for many years in the beauty world, and I'm looking forward to seeing how it compares to others I have tried such as Emma Hardie, Eve Lom, Soap & Glory and REN cleansing balms.
Like what you see? If you subscribe before the 31st of May you will receive this exclusive box.
www.birchbox.co.uk