Baby pinks, Soft pinks, coral pinks, fuschias, barbie pinks, blue pinks, red pinks, ALL the pinks! Here's my handpicked selection: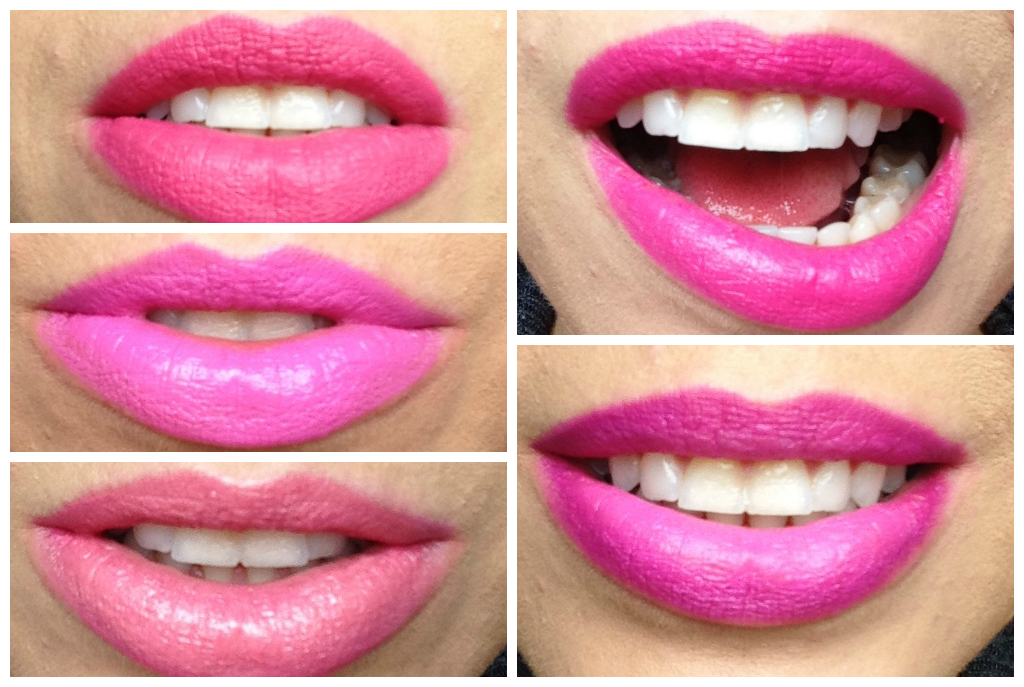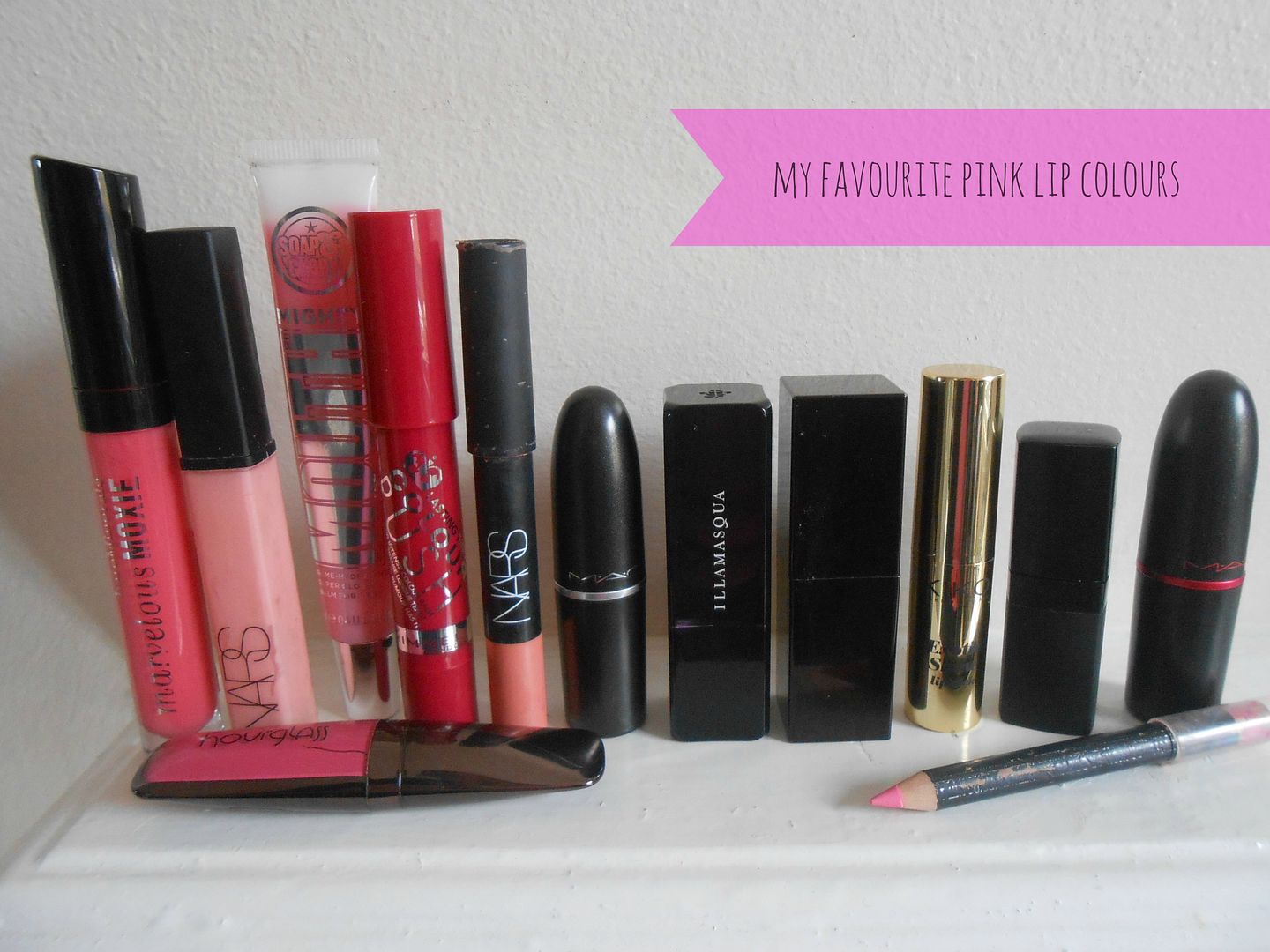 Lipsticks
It was so hard to whittle this down to just 6 shades, but currently these are my most-used and most-loved pink lippies.
MAC 'Flat out Fabulous': Deep Violet Pink. This is a new addition to my collection and I really love it as have nothing similar to this. Not your classic pink tone, it is quite deep and high impact, but such a stunning matte shade that looks as good on pale skins as it does on dark.
Illamasqua 'Luster'*: Shocking Barbie pink. This has a semi-gloss finish so good if you have dry lips or don't like a matte finish. A really gorgeous girly pink that is blueish in tone
NARS 'Schiap': THE cult pink lippie. This is one of the most infamous pink shades out there, a classic hot fuschia pink that is a must-have for any lipstick lover.
KIKO Exotic Shine 06*: Budget hot pink. You cannot go wrong with the price of these great quality lipsticks and the pigments are as good as any of the other lipsticks here. Not quite as bright as some, so a good one in you wanted to dip your toes into the pink pond.
MAC Nicki Minaj VG: Partytime pink! I have had this for a while and it's a kit favourite for me.
Laura Mercier 'Arabesque': Nude Pink chic. This is more of an understated pink, and my kind of nude. I am not sure if this was a limited edition or not so apologies for teasing you if it was!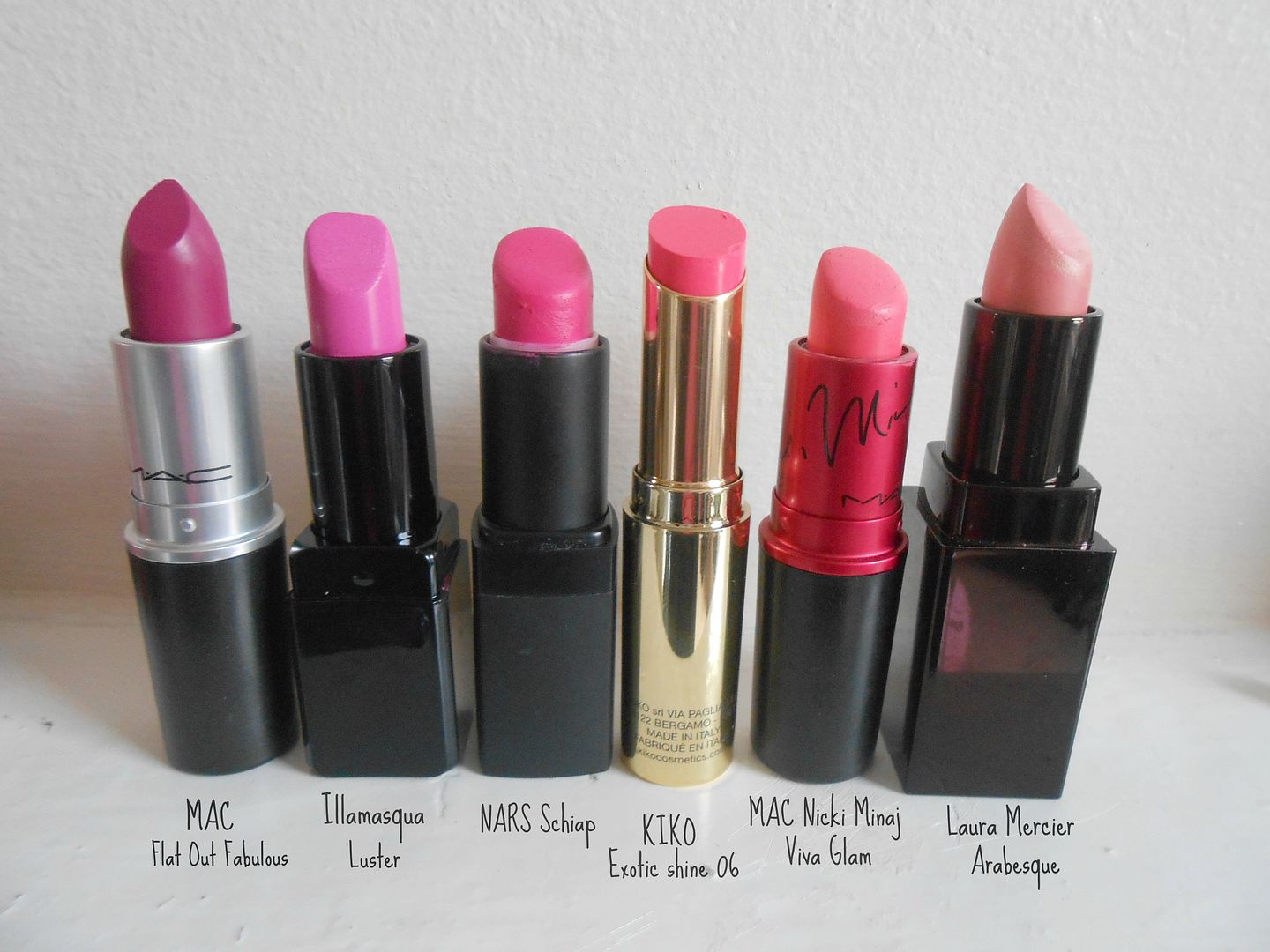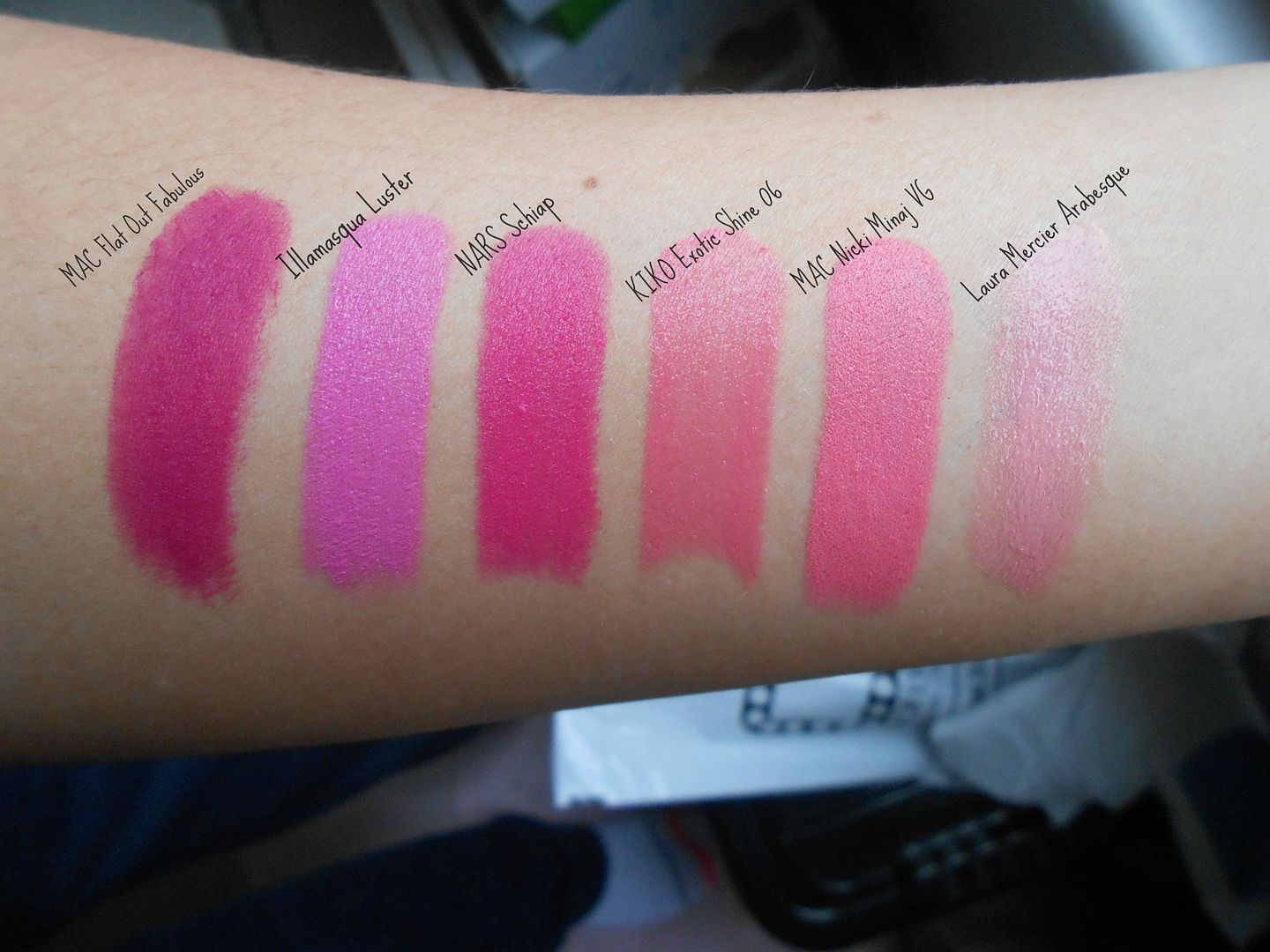 Lipglosses
Soap & Glory 'Mighty Mouth': I think this just comes in this one shade, which is more of a lipbalm type gloss so it treats and hydrates as you wear, at the same time giving you a subtle tint of rosy pink that everyone can happily wear. It looks quite a pale pink in the tube but as you can see from the swatch it packs a bit more of a punch than you may first think.
Bareminerals Marvelous Moxie 'Hotshot'*: Bubblegum pink. The texture of this is really lovely and gives great colour with zero stickiness. I have a few more shades of these glosses and I love them all.
NARS 'Turkish Delight': Kim Kardashian's choice. This is what this lipgloss is known for a people are still buying this for this sole reason. I am not a huge fan of hers but I agree with her selection with this lipgloss. The pale candyfloss shade of lipbalms, it's such a classic to give a nude/pink/plump lip and I am NEVER without this in my kit.
Kevyn Aucoin 'Cloudaine': My personal favourite. I think the KA lipglosses in genereal are my favourite and am sure I have talked about them before on my blog. They are lipstick-sized bullets but you get the same amount of product, if not more than other glosses and the applicator is so good! Cloudaine is a very sheer pink that everyone can wear.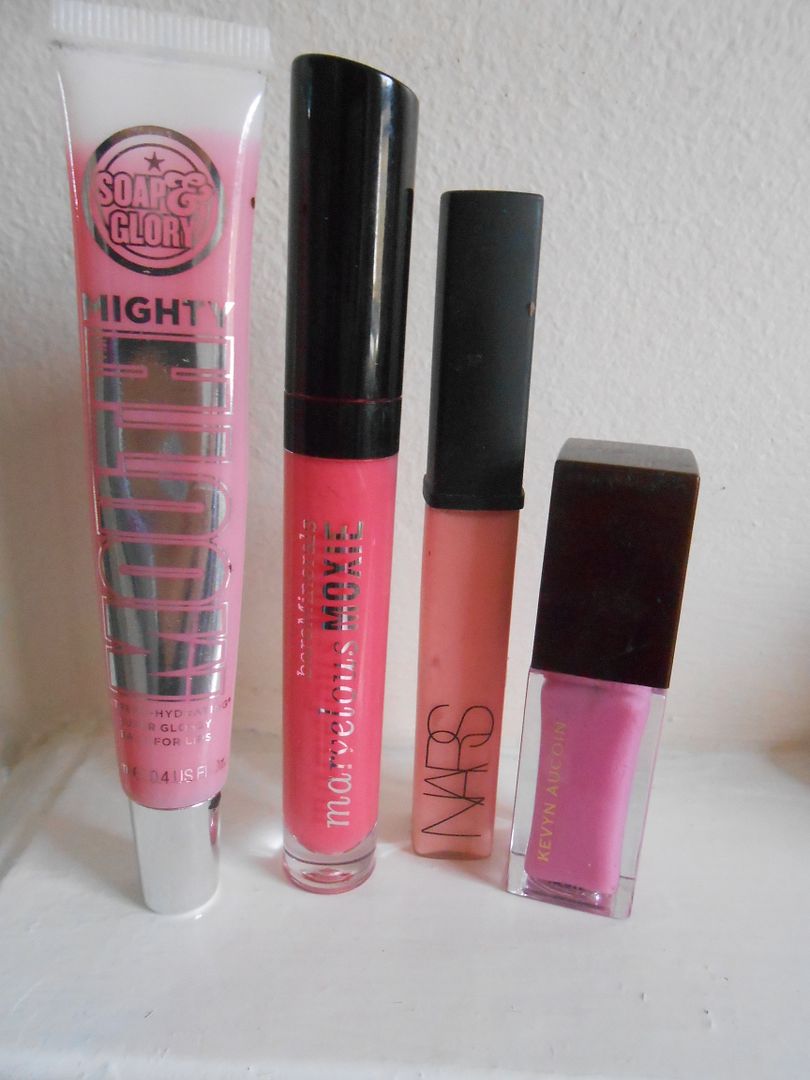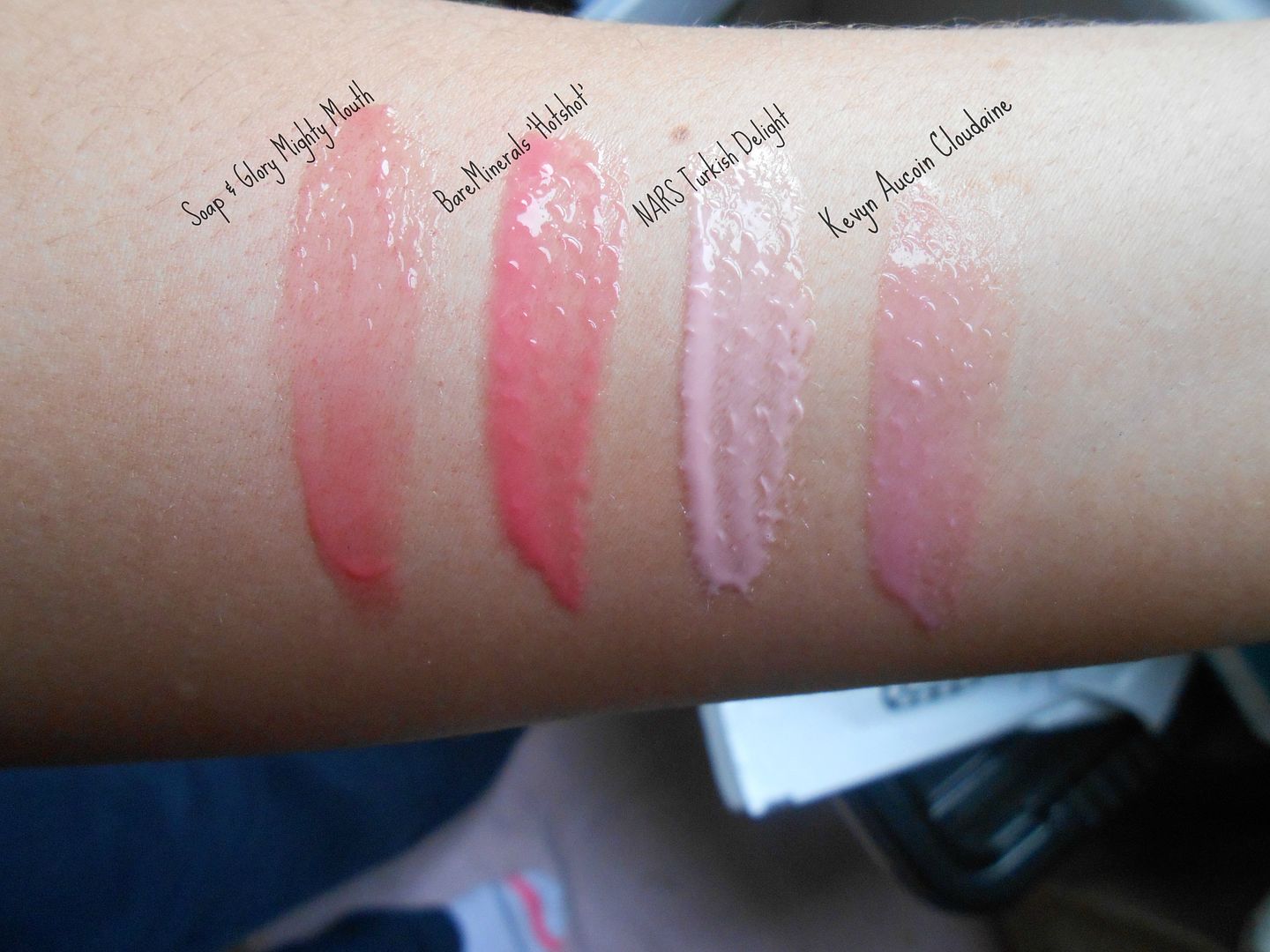 Other Lip thingies
The stains, matte colours and A.O.B's. These don't quite fit in with glosses or lipsticks so here they are in a little group of their own.
NARS 'Bolero': Coral Pink gorgeousness. The palest coral pink with almost a touch of neon is the best way I can describe it. Definately not for everyone but go in and try it if you like the look of the swatch below.
Rimmel Colour Rush '220': Everyday colour. This is a tinted lipbalm which is a really easy colour to wear if you aren't that *into* lipsticks and don't like the feeling of gloss either. A great budget shade and easy to apply. I have also used this on my cheeks too and it works a treat.
Hourglass Opaque Rouge 'Ballet': All-night ravin' pink. These are the original liquid lipsticks that every brand seems to be bringing out the moment, but the guys at Hourglass have had these for years. They are so pigmented and they stay on for hours….days even! Not for the faint-hearted, 'Ballet' is an all-out bright pink lip stain. the applicator makes it easy to apply precisely and no lipliner required.
MAC 'Pinkie' Lipliner: My ultimate pink lipliner! This, as you can tell from the worn-down packaging has been a well-used friend of mine for a few years. It's in my pro kit and there is no colour quite as amazingly barbie pink and bright that I have found in a lipliner. It is only available in the Pro Stores and the pictures below do the colour no justice, sorry…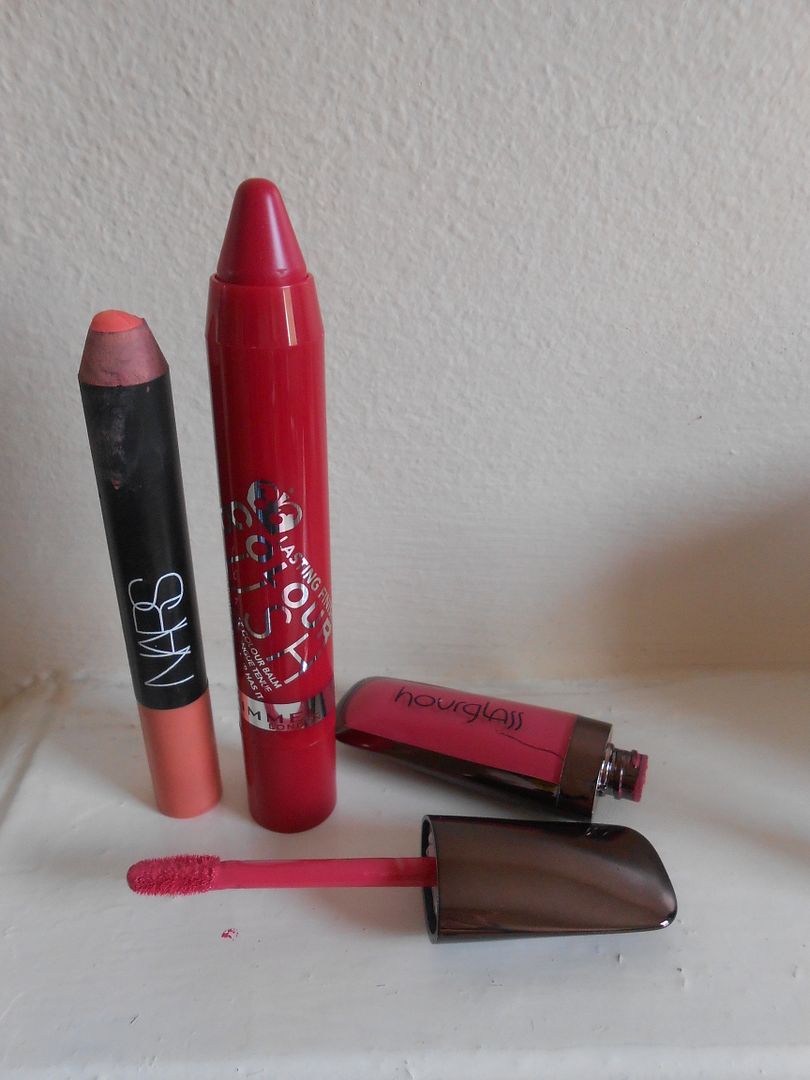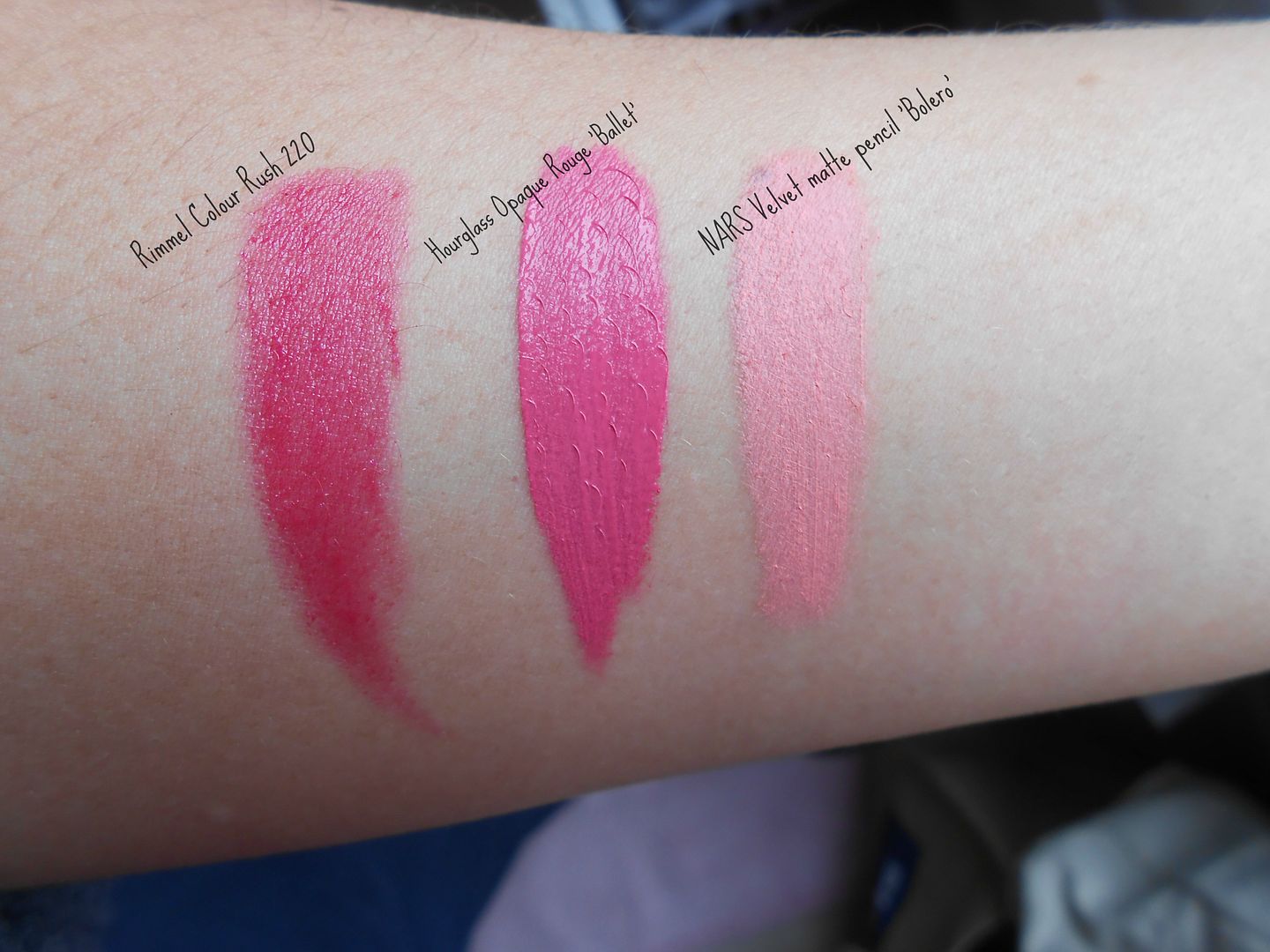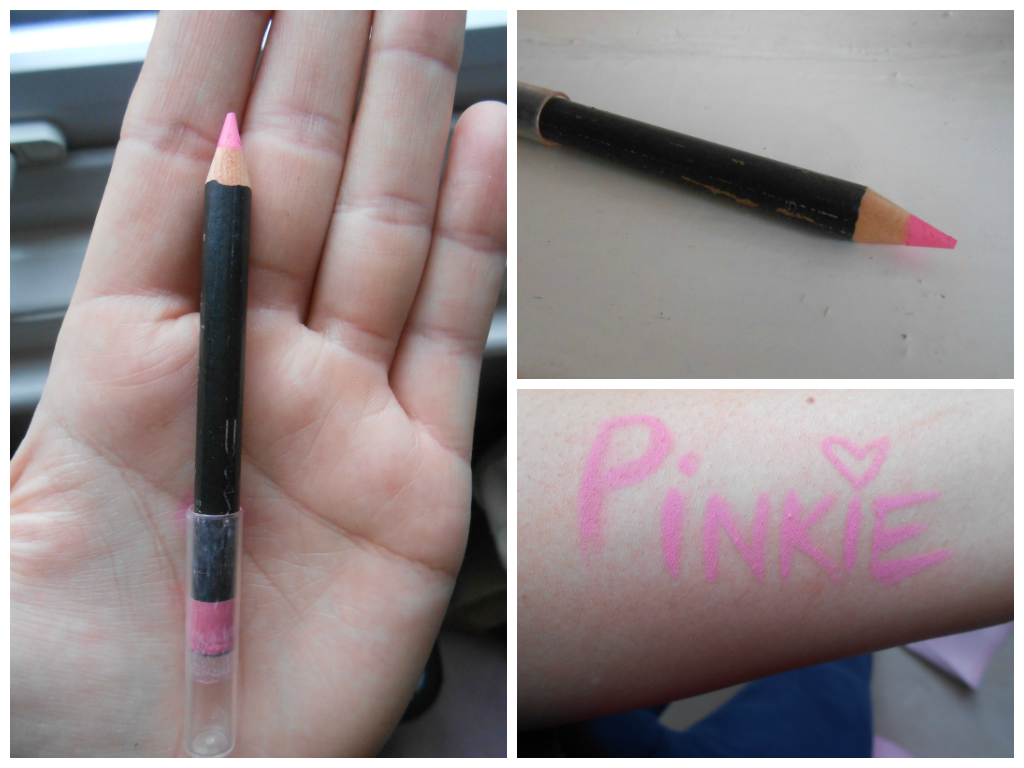 If you enjoyed reading this post then you can also check out my favourite CORAL lip colours, the best lip balms and also THE only lip brush worth investing in.