Makeup look no.2 is a slightly less of a classic and a bit more fun, for me. I don't often wear pink on pink but being as we are feeling all romantic and all that….
This is a typical glamour girl makeup: quite dark, and smokey, concentrating on bringing the outer corners of the eyes outwards to give that cat-eye look. A very easy look to do and once mastered and you can do this with any colour combination you please. This is more of a single girl party night out, rather than romantic date for 2.
Step-by-Step
1.) Prep the skin with primer, I used the BareMinerals prime time, which is one of my favourite primers and works with pretty much any foundation. This is to smooth the skin, refine pores and most importantly keep that foundation on your face all night long!
2.) Buff foundation onto the skin. Here, I have used one of my budget favourites which is the MUA undress your skin foundation. After applying, look for any areas of redness and cover with your preferred concealer.
3.) Add contour onto the face to flatter and slim. As before, I have used my favourite contour duo from Illamasqua. I haven't used blusher/bronze on this look, but whatever your prefer.
4.) Brows. I used, as always the Benefit highbrow under the brows to give lift and then the Urban Decay brow box to fill & define.
4.) Eyes. Prime the eyelids. For this kind of look this is a necessity. I
reccommend and love Too faced shadow insurance as this not only gives you
a beautiful shine-free blank canvas, but it also keeps on all this ton
of makeup we are about to trowel on.
A.) Whenever I am using a bright colour or really want to enhance the eyeshadow on my eyes then I start with a white cream base colour. This is NYX 'milk' jumbo eye pencil, which is the quickest and easiest to apply.
B.) Apply your palest shade. I am using a pale pink pigment from MAC called 'Kitchmas'.
C.) Add a fuschia pigment into the socket line and buff out softly. This is MAC 'Fuschia'.
D.) Add depth and a bit of smoke on the outer corner of the eyelids and sweep outwards. Now all the three colours should merge into one other. I used MAC pigment in 'Push the edge' which I think is limited edition from the Christmas sets, however grape is very similar.
E.) Add a deep purple or black eyeliner across the top of the lashline and underneath. I used NARS eye paint in 'Tatar' which is a really dark metallic purple gel liner. These gel liners are up there with my Shu Uemura ones now, I really love them and the colour selection is brilliant. Add layers of mascara after curling the lashes (ALWAYS curl the lashes!) and then I applied some big fluffy lashes, some of my absolute favourites from a brand called 'EverLash'. If you are going hard in with the eye makeup, you need to duplicate this with big & wonderful lashes. After lashes have been applied, I go over with a black liquid liner to erase any visability of a false lash line.
F.) you can leave this eye look here or if you want to go a step further than add a touch of glitter. Drag chic, non?! I used the Ben Nye glitter glue to apply MAC pink glitter lightly onto the eyelid and hey presto your party girl pink makeup look is nearly done.
5.) Lips. Use a deep pink lip liner with a barbie pink lipstick. Like the
first valentine's look, this is a very slightly graduated lip (it's all about chola-fying this season..) I used a velvet matte
pencil from NARS 'Never say Never' and Illamasqua 'Plunge' which is a perfect barbie pink.
6.) Finish the skin. I wanted a bit more glow to my semi-matte skin so I dusted over 'Sweetheart beads*' from Too Faced. These are new to me and they are the prettiest things I thing I have ever seen. Almost too good to use. They are the classic loose pearls for highlighting with a multiple of shades (bronze, pink, peach etc) and they are HEART-SHAPED
7.) Handbag essential for this : A touch-up powder if you are partying into the early hours, I am using the UD naked powder a lot at the moment. Has a slight tint of coverage and great for setting, reducing shine and redness throughout the day & night.
Product list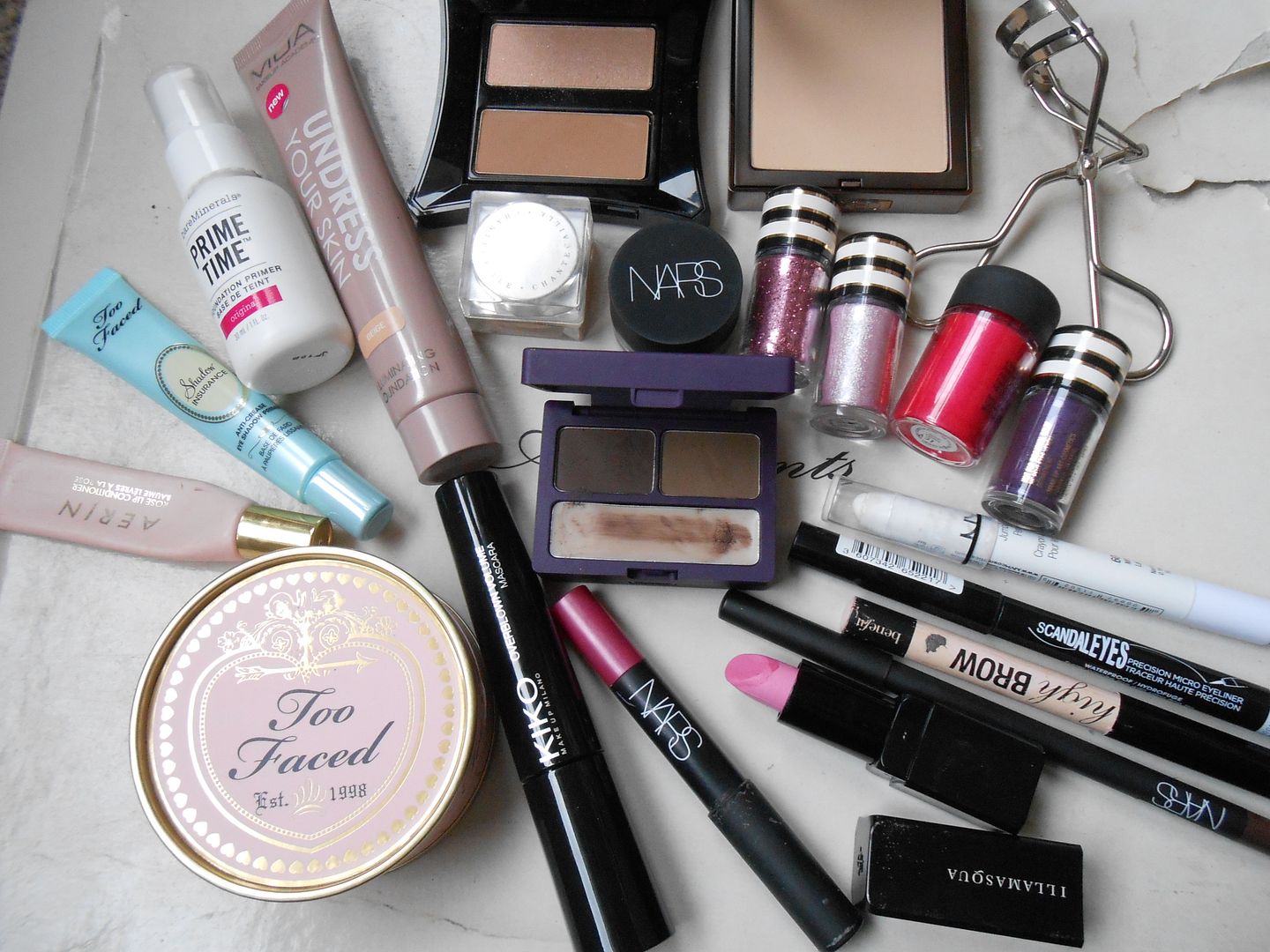 Base:
BareMinerals Prime time primer
MUA undress your skin foundation (beige)
Chantecaille concealer (nude)
Illamasqua contour & highlight
Too Faced sweetheart beads
Urban Decay naked powder (medium light)
Brows:
Benefit High Brow
Urban Decay brow box (brown sugar)
Eyes:
Too Faced shadow insurance eye primer
NYX jumbo eye pencil (milk)
MAC pigments : Kitchmas, Fuschia, Push the Edge and Pink glitter
NARS eye paint (Tatar)
Rimmel ScadalEyes liquid eyeliner (black)
Space NK Lash curlers
KIKO mascara (overblown mascara)
Flexibands false lashes
Lips:
Aerin lipbalm to prep

NARS velvet matte pencil (never say never)
Illamsaqua lipstick (plunge)
What do you think of this pink glitzy look? As always, if you have any questions, do feel free to ask. I generally like this look, but looking back at the photos, I could use with a touch of blush…and some colour! *runs off to slather XEN tan all over my face & body*