I am doing a series of 3 makeup looks, valentine's and lurve-inspired and kick starting it off with this. A red lip and a feline flick is such a classic, and stereotypical romantic look. From the 1920's and onwards, stars and actresses began wearing this kind of look, and it was made most famous by Marilyn Monroe who was the paragon of the red-lipped glamour girl from the 1950's. Fast forward to the 00's and its' been regurgitated, revamped and used as inspiration more times than I can bear to think, and here is my take on this look, eeeked out to my liking and to how I feel comfortable wearing it.
This look is do-able for everyone, it's just tweeking it to your taste, maybe you will go for a really lighter stain on the lip, rather than pillar-box red, or ditch the winged liner in favour of a tightline, whatever makes you feel glamorous and lovely.
Step-by-step
1.) Prep the skin with moisturiser and/or primer, I used Simple illuminating radiance cream as this is a moisturiser and it imparts a beautiful glow and sheen on the skin. One of my favourite new products & full review a comin'.
2.) Apply your foundation all over the face, concentrating on the middle area and working out. Apply strategic concealer in areas that need it such as under eye, round the nose/chin and blemishes. I used the Benefit Hello Flawless which I'm really loving at the moment with touches of illamasqua's skin base concealer. Perfect and flawless skin is a necessity when wearing a red or bold lip and I cannot stress this enough!
3.) Bring shape into the face with contouring. I have just purchased this Illamasqua sculpting powder duo and it's a really perfect tone for my skin. Make sure your contour shade has no shimmer and no orange, it should be a more brown/grey tone. More in-depth about contouring is here.
4.) I usually do my brows at this point: I started off with Benefit high brow to give lift & highlight under the brow. I then used a slanted brush and the Illamasqua brow cakes in 'Vehement' to fill and give shape to my brows. I drew fake brow hairs on with the Hourglass calligraphy eyeliner. This is an eyeliner pen, but the shade and shape of the nib gives me a perfectly natural brow hair look – takes a bit of practice but I love this finish. I promise I will do a brow-tutorial soon! I then swept Benefit speed brow through to finish and perfect the brow.
5.) EYES
A) Prep the eye with eye primer so there is no redness showing and it is an even starting canvas.
B) Add contour to the lid at the eye socket. A perfect shade for this is NARS 'Yamal' or just something that is matte and a deep flesh tone.
C) Apply a nude tone across the eyelid and add a bit more depth on the outer corner of the eyes, I used the Too Faced smokey eye palette, shades below.
D) Draw a feline flick on the eyes, starting 3/4 of the way in and gradually sweeping up and outwards, aiming towards the end of your brow.
E) Curl lashes add a few layers of black mascara and then apply some falsies for a true glamour look. I used the Millie Mackintosh 'portobello' lashes.
6.) The main event: The lips! I wanted to go for a slightly darker lip on the outside so for this I used the same brown (yikes) NARS eyeliner as a lipliner and blended this inwards onto my lip. I then applied the gorgeous NYX lip cream in 'absolute red' straight from the applicator all over my lips (and over the brown liner) which gave a really nice multi-tone finish on the lip.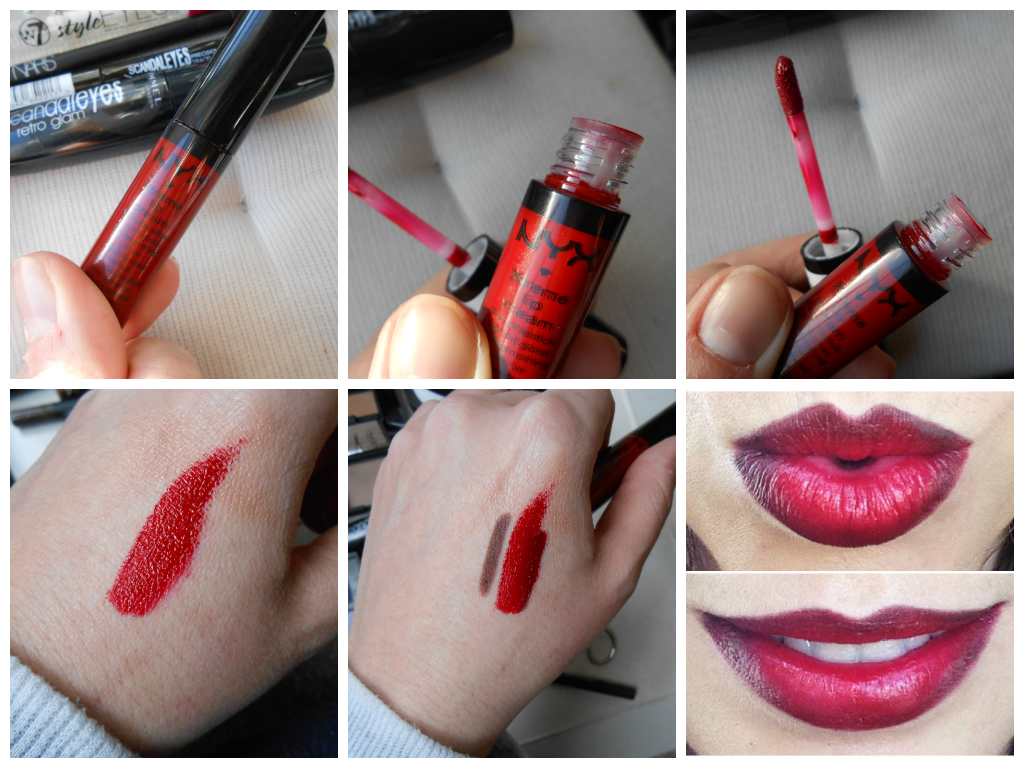 I think if you are using a normal lipstick formula then it's best to apply with a lip brush to get more precision but this has a wand which makes it easy to apply and no brush needed. When you first apply these lip creams, they have a semi-gloss finish which you can see in some pictures, however, for a long wear then I would suggest a quick blot with a tissue and this leaves it slightly more matte. What an amazing colour this is and this was the first time I had tried it.
7.) Finish and perfect. Touch up under the eyes with concealer if any shadow has dropped down and powder the skin in areas that you know you get some shine. I lightly dusted the Jurlique finishing powder all over as I get quite oily.
Product list:
BASE:
Simple illuminating radiance cream
Benefit Hello Flawless foundation (Honey)
Illamasqua skin base lift concealer (med 1)
Too faced shadow insurance eye primer
Illamasqua contour and highlight
Jurlique Rose silk finishing powder
BROWS:
Benefit High Brow

Illamasqua brow cake (Vehement)
Hourglass calligraphy liner (Cognac)
Benefit Speed Brow
EYES:
NARS Yamal eyeshadow
Too Faced smokey eyes palette
Rimmel ScandalEyes micro eyeliner
Rimmel ScandalEyes retro glam mascara
NARS 'Via De' Martelli' eyeliner
Mille Mackintosh lashes (Portobello)
LIPS:
NARS eyeliner (as above)
NYX extreme lip cream (absolute red)
Please feel free to leave any comments or any makeup questions you may have below.