This has been years in the pipeline and is a much-anticipated makeup launch this year. Eve Lom makeup launches any day soon (next week in Space NK I think?!) and I was lucky enough to be given some sample sachets of the primer and the Radiance Lift foundation. Now I use little bits of Eve Lom , the morning cleanser I really like, the kiss mix and the TLC cream is in my kit for super dehydrated and flaky skin. Saying that I am not a crazy Eve Lom fan, I do find the original cleanser a bit overated, but I really am intrigued about this makeup line. I just have an inkling it will be really, really good.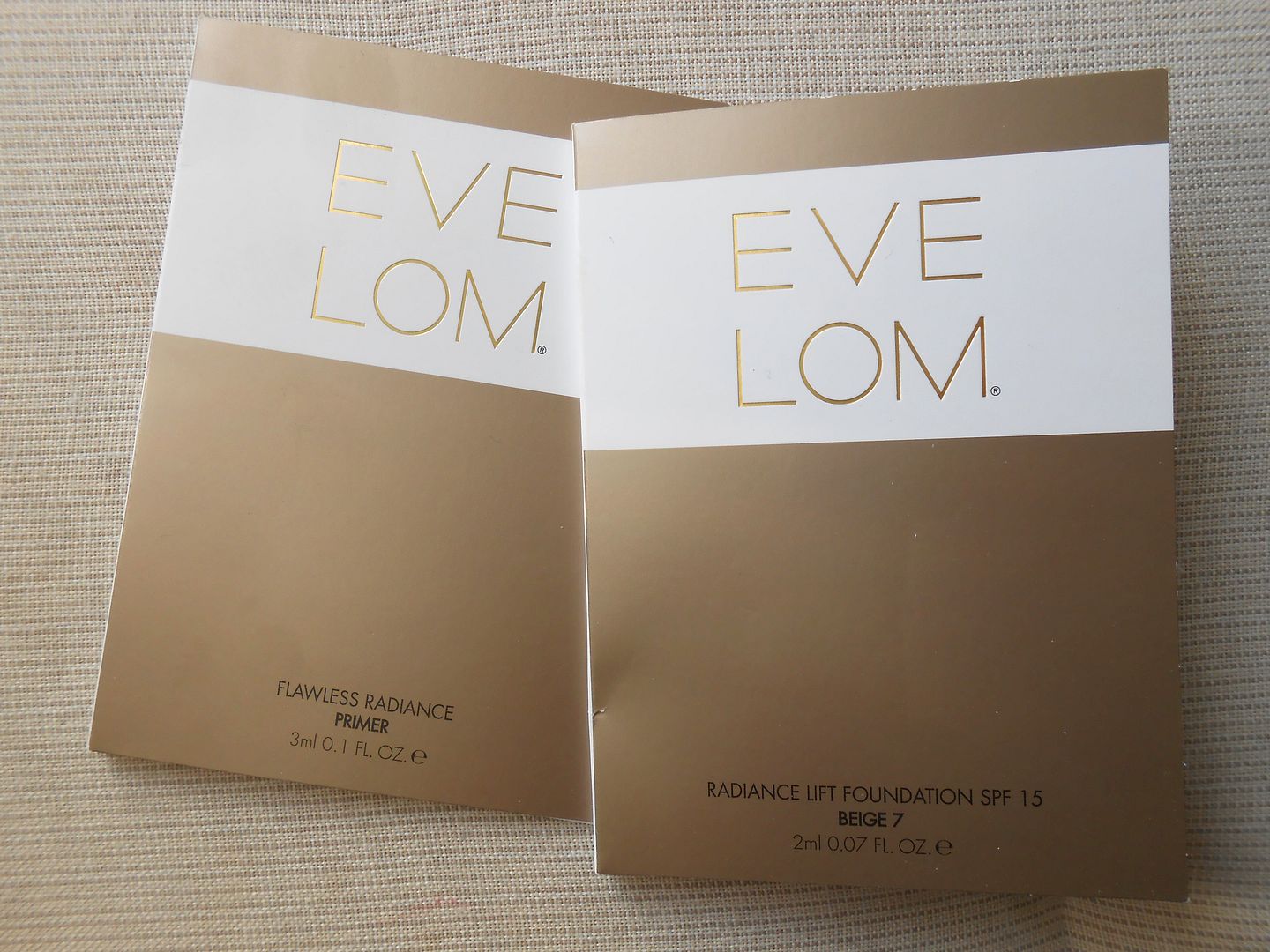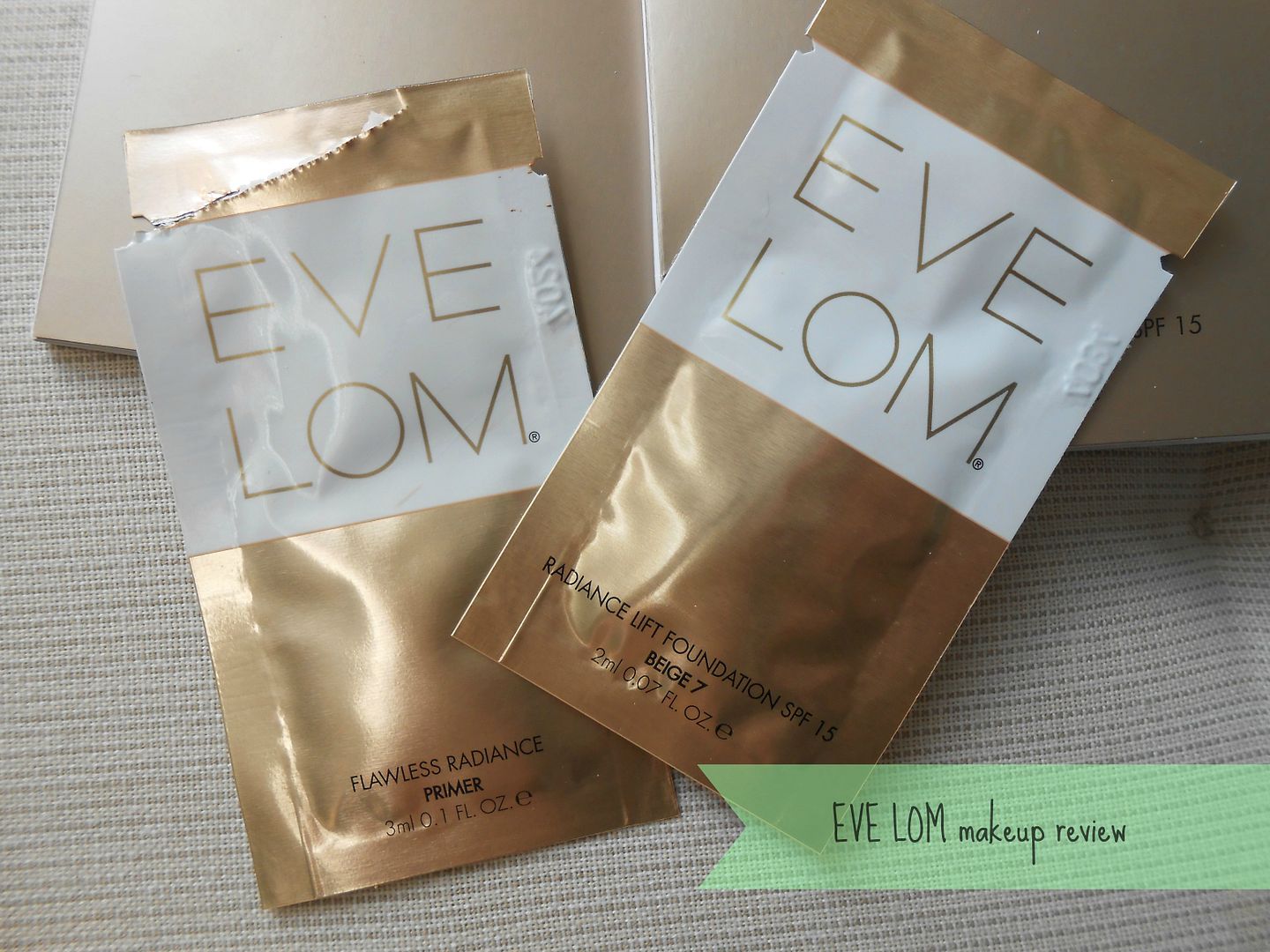 First impressions: It is really, really good. Ok the primer (aka Flawless Radiance primer) is a typical lightweight cream gel formula, white in colour but translucent in finish so this will work on all skin tones. If I look really closely in the light it has teeny tiny specks of some kind of pearlescent, shimmery particles but literally once applied and absorbed it just gives a semi-matte nice smooth canvas with a hint of brightness. I could liken it most in texture and finish to maybe the Laura Mercier original primer. It does contain silicone… primers kinda have to in my opinion, but not to the extent of a lot of them where you can really feel the slip and silcone-y feel on the skin. If I didn't know that this was a primer, I would have assumed it was just a moisturiser with a nice finish. Upon looking further at the ingredients, I see aside from silicone it contains a few others skin conditioning treats such a squalene, hyaluronic acid & rose flower extract. So a primer with a little skin of skincare.
Now the Radiance Lift foundation, I am more excited about. When I first tried it on the back of my hand I could tell immediately that this was a serious foundation. It was a very smooth and light silky veil texture, you can feel the skincare in it, and it imparts a beautiful radiant glow on the skin. I am shade Beige no.7 which is perfect for me. They have 15 shades of this in total so I can only assume a colour for EVERYONE – hooray.(**Please read below)
I prepped my skin with a touch of Eve Lom TLC cream just to keep within the theme. This is a moisturiser I will use very sparingly on my skin, and I do love the fact it leaves the skin with a wonderful glow and foundation always looks great over it. To be honest, I am not a fan of the other moisturisers from Eve Lom so am hoping something new will come out soon that will be more suitable for my skin. Anyway onto the foundation, one one side I applies with fingertips and the other with a foundation brush, I much preferred the finish with the brush but either way you can apply this pretty easily with fingertips.
The hint is in the name, this really does leave a beautiful glow on the skin, although according to Lisa Eldridge the finish is supposed to matte… which for me isn't the case. It's not Chanel Vitalumiere dewy, a little less, but it just leaves the skin looking healthy which I like. The coverage is medium with potential to build, or sheer down as you see fit. I applied it quite heavily and didn't need much concealer.
It has an SPF 15, and a bundle of firming and anti-ageing ingredients inside, which is what we expect. The wear on this was pretty good for me, I am oily-combination and after a couple of hours, I did need a powder down, although initially I used no powder to set my makeup as I liked the dewy finish, so this is completely expected. After a whole day of wearing it looked pretty good, the coverage hadn't slid off and ran away like with some foundations BUT it had sunk into my pores a little bit making them look a bit more visible. This was about after 6 hours. Not a major issue, but good to know if you have open pores likes me…a little buff with a brush and a tweak and you are good to go again.
I expect this is designed and marketed towards a more mature skin as it says it is 'age-defying' but don't be put off if you are young (like me…ahem) as these kind of foundations can look wonderful on a younger skin.
Am I buying?
The Radiance Lift Foundation is a whopping £50, so that is up there with the By Terry, Chantecaille, Tom Ford etc and in my honest opinion, if they had maybe dropped that down to £40, it would have been more appealing to me. I do really love this foundation, I am really impressed, but not quite enough for £50 so I won't be forking out for the full-size bottle. The Radiance Primer, is also a premium price at £40 and for me, just not quite hitting the mark for that amount of money. On the flipside, this is just a review after once use so very quick and initial opinions.
My advice: Get to a Space NK next week, and try and get some colour-matched or a sample to see how it works for you. I am really interested to try the tinted moisturisers and concealers from Eve Lom and will be going along to try a bit more. If the foundation was a touch more purse-friendly then I'd be in there like swimwear. I think the products are beautiful and really promising although apparently they won't be extending into colour makeup though as they want to really focus on the skincare-infused side of makeup for now.
Let me know if you are going to check out the launch & what you think.
For more product info and pre-order then go to the Space NK website.


** Added 06.03.14: Ok so here I was harping on about how pleased I am that there was a whopping 15 shades of foundation and I stupidly assumed that this would include colours for all. I was wrong. On further testing and swatching the full range of foundation, and tinted moisturiser shades I was pretty shocked to see that the number 15, is in fact a colour I could probably wear with tan. 50 (15) shades of frickin beige. If Eve Lom had launched just 10 shades then maybe slightly more understandable, but with 15 shades they should have really done this better. I could probably wear 5 of the shades, no joke. Literally so many shades of beige. Great for me, not for many. My Asian friend says the 11/12 shades are more yellow toned and she can wear the 12 (I think) so at a push it'll work for Asian skintones. Apologies for my stupid assumption in this original post.