This, Miss Manga mascara, is the latest launch from L'Oreal and I have been seeing a loada hype about this. For me it wasn't an intentional buy, I happened to be in Boots last week and it screaming at me from the main display area with it's tantalising black and metallic pink packaging…and on offer so I thought I'd give this a whirl. The last mascara I used from L'Oreal was the volume million a couple of years ago which I quite liked, but didn't rush to stock up when it ran out.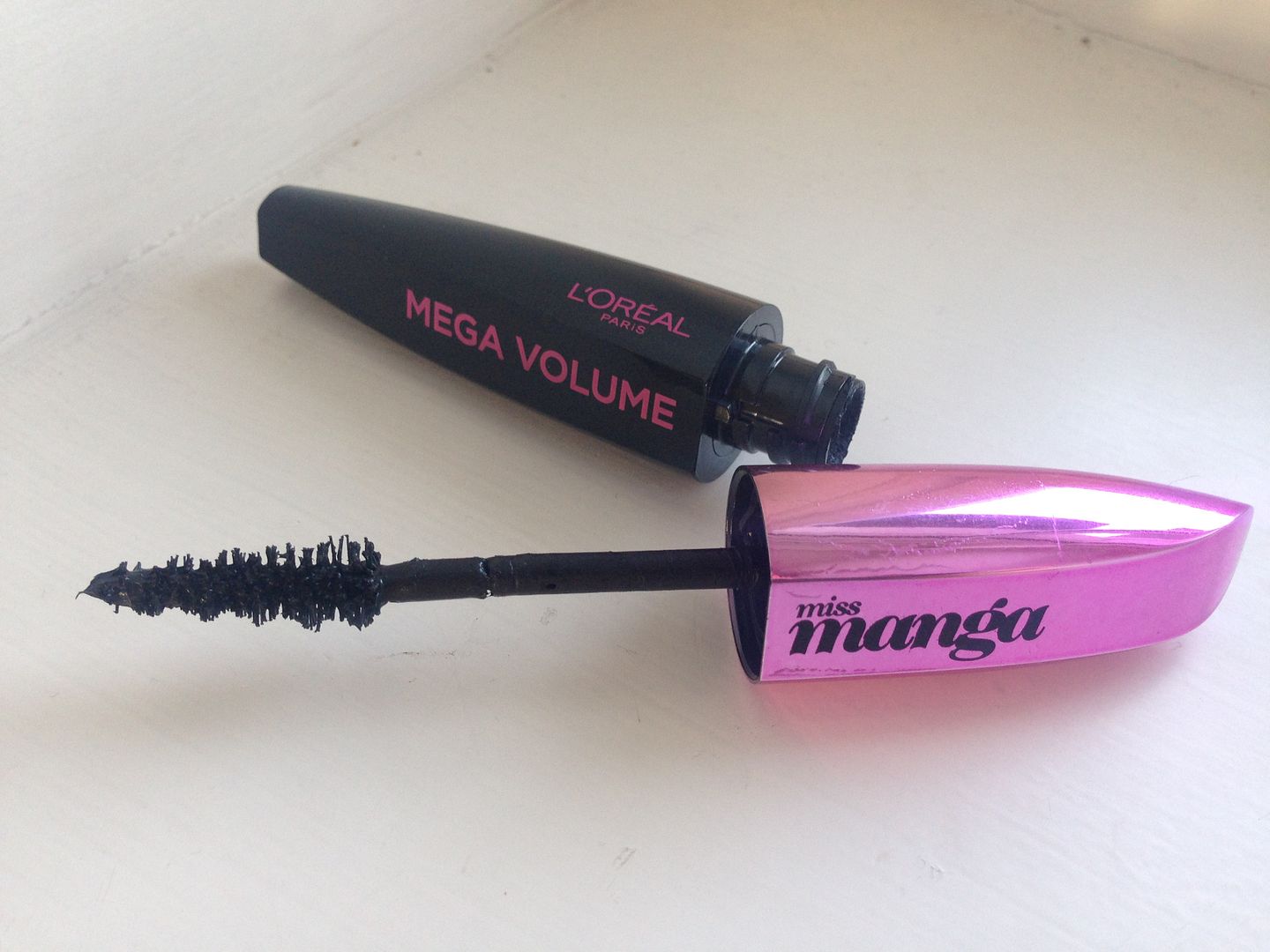 It is named after and influenced by the Japanese manga cartoon girls with their huge over-exagerated eyes and lashes, and the mascara is marketed as a volume mascara. The unique selling point about this mascara is the bendy and flexible wand neck, I've certainly never seen anything like it.

The actual mascara brush reminds me of a Lancome one (can't remember which) but it's quite a messy bristly brush and tapered to capture all the lashes. I found using it was very easy and because of the bendy wand, it feels like you are hardly putting any pressure on the lashes. I was not quite sure of this when I first applied it, as I am used to using force and having more control but I am getting used to this feature now. It is also easy to capture all the small inner corner lashes with the thinner end of the wand.
The finish of this mascara is what I can only think of as *buildable fluttery* (yes I just made that term up). It has a natural volume finish as opposed to a really dense one, that you can achieve with some mascaras. The key benefits for me was the lengthening ability and great separation, hence the fluttery lash.
I love this as a day time mascara, but I like one with a bit more oomph and volume for my evening mascara. Maybe it is my method of application re the buildability and volume thing as I know some people have got great false lash effect with this mascara. I like this finish on a day-to-day basis so this has 100% secured a spot in my makeup bag, and I have been using it religiously since I purchased it last week.
It wears really well, as I have found with all L'Oreal mascaras, no smuding or flaking or irritation on me and was relatively easy to remove with my usual cleansing oil / pm wash. The shade I purchased was the standard black but they also do a turquoise and a purple which I am dying to try!
I added a bit of a coppery brown shadow underneath to finish the eye look and teamed with a peachy nude lip. Have you tried or been tempted by Miss Manga? Is there a method to achieve a touch more volume than what I am getting?
This is still on offer at Boots if you are interested , with a generous £3 off.