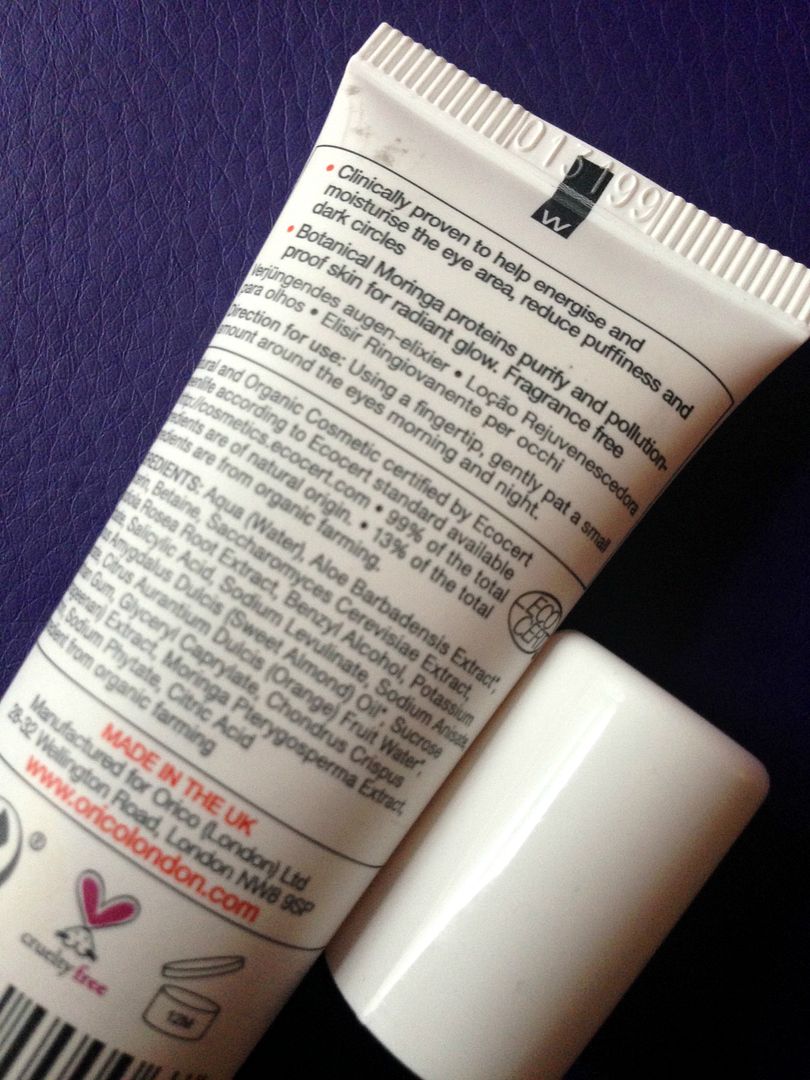 If you don't like a rich or heavy eye cream, like organic/natural skincare yet want it to actually DO something then look no further then this goodness-packed eye serum from Orico*. The high rise rejuvenating eye elixir is perfect for the delicate eye area, it's super light and non-greasy in texture it doesn't feel heavy or disrupt your makeup application. It is also clinically proven to help reduce puffiness, sagging and dark circles whilst moisturising and revitalising the eye area.
I have used some amazing eye creams, but if they are too rich, after a few weeks of using them I will get small milia around my eye area which can end up staying for MONTHS! With the Orico eye cream, I've had no problems like this at all. It does contain a tiny bit of oil but nowhere near the amount in some eye creams which is why I think I get these pesky white bumps on occasion. The texture is a gel-serum type cream that once patted onto the skin, will vanish in an instant. Ingredients include bioactives and botanical moringa to help purify and brighten, aloe vera to soothe and cool and almond oil for light hydration. The thing I really have been noticing when using this is how lovely and cooling it feels on initial application…so it's perfect if like me, you wake up with super sore, groggy and puffy eyes in the morning.
For some people, if you are really dehydrated, this may not be enough for you, so either can use this as your day eye cream, and a richer balm/cream one at night, or you can literally use this as your eye serum, with a richer basic hydration cream over the top. slighty extravagant buying two products for the eye and I personally don't do this but I know some people who do this and it really works for them.
Clinical Results:
In a 4 week in-vivo study of 17 females with under eye puffiness, the active was applied twice daily and the results were:
– 64% of panellists observed a reduced appearance of darkness under the eyes and also an improvement in overall appearance.
– 60% of panellists observed reduced under eye sag and improvements in skin radiance.
– 82% of panellists found an improvement in skin moisture.
– 76% of panellists noted improved skin softness.
Again, I would recommend this for those who particulary suffer from puffiness and dark circles and like a lightweight feel to their cream, with no nasties or reactive ingredients ; 99% of total ingredients are of natural origin. Not a bank breaker either at £21 for a huge 25ml tube (80% of eye creams will be 15ml).