This is a guide for christmas shoppers on a budget, have a secret santa with a smaller budget, or just want some cute, smaller stocking filler-type gifts. I've had a good look around and these are some of my favourites smaller gifts.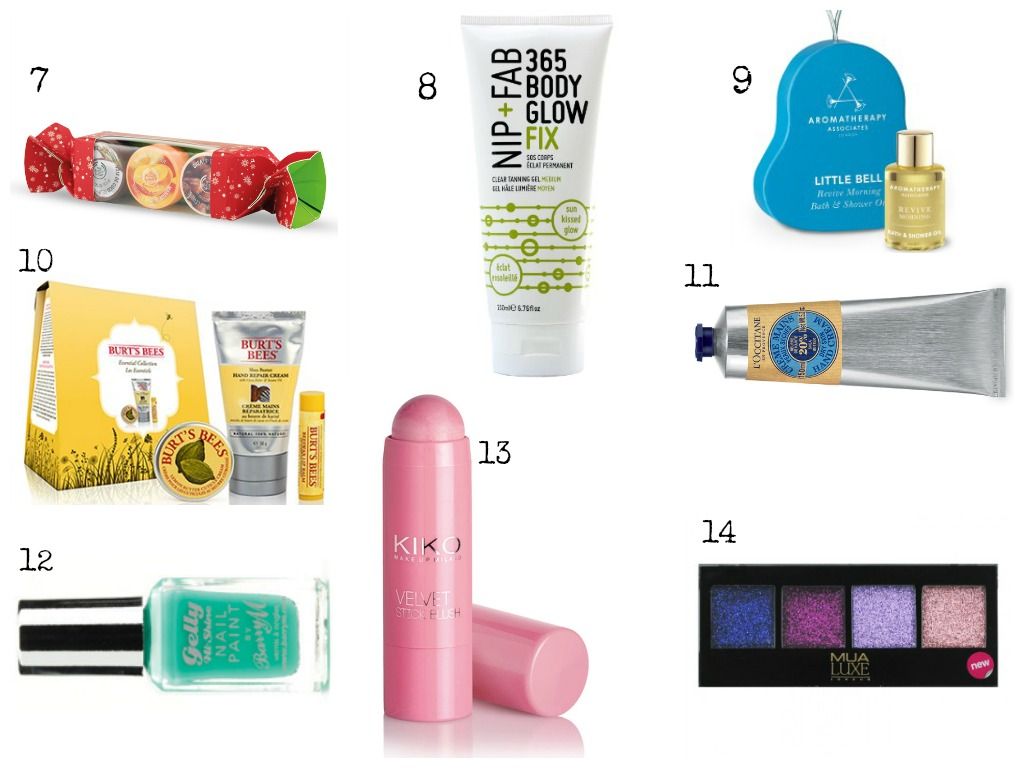 1. Winter Spice candle from John Lewis £8.50
2. Eyelure Katy Perry Lashes 'Showstopper' £7.99
3. GOSH shimmer brick pink £5.46
4. Topshop mittens £10
5. Urban Decay lip love gloss £10.80 (just over I know but there is 10% off currently at Debenhams, these are usually £12)
6. Essie nail polish 'Mesmerised' £7.99
7. Body Shop lip butter trio £10
8. Nip + Fab Body fix glow £7.95
9. Aromatherapy Associates 'Little Bell' oil £10
10. Burts Bees essential collection £9.99
11. L'Occitane shea butter hand cream 30ml £8
12. Barry M Gellish nail polish £3.99
13. KIKO cream blush stick £7.90
14. MUA luxe glitter eye palette £4
I could probably have just kept on going on and on, but I think this is a nice selection, and hopefully something for every type of person and beauty lover. If it's for someone you don't really know too well then always opt for a more neutral tone and maybe stay clear of the glitter eyeshadows! I always think a candle, nice lip balm or a hand cream are great small tokens for people you don't know too well….at some point they will get used and loved.