Depending on how much you follow me on Twitter (@LauraLouMakeup), you may or may not know what I have taken some time off from my work until January, and I am back at my family home in Jersey. This is due to my mum being ill, so I made the decision to come here and help out and spend time with her. It's very difficult for a number of reasons…the emotional turmoil of the situation, being away from a lot of my friends, my fiancé, not working, and also I am really missing the hustle and bustle of London living. Parts of being back here are really lovely, I get to see my best and oldest friends, I get to walk my lovely dog Eddie on the beautiful beaches, the lovely coastal cliffpaths and walks, and just fresh air. With my emotions running a little wild, I use a number of different things to relax me, and one being Aromatherapy Associates bath & shower oils and another is THIS little beauty that I just bought from the Spa I go to.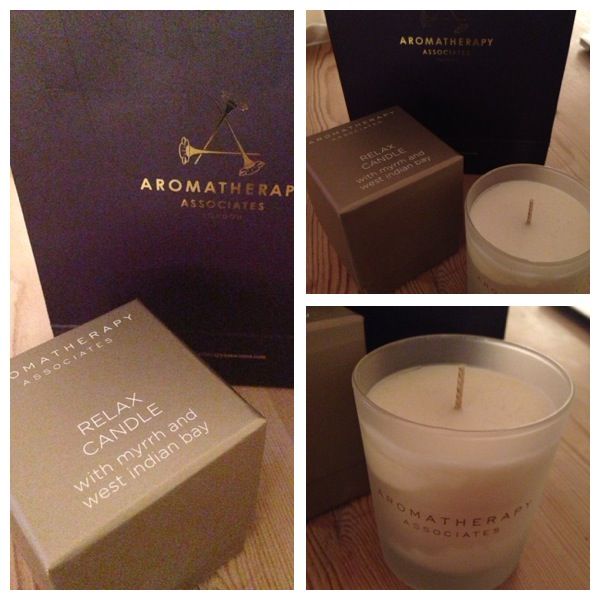 It is the 'Relax' candle from Aromatherapy Asscociates and it smells wonderful! It contains essential oils of West Indian Bay & Myrhh to calm and soothe the mind and the smell, like the bath oils, will infuse throughout the room. It gives me a lovely sense of comfort and calm and I usually burn it for an hour before bed. Once the candle is blown out, the essential oils are still working and dispensing around the room as long as liquid wax on top takes to re-solidify. I think it is helping me to sleep too.
These candles are hand-poured in the UK (yay) , made from the highest quality Soy wax with unbleached cotton wicks. A more natural way to enjoy a gorgeous candle! I have had a few AA candles before and they do burn really well, nice and evenly and all the way down the the bottom of the jar : just remember to trim the wick every time to keep the flame burning well. They have 40hrs worth of burning time and cost £34. I did get mine cheaper though as I purchased this in Jersey so it was around £26 🙂 I must also note that this is the OLD packaging for these candles, they have recently changed it into a bit more of a fancier look, but in all honesty, I do really like this old packaging, it's very clean, simple and classy.
www.aromatherapyassociates.com