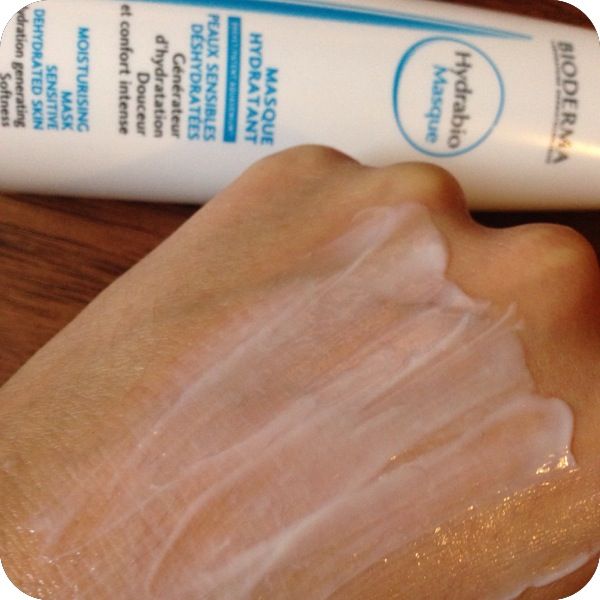 Relatively new from Bioderma is this creamy hydration treat, Hydrabio mask*. This has been specially formulated to relieve dehydrated and dry skin AND to get the skin back to it's normal way of functioning. With winter upon us, skin changes so much as seasonal changes effect moisture , sensitivity and oil-production in your skin. The hydrabio mask contains ingredients and complexes including 'Aquagenium' to stimulate the skin to re-generate & maintain it's optimum moisture levels. It instantly soothes and nourishes the skin, making it feel more comfortable and less irritated. It is a normal cream texture, like a rich face cream and doesn't leave the skin feeling greasy or overloaded like some hydration masks can.
This can be used a few ways … after cleansing, apply a thick layer of the Hydrabio mask all over the face (I use it under the eyes too and its' fine)..Leave on for a minimum of 10mins and then remove excess with a cotton pad. Obviously you can leave it on for longer than 10mins if you wish and I am sure it will be absolutely wonderful as a night cream too, especially if your winter skin is feeling uber sorry for itself. Another way you could use it for an extra boost, is to layer it over the top of a water-based / hyaluronic acid-based hydration serum and leave it on as a normal mask, or leave it on….whatevs. There are no exfoliation acids or anything so you can pretty much do what you like with this mask.
The Bioderma Hydrabio mask costs £14.50 for this 75ml tube and is available at John Bell & Croyden pharmacy and www.escentual.com.