There is something so satisfying about using up beauty products, putting them in the recycling bin and then replacing it with something brand new and shiny…or is it just me?! As you may or may not know, I juggle quite a few products at once. I usually have 3 cleansers on the go at one time and likewise with my haircare and face creams…I use what feels right for my skin and body on that day. Hence, why I will sometimes run out of the same thing all at one time. (3 cleansers all in the last few weeks?!) Here are my recent empties and mini reviews: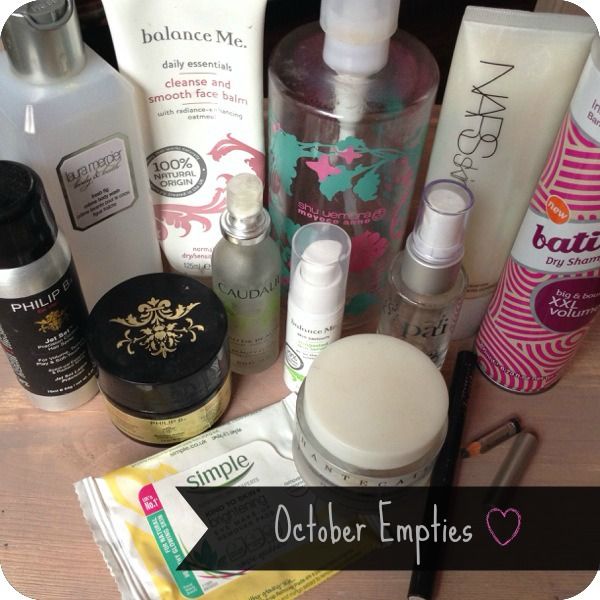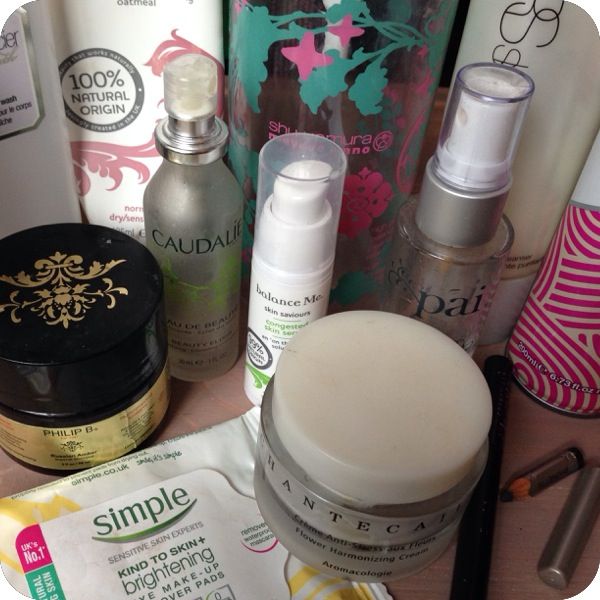 Laura Mercier Fig body wash
This was given to me last Christmas as a pressie and I only started to use it a couple of months ago…but it turns out my BF took a liking to it too (behind my back) hence why it evaporated away so quickly…Some of the Laura Mercier bath & body is a little too sweet for me but this one is a little less so and the texture is really creamy and nourishing on the skin. Loved it but I wouldn't spend £30 on a shower gel for myself, however if anyone wants to buy me one for Christmas I would, of course, welcome it with open arms.(PS Really want to try the Amber Vanilla next..)
Chantacaille Flower Harmonising cream
Oh how I love you so. This is one of my all-time favourite face creams, particulary coming into the winter. It is pretty pricey though so I eeked this out over the last year and only used it when my skin was feeling really sorry for itself. It is a beautiful concoction of flower and plant botanicals and is one of the best and most soothing face creams for sensitive, tired, reactive and dry skins. It contains narcissus, mimosa, lavender, jasmine, edelweiss, seaweed, herbs, vitamins and essential oils which are all encapsulated in rosewater…it smells gorgeous! This literally cocoons the skin in love and I need/want more! Will absolutely buy this again, when my purse allows the £88 pricetag for it.
Simple eye makeup remover pads
I have been travelling around quite a bit lately and these are a godsend for on-the-go easy eye makeup removal. Contain 30pads, and I used on average 1 per eye. They remove waterproof eye makeup and don't contain any stinging alcohol or oil so are suitable for sensitive eyes and contact lens' wearers. Will get again for sure.
Batiste dry shampoo
I seem to run out of this every time I do an empties post?! I guess it is just something I am constantly buying and using most days. Batiste is a classic and this was the one for 'XXL' volume so added a bit more texture to the hair than their original formula. Good for peeps with fine hair like myself, and I often use it in freshly washed hair to give instant texture and feel. I have purchased another Batiste one since which is 'cherry' flavour and I am not loving the smell as it's pretty sickly, so will go back to this XXL one the next time.
NARS purifying foam cleanser
This is my second tube of this and I do really like it, although am moving on to something else for my next foaming cleanser. This was my morning cleanser for in the shower as I like something quick, non-oily and fresh. This also has tiny exfoliating beads to purify and brighten the skin and had other ingredients to help balance oil. One thing I did notice about this was that the packaging is kinda heavy, so I thought it was still half full when it was actually empty. Would indulge again, but not right now as have so many other things to try out.
Shu Uemura cleansing oil
Oh my gawwwwwwd I have had this for a shamefully long time. It has lasted me well over a year. I wasn't using it constantly but it was one of my PM oil-based cleansers that I have been using, and have used for around 5 years now. This one was one of their limited edition bottles hence the colourful patterns, but this is just the classic/original cleansing oil from them. I swap between this and the pore-refining (pink) one. I like the Shu Uemura oils because they are very quick and easy for makeup removal and they have a pump so no faffing. Rather than the typical balms, this just feels like a light oil and is kind of watery in texture so you don't necessarily need a cloth to remove. It emulsifies very well with water to turn into a milky texture and then you splash it off. I often still use a cloth with warm water particulary if I am wearing heavy-ass makeup. I am trying out a new cleansing oil from another brand now, but will undoubtedly be buying this again soon.
Philip B products
I actually have just run our of his clarifying peppermint shampoo today but will have to save that for the next 'Empties' post. I am a big fan of this guy and his haircare has always delivered. I purchased the 'Jet Set' hairspray quite a while ago from Selfridges and it has been a travel and handbag saviour. What attracted me to this hair spray was the fact that it gives hold like a normal hairspray but also texture & volume, so a winning combo for me. Really liked it and will look into buying the full-size this time as it will probably be better value.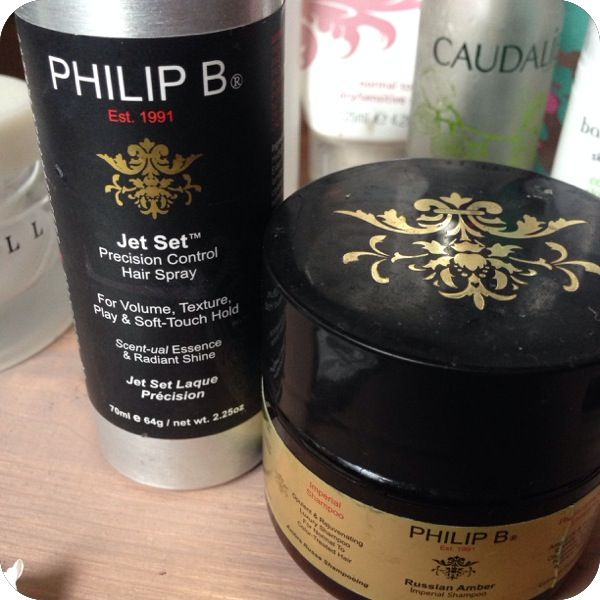 The Russian Amber shampoo will maybe be a controversial one, but yes this is absolutely, for me, worth the ridiculous money that it is. I treated myself, actually over a year ago to this, and I will 100% be getting more. This tub which is the smaller one is £40 for the 88ml size and the large one which is obviously better 'value' is a whopping £100. I will stick to the smaller tub for now as it works for me and lasts a long time with the way that I use it.
Now, this is a shampoo, but look at it as a treatment shampoo, not an everyday one (unless you are packing some serious wedge), I would use this sometimes once fortnightly to give my hair a real deep nourishment and treat. It is a restructuring shampoo that is perfect for damaged, chemically treated, coloured or just dry hair. I have to say the best way to use it is to wash your dirty hair with a cheap shampoo first: don't waste this on dirty hair..then scoop out a small amount out of the pot and rub in between the palms (it's like the texture of thick honey!) and apply over the hair. It will lather up like a silky creamy shaving foam ….then leave it on like a mask for up to 5 minutes. Allow it to treat your hair, and then rinse. Some people don't need to use a conditioner after it, but I still do. This is also the only shampoo I have used when I can really smell it in my hair the rest of that day – and I love amber! Contains a huge amount of hair-loving ingredients and amino acids to treat and strengthen the hair. A complete indulgence, I know, but one that I have become attached to and NEED in my life.
Balance Me – cleanser & congested skin serum*
The congested skin serum has been absolutely brilliant and am keen to re-purchase this as have nothing quite like this in my skincare. A natural and effective treatment that can be used directly on to blemishes or like me, on a larger area of breakouts. I used this pretty much every day, on my spottier and oilier areas (not all over) and then just followed with my normal moisturiser. Full review, including before and after's of my skin clearing up can be seen HERE.
The cleanse and smooth face cleansing balm has also come to an end. I was using this along with my shu uemura one as a PM oil-based cleanse to remove my face and eye makeup. This is a great cleanser if you are looking for a more natural version of say, Eve Lom. It contains no parabens, mineral oils, silicones, colours, fragrances or petroleum. The cloth it somes with was a little miniscule for me, so I ended up just using my Emma Hardie ones which are a bit more robust. Now because this is such a natural balm, it does not emulsify into a milk cleanser so a bit more effort is needed for removal, it stayed quite oily on my skin, even with the addition of water, so removing it was all in the hot cloth action! Good for normal – dry skins, I would say. Takes a little longer to remove than than the typical balm cleansers I have used, but was really effective.
Caudalie Beauty Elixir
Maybe my 3000th bottle of this. Love it and already have more. I use this both in my kit on my clients, and also I have one on he go for myself. Contains grapewater, orange blossom, rose, organic balm mint and rosemary so it is an instant perk-me-up on my skin and sensations. This is my hangover necessity with my bacon sarnie. On my clients, I use it to set and give radiance after makeup application, also good for refreshing the makeup throughout the day. Love it more for how it makes my skin feel and look rather than the hydrating properties so if you want pure hydration and soothing then the Pai one may be better for you….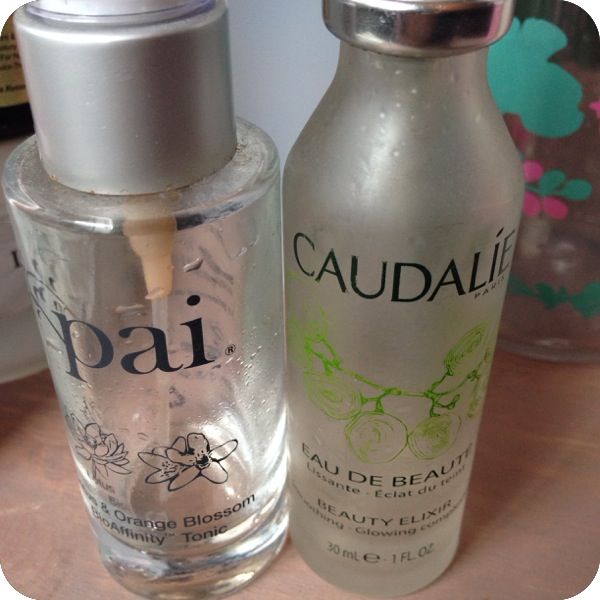 Pai Lotus & Orange Blossom tonic*
This is my go-to for a real hydrating boost when skin is in need of some love. Winter skin, dry skins, sore and tired skin will love this; it is anti-inflammatory and really soothing. I use this under my skincare to give a quick boost of vitamins and minerals, I think when a water has such great and natural ingredients, it is best to be used in synergy with your skincare and treat it like a skincare item. Orange blossom is my no.1 favourite smell so will absolutely be getting this again at some point.
Cosmetics A La Carte brow ink
This has been a hot for me, and the first brow ink I have ever tried. I know a few cheaper brands have launched brow inks lately so will definitely be open to trying out more, but this colour from CALC 'Sable' was really great for me. As it is an ink, I seemed to use this up a lot quicker than I would a pencil, that was it's only downfall, but the effect you can get with these are amazing: literally tiny individual brow hairs. Will buy again if I cannot find a cheaper dupe.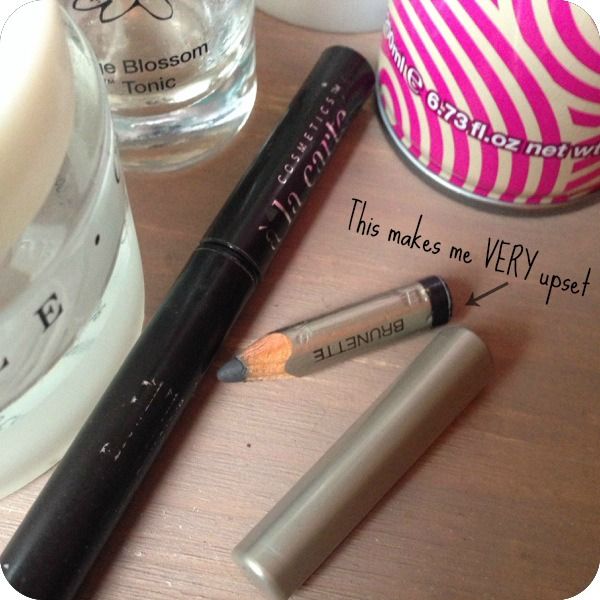 Laura Mercier Brow pencil 'Brunette'
This is the saddest tale of my empties collection. My favourite makeup product probably EVER and one I have religiously used every day, for the last 5 or so years. I am most loyal with my brow makeup products as the other most-used makeup item ever is Benefit's high brow. (have used this for 8 years plus!) I am down to the stump with this, so much so, I cannot now sharpen it….. and they no longer do these amazing triangular brow pencils.
They replaced them around a year ago with 'newer, better' ones, which are quite frankly AWFUL. I was clever enough to buy a couple of the old ones before they set sail for good which is why I am only now facing the problem of what to replace itwith. I went shopping last week (haul coming soon) and bought a couple of new ones to try, but I would love your suggestions on great, hard, sharpenable, dark (not red) brow pencils. HELP! If I had known that the new ones were nothing like the old formulas I would have bought 10.
For prices and more info on any of these products:
Laura Mercier body wash
Chantacaille Flower Harmonising cream
Simple eye makeup remover pads
Batiste Dry Shampoo
NARS purifying cleanser
Shu Uemura cleansing oil
Philip B Russian Amber shampoo
Philip B Jet Set hairspray
Balance Me congested skin serum
Balance Me cleansing balm
Caudalie Beauty elixir
Pai Lotus & Orange Blossom toner
Cosmetics A La Carte Brow inks