I'm always intrigued and excited to see what Shu Uemura will come up with next, in terms of packaging and quirkiness, they have some of the best limited edition collections in the makeup world (remember the Karl Lagerfeld crazy red-eyed dolls?!). This Christmas brings us a limited edition collaboration with Takashi Murakami and the 6 hearts princess. Takashi Murakami is a prolific japensese contemporary artist, who has previously worked with Louis Vuitton and Issey Mayake.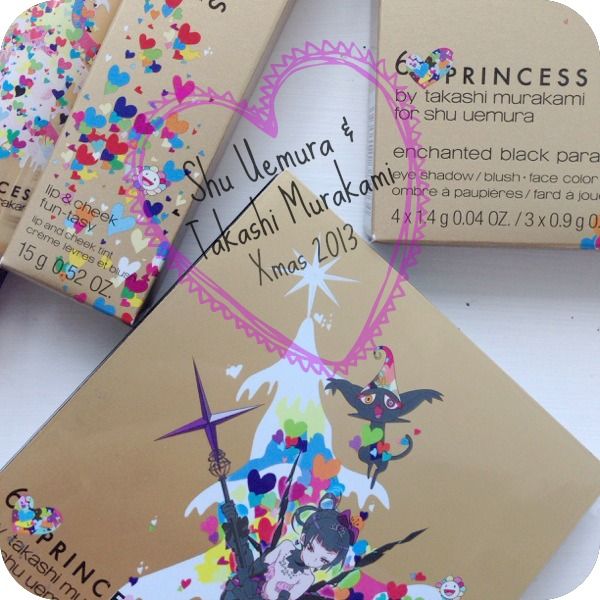 As always there will be a range of different shu uemura best-sellers that will have a limited edition 6 Heart princess (6HP) 'tag'. The cleansing oil(green), the infamous (and best!) lash curlers and the UV underbase will all transform into different packaging , plus there is a limited edition set of eyelashes, 2 makeup palettes, a range of lip & cheek stains, a brush set, 2 gel eyeliners and some nail polishes. I have my hands on the 'Enchanted black parallel' palette* and 'Dream pink' lip & cheek tint*.
The packaging is exactly what I would expect from this kind of mash up, colour, quirkiness, and a nice touch of anime. I think this is my favourite collaboration, packaging-wise I have seen from Shu Uemura. I love all the coloured hearts and it gives it a Christmas'sy feel with the gold.
The shades in the Enchanted black parallel palette are as seen below, a perfect party set and you can get so many combinations of colour and lots of different makeup looks.
Shu Uemura do beautiful eyeshadows, the pigment is phenomenal and the texture is soft and creamy for the powder shadows. SO soft in fact, ahem, that en route in the post to me, some of them crumbled. Now the ones that did crumble in the post are the newer formulas of shadow called 'Silk smooth eye shadow' which feel like a cream but are in fact a powder….they apply beautifully, but maybe because of this, that you shouldn't be posting these palettes without extra special layers of bubble wrap. The ones that didn't break are the normal pressed eye shadow formula, which I have used for years and I use in my professional kit all the time.
The palettes come with 2, double-ended brush applicators which actually aren't half-bad. I have a *thing* when it comes to brushes you get within makeup palettes as they are mostly terrible, but these are really rather good. For full-on makeup looks, you may need a better blending brush.
The lip n cheek tint is in super cute squeezy tube and this colour has to be the best out of the five….'dream pink' is a coral pink pop of flush and looks great on both the lips and cheeks. The finish is a velvet-like and smooth and not as dewy and glossy as a lot of these lip & cheek duos, so this means that is stays on!
I had a play around with the palette and came up with three different eye looks for the party season, and all of these looks were achieved by using this Shu Uemura palette and in around 5-10 minutes. I have done easy (I hope?) step-by-step breakdowns to achieve these looks, as I know some of you may look and think 'waaaaa I can't do that', but honestly, it's not as hard as it may look.
Purple smokey /glamour:
1) Prep lids with eye base /concealer
2) Add a sweep of shade [3] all over the eyelid. A Touch of [4] on the brow bone
3) Add shade [6] into outer corner of the eye and into the socket line. I packed it on with a fluffy brush
4) Bring the same shade under the eyes
5) Add a feline flick eyeliner on the top. A touch of black liner into the lower waterline and smoke it underneath. Blend away any sharp lines. I also added a touch of the blusher from this palette into the crease here
6) Curl lashes, layer some good mascara onto top and bottom lashes and then add some fluttery false lashes. Here I used Shu Uemura 'Smoky Layers'

Green 'cut crease':
1) Prep eye with eye base/concealer. Draw a rough line above the socket line and sweep up towards the end of the brow
2) Add shadow [7] onto this line and blend it softly
3) Using the same shadow, blend it underneath the lower lash line and also gently apply into the waterline
4) Add a feline flick running from the inner top corner running out to the socket line you applied in step 1
5/6) Add some black liner into the waterline, layers of mascara and some false lashes on if you wish.

Sparkly black / silver smokey eye: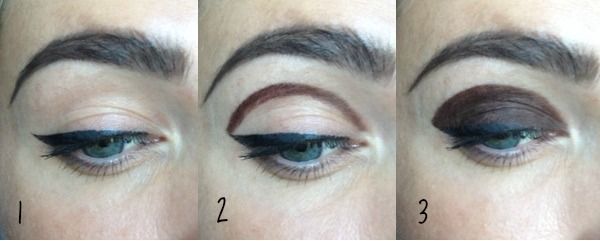 1) Start off with a feline as this will dictate the rest of the makeup shape and you can work around this as a starting point. Remember to start thin on the inner corner of the eye and increase the width of the flick so it graduates outwards and kicks up towards the end of the brow. This will ensure a lift on the eye, rather than a droopy eyeline!
2) Use a kohl eyeliner to create a rough shape above the socket line and joining your feline flick. A good tip here is to keep checking that this socket line is still visible when you are looking straight-on into a mirror…if it vanishes, then make it higher, until you can see it when looking straight-on. You want to SEE the makeup!
3)Don't worry about being all neat and blending just yet, fill the whole area in with your kohl (or gel if you wish) eyeliner. Here, I am using Shu Uemura M Brown
4) Before it has dried, buff it gently with a blending brush so the line starts to soften, creating a smokey finish
5) Pack on some of the [5] silk smooth shadow all over the lid. The liner you have already applied will also act as a base for this to adhere to. Buff it softly around the crease so it blends in perfectly
6) Add a touch of pressed shadow [2] – that lovely silver tone, onto the inner corners of the eye to get that *pop*. Also bring the [5] under the lower lashline and blend. Mascara. Done.
I hope this is helpful, would love your feedback on the looks and let me know if you try any. If it's a completely new look to you, then I would definitely recommend a trial-run before to check if it is something that you like and feel comfortable wearing: I hate it when you are prepping for a big night out, try something a bit *different* with the eye makeup and it goes totally wrong. Cue panic and stress and taking off all your eye makeup and starting again, and then messing it up again because you are in such a hurry at this point! (We've all been there..)
The full range of the Shu Uemura 6 hearts princess is available in Selfridges and online.