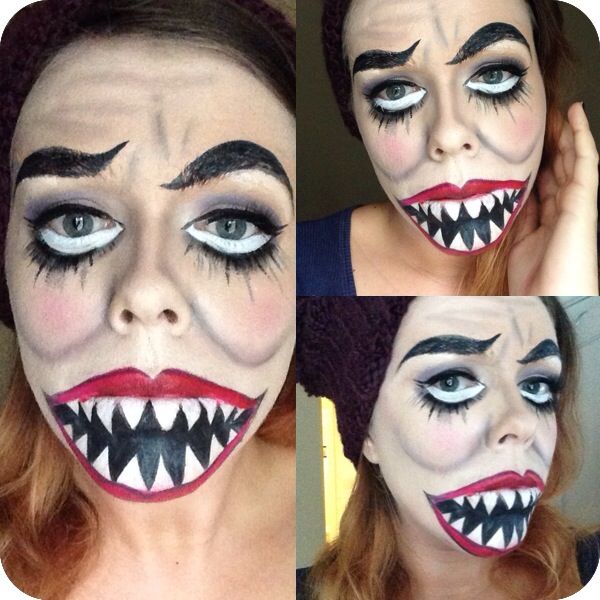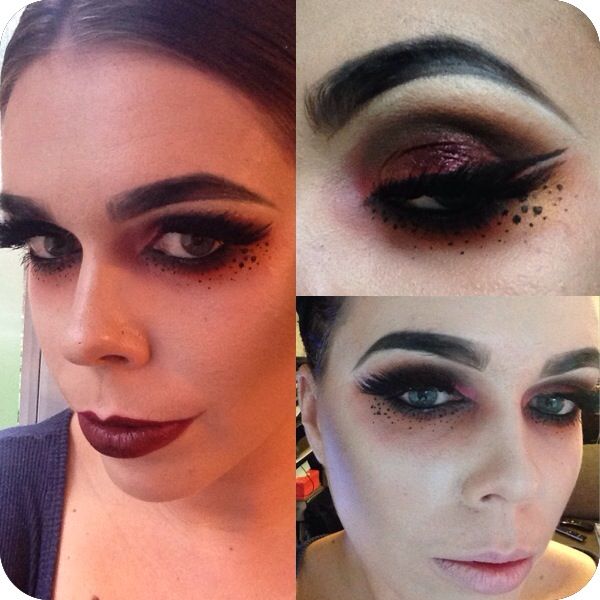 This was kind of last minute and really I should have posted this before Halloween , not on the actual day, but hopefully some of you will be going to parties this weekend so you can get some kind of inspiration from these. I have done two looks: one is a bit scarier and *ugly* and the other is a slightly sexier take on a Halloween look. You know if you are going to a party and you want to get involved but still be like 'hey look at me, I'm still sexy and girly, just a bit more evil'….kinda thing. That.
The emphasis on both of these looks are that they are done with no special effects, no unobtainable 'makeup artist things', not very many products and literally anyone can have a go at these. You will all have these products at home, or things very similar. They look a lot more difficult than they are…..trust me!
Look #1
The first look was going to be a crazy doll type thing, I had a quick browse on google images for Halloween makeup and got some ideas. Try not to copy something exactly, it just won't work out and you will stress if it starts to look different, just go with the flow and usually you will end up with something great. I always have some cotton buds and Bioderma on hand to correct any mistakes. Hey and if it's sh*t you just wash your face and all dignity is fully restored.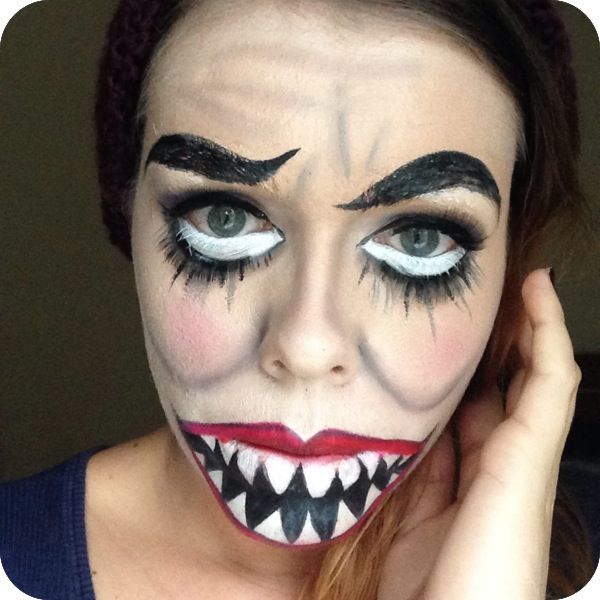 Products used: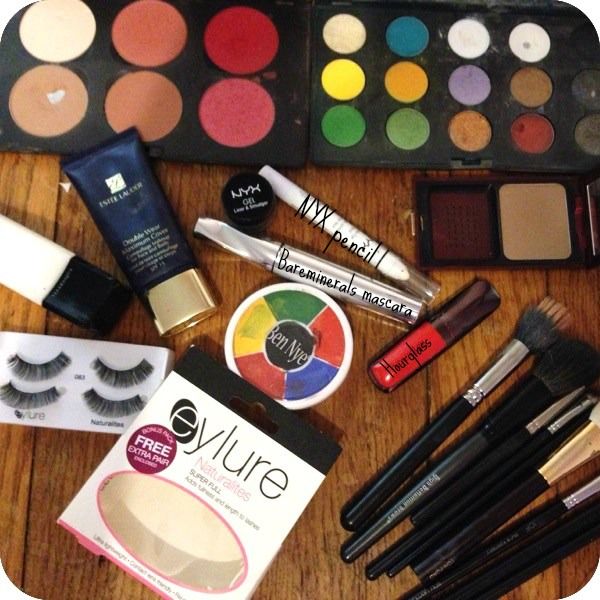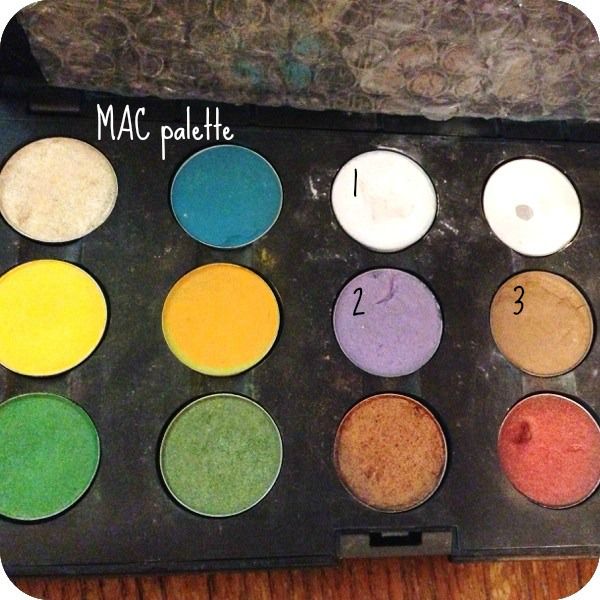 Here is a step-by-step mini guide on how I did this look. It was pretty impromptu as I didn't think I would have time to do anything for Halloween this year, so apologies that I didn't have more photos in this one, it jumps quite quickly from one step to another, but I have tried to explain as best as I can what I have done at each stage.
1.) Pale down your skintone and apply an even base all over your face and eyes. I used Estee Lauder doublewear in shade 'Very Light' mixed half and half with Illamasqua skin base in white. Clear, perfect skin is a must for this kind of look! I then started tracing a lip line with MAC 'Cherry'.
2.) Trace the lip shape and you can alter and correct this as you go. Once you have got it right, fill your fake lips in with a red lippie. I used the Ben Nye red mixed with the Hourglass stain so it wouldn't budge.
I drew in the white teeth very lightly with the NYX jumbo pencil in white so I could see how many I could fit and the shape etc. If you mess up you can always rub away and start again. The mouth really starts to come together when you add the black in. Through this you can get really sharp looking knashers! I used NYX gel liner in black and an angled brush from Illamasqua which allowed for good precision. This is the trickiest bit of the whole makeup, so once this is out of the way you are good to go. Once the black 'mouth' has been filled then I then defined the teeth more with the NYX white liner and I set this with MAC 'Gesso': shadow '1'.
You can see my brows are red here, that's because I wanted to lightly block them without going through the fuss off proper brow blocking. I used the MAC cherry lip pencil, the same as I used on the lips.
3.) I then used the EL max cover stippled straight over my red crazy looking brows and this made them less obvious so I could then draw some different shapes over the top. If I had more time and energy I would properly block the brows but I wanted to show you don't need fancy stuff to do this look.
You can also see I shaped in some cheeks. For this I used a blending brush and the Kevyn Aucoin sculpting powder. I roughtly drew a line before with a rimmel eye pencil just to see it would look right before I commited. Do this all the way through with the different elements if you wish.
4.) Brows: I just drew on very randomly using a liner brush (the same illamasqua one I did the teeth shaping with) and the NYX black gel liner. I added the white NYX pencil under the lower lashline and also applied this on the inner rim and onto the lower lashes so it all looked white. I set this with the MAC white shadow '1', the same as I did with the teeth. I then drew a fake lower lashline with the NYX black gel liner and blended it down with MAC shadow '3', I then drew on some whispy lashes with the gel liner coming right down onto the cheek.
Add a pop of blusher. I used the MAC red blusher out of the large palette.
5.) To finish the look, I added black liner to the top lashline and touch of powder purple shadow which was the MAC '2' out of the palette (this is pretty irrelevant in hindsight, you could just leave it plain!). Lashings of mascara (Bareminerls) and then top and bottom fake lashes which were my Eyelure ones. I also used the Kevyn Aucoin sculpting powder to add some frown lines across the forehead.
6.) Finished makeup look. I am really pleased, but still not quite sure what this creation is?!
Look #2
This second look is a bit more understated and is a good one if you aren't feeling too confident with a 'big' look then this is really easy…. and you can pretty much adapt this to any Halloween outfit…..witch, vampire, whatevs. Again, the products I used are all pretty basic and consist of products that everyone will have lying around at home or you can adapt it to look similar with whatever you have.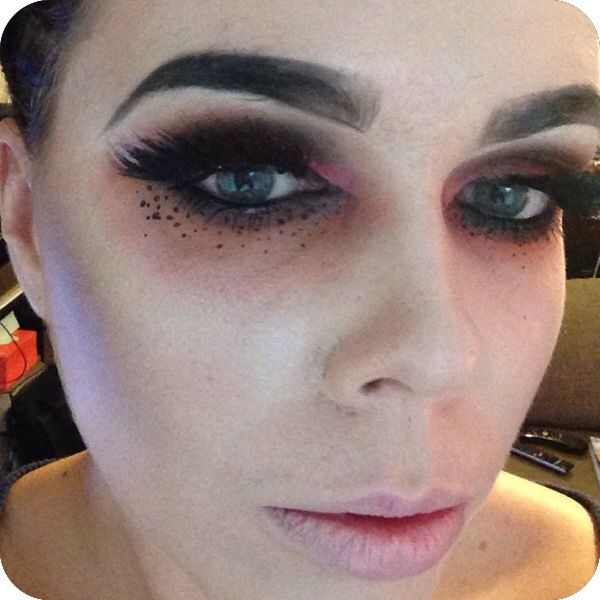 Products used: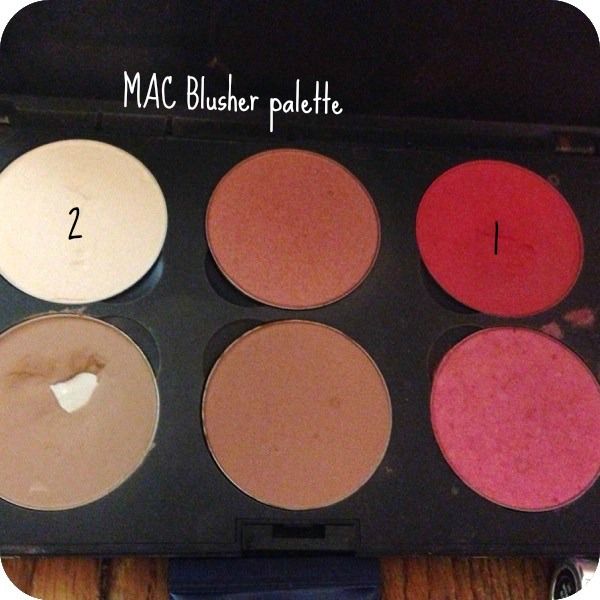 Hopefully this step-by-step makes it a bit easier to see how I did it. This look took me around 15 minutes so also a good option if you get a last minute urge to go out.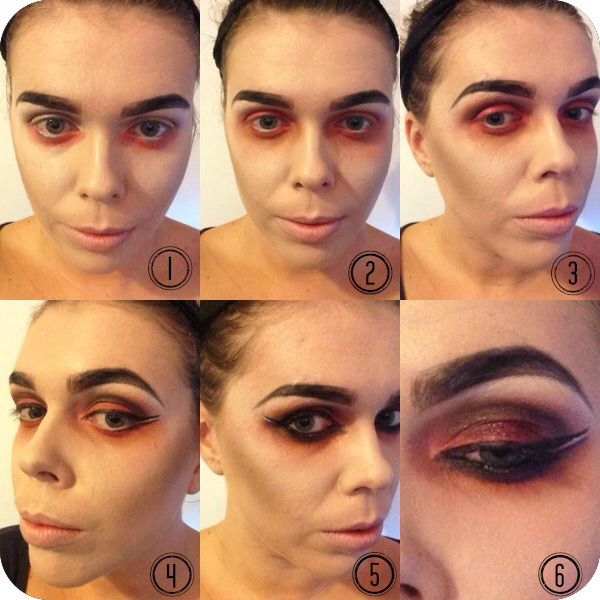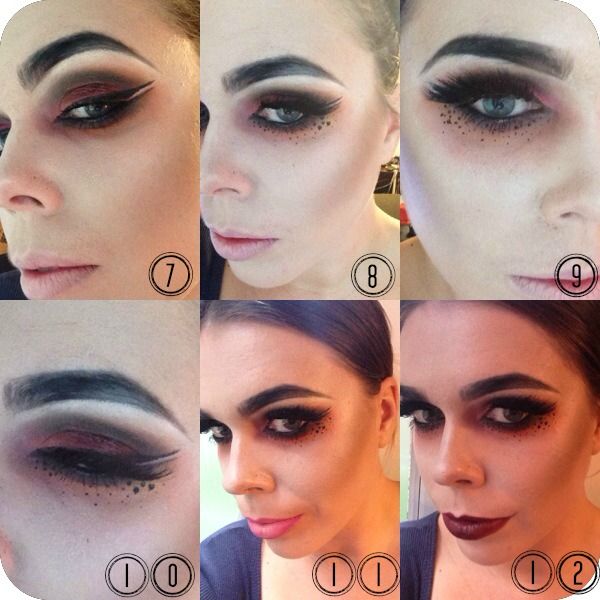 1.) Apply a base/concealer all over. I used the same as the first look, Illamasqua skin base in white and Estee Lauder maximum colour in shade 'Very light'. I used them differently here as you may see I'm not quite as pale as the first look. I stippled EL max cover all over my face, then used the Illamasqua skin base as a highlighter in areas over my face : under eyes, cheek bones and down the nose. I use this method A LOT on photoshoots and it gives a great finish! I also sweep a touch of the MAC blusher '1' to set this highlight and give more oomph.
I applied a heavy, exaggerated brow using the NYX gel liner and a touch of eyeshadow '2', underneath I blended the NYX white pencil to give lift and contrast. I then started to apply MAC blusher '1' around the eye. You can use any red blusher or shadow.
2.) Using a soft eyeshadow brush, blend this red colour all around the eye and pack it on the lids. I then used an orange shadow, '1' which is a NARS colour to blend into the red tone all around the eye to soften the edges. I really focused on bringing the colour really far down under my eyes. It's a good inch underneath my lower lashline. Don't scrimp on the colour!
3.) Add definition into the eye area by using a dark eyeshadow, '3' into the socket line. Also I buffed in a quick contour on the face with the Kevyn Aucoin sculpting powder.
4.) Add a feline flick using a liquid or gel liner. Aim towards the end of your brow to get that perfect shape and lift. Here I used the NYX black gel liner. Also add a line underneath and sweep this upwards. You can see that it has white in the middle of the two lines, here I used a precision concealer brush and the NYX jumbo white pencil (the same one I did the teeth with in look one!)
5.)I got a smudging brush and applied the NYX gel liner all underneath the eyes to give a smokey effect.
6/7) Close up of eye makeup
8.)I used the collection 2000 waterproof black liquid liner to add random dots all under the eye. No idea why but I really like the look. Apply different sizes to get variance. Mascara. Added some HUUUUGE triple layer eyelashes from Eyelure.
9/10) Close up of eye makeup
11.) You can do this look with any lip colour, I have done a nudey pink here, which is NARS Bolero blended with MAC Magenta lipliner.
12.) The second lip option I have done was with a really gothic looking deep plum lip. I used NARS 'Damned' blended with a black rimmel eyeliner. I lifted it a tiny bit at the corners to give it a slight joker-resque finish.
Remember to lightly dust some transculent powder over the Halloween makeup look you do. It usually involves layers of quite heavy makeup so this will just set it into place a bit so you get a longwear on your spooky creation.
I hope you enjoyed this and again, sorry for not doing this sooner! Let me know if you have any good links to looks you have done..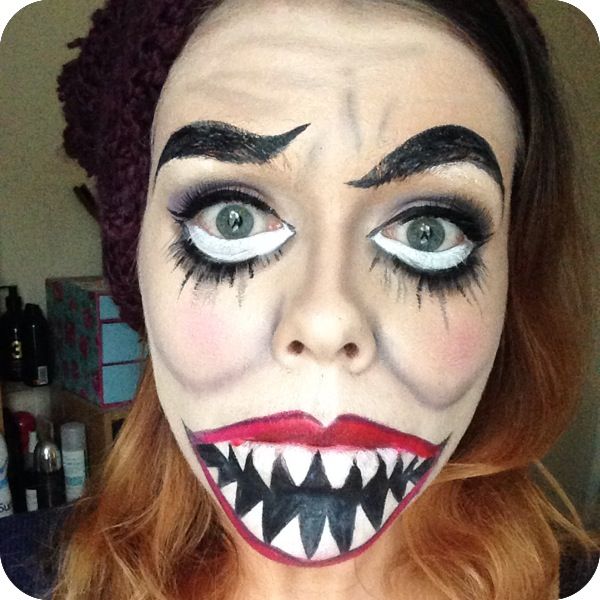 Happy Halloween!