A couple of new nail collections to show to you from one of my favourite nail polish range, Models Own. The FIREWORKS range* is a pure glitter explosion! These all have a clear base but are shot through with different shaped and coloured glitters that leave you with a super sparkly multi-faceted finish. They have typical small glitter particles and then also glitter strips which you can kind of see in the photos below:
With these, I think the best way to use them is over a polish of similar colour to give a really strong impact. If you want it very subtle then you can use them straight on their own, but they will need a good few layers to really build up the glitter. With these three shades (they do 5 in total) I have layered them over the top of some other nail colours I had lying around (Rocket over an Essie one which I don't have the name of!! / Banger over the top of L'Oreal rebel blue / Catherine Wheel over the top of Barry M 320 foil effects). Eek, sorry, I've just realised my photo-taking abilities are rather poor and I've cut out the Barry M/Catherine wheel combo – apologies but you kinda get the gist.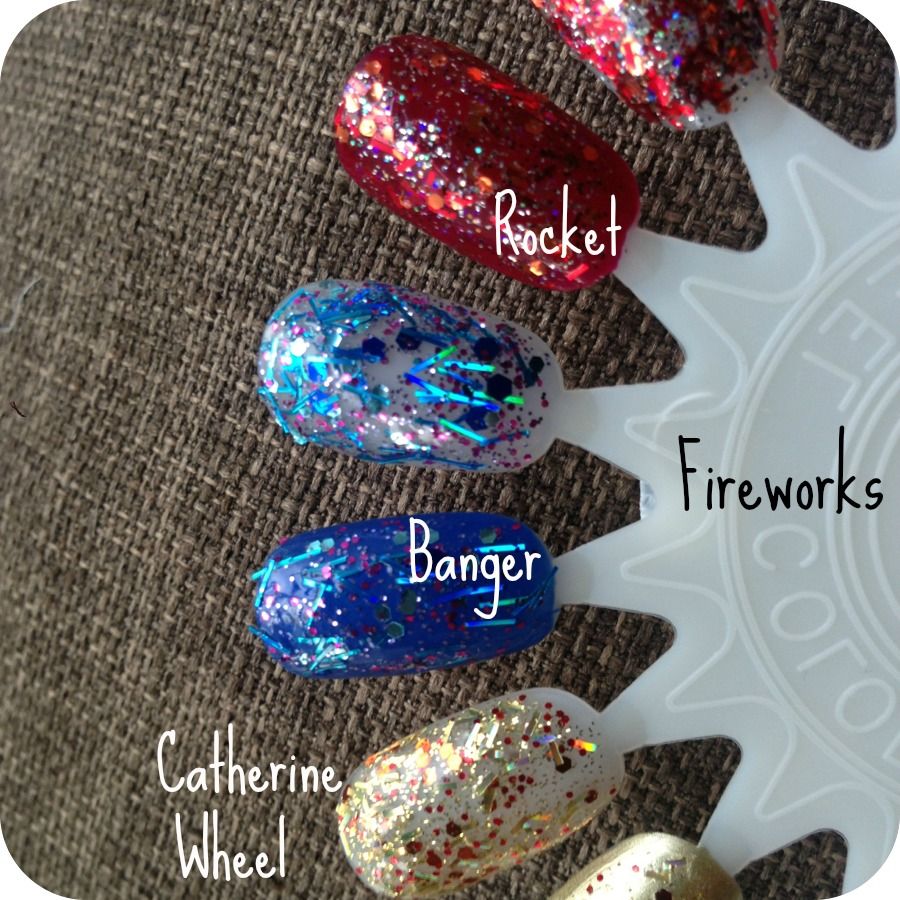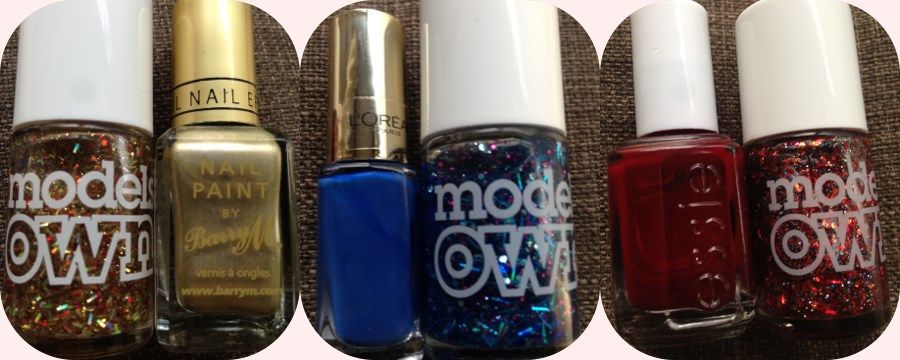 I wore the Rocket/Essie combo on my toe nails for holiday and it did not budge for 2 weeks (nearly 3 now)! Obviously I am pretty fearful of trying to remove these layers of glitter and polish but really great for when you want colour to stay on for a long time.
The other new collection is VELVET GOTH* and is a slightly different kind of polish, although they do have glitter in them, they are a lot more pigmented and inky in finish (the base isn't clear!). These dry semi-matte so have a really interesting finish : I don't currently have any polish like these in my collection. If you prefer a glossy finish then you can just put a clear topcoat straight over them so it's up to you. I have 3 of the 5 shades which I have swatched below so you can see the finish with and without a topcoat. Absolutely love Amethyst!
These are currently available at www.modelsownit.com and Boots & Superdrug, priced at £5 each.