The lovely Kat from Tales of a pale face organised a bloggers beauty swap last month. What is a bloggers swap? It's like a secret santa for beauty bloggers….. you get paired up with another blogger, you agree a budget, you then source suitable products for your partner and then you post it off to them. You obviously don't tell the other person what you are getting because it's a surprise! Like an early Christmas present.
I was lucky enough to be paired up with Kat herself , we agreed a budget which allowed room to get a nice load of beauty products. We then exchanged emails to let one another know our skintype, hair type, ingredients we don't like, brands we have too much of, brands we love etc and then this gave us ground for surprise shopping!
What I got for Kat
I was aware from reading kat's blog and also our e-mail exchanges that she liked more natural skincare brands and didn't like products with alcochol and she also loves nail products. I then started having a think about what products I have used she might like. When I was back in Jersey, I bought a pair of this gel gloves..I get really dry hands and cuticles/peeling etc and these REALLY, really helped me…so when I went back the second time recently, I bought a second pair for Kat, I figured, if she liked nail products then these manicure gloves would also come in handy. You can see more about these here.
Amongst the other bits was a Laura Mercier lipgloss, a Jurlique love balm, a MAC nail polish from the sold out 'All about Orange' collection and a Charlotte Tilbury-inspired MyFace powder. I also added a few samples of some skincare to bulk it up a bit. (have a look at Kat's post to see more) Now I have been crazzzzzy busy, and I collated all the beauty products and threw them into a jiffy bag with a hand written note, and off to the post office I went.
What Kat got me
My box from Kat arrived, before I had managed to post mine off but I kept it unopened so we could roughly open it the same time or at least day. Imagine my HORROR when I opened the box and found a beautifully presented and individually wrapped box of treats…..even a card! I had literally thrown my bits for Kat into a Jiffy bag and posted it off…..so apologies again Kat for my uninspiring wrapping and presentation.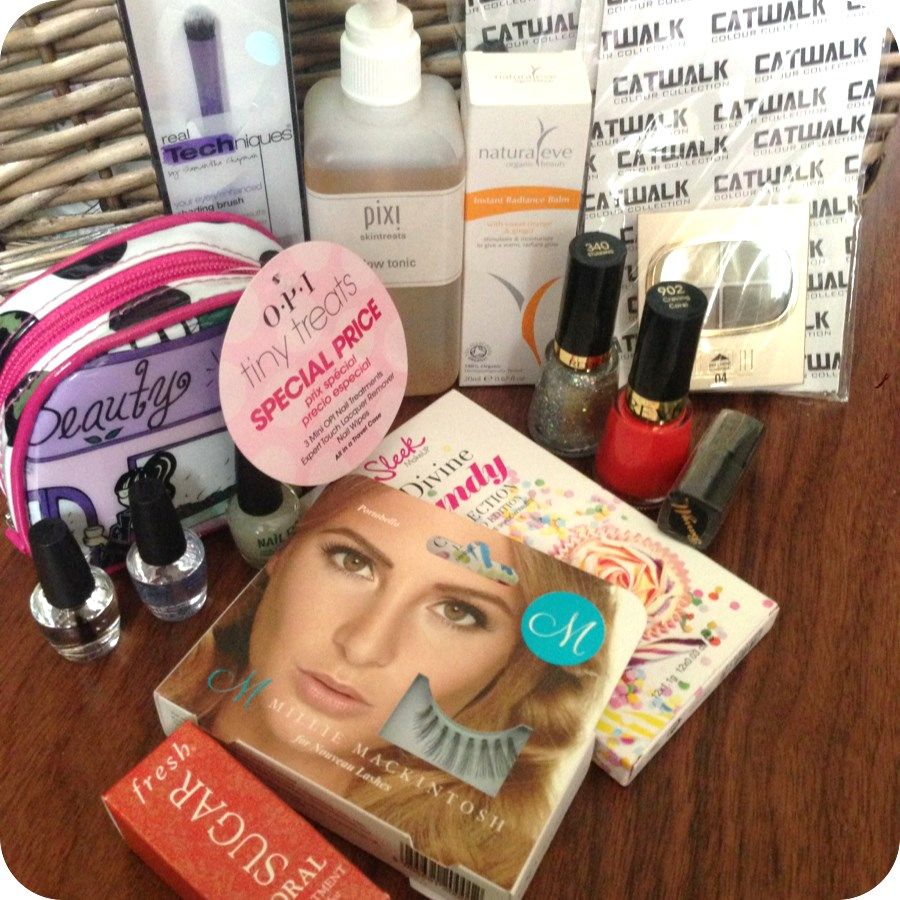 Anyway, what a great selection of bits I got, I was so overwhelmed! All of the goodies that Kat had got me were either things I had never tried or had wanted to try.
* Mille lashes 'Portobello' (these are beautiful!!)
*Pixi glow tonic (was the most excited about this – heard lots of blogger hype about this product)
* Natura Eve radiance balm (not heard of this brand so will be great to try)
* Catwalk makeup – mascara and eyeshadow quad
* Revlon nail polishes
* OPI miniature travel set (will be taking this on my holidays)
*Sleek I-divine Candy collection palette (Have had one palette before, sleek shadows are great!)
*Real techniques shading brush (Kat's been swotting up on my blog! I was saying how I really wanted to try these brushes)
*Barry M TMLP (actually saw Kat's review of this on her blog so am looking forward to seeing this unusual product in action..)
* Fresh sugar coral lip treatment SPF 15 (tinted lip balm)
* Selection of samples
A really lovely selection on products, such a thoughtful blog swap from Kat. Will be reviewing bits and bobs from here over the next month. Keep your eyes peeled for more bloggers swaps, they are a really fun thing to do and this is the second one I have done.