This is the first time a makeup event like this has ever happened at Selfridges, a pop up type house/ shop for all things Charlotte Tilbury – mini makeovers, full transformations, beauty photobooth, lip readings, a hand-picked selection of her favourite makeup she uses on set AND pots of her magic cream.
During the day it is a normal walk-in thang, you don't need tickets or bookings, unless you want a full 'Team Tilbury' makeover (these are all sold out for the week)… so if you are in the area, pop down and have a little look. You may get to meet Charlotte herself and lots of VIP's are frequently in and out of this beauty festival all week.
In the PM it's a ticketed event and every night they are holding different talks / presentations and makeovers from influential people in the industry.
The opening last night saw Kate Moss unveiling her light installation portrait by Chris Levine. Tuesday (tonight) we see the industry giants…..Charlotte Tilbury, Lisa Eldridge, Mary Greenwell & Nicola Moulton all on one stage! I am really looking forward to this…..absolutely amazing as a makeup artist to see these hugely influential people. Also popping by this week are Sali Hughes, Nicola Formichetti (Lady Gaga's stylist) and a rumoured Cara Delevigne . I have seen loads of amazing beauty/fashion bloggers and journalists having a mooch about too, and it's constantly brimming with fashion peeps coming in to say hi to Charlotte.
I'm not sure how much longer these makeup bags will be available, but if you want, get them ASAP as they are flying off the shelves and there is a limited number available on Selfridges online (just checked – perhaps sold out?!). A cute little one-off purse that has lip prints from Charlotte herself, Kate Moss, Sienna Miller, Alice Temperly, Carine Roitfeld & Stella McCartney. On the other side of the purse is THE BEST girly Charlotte quote like Evvvver…
'Every woman deserves a man to ruin her lipstick, not her mascara'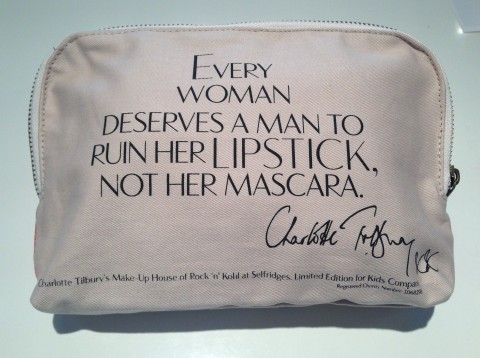 These cost £15 and all profits are going towards the charity 'The kids Company. Fabulous! Can't wait to get my hands on one.
This event is running from 17 -23rd June and I am working as part of Team Tilbury all week so please come and say hi if you come down!