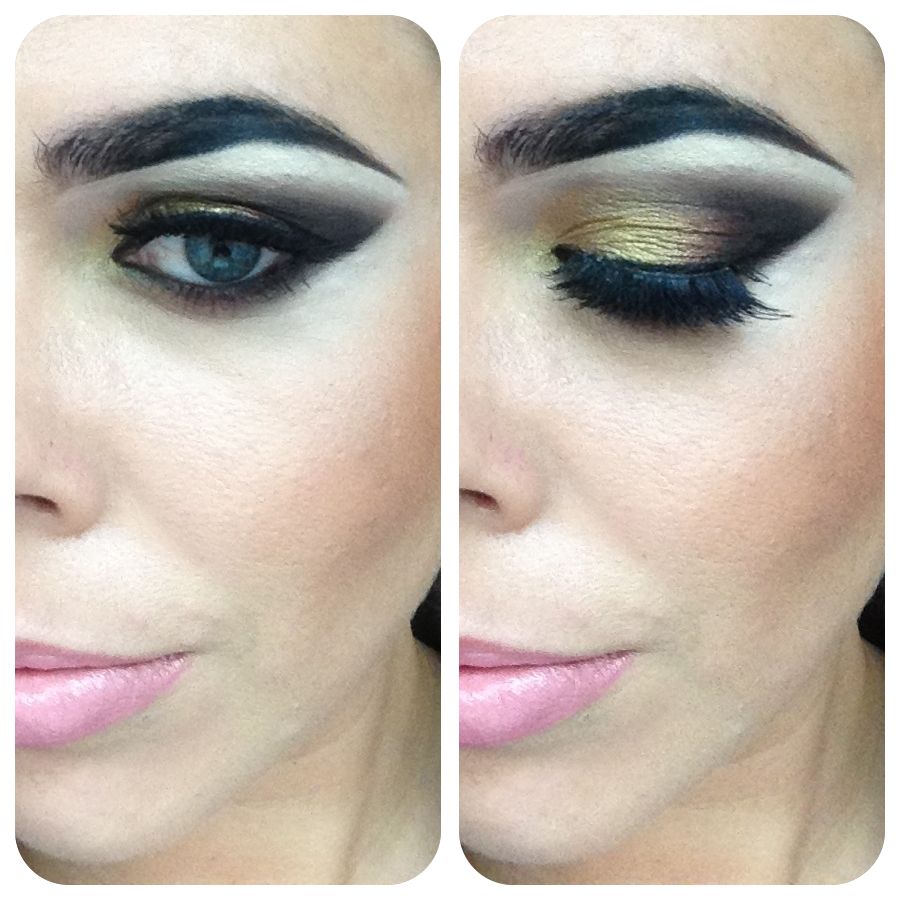 Last week I was messing around with some new MAC pigments I had just bought and ended up using old gold and vanilla for this look. Old gold is a beautiful yellow /gold that I actually don't use on myself much..or enough. I actually really loved this look. Pretty full on, so obvs more for an evening or special occasion.
As it is a really strong eye, can look great with a nude-ish lip and this is the obvious option but also pretty good with an bold lip. Here, I used a really deep berry which I love at the moment. This is a 'Moxie' lipstick which is a brand new collection from BareMinerals. They are absolutely beautiful – great buttery rich texture and the colours are great. I think they have launched now or anytime soon. This shade is 'Lead the Way' and the matching lipliner is 'Electrified'. I like to double up on my products and this lipliner I would actually also wear in my brows.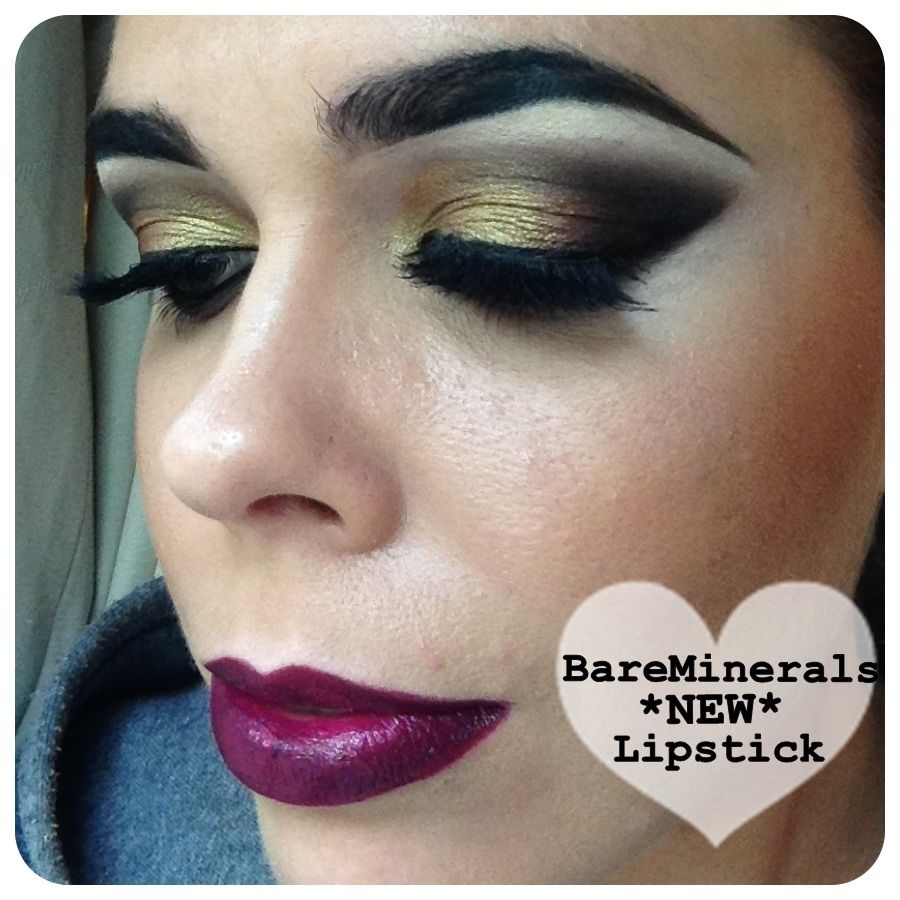 Step-by-Step
1) Prep /prime the eyelids
2) Apply MAC pigment old gold straight onto the eyelid from the inner corner and graduating it softly to the outer corner (you don't need lots of this product towards the outer corner as this is soon going to be black!)
3) Use your eyeliner to get the 'flick' shape and from here work around this. I used a pointed liner brush and the Shu Uemura M Black painting liner. Aim to follow the direction of your bottom waterline as if it continued outwards. You want it also pointing upwards and towards the end of your brow. DON'T follow your top lashline downwards as this will give you a droopy eye, you should be looking at the bottom lashline and following this up. I wish I did youTube it would be so much easier to explain!! I hope that kind of makes sense??!
4) Once your feline flicks are even-ish and you are happy with the shape, then use the same gel liner, onto a synthetic flat, rounded brush. Apply the gel onto the outside of your eyelid, this is now your eyeshdow. You have around a minute to blend, buff and smudge this so it becomes 'one' with your already-applied old gold. I then use a natural hair brush to buff the gel – something similar to MAC 224.
5) Fix up your brows. I used brow ink from Cosmetics A La Carte and darkened in to near-black with a sharpened MAC smoulder pencil.
6) Sharpen your brows. I used Benefit 'It Stick' under the brow arch to give it lift. (**more of this below) I then applied MAC Vanilla pigment just underneath these and then blended this into my eyelid colours of black and gold. Just keep buffing and blending and your colours will slowly melt in to one another.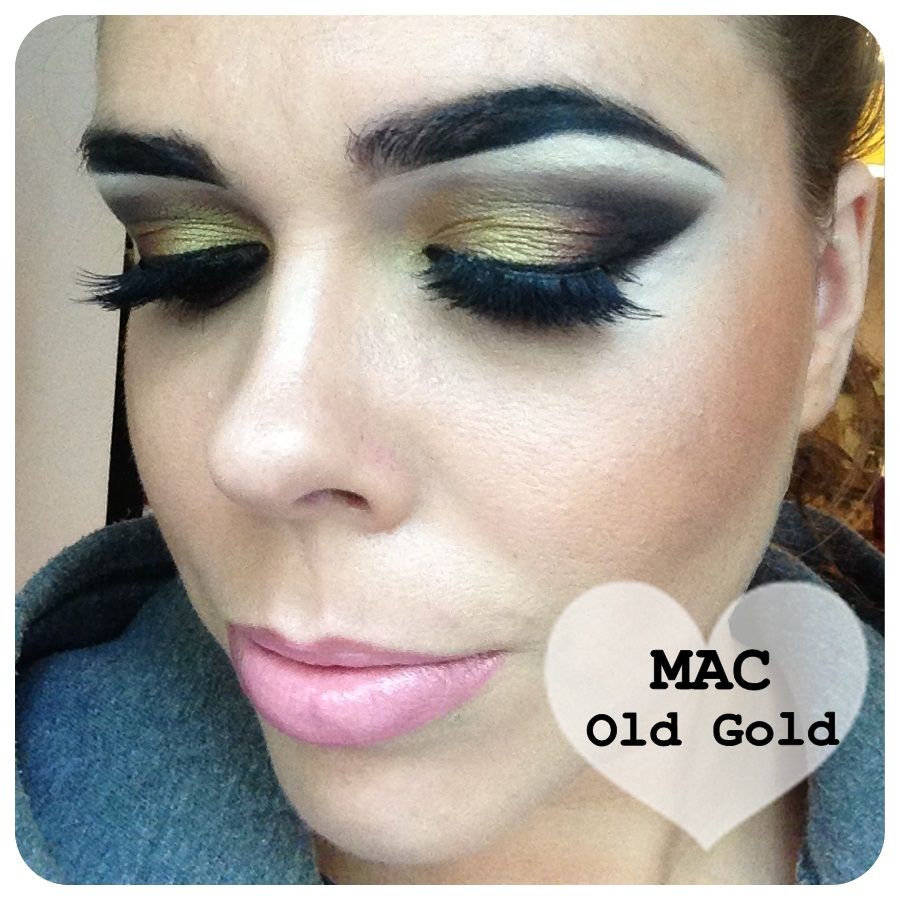 7) Apply an red /coppery tone to the middle of the lids, where the black meets the gold. I used MAC 'Cranberry'. Now it's a beautiful blend of three tones.
8) I then also used MAC smoulder on my lower lashline/ waterline, old gold in the tear duct and blended out AND MAC Cranberry. So the same shades on top and bottom.
9) Curl lashes, apply mascara, apply lashes. Tweak liner on the top of the eyelids so you cannot see any joins of the false lashes.
10) Now onto the skin: I swept a load of concealer under my eyes: my no.1 at the moment, Benefit 'Fake up'.
11) Apply foundation all over the skin and buff in until you get your desired coverage. For this look, a full coverage works best. I used Kevyn Aucoin.
12) Contour the skin with NARS Cap Vert cream colour.
13) Bronzer (cheeks, temples, nose, neck)
14) Highlight (cheekbones, cupids bow, down centre of nose)
15) Lips (colour of choice)
You can use any combination of colour for this, obvs! 🙂
A good tip is to also have a cleansing water and cotton buds handy to clear up any mistakes and sharpen up lines. Also, when doing a strong eye makeup look like this, I will always do the eyes first, so there is no droppage onto foundation /concealer, giving that unglamourous *black eye* effect.
** You will also notice under the brow and just inner the flick of the eyeliner, it is very clean/bright and for this I swiped around with my cleansing water/ cotton bud and then used a really pale concealer to contrast with the darkness. Benefit 'It stick' is absolutely perfect for this. (although just found out this had been discontinued?!Not sure when….) So any really pale/off white cream/ concealer, eyeliner will work really well for this. For extra zaPOW then add a touch of white matte eyeshadow over the top of this.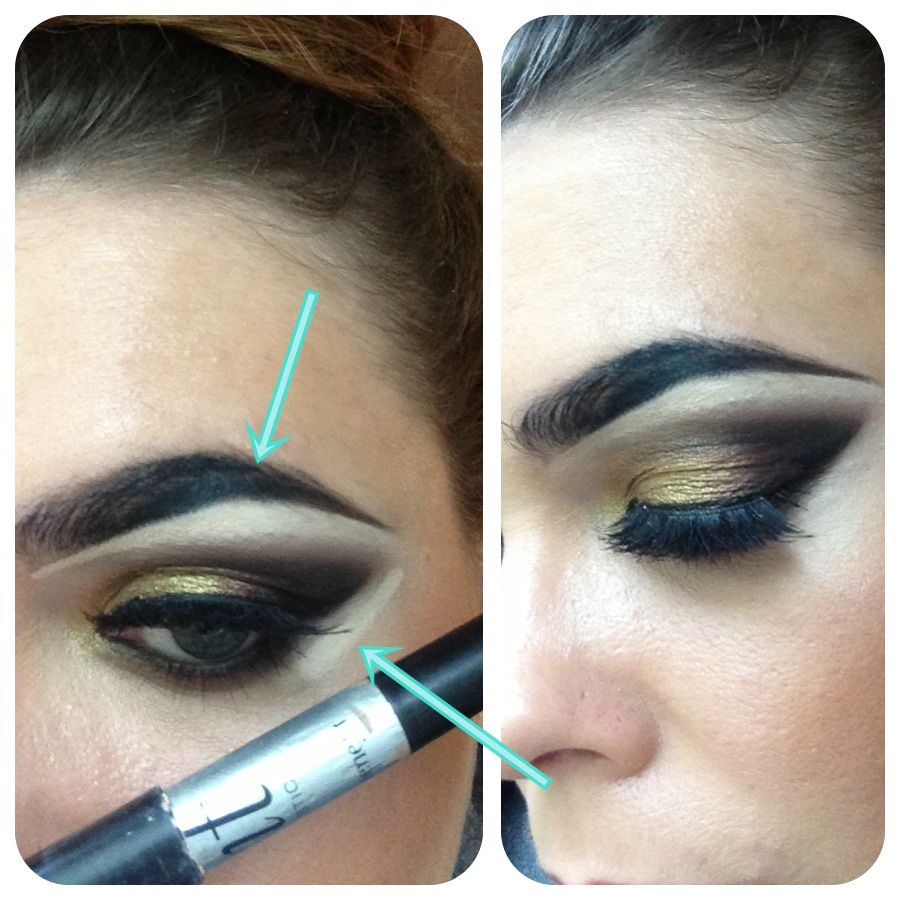 Products used:
Below is all the products I used for this look. Looking back at the photos, I really should have used a powder at the end, as my skin is already starting to look oily after like 3.56 seconds. I would have used a translucent loose powder.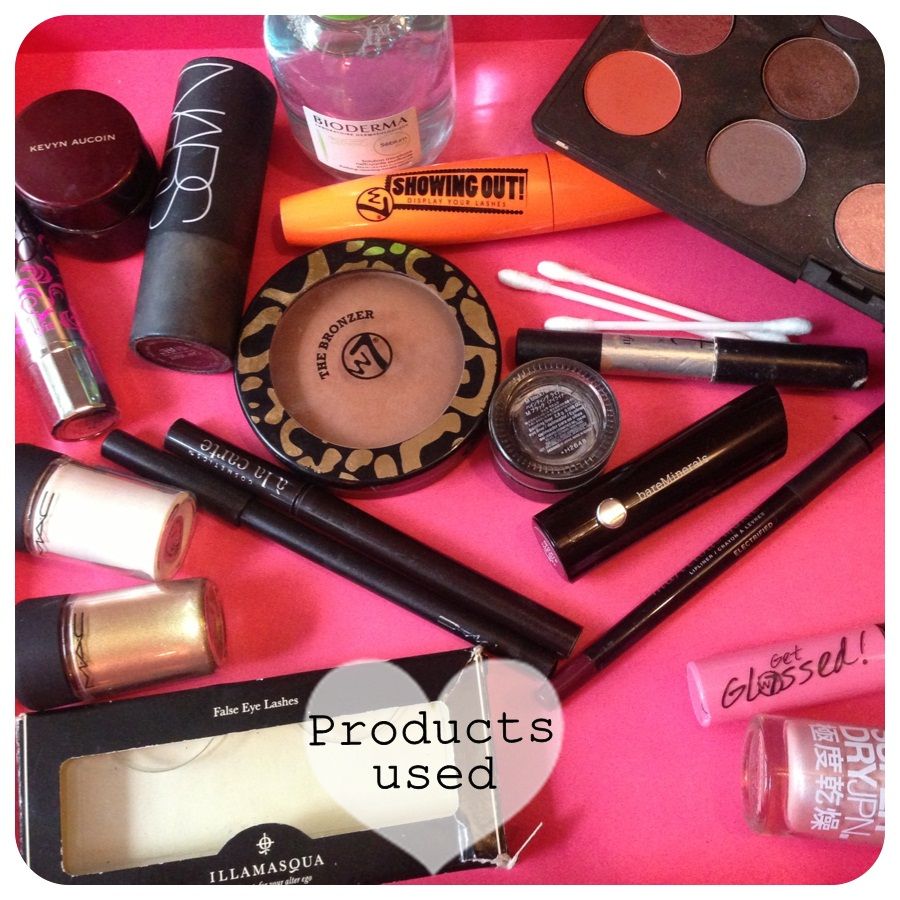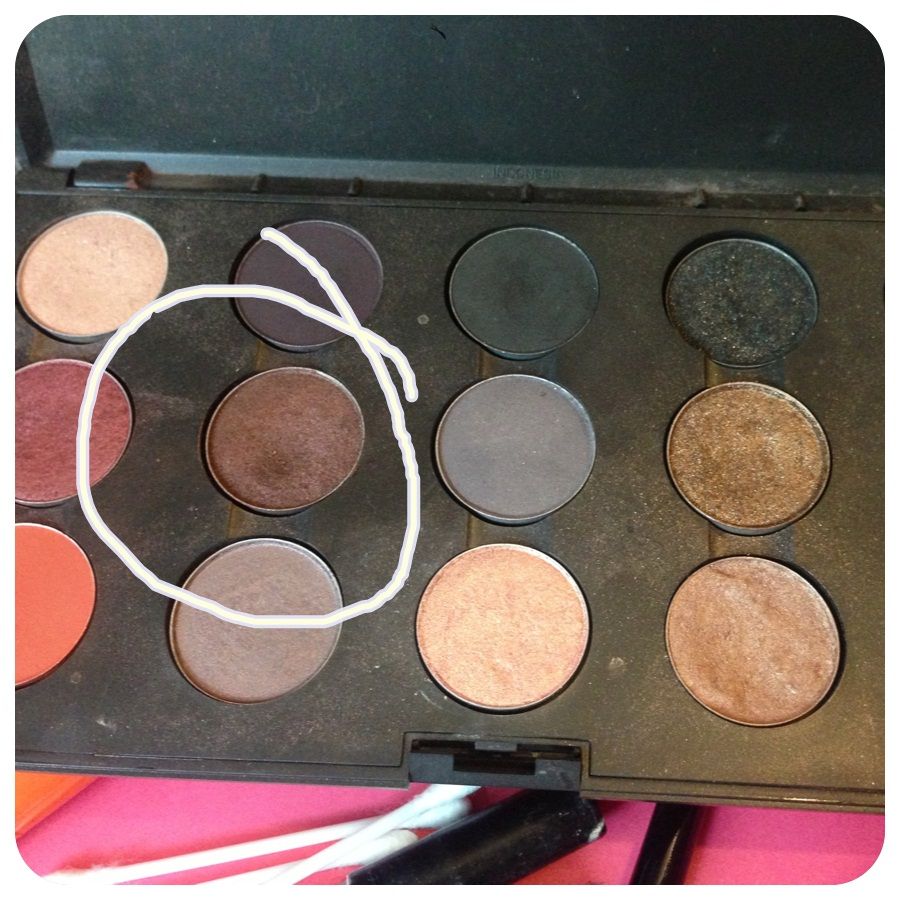 Mac old gold pigment
Mac vanilla pigment
Benefit 'Fake up' concealer 02
Illamasqua lashes (eee there is no number/name on them)
NARS 'Cap vert' multiple
W7 bronzer
W7 showing out mascara
Kevyn Aucoin sensual skin foundation/ concealer '10'
MAC smoulder (brows)
Cosmetics a la carte Brow ink
Shu Uemura 'M black' painting liner
Bare minerals new Moxie lipstick 'Lead the way' and lipliner 'Electrified'
W7 lipgloss Go!Go!Go(for the nude/pink lip)
Superdry highlighter
Mac cranberry eyeshadow (in palette)
Benefit It stick
Bioderma water & cotton buds
What do you think of this look? Pretty full on, but lots of fun for a night out. Leave any feedback, comments or makeup questions.