I love nosing around other people's products to see what they are using, so thought I would show you the products that are currently sitting in my shower /bath at the moment. I interchange constantly between products…I often swap shampoos / conditioners / cleansers depending on how I'm feeling! Here are my flavours of the month: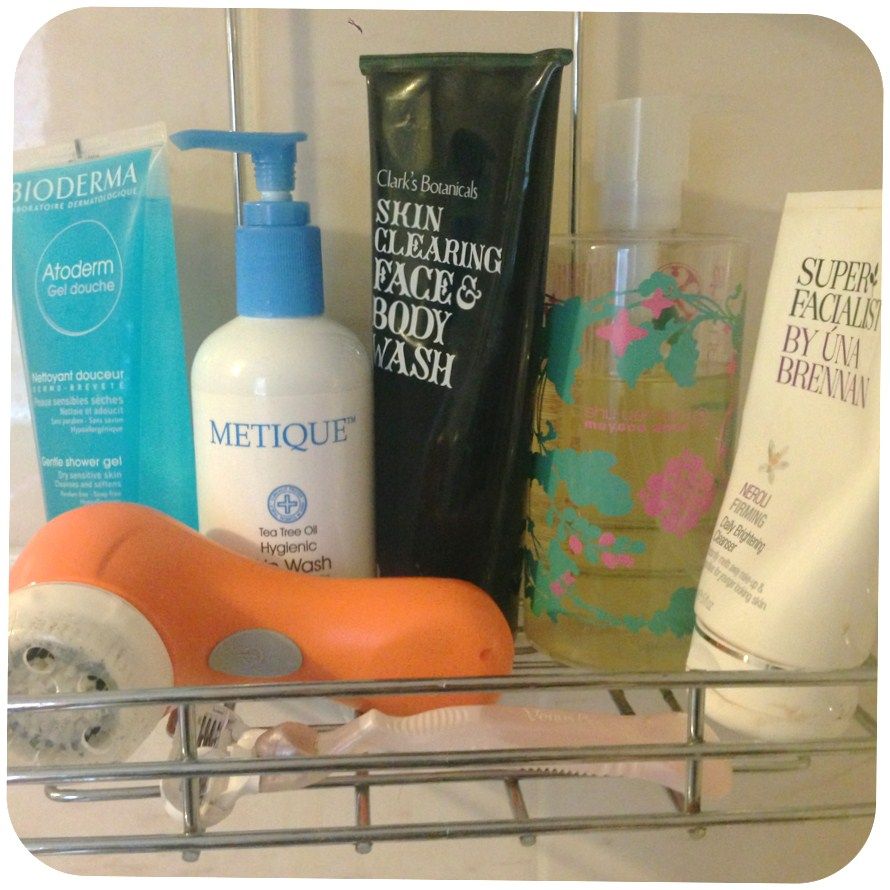 Bioderma shower gel: This I have just started using yesterday, love their skincare, haven't tried their bath/body yet. First impressions it's very clean/ fresh and unisex. No parabens and soap-free.
Metique Tea Tree wash: This is a really great wash for the face/body. I am using it for both as I have been having a few spots on my back – yuk! Not a good look with the impending summer. This is sulphate free too which for me, is what I am starting to look for in cleansers. Sulphates are foaming agents and can be reactive on some people's skin. As I am a little bit breakout I am trying to reduce the products I am using with sulphates. This has quite a high concentrate of tea tree oil in it so that's what it smells of. It makes me feel really nice and clean. A great face/body wash for sensitive and breakout skins. Full review to come.
Clark's Botanicals Skin clearing face & body wash: I'm alternating this with my metique wash, which I usually use in the AM with my Clarisonic in the shower. This is an anti-bac, sulphate-free and algae-based skin cleanser. Really love this product and it is quite ££ so was horrified when my boyfriend dropped this bomb….'I like that shower gel in the dark tube'. He is now banned from this.
Shu Uemura cleansing oil: This is an oil cleanser I have used for years now, I don't think I have been without one for about 3years. This is the one for normal skin (they do about 7 different types), I switch from this to the deep-pore cleansing (pink) and anti-oxidant (green) one. This I solely use an my PM cleanser to remove my face of makeup. I always double-cleanse so this is my first step and then I then use Una Brennan neroli cleanser as a second step.
Una Brennan neroli firming cleanser: Have nearly finished this and really impressed. I will review fully very soon. I love the smell of neroli and again, this is a sulphate-free cleanser. It has a lovely slightly oil/gel feel to it that foams very lightly. I use this in the PM as a second step after the shu uemura cleansing oil. It removes any oil-residue on my skin and any remaining eye makeup.
Clarisonic MIA: Have had this around 9 months and am liking it. It hasn't cleared up my skin as much as I thought it would have but it still makes my skin nice and smooth and cleanses deeply. I only use this in the AM with one of my non-oil based cleansers, around 5 times a week. This have now dropped in price to £99 by the way! (I got this when it was £120)
By doing this I have just realised I have too many cleansers on the go!! Ridiculous.
Shu Uemura haircare: Started using this a week ago. Liking it so far although I think you need to use shampoos/ conditioners for a few weeks to really tell. I hope it's worth the hefty price tag! I am combining the volumising shampoo with the strengthening / vitalising conditioner. I must say I bought these from Selfridges and the assistant in the hair salon seemed to have no clue about the range so I hope this is a good combination. (I ended up choosing myself!)
Philip B Peppermint & Avocado shampoo: This I have constantly used for about a year or so now. It's a really great clarifying shampoo that I use about once a week as a deep cleanse and to remove excess product and build up. Philip B used high concentrations of pure ingredients and botanicals, and the peppermint really tingles the scalp which I love.
Kiehl's Grapefruit body scrub: This is a good slightly foaming body scrub. Smells lovely and leaves my skin really smooth and soft. I use this about once a week. I like this a lot because it does foam as it scrubs so it's like a 2-in-1 wash and scrub.
These are mainly my pampering bits, for when I am having a bath. Love having baths when I can find the time. I will usually light a nice candle and turn the lights off to help me relax….and shock horror…leave the phone/ipad outside!! At the moment I have this lovley minature Diptyque Tubereuse candle which I got as a present.
REN GlycoLactic skin renewal mask: A great fruit acid and lactic acid based mask, with no 'bits' that exfoliates the skin really well. I use once/ week. A great and more purse-friendly dupe for Dr Sebagh deep exfoliating mask.
Elemis exotic Frangipane monoi oil: This is a multi-purpose oil, that can be used as a body oil, but I often drop some into the bath to hydrate my skin. Good to use something like this if you are fake tanning alot as it can dry your skin.
Space Nk Muscle Relief soak: This has now been re-packaged but they still do this, it is now called 'Muscle Fix'. A really nice bath soak that foams (without sulphates) and smells of eucalyptus and other muscle soothing ingredients. A more grown up radox soak in my mind! The packaging is not the best, but the product is great!
Glamglow Super mud clearing mask: Glamglow have impressed me since I was introduced to them around 6 months ago, two absolutely fabulous masks! This is the one for clearing breakouts, and I use it 1-2 times a week as my deep cleansing mask. Full review here.

Aromatherapy Associates bath/shower oils: I'm nearly out of my Deep Relax (sob) and I'm also using the Revive morning at the moment which is a great detox oil, and improves circulation. I am a big fan of Aromatherapy Associates and a full review is here.
Hope you liked having a nosey into my shower products! Any familiar things here for you that you like or don't like?