I got a small, one-use sample of this last week, and was desperate to try it after seeing some reviews on other blogs. I am a big Aromatherapy Associates fan, having indulged in their facials , and I regularly use their bath/shower oils. Previous review of them here. The new oil, which is their first new one for quite some time I think, is called Inner Strength. This was created by Aromatherapy Associates founder, Geraldine Howard when she was battling cancer, so it is a very personal one to her. She wanted an uplifting and powerful oil to give her 'inner strength' during the darkest times. This is a huge hug in a bottle, and I would say really good for those feeling very blue and overcome with general life worries and woes.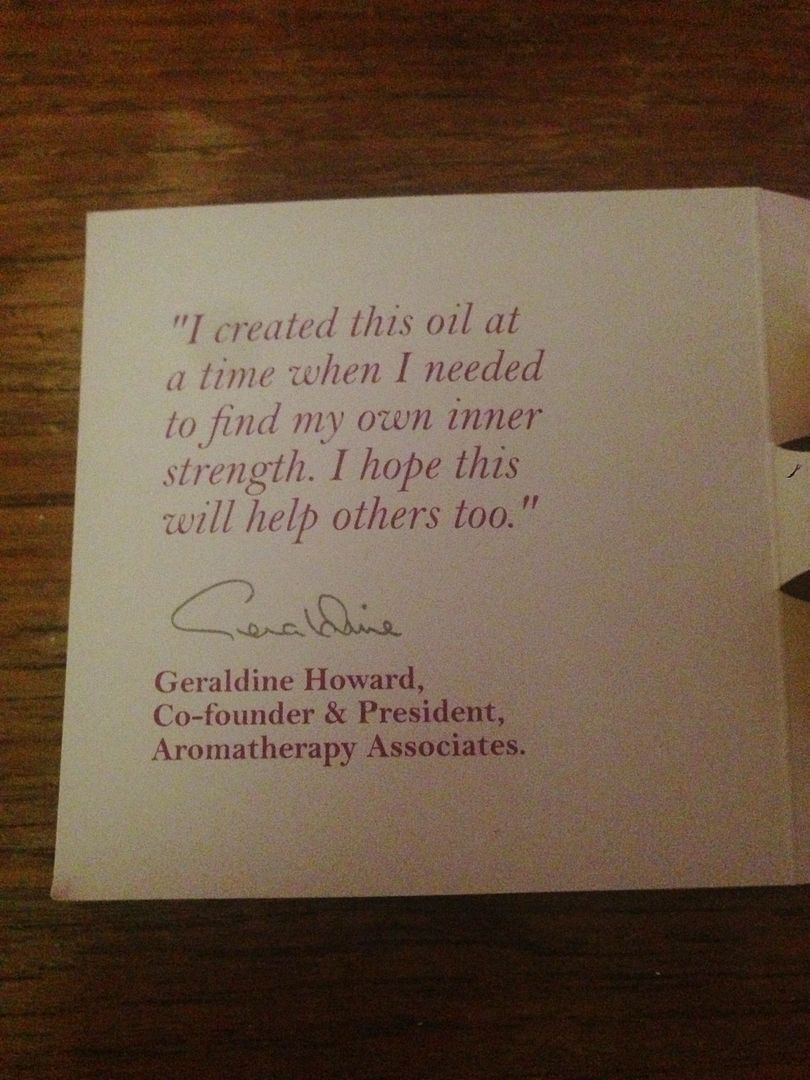 The top essential oils in this are clary sage, cardamom and frankincense.
Clary Sage – Eases depression and nervous thoughts
Cardamom – Calms mental stress
Frankinsense – This has a wonderfully calming effect on the mind and helps to create inner peace. Soothes the repiratory and urinary tract & relieves muscular aches.
I must say this is definately the strongest smelling oil they do, and initially I found it a bit potent straight from the bottle, not as nose/friendly to me as my deep relax. I wanted to try it anyway, as had heard good things, and anything that is a hug in a bottle must be good during this elongated winter. As with all the aromatherapy oils, the smell diluted once dropped into the bath…but is still wonderfully potent. Is isn't as overpowering as when you smell it straight from the bottle initially.
How it made me feel:
To be fair, I wasn't feeling miserable or blue when I used this oil, so it didn't make me feel much different. The smell was really relaxing and, as all the bath oils they do, made me feel relaxed and like I was in a spa. The floral, herby fragrance filled the bathroom and hallway, and the smell was wondeful.

Full list of oils:
Coconut oil (this is the natural carrier of the essential oils)
Geranium
Rosemary
Clary Sage
Cardamon
Vetivert
Black Pepper
Frankinsense
Patchouli
Rose
Bitter Orange
Sandalwood
A wonderful and heady combination. It's also good to know that the carrier of these oils is coconut oil, it does not contain any parabens, synthetic fragrances or any 'nasties' and all the oils are first-pressed essential oils (the best quality) so they hit the blood stream, which is why Aromatherapy Associates really can alter your mood state.
10% of the £39 price tag go to 'Defense against Charity Foundation'.
www.aromatherapyassociates.com