Super late to this table, I know, most bloggers had done this like a month ago, but I'm moving house at the moment, and super busy with work so have not much time to blog at the moment. This is a round up of some of my favourite beauty products of 2012. These are products that I find myself always using in my daily routine, or some of my favourite new discoveries of 2012….some of these products I have been using over 10 years so just wanted to bring them to light… you know sometimes you actually get so many new products that you forget the true golden oldies!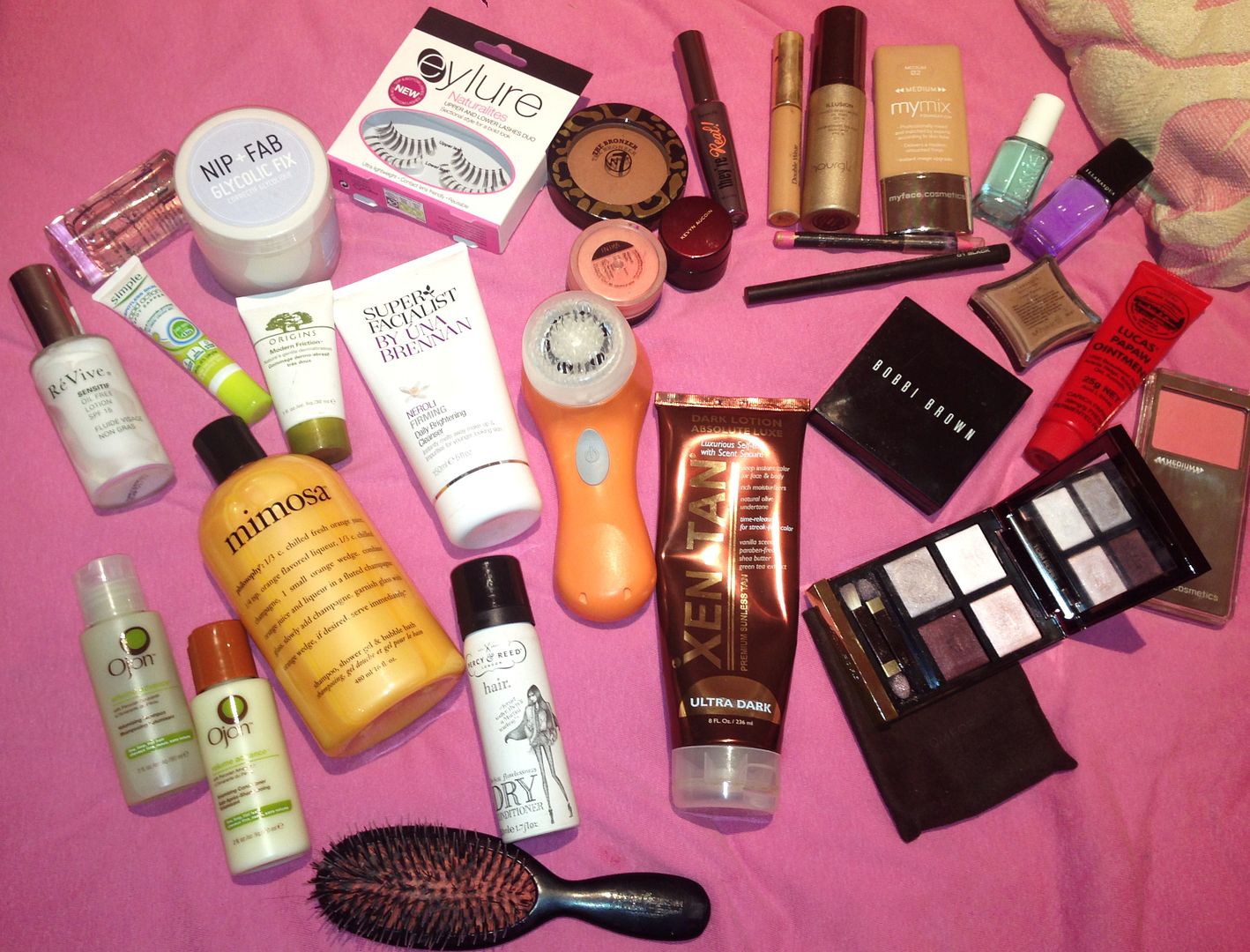 Hair products
Ojon haircare. This was a seriously late contender last year as only purchased it just before xmas (needed to buy some travel sizes for home…I gor the volume range). Have been super impressed with it though, my first time using it, and will definately be getting some full size products from them as soon as I have used up my other bits.
Mason Pearson Brush. This is not something I have discovered in 2012, but just something I need to mention, as I have had this fabulous hair brush for over 10years. Mason & Perason, in my humble opinion, are THE best hairbrushes in the world. Top hair stylists are always using and mentioning them… they are the ultimate classic luxury brush. My hair is quite fine, and these hairbrushes are really gentle, even on my fine hair. Good on extensions too. Not cheap at about £45 for the smaller one but worth it.
Percy & Reed Dry conditoner. Percy & Reed is a brand I have got into over the last couple of years. I must say, I am more of a fan of their styling products than I am their shampoo & conditioners, but a lot of people seem to love the shampoo/ conditioners. However, their DRY conditoner is a great, innonvative and handy product that I use regulary, especially when I am wearing my hair extensions. Instead of giving you that texture that dry shampoo gives, the dry conditoner refreshes the hair, at the same time adding shine & softness to the hair. I don;t know any other brand that do a dry conditioner?
Body // Bath
XEN Tan….is the BEST tan on the market. End of. My favourite from the range is the absolute luxe, which is their darkest and I love the smell texture and the hydration is gives my skin. I also have the Dark lotion I think their best-selling tan, which I also use and think it completely amazing…then I save my dark luxe for special occasions though as it is quite $$$ at £40.
Philosophy bath/shower gel Mimosa. Smells amazing, looks amazing. My favourite shower gel discovery this (last) year.
Makeup
MyFace MyMix foundation. Tried this for the first time this year, and I think it really is one of the best *budget* foundations out there. Wonderful texture and finish. More in-depth review here.
MyFace blusher. Lady Monaco is my favourite blush shade of 2012. For the shade, more photos, it is also in my review of the MyMix above.
Illamasqua cream pigment 'Hollow'. My ACTUAL favourite 'new' brand in 2012 is Illamasqua. I know it's years old but I really fell in love last year and starting buying it a lot more. I think that is pretty much all that is going into my pro kit in 2013. I can't rave about their products enough.
MAC lipliner 'Pinkie'. Perfect Barbie pink, wore this so much in 2012. Full review/ swatches here.
Estee Lauder doublewear concealer. Have used this a few years now and keep re-purchasing. A FAB concealer if you like to use the same one for under the eye and blemishes.
Tom Ford eye quad. The luxury that is Tom Ford makeup. Where do I start with their eyeshadows… the textures and pigments are totally luxurious, the packaging makes you feel rich when you hold it (and broke when you buy it…£72) but these are some of the best eyeshadows I have ever used, and wore them a lot after I purchased them. Full review here.
Benefit They're Real mascara. Fabulous mascara, reasonable price and really lives up to the hype. Full review of this coming soon.
GOSH intense liquid liner. Nice and deep pigment, easy to use, creeping up and almost above my all-time favourite Rimmel exaggerate liner.
Hourglass illusion tinted moisturiser. Ah.mazing. Unreal. Every makeup artist I have shown this to ends up buying it. Review coming soon to show you more.
W7 matte bronzer. beautiful tone of bronzer, nice deep bronze and matte which is what I like in my bronzers. great price.
Inika peachykeen blusher. a beautiful shade of blusher, think of it like a more natural/mineral version of NARS orgasm. Loose powder formula which can be a pain for travelling, but a stunning colour.
Kevyn Aucoin sensual skin enhancer. The most popular post I did in 2012 was a review on this foundation slash concealer. Read more here.
Eyelure lashes. One love.
Bobbi Brown Shimmer brick. Again, a product I have used for about 10years (!) but I seem to wear this so much, near enough every day. My favourites are Rose and Bronze.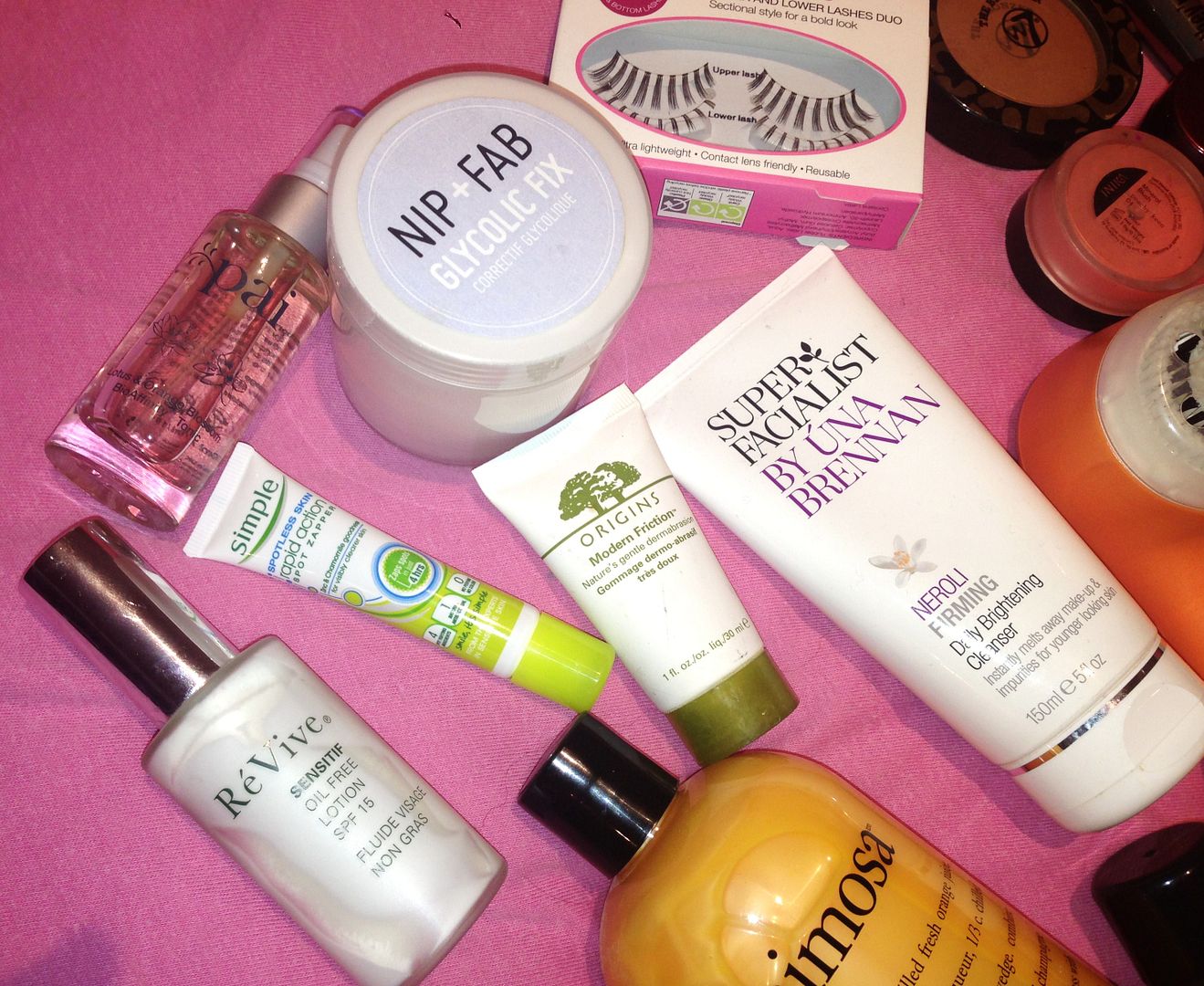 Skincare

Revive oil-free sensitif moisturiser. I am always searching for that perfect moisturiser for my difficult skin. Severe combination at the moment – really dehydrated and breakout, so it's hard to find a cream that can solve all these problems. This is the best one I have used this year… Oil-free but a beautiful silky texture that actually feels like it is hydrating. So many oil-free are like watery gels that they don't deal with dehydration but this feels really comforting on my skin. It's not cheap, so not sure how long I can afford to keep using it….
Simple spot zapper. A great and inexpensive spot treatment that is very good at helping blemishes heal and I notice it is very good and quickly effective for anti-redness.
Nip + Fab Glycolic Fix. These have been really good for me, they are glycolic pads so great for retexturising and brightening the skin. If you are sensitive then use them every other day but I love glycolic on my skin so I can use this once a day, on clean skin, before serum/moistursier.

Lucas PawPaw. This was introduced to me at makeup school by the legend that is David Horne. I have used this in my professional kit for years, and bought a tube for my personal use and its lovely…and lasts AGES for this tube. A poor man's version of the 8-hr cream… but actually less chemicals, nasties and 10 times better!!
PAI skincare lotus & orange blossom tonic. This is a lovely soothing tonic that can be sprayed directly into the skin or applied with cotton pads. It's great before a serum to add a burst of hydration it also good for refreshing your skin during the day, I particularly liked using this is the summer.
Super Facialist Neroli firming cleanser. A completely new brand for me this year, and one of my best discoveries. I'm quite particular with cleansers, and when I got this in a goody bag at the bbloggers that grace and ewa organised it went into my drawer, not to be seen for a few months. When I had run out of my favs I have it a go, and I REALLY rate this. I still am using it, but I love it in the pm, as it contains oil so it removes face and eye makeup AND it has neroli in it which is one of my favourite smells so makes using this even more enjoyable. Think of it like a very light version of the Emma Hardie cleansing balm.
Origins modern friction. I remember when this product first launched for origins probs around 8 years ago as I was working on a makeup counter next to the origins counter in house of Fraser! I fell in love with it then and re-discovered it in 2012. It's a great exfoliating cream, that foams slightly. One thing that you have to know about this though it that you do not want to get it near or in the eyes – ouch.
MIA clarisonic. I bought this sometime in the summer. I haven't fully reviewed it yet but will do as soon as I have time, but it was one of my best purchases of the year. Not a cheap investment but a definate improment of the skin texture.