I was sent a bunch of brushes from Royal & Langnickel including some of their new [R]Evolution makeup brushes last month to try out in my professional makeup work. I loved them so much I wanted to share with you as I do get sent quite a lot of brushes to try out but I won't review them if they do not excite me.
Royal & Langnickel do 5 different ranges of brushes, abovee the [R]Evolution, Masterpro and Brush Essentials
About?
[R]Evolution brushes are made by Royal & Langnickel, a family-run company (yay), who have been making brushes for over 70 years. Before 2005, they manufactured brushes for cosmetic brands, then they decided to use their experience and technology to create their own lines of brushes. This new range is their most advanced and professional range and they partnered with Emmy-award winning Makeup Artist Kevin James Bennett to create them.
The brushes are all synthetic but not like the synthetic we know. The synthetic hair fibres mimic the look and feel of natural hair, each monofilament features a micro-studded surface that mimics the exterior cuticle of natural hair, allowing for precise pickup, release and blending of even powder makeup. *Makeup Geek chat…it continues*…
The handles are made of moulded, high impact acrylic and coated in a 'rubberized' finish for added comfort and grip. They were designed to withstand even the most intense daily use and repeated cleansing. Wooden brush handles expand with continued washing, causing brush heads to loosen and sometimes detach. The acrylic handles are impervious to water damage and fused to the titanium ferrule. These important extra steps insure that the brush head assembly will not loosen or detach, even if soaked in water or brush cleanser. Basically these brushes are going to last you a lifetime!
How I rate them?
So I have used these brushes on some great shoots I have had this month, most aren't ones I will shout about on here, but I have worked with some fantastic models and a super-huge DJ this month….and actually on some small kiddies….so a great range of people and faces…and lots of different makeup styles. Now one thing you will notice about these[R]Evolution brushes is that they feel really, lovely and soft for sythetic brushes….you felt the Illamasqua brushes?….like that. Also I really like the way the rubberised handle feels, easy to grip and work with. They also do a really big selection and some unique makeup brushes, I haven't got anything like them in my kit – I'm referring to the cut, shape and style of the brush.
Pricepoint?
For a pro range, the brushes are a pretty affordable. The most expensive is £39.99 (The large domed kabuki right at the top) and the cheaper ones are around £6. They also sell a pro set of 12 brushes, which is a great starter selection for a reasonable £136.
Summary:
Really glad I have been introduced to these brushes. I think I will be adding a few more to my kit, as they do A LOT more than what I have shown you here. If these are a little out of your price range then Royal & Langnickel also do a variety of other ranges, that are a little less.
Master Pro:
These are another selection of brushes, easily recognisable by the signature blue nickel ferrule. This colour really drew me to this range. They are like the brothers of the Jemma Kidd brushes which I also have in my kit. A little less advanced than the [R]Evolution brushes, but a price which reflects this. Great for makeup artists building a kit or just makeup junkies not wanting to spend a small fortune on brushes.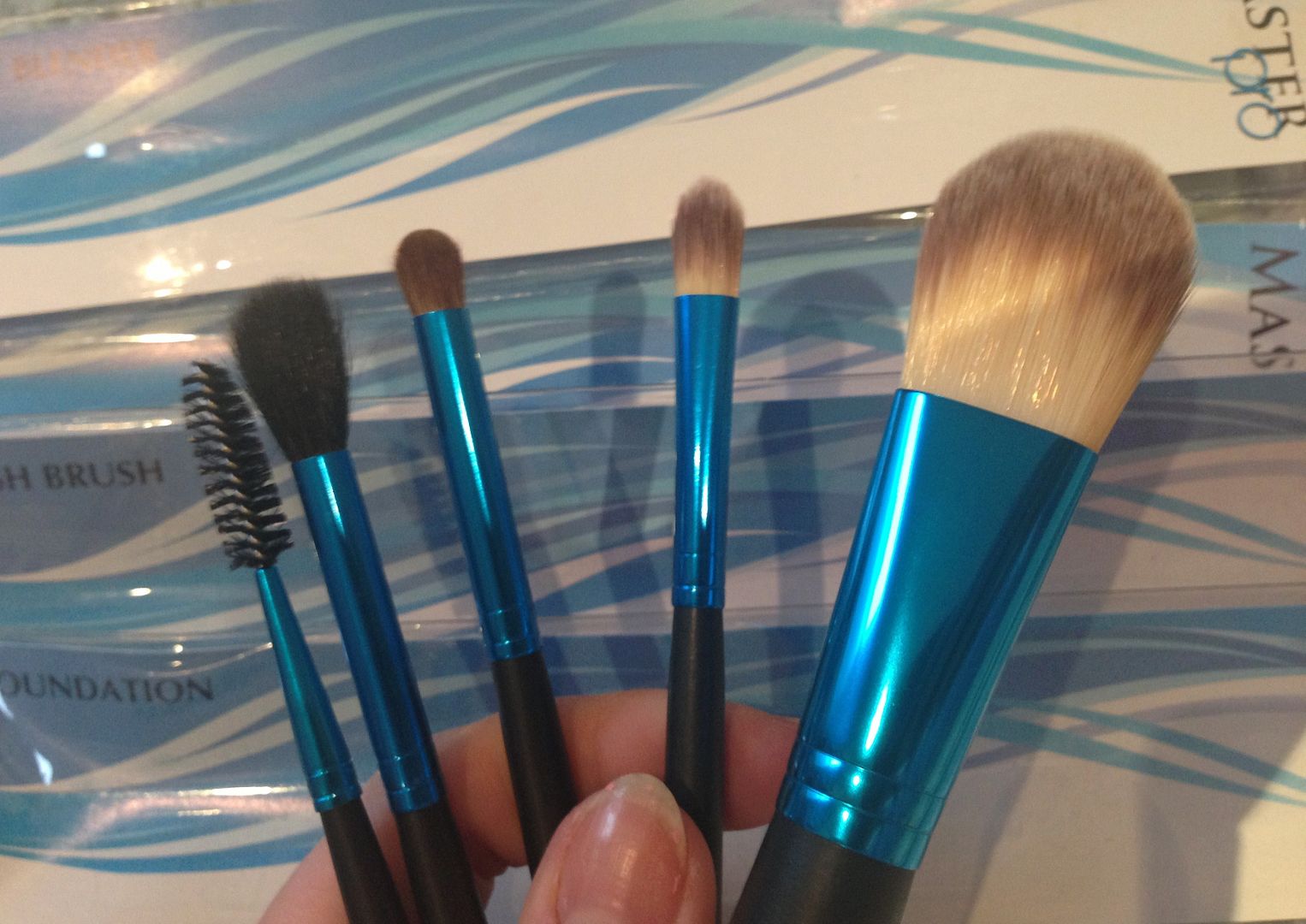 Brush Essentials:
Are the budget range of brushes from Royal & Langnickel. In my mind, not a patch on the [R]Evolution brushes, BUT these are really good for a cheaper line, or for a makeup newbie wanting to get a few basics. HOWEVER, one of the brushes I really love which is the Foundation BE16, pictured below. If I was to look at it without knowing, I would assume it was a blusher or powder brush as it is quite fluffy and soft, but it is really great for foundation, as it softly buffs the foundation into the skin, rather than slap it on with a 'typical' foundation brush which tend to be smaller and harder.
Below: The BE16 foundation brush I was pleasently suprised by
Available to buy from www.amazon.co.uk and soon to be from the Beauty Express catalogue (owned by Sally's).