A few months ago I did a popular post on 'How much is my face' Budget vs High end. How much is my face is literally adding up the total cost of products used on your makeup face. Last time I did 2 totally different looks which, in hindsight, didn't really make much sense, so this time around I have done the same but using the same makeup look.
I think the most timeless makeup look is the red lip, feline smokey eye so this is what I attempted. On one I used £674.50 worth of decadent beauty products, and the other was a money-saving £95.34 Can you tell which one is which??….
Can you guess?
The answer is below…
I think they look really similar – they could have been the same makeup in different light… I did actually do both the looks in the same day initially but by the time I had done the second look the light was totally different so had to re-do it. I think my skin does look better in the 'high end' look but again, maybe the lighting. Overall, from these two photos, I prefer the Budget look.

High end ££
Primer – By Terry Or De Rose £108
Foundation – By Terry Eclat Opulent £97
Concealer – Guerlain £26 (eyes) Kevyn Aucoin £36 (face)
Bronzer – Chanel Soleil De Tan £30
Blusher – Stila convertible colour Lilium £16
Highlighter – Illamasqua Gleam £18
Face Powder – By Terry Teint Terrybly £63
Brows – Benefit brow zings £22
Eyeshadows – Tom ford (1 of the 4 shades from quad £62/4 = £15.50) Illamasqua hollow £17, MAC pigments x2 £16.50 each
Eyeliner – Hourglass calligraphy liquid liner £23
Lash curlers – Shu Uemura £20.50
Mascara – Chantacaille longest lash £60
Fake lashes – Shu Uemura Farfallina £22 (& duo £7)
Lip balm – ByTerry Baume de Rose £35
Lipliner – MAC Cherry £11.50
Lip colour – MAC Ruby Woo £14
TOTAL: 674.50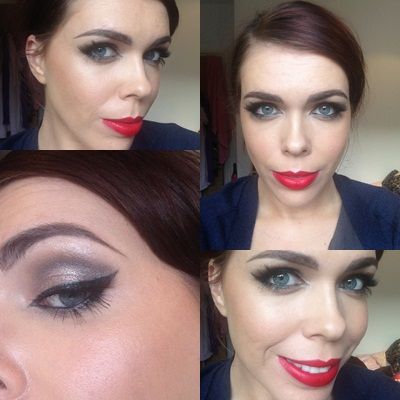 Budget ££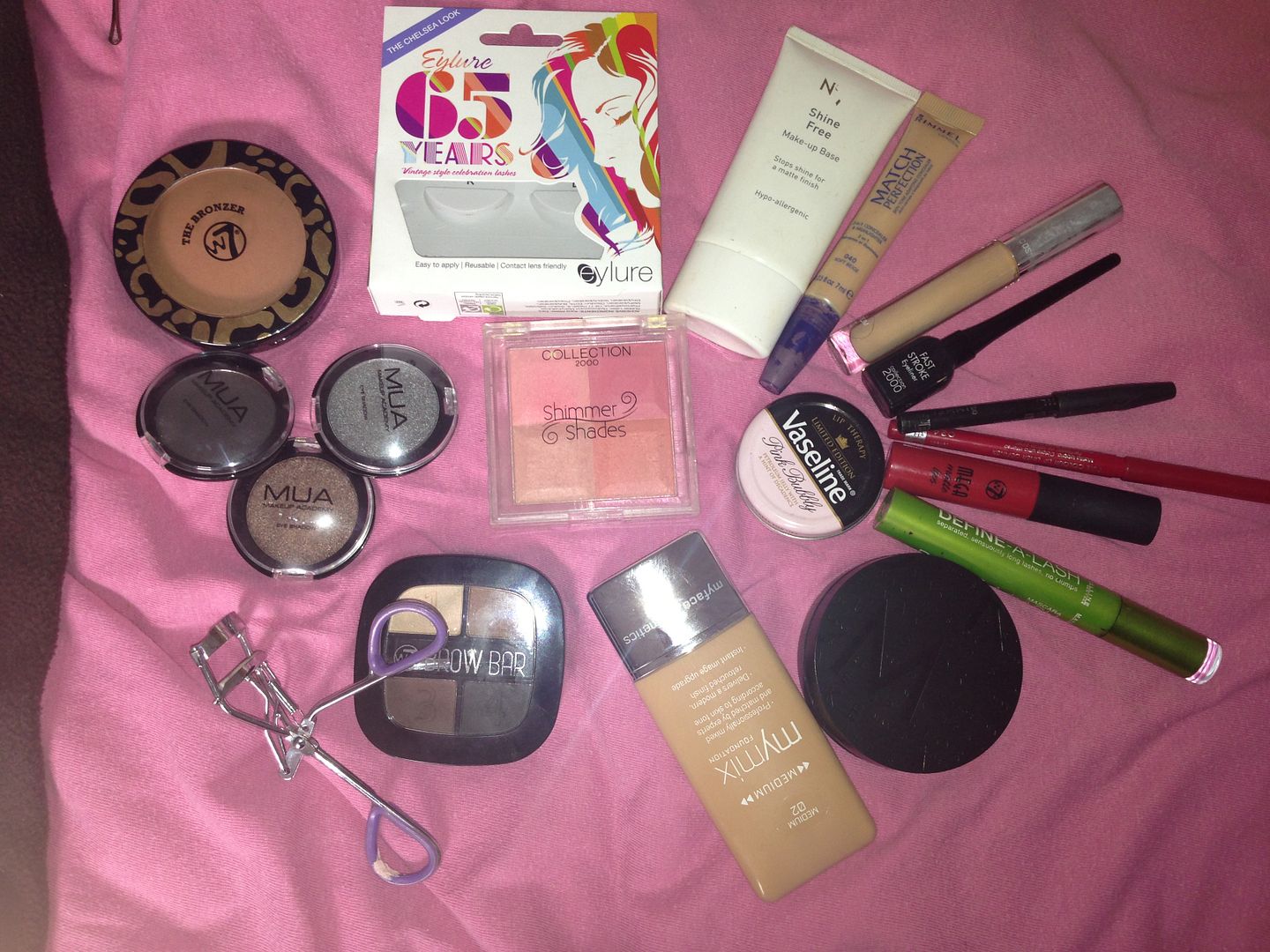 Primer – No.7 shine free £8
Foundation – MyFace MyMix Medium 02 £16
Concealer – MyFace £11 (face) Rimmel Match perfection £5.99(eyes)
Bronzer – W7 matte bronzer approx £5
Blusher – Collection 2000 'shimmer shades' £4.19
Highlighter – as above (highlights too!)
Face Powder – Makeup store £12 approx
Brows – W7 brow kit £4 approx
Eyeshadows – MUA x 3 shades £1 each
Eyeliner – Collection 2000 £2.99
Lash curlers – NYC £1.99
Mascara – Maybelline Define-a-lash £8.19
Fake lashes – Eyelure £5
Lipbalm – Vaseline pink champagne £2
Lipliner – Rimmel red diva £2.99
Lip colour – W7 mega matte lips red £3 approx
TOTAL: £95.34
Of course, I wouldn't use all amazingly expensive items like this altogether all the time, I usually use a huge variety of brands on myself….but obviously I wanted to prove a point that you can achieve the same look and quality using cheaper brands. Some people prefer using the most expensive, some people prefer have smaller budgets and like more accessible, high street brands but whatever makes you happy and works for you.