We have all seen the photos that K-dash tweeted recently when Scott Barnes, her makeup artist, was doing contouring on her face. Looks exreme pre-blended, but really effective for photoshoots and red carpet events. As a makeup artist, I learnt the art of contouring at make up school many years ago and it is something I use so often on photoshoots to get a great shape on a model's face. Cheekbones can be enhanced, noses chiselled and the face slimmed using contouring tricks.
Catwalk trends over the last 2 seasons have been dominated by contouring, it is huge right now, so much so that commerical brands are launching contouring products for everyone, not just for the professional makeup artist to use. Think MAC contouring creams, Kevyn Aucoin, Tom Ford etc etc. I purchased some of the MAC pro sculpting creams last week which seem to be sold out everywhere now!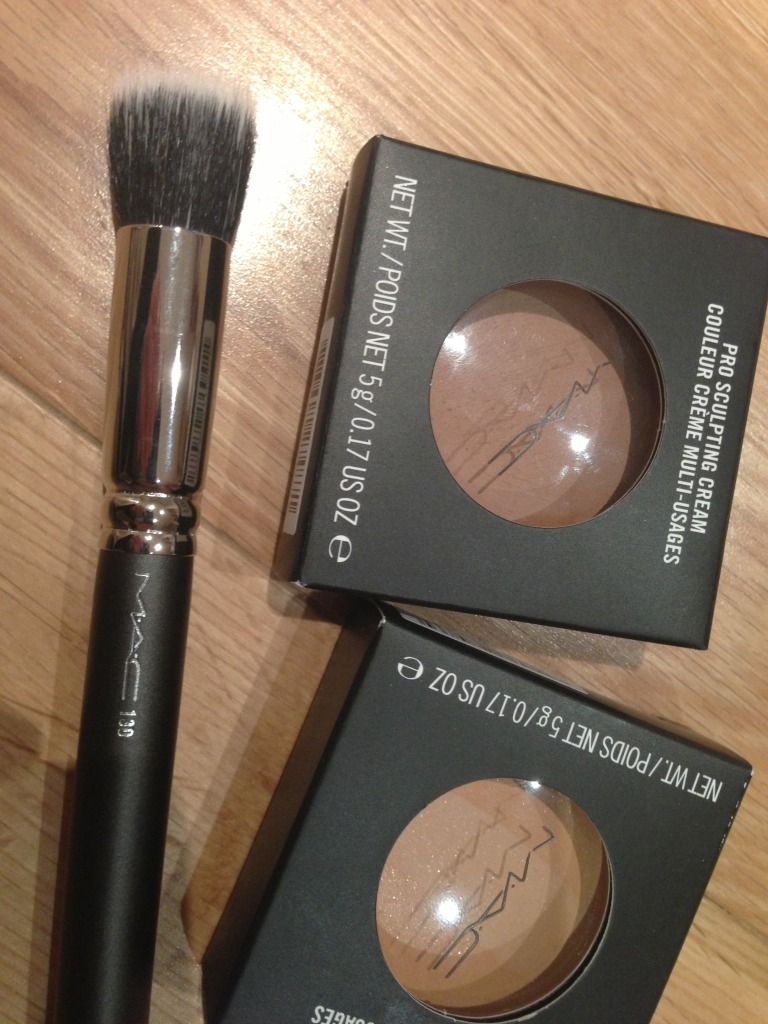 The key thing you have to remember is that anything you lighten/highlight will appear more prominent, and anything you add darkness to will be pushed back. By using these two ideas together you can do amazing things to enhance the face shape.
Above: Boiled egg to a sexier boiled egg by using a few contour and highlight tricks
COLOUR? When selecting a colour to contour with, basically go with your own skintone, and then choose a colour a few shades deeper. The most common mistake I see is people contouring with their bronzer, which is fine if it is very matte and the right tone (no orange!) but usually bronzers are not great for contouring… Benefit Hoola is an exception, I'm sure there are a few others. Products like NARS laguna , MAC Matte Bronze are not so great. I like to contour with 2 or 3 shades so I get a perfect and natural looking blend. You can use powder or cream it's completely up to you although cream is a little easier to blend and melt into the skin.
Above: An example of choosing a suitable contour colour for your skintone, when I am pale, Illamasqua 'Hollow' is a great contour shade.
I have many different proucts I use for contouring and here are my main things that I use on photoshoots and clients…
Above: My kit contour products, and just products I use for contouring. As you may see, I often use concealers or cream foundation (MAC full coverage is fab!)
The Look:
I have created a quick look using an exaggerated highlight and contour so it will hopefully explain placement etc.
I did my full foundation base and concealer first, then I added in the contour and highlight over the top.
1) First add dark contours to the areas you want to push back, in the hollow of the cheeks, temples, sides of the nose to slim if you want.
2) Then add highlight to the areas you want to attract attention to/ pull forward – bridge of the nose, cheekbones, browbones, around the lips, cupid's bow etc
3) Blend and soften the lines using your contour brush of choice, until it all looks natural.
Above: One side I have blended in, so you can see it looks relatively natural to what it does initially!
4) You can then tweek/add/blend until you get the look you are wanting to achieve. Add more contour/highlight until you are happy.
5) I was thinking k-dash so I went for a full-on red carpet look, lashes, smokey eyes and strong brows.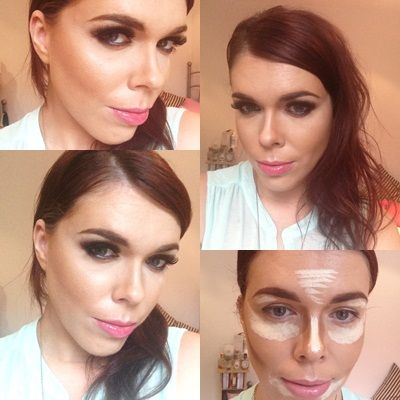 BRUSHES? Contour brushes tend to be roughly the same size as a blusher brush and have an angle. I just got the Illamasqua one which is really good. Synthetic hair tends to be best when applying cream products as it will spread a little easier but to buff and blend the contour in you can use synthetic or natural hair brushes. Below are a few of the main brushes I use to contour.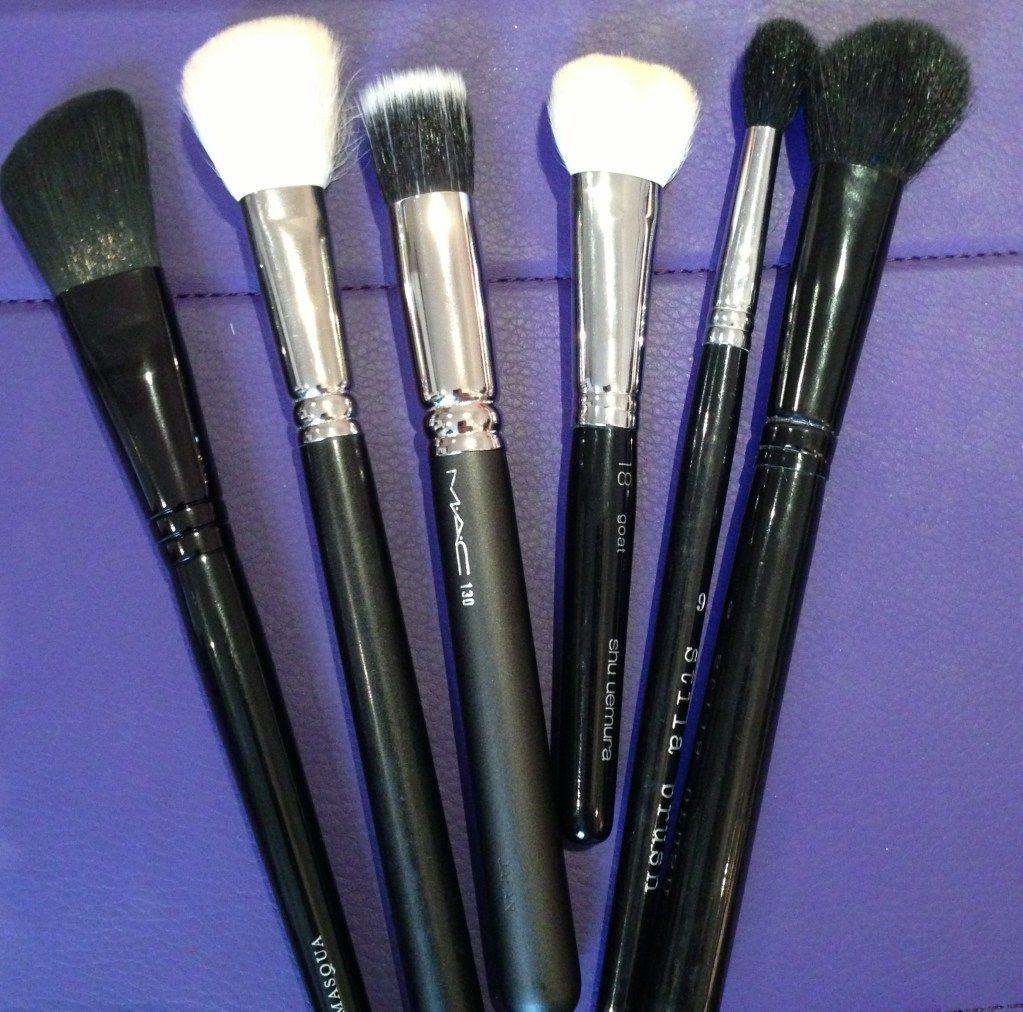 L-R: Illamasqua contour brush, MAC (?), MAC 130, Shu Uemura natural 18, Stila, Crownbrush angled cheek/contour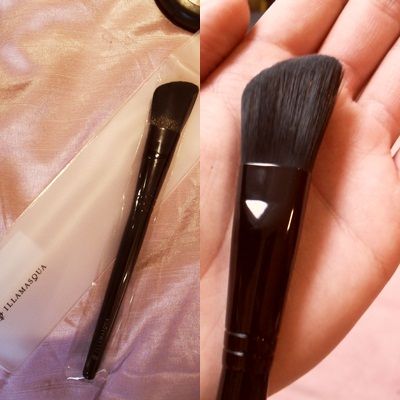 Above: My new Illamasqua brush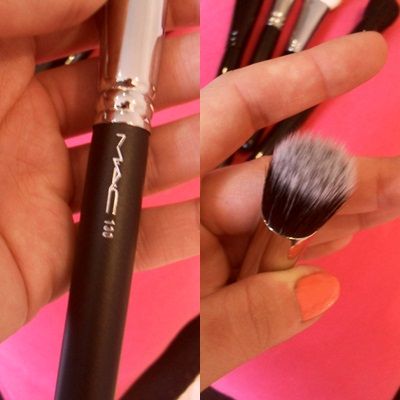 Above: Terrible photo, sorry, but my new MAC 130 brush, great for buffing and blending cream.
All the products I used for the rest of the look are pictured below, For the contouring in this look I used a combination of MAC full coverage foundation, the new pro sculpting cream in 'pure sculpture', Illamasqua 'Hollow' cream pigment. For the highlights I used a MAc paintstick in 'Polished Ivory' and Kevyn Aucoin 'Candlelight' powder highlighter.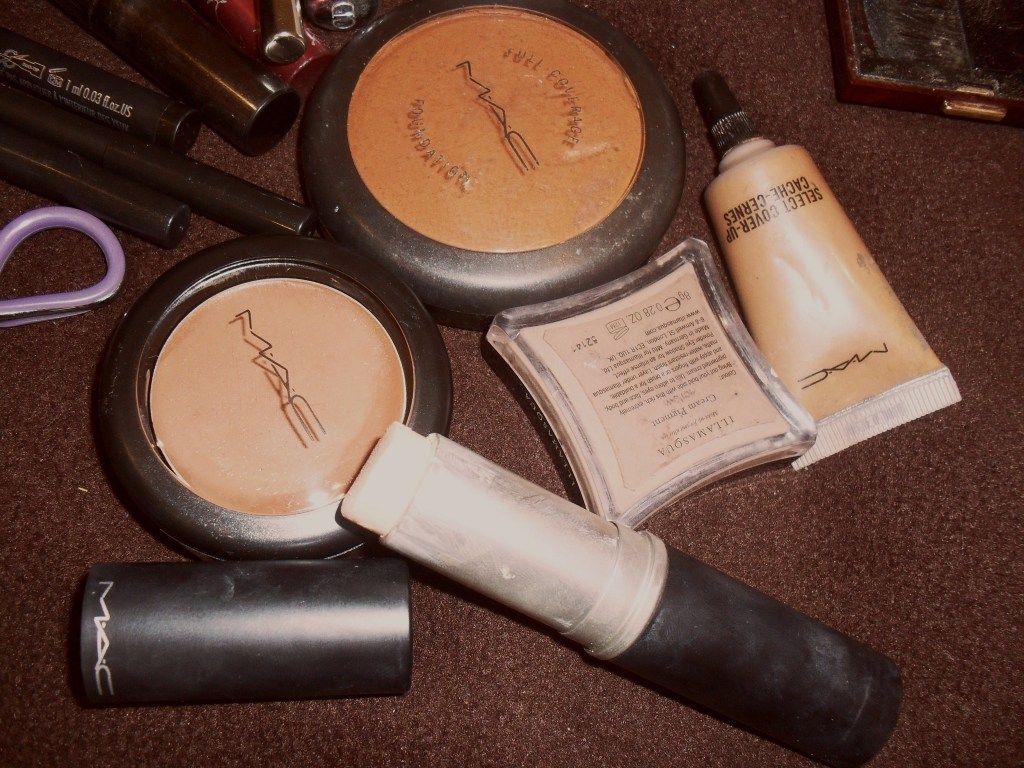 Lots of you have been asking me questions about contouring, so if you have any more questions, as I'm sure I wouldnt have covered everything here, then please leave me a comment below and I will get back to you! I hope this is helpful.
x Laura x