So my last post was 'Empties' from the last couple of months…so that means one thing – I had to go on a shop to replenish, replace and source new beauty products for myself. I have an unhealthy obsession with Selfridges, and I love their new beauty hall bit with smaller and quirkier brands, so I did a big shop in here & got some great things for my kit too…
how great is this Louis Vuitton Window at Selfridges?!
Most of the beauty buys were Selfridges but I did get some David Kirsch/ XEN tan from SpaceNK, and a couple of Benefit things from Boots.
BAD SERVICE?…..I must say I would always opt to go to the MAC pro store only usually but this was just convenient. I don't like the rushed and impersonal service I always receive in the MAC counter in Selfridges but I was there, I didn't have time to fast-pace it to the ProStore so I grimaced and beared it. I got some of the new Marilyn collection and managed to get my hands on (only) 2 of the contour creams which appear to have sold out EVERYWHERE!! I also got a couple of brushes, a mascara I had run out of and a couple of lip/eyeliners – this is all for my professional makeup kit. I know when I tweeted about the foot-twitching service, A LOT of people were agreeing with me about this counter, and MAC in general.
I picked up some Origins skincare bits which I wanted – the zero oil face wash to replace Emma Hardie for a bit and then the 'Out of Trouble' mask was a freebie they were doing.
I am most excited about the Shu Uemura haircare which I bought from Copella hair salon on the top floor. A little eye-wateringly expensive but I have heard nothing but great things about this so I am really excited to try it. I mixed and matched from two ranges – the volumising shampoo and then the vitalising conditioner, hopefully a good duo.
O.C.C Lip tars are a *must* for makeup artist's kits (I keep hearing) so I picked up 3 from the new beauty hall bit, they have all the colours and I was a bit spoilt for choice but these are quite unusual shades and I have nothing too similar to these. £10/each.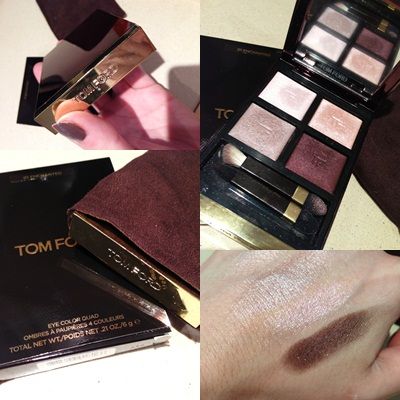 I wanted the cream contour and highlight duo from Tom Ford but they were sold out in the paler shade which is what I wanted for my kit …..but I ended up getting a lovely eyeshadow quad in colours that I wear a lot…so a little (albeit,pricey) treat for me. Beautiful pigment and the packaging is super luxe.
I am such a trainer fiend so I always go up to the first floor to have a look at the trainers in OFFSPRING. I resisted in buying anymore (do I need any with about 30 pairs?!)…but clapped eyes on a few potentials 🙂
……and picked up some cute pengi gloves from Primark! They made me smile for £2.
x Laura x