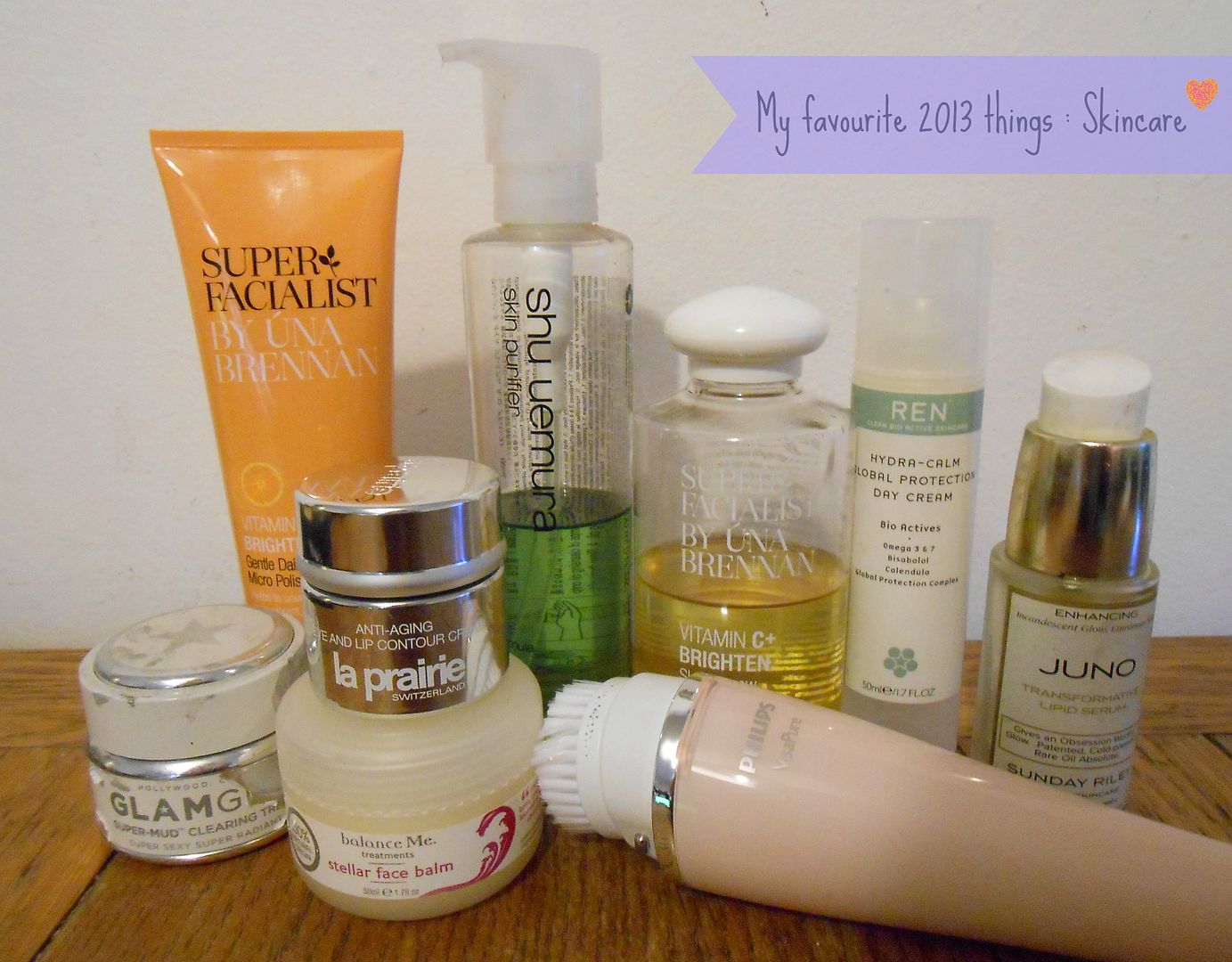 So this is my third installment of my 'favourites of 2013' posts and this is all about my face and the products I have been slathering on it, scrubbing it with and treating it with.
REN hydra calm face cream:
I have used this on and off for so many years and it is just one of those products that I never really rave about but I find myself always turning back to this, time and time again and it's time to acknowledge it's greatness. Whenever my skin is feeling sorry for itself, it really soothes and hydrates without feeling too heavy. It's just for me a no-fuss product that I think works for most people and I also keep a bottle in my makeup kit as models love this.
Sunday Riley Juno serum:
This is a dry oil serum/absolute that is jam-packed with goodies including retinol, vitamin C, essential amino acids, Omegas 3, 6 & 9, Argan, marula, broccoli seed and blueberry seed. It's a rich-feeling oil so on my skin I only use a teeny drop into my day cream when I feel I need it. It makes me skin glow beautifully and it just feels like I am feeding my skin with pure goodness. One thing to note about this product is it smells more like food than skincare….and that is due to all those ingredients packed into it…so it's a very unusual smell, I don't mind it at all, and if you did, it completely disappears once applied onto the skin.
La Prairie eye & lip contour cream*:
This is still on the go and I have hardly made a dent in this creamy eye treat. The pot is HUGE! I use this twice a day in the winter and just once in the summer (as my skin gets quite oily). It is keeping my fine lines at bay and my eyes feel really perked up after I have applied this with the little special metal applicator it comes with: ideal for those sluggish and hungover mornings. Full review here.
Shu Uemura cleansing oil antioxidant/green tea:
Always appears in my reviews and recommendations and this is actually the first cleansing face oil I ever used…around 6 years ago. I always have one of these somewhere in my bathroom: It's loyal to me and I am to it. I love my cleansing balms too, but something about this lightweight oil with a pump makes make removal x3 quicker than using the balm and hot cloth. This is the no.1 selling cleanser in Japan and has been for so long….and that speaks volumes! The original cleansing oil and still one of the best.
Una Brennan vitamin C cleansing oil*:
YES! It's strange that I have two such similar products in my favourites with these 2 cleansing oils but I really, really love this one from Una Brennan. I would probably love it more than the Shu Uemura one, and it is a load cheaper BUT the packaging really lets it down and is the sole reason why it hasnt totally knocked Shu Uemura off the shelf. It has a beautiful light texture, it smells gorgeous, it removes makeup quickly and efficiently but it is a screw-top. This + oil is not ideal for pm sink cleansing. I have found my own little method of dispensing it without losing too much oil : I pour the oil into the cap and that allows me to pour it back in if too much spills out. This is a great value cleansing oil too and I have just found it on the Boots website for just £7.33 (usually £10.99) which is around 1/5th of the price of the above shu uemura one! If you are looking to test the water with your first cleansing oil then I highly recommend this one and remember to use the cap pouring technique.
Philips visapure cleansing brush*:
This is a handheld cleansing aid, similar to the Clarisonic that cleanses the skin up to ten times more effectively than the normal hand/water/soap method. It is very gentle, but you can feel it really sloughing away any dead skin cells and after each use my skin felt sparkling clean and smooth. It's fully waterproof so I keep and use it in the shower and usually I use it in the AM with a foaming cleanser, although I think most like to use it to remove makeup in the PM: whatever works for you. Any cleanser is suitable with the VisaPure although I prefer it with a foaming one.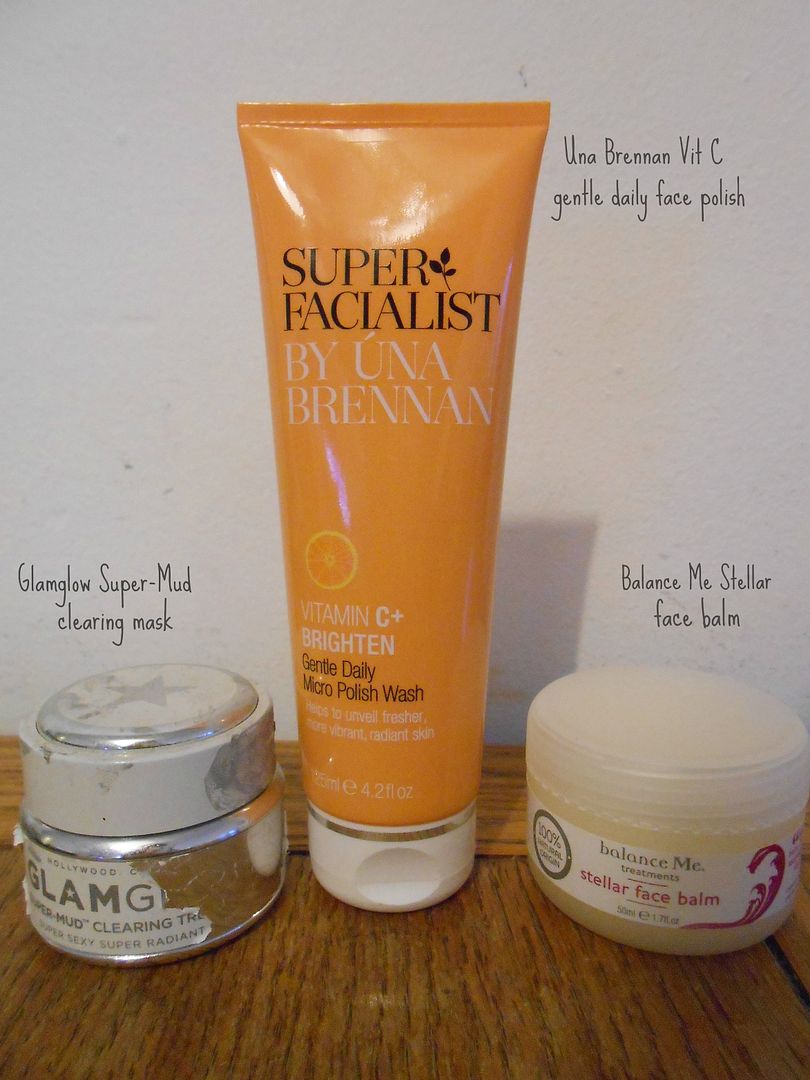 Glamglow super-mud clearing mask*:
I always rave about the Youthmud glamglow mask (black tub) and this is still up there with my favs, but during the latter part of the year, my skin became really blemish-prone and spotty, so this one has taken over. It is my go-to deep cleansing mask which I use 1-2 times / week, and sometimes a bit more if I need. It deep cleanses, detoxes and makes my skin feel like I've just had a facial. The one thing that is not great is the peely packaging. That's only a small thing for me, it's not so much about those little things and it doesn't effect the product so I can live with it and it still stays in my most loved. Full review here.
Balance Me Stellar face balm*:


This is a great multi-purpose treat and is a product which anyone and everyone can find use for. If I am travelling or space-saving , this can take the place of my night cream, my hand/cuticle cream, my hydrating face mask….it's a great 8-hr cream type product but with 100% natural ingredients.
Super Facialist by Una Brennan vitamin C gentle daily face polish:
This is a gel & bead textured polish that I have been using maybe every other to brighten my skin. Yes, it is a daily exfoliator, but with the use of my Philips Visapure daily (and a few other glycolic peels n' thangs), I don't think I need an exfoliator every single day. Easy to use, fuss-free and really does the job of brightening, awakening and smoothing my skin. Smells zesty and fresh as the packaging would suggest and it does foam up a tiny bit so could be a great every morning wash.
Have you tried any of my favourite skincare products? Maybe there is something you have had your eye on from these bits? Please let me know in the comments below..