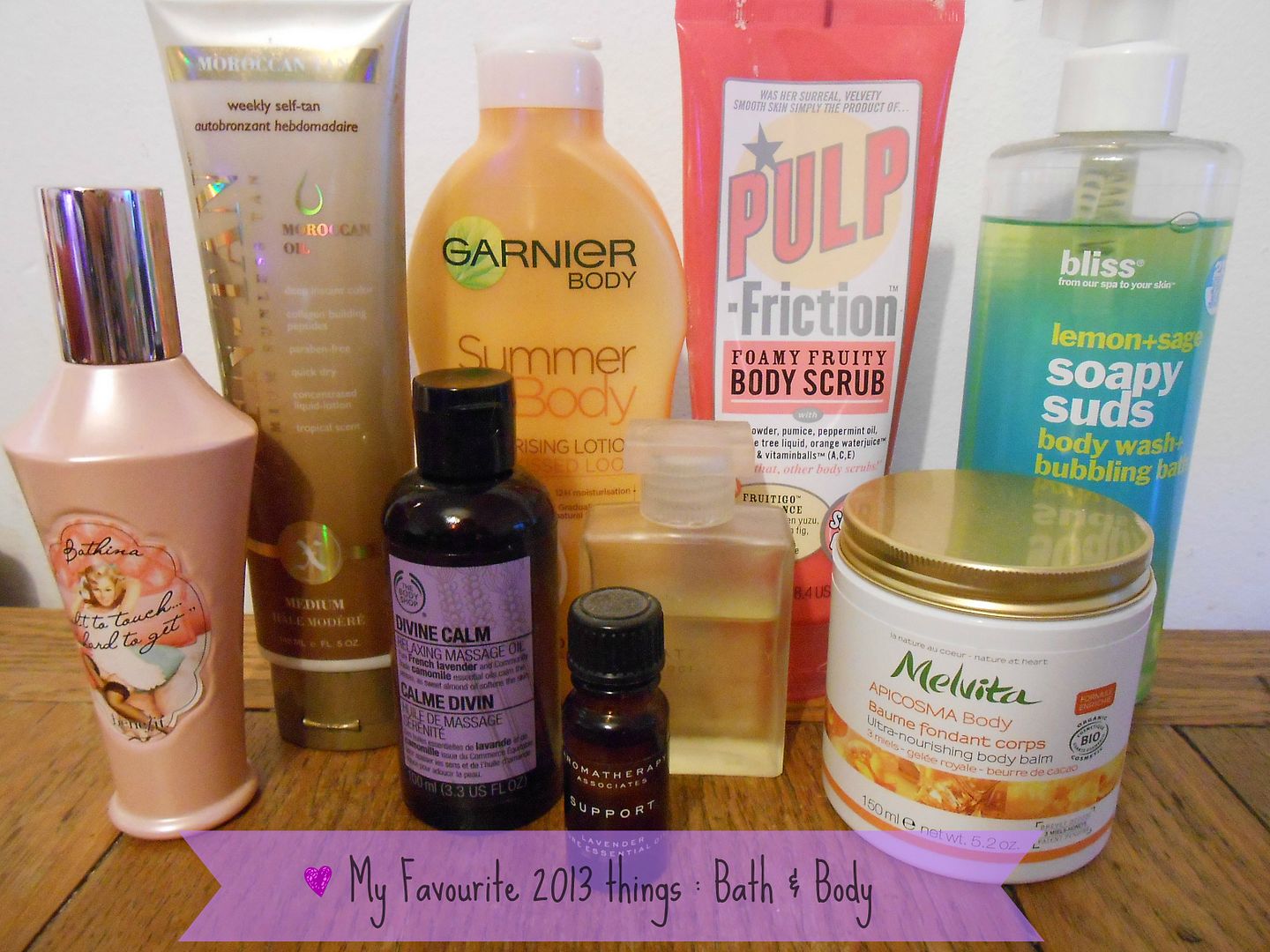 A continuation of my 2013 favourite things posts…this is all about bath & body and all the beautiful things I love to pamper myself with. Having products to relax you, calm you and make you and your skin feel good is so important, well it is to me, and I think it can really help enhance your mood…think the hot bath at the end of a stressful day with a smelly candle and lots of oils and potions. Here are my saviours and top picks..


Benefit – Bathina 'Soft to touch, hard to get'*:
I got introduced to this at the Benefit Carnaby store opening and christmas preview and I was so excited. I mourned the death of Benfit's Bathina range, it was literally my favourite range of all time. I used to have the 'Gettin' Steamy' shower gel, the 'Touch Me' body cream, The shave cream (the name evades me), and of course, *that* 'Body so Fine' tin… with that glorious sheeny body balm and sponge.
HOWEVER The 'Soft to touch. Hard to get' is a beautiful dry body oil and it is the Bathina range. It smells the same, the packaging has that same girly kitchness and I am already gagging and praying for more, more and MORE to come into the in 2014. I bumped into my old boss (I used to work at Benefit around 10yrs ago!!)…who STILL works for Benefit and she maybe dropped a hint that more would be-a-comin'.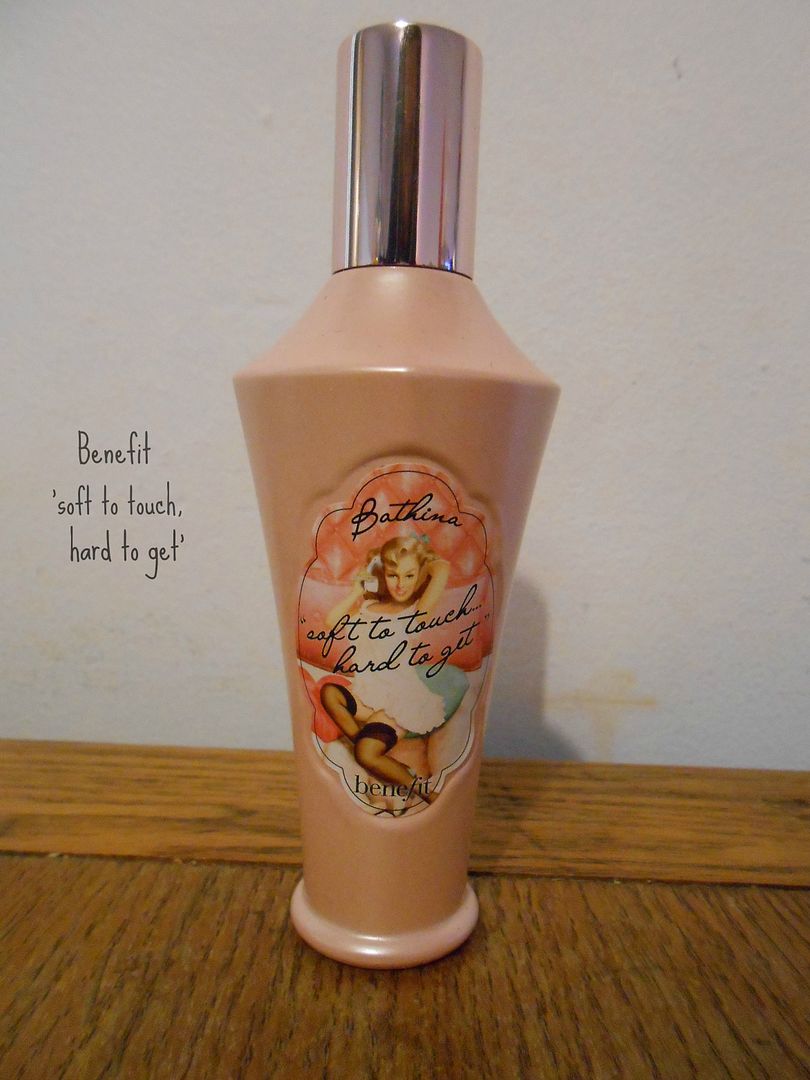 The Body Shop divine calm*:
This is essentially a massage oil, but I have been using it just as a relaxing body oil, but not neat onto the skin….dropped into my body lotion, I find the smell of lavender so calming and relaxing. It's particularly nice after a bath in the PM and you can drop a bit into your bath to make it and you smell lovely.
Aromatherapy Associates support lavender:
A stressful year for me needed lots of relaxation and soothing, this was kept beside my bed and every night, religiously, I would either drop a bit onto my pillow and/or massage a couple of drops onto my temples. Helps you to calm down and also eases tension in the head.
Aromatherapy Associates – Equilibrium bath & shower oil:
…and deep relax, and support muscle, and revive morning and inner strength. Big fan of this brand, have been for years, and this is something you may be bored of me going on about now, so I'll keep it short. THESE WORK. THEY ARE AMAZING. I use them all, but it just happens this year I have found myself using 'Equilibrium' more often than the others. Key notes of rose, frankincense and geranium help to lift your spirits and keep you emotionally balanced.
(Full review of Deep Relax here, Inner strength here )
Melvita Apicosma body- body butter*:
This is a delicious and creamy body butter that has amazingly kept my winter dry skin in check. It contains 11% butters and oils, royal jelly and 3-honey complex to keep moisture and hydration locked into the skin : a must-have for dry scaly skins! An added bonus is that it had a gorgeous fruity fragrance which I love and not so much of honey which is what I expected (and can be a little sickly!).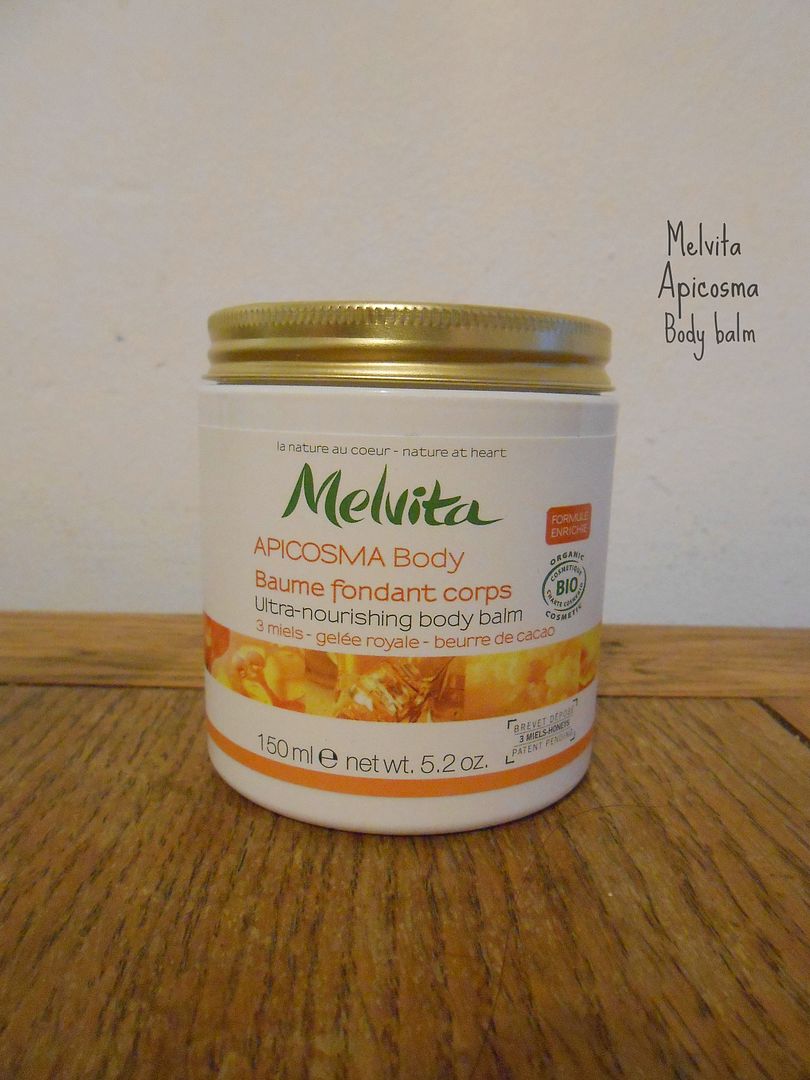 Bliss Lemon + Sage body wash:
I have used this for years now and it's my favourite invigorating start to the day. This shower wash is really uplifting and lathers up beautifully and creamy on the skin. I also love shower gels / face washes/ shampoos with pumps like this as it's so much easier to use in the shower. For me, lemony things can often smell like toilet duck but this is just beautiful and slighty sweet and the sage balances it out wonderfully.
Soap & Glory pulp friction body scrub:
This was a late addition to this list, as I only got it in the last month but I completely feel in love with it. If you have ever used the Kiehl's Soy & honey milk scrub in the tube, this is a cheaper dupe for this. If you haven't, then I will try to explain: The texture is like a thick paste with exfoliating granules in it. Once applied onto the skin it lathers up beautifully and is so creamy and smoothing. It smells lovely with lots of fruit extracts in it and it leaves my skin clean and glowing. So easy to use in this squeezey tube too as opposed to a scrub in a pot.
Garnier Summer body daily tan:
Something I seem to use all-year round, maybe just once a week after a shower to keep my skin from being too pale and translucent-looking. It's a lovely light texture, doesn't smell 'fake-tanny' and the colour is noticeable even after one application. If you use this 3 days in a row you will have a pretty impressive tan. I also used this after my holiday to Bermuda to re-hydrate my skin and pretend that my tan lasted a lot longer than it did.
XEN Tan Morrocan tan:
Have raved and reviewed this many-a-times and I absolutely love it. XEN tan, without a doubt is my favourite brand of fake tan I have ever used. I am yet to be disappointed with any of the products I have tried and I can easily rotate between 4 of their tans depending on what I am after. Moroccan tan is the one I seem to use the most as it dries in under a minute, is super quick to apply with your mitt AND it gives the quickest, deepest tan I have used. Full review here.
Any of your favourites here or anything you think you like the sound of? Maybe something you have used and didn't rate as much as me? Keep your eyes peeled for this next batch of favourites which will be skincare.